---
United Nations follows Pope Francis's lead in declaring international day
Aleteia ^ | December 25, 2020 | John Burger


Posted on 12/26/2020 6:29:22 PM PST by ebb tide
United Nations follows Pope Francis's lead in declaring international day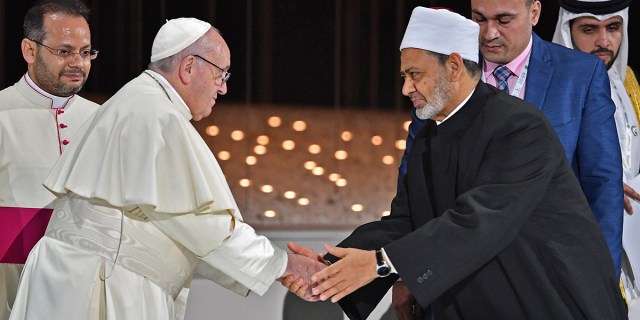 With unanimous vote in the General Assembly, February 4 becomes the International Day of Human Fraternity.
The United Nations General Assembly voted unanimously to designate February 4 — the anniversary of the signing of the "Document for Human Fraternity" by Pope Francis and Grand Imam Ahmad Al-Tayyeb — as the "International Day of Human Fraternity."
The General Assembly voted Tuesday and invited Member States and the United Nations system to include this celebration in their calendar beginning in 2021.
Supported by Egypt, Saudi Arabia, the United Arab Emirates, Equatorial Guinea, Morocco, Burkina Faso and Venezuela, the U.N. resolution takes note of the meeting between Pope Francis and the Grand Imam of Al-Azhar, Ahmed el-Tayeb, on February 4, 2019, in Abu Dhabi.
The resolution also calls on all member states to "continue to work for a culture of peace in order to contribute to peace and sustainable development." This includes, according to the document, the mobilization of "the efforts of the international community in favor of peace, tolerance, inclusion, understanding and solidarity."
While introducing the resolution, representatives of the United Arab Emirates said it was a response to growing religious hatred amid the COVID‑19 pandemic, the U.N. website said.
The resolution says that the General Assembly reaffirms the purposes and principles enshrined in the Charter of the United Nations and the Universal Declaration of Human Rights, in particular the right to freedom of thought, conscience and religion. It concludes: 
Taking note of all international, regional, national and local initiatives, as appropriate, as well as efforts by religious leaders, to promote interreligious and intercultural dialogue, and in this regard taking note also of the meeting between Pope Francis and the Grand Imam of Al-Azhar, Ahmad al-Tayyib, on 4 February 2019 in Abu Dhabi, which resulted in the signing of the document entitled "Human fraternity for world peace and living together," [the General Assembly] decides to proclaim 4 February as the International Day of Human Fraternity, to be observed each year beginning in 2021.
---
TOPICS: Catholic; Religion & Culture; Religion & Politics
KEYWORDS: 201902; 20190204; 2021; 2evil4words; altayyib; apostatepope; communism; communist; communistic; development; dhf; frankthehippiepope; frankthehippypope; freedomofconscience; freedomofreligion; religiousliberty; sustainable; un; unitednations; venezuela
---
---
---
---
---
---
---
---
---
---
---
---
---
---
---
---
---
---
---
---