---
Monthly Cooking Thread - June 2018
Posted on 06/01/2018 4:24:29 PM PDT by Jamestown1630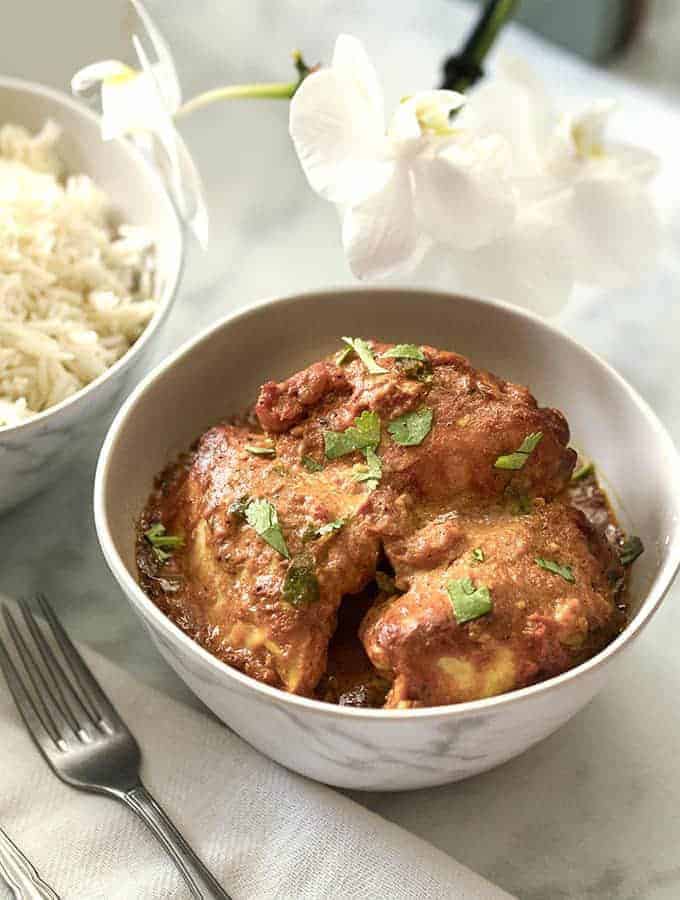 Last week we tried 'roasting' a whole chicken in the Instant Pot, and used the Lemon and Herb Chicken recipe on the Instant Pot website. The meat itself turned out amazing, very moist and tender; but as we suspected when discussing this last month, the skin was not crispy. We got around this by giving the chicken a few minutes under the broiler after cooking, and as Liz suggested one could use a chef's torch. We came away from the experience thinking that it's a great way to do a chicken if you want to use the meat in a recipe, or don't mind the skin not being crispy; but we will probably roast future chickens in the oven.
A second experiment, however, turned out wonderfully. We tried the 'Now and Later Butter Chicken', from 'The Keto Instant Pot Cookbook' by Urvashi Pitre. This recipe has become a sort of Internet sensation since the author first posted it, and it was just as interesting and satisfying as the Chicken Biryani that my husband makes, but takes far less time and work. It's called 'Now and Later' because it makes a lot more sauce than you need, which you can freeze and use later with leftover chicken. My husband actually used more chicken than called for, and we still had leftover sauce! The recipe is endorsed by Instant Pot, and can be found on their website:
https://recipes.instantpot.com/recipe/butter-chicken-murgh-makhani
And here is a link to Pitre's blog, where she chronicles her weight loss journey and makes available lots of recipes:
With summer and gardens coming on, I thought I'd repost here one of my favorite recipes for Summer Squash. I found the following in the Smith and Hawken 'Gardeners' Community Cookbook' (a great recipe book!) and it is one of my husband's favorite recipes:
Summer Squash with Spinach Filling
For the Squash:
Boil 2 large or 4 medium, whole Summer Squash until they can be easily pierced by a knife tip, but are still firm. Allow to cool slightly, and then split them lengthwise, and remove the seeds with a spoon. Set Aside.
Spinach Filling for Summer Squash
1 large bunch spinach, using leaves and tender stems, coarsely chopped and well-drained (3/4 lb.) (often I just buy bags of baby spinach for this, and steam them slightly in the microwave.)
4 T butter
1/4 cup finely chopped onion
1/2 cup sour cream
1 tsp. red wine vinegar
Salt
Wilt the still-moist spinach in an ungreased, heavy saute pan over medium heat, or in a microwave bowl at high heat. Drain briefly and then squeeze dry and set aside. (I have found a potato ricer to be the ideal tool for squeezing out steamed spinach.)
Melt the butter in a saute pan over medium heat. Add the onion and stir until wilted, about 3 minutes.
Add the spinach, sour cream and vinegar, and salt to taste. Stir to blend.
Spoon the spinach mixture into the hollows of the squash halves. Place in an oven proof tray and bake at about 350 degrees until heated through and the squash tender.
Filling can be made ahead and kept in the refrigerator overnight.
(I've also seen similar recipes that add some cheese to the spinach mixture; I think Parmesan would be great.)
-JT

---
TOPICS: Chit/Chat; Food; Hobbies
KEYWORDS: chicken; pressurecooking; summersquash
---
Navigation: use the links below to view more comments.
first 1-20, 21-40, 41-60, 61-80 ... 101-114 next last
---
---
---
---
---
---
---
---
---
---
---
---
---
---
---
---
---
---
---
---
---
Navigation: use the links below to view more comments.
first 1-20, 21-40, 41-60, 61-80 ... 101-114 next last
---
---