Ty Michael Carter (born January 1980) is a United States Army staff sergeant and recipient of the Medal of Honor, the United States of America's highest military honor, for his actions at the 2009 Battle of Kamdesh in Afghanistan. Carter and Army Sergeant First Class Leroy Petry are the only Medal of Honor recipients in any branch of service still on active duty.
Carter was born in Spokane, Wash., on January 25, 1980 and moved to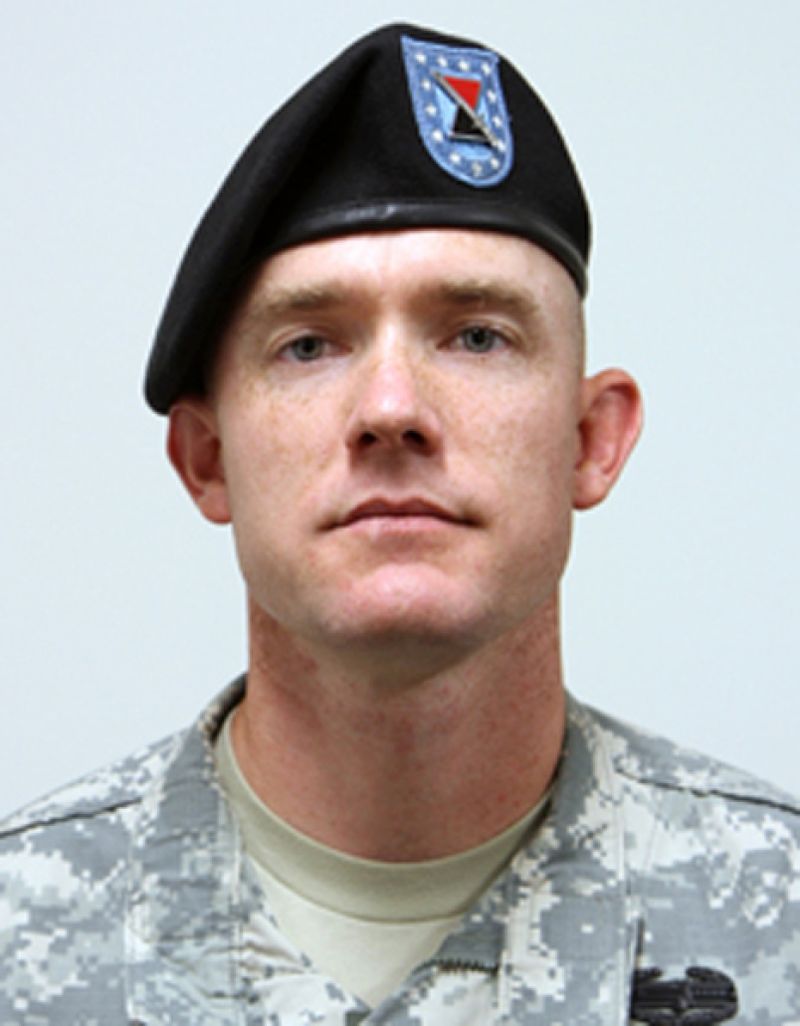 California's Bay Area in 1981. In 1991, his family moved back to Spokane, where he graduated from North Central High School in 1998. He later settled in Antioch, California. He and his wife Shannon Carter have three children, Jayden Young, Madison Carter and Sehara Carter.
Carter enlisted in the U.S. Marine Corps October 13, 1998, and attended the Marine Corps Combat Engineer School. He later served in Okinawa, Japan, as an intelligence clerk. Carter showed promise in weapons' marksmanship and was sent to Primary Marksmanship Instructor School in 1999. He served two short training deployments; one to San Clemente Island, Calif., and the other to Egypt, for Operation Bright Star. Carter was honorably discharged from the Marine Corps on Oct. 12, 2002. After his enlistment, Carter enrolled in college and studied biology at Los Medanos Community College in California. After his first daughter's birth and some time traveling the United States, Carter opted to join the U.S. Army. Carter enlisted in the U.S. Army in January 2008 as a cavalry scout and received training at Fort Knox, Kentucky. From May 2009 to May 2010, he was deployed to Afghanistan with Bravo Troop, 3rd Squadron, 61st Cavalry Regiment, 4th Brigade Combat Team, 4th Infantry Division. In October 2010, Carter was assigned as a Stryker gunner with the 8th Squadron, 1st Cavalry Regiment, 2nd Stryker Brigade Combat Team, 2nd Infantry Division at Joint Base Lewis-McChord, Washington. He was deployed to Afghanistan a second time in October 2012 and was thereafter stationed at Joint Base Lewis-McChord with the 7th Infantry Division. Carter works to de-stigmatize posttraumatic stress disorder (PTSD), a condition from which he has suffered.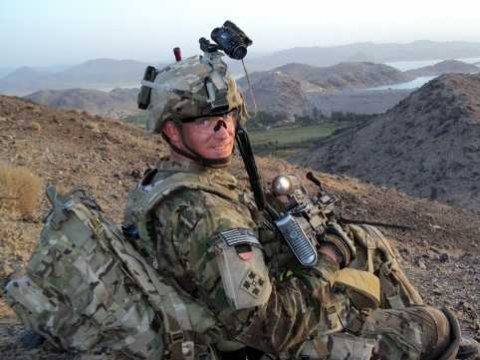 While on his first deployment in Afghanistan, Carter was stationed at Combat Outpost ("COP") Keating in Kamdesh District, Nuristan Province. On October 3, 2009, the outpost came under heavy attack and Carter, then a specialist, distinguished himself in what came to be known as the Battle of Kamdesh. He helped rescue a critically wounded comrade, Specialist Stephan L. Mace, from under intense fire, although Mace later died of his injuries. Carter returned three times across heavy enemy fire to bring ammunition to three fellow soldiers who were trapped in a Humvee. President Barack Obama awarded Carter with the Medal of Honor in a White House ceremony on August 26, 2013.
During his military career, Carter received a number of decorations. Carter is authorized to wear two service stripes, three Overseas Service Bars, as well as the Combat Service Identification Badge for the 4th Infantry Division and the Distinctive Unit Insignia of the 61st Cavalry Regiment. He also holds the Expert Infantryman Badge and one Marine Corps Good Conduct Medal. Carter's military decorations include the following awards:
Valorous Unit Award, Meritorious Unit Commendation, Combat Action Badge, Medal of Honor, Purple Heart Medal, Army Commendation Medal w/ four bronze Oak Leaf Clusters, Army Achievement Medal w/ two Oak Leaf Clusters, Army Good Conduct Medal, National Defense Service Medal, Afghanistan Campaign Medal w/ 2 service stars, Global War on Terrorism Service Medal, NCO Professional Development Ribbon w/ award numeral 2, Army Service Ribbon, Army Overseas Service Ribbon, NATO Medal for service with ISAF, Air Assault Badge, and Expert marksmanship badge with one weapon clasp.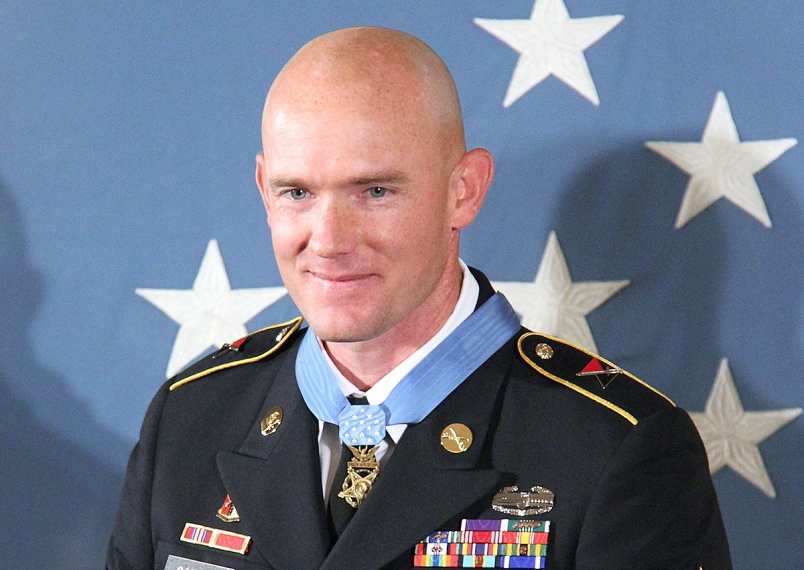 Medal of Honor Citation
Specialist Ty M. Carter distinguished himself by acts of gallantry and intrepidity at the risk of his life above and beyond the call of duty while serving as a Scout with Bravo Troop, 3d Squadron, 61st Cavalry Regiment, 4th Brigade Combat Team, 4th Infantry Division, during combat operations against an armed enemy in Kamdesh District, Nuristan Province, Afghanistan on October 3, 2009. On that morning, Specialist Carter and his comrades awakened to an attack of an estimated 300 enemy fighters occupying the high ground on all four sides of Combat Outpost Keating, employing concentrated fire from recoilless rifles, rocket propelled grenades, anti-aircraft machine guns, mortars and small arms fire. Specialist Carter reinforced a forward battle position, ran twice through a 100 meter gauntlet of enemy fire to resupply ammunition and voluntarily remained there to defend the isolated position. Armed with only an M4 carbine rifle, Specialist Carter placed accurate, deadly fire on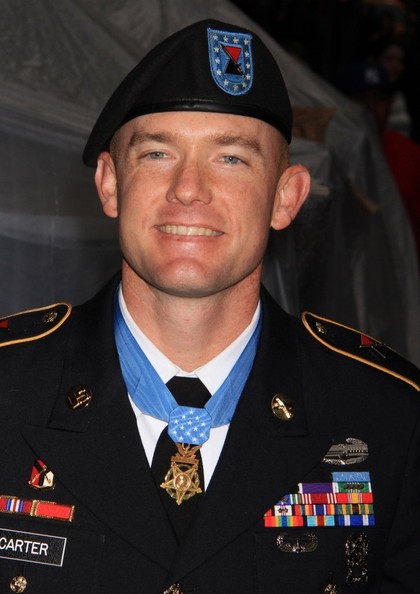 the enemy, beating back the assault force and preventing the position from being overrun, over the course of several hours. With complete disregard for his own safety and in spite of his own wounds, he ran through a hail of enemy rocket propelled grenade and machine gun fire to rescue a critically wounded comrade who had been pinned down in an exposed position. Specialist Carter rendered life extending first aid and carried the Soldier to cover. On his own initiative, Specialist Carter again maneuvered through enemy fire to check on a fallen Soldier and recovered the squad's radio, which allowed them to coordinate their evacuation with fellow Soldiers. With teammates providing covering fire, Specialist Carter assisted in moving the wounded Soldier 100 meters through withering enemy fire to the aid station and before returning to the fight. Specialist Carter's heroic actions and tactical skill were critical to the defense of Combat Outpost Keating, preventing the enemy from capturing the position and saving the lives of his fellow Soldiers. Specialist Ty M. Carter's extraordinary heroism and selflessness above and beyond the call of duty are in keeping with the highest traditions of military service and reflect great credit upon himself, Bravo Troop, 3d Squadron, 61st Cavalry Regiment, 4th Brigade Combat Team, 4th Infantry Division and the United States Army.