---
GATHERING OF EAGLES at UNC-CHAPEL HILL, 4/28/07 – "Being a Conservative on This Campus Ain't Easy!"
May 3, 2007 | Albion Wilde


Posted on 05/03/2007 4:05:06 PM PDT by Albion Wilde

UNIVERSITY OF NORTH CAROLINA-CHAPEL HILL, April 28, 2007— Veterans and troop supporters turned out for a troop support rally in the heart of a typically liberal/leftie campus under the Gathering of Eagles banner this past Saturday afternoon. Like most top-tier universities, UNC-CH has its generous share of Marx-spouting faculty spawned in the 60s, their anti-war sentiments misapplied to the current locus of the War on Terror, the insurgency in Iraq.
Gathering of Eagles volunteers set up the stage in front of the Wilson Library building in Polk Place, University of North Carolina–Chapel Hill. The DC Chapter of FreeRepublic.com loaned two banners that have been used at the Washington, DC Gathering of Eagles, and at their troop support rallies every Friday evening at Walter Reed Army hospital.
Many of the veterans who attended this GoE event in Chapel Hill had attended the original Gathering of Eagles in Washington, DC, on March 17 of this year. When several leftist/anarchist groups announced a large anti-war protest to meet at the Vietnam Wall that day, a group of veterans organized within five weeks into the Gathering of Eagles. It was not just that several of the anti-war web sites threatened to deface the Vietnam Wall or other memorials nearby (protesters had spray-painted the very steps of the U.S. Capitol Building in January, unimpeded by Capitol Police, who are under the Congressional purview of Nancy Pelosi); veterans were also galvanized by the need to expose the hard-core Socialist-Communist-Anarchist ideologies of the anti-war protest organizers, rarely mentioned in the mainstream press.
The March 17 GoE attracted some 30,000 veterans and troop supporters from all over the nation to protect their hallowed war memorials in the Nation's Capital, some making the arduous trip in snow and icy weather from as far away as California.
Other attendees at this Chapel Hill GoE had been in Greensboro, NC the previous week to counterprotest Cindy Sheehan, whose exploitation of her son's volunteer service in Iraq keenly rankles veterans.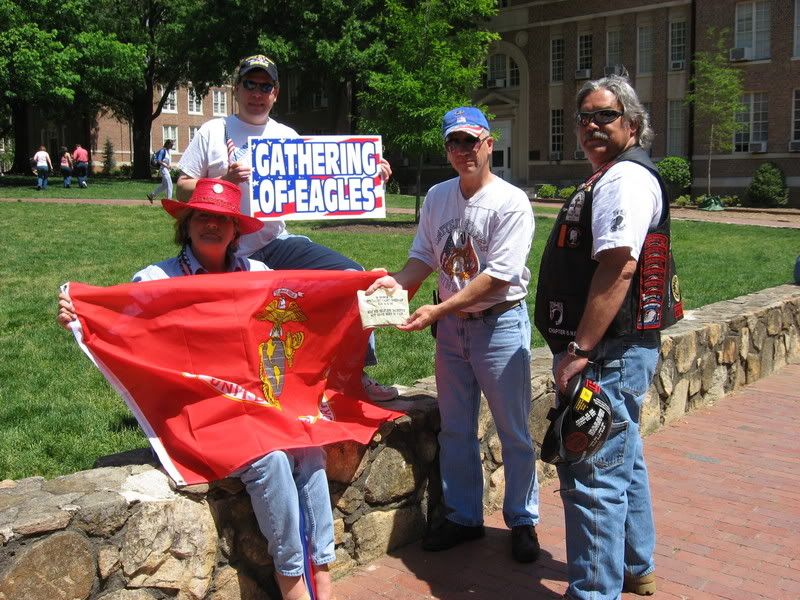 (Left to right): Marine mom "freema"; Marine veteran Eric Cooper; GoE Executive Officer Larry Hoffa; and at right, Chairman for Legislative and Government Affairs for North Carolina Rolling Thunder Chapter 6, "Soapbox." freema is holding a Marine Corps flag, and Larry Hoffa holds a patch memorializing Casey Sheehan, enlarged below:
"In honor of Specialist Casey Sheehan, KIA 4-4-04. May His Selfless Sacrifice Not Have Been In Vain."
Some of the organizers of the Gathering of Eagles at the University of North Carolina-Chapel Hill (left to right): Bill Cook, veteran and GoE state coordinator for North Carolina, left, and Jenny Stevens, President of Conservative Women's Voice of UNC-CH flank Larry Hoffa (blue cap), Gathering of Eagles Executive Officer and retired USMC Gunnery Sergeant. At right is GoE member and North Carolinian Bob Chamberlain, who served in Army Infantry and Special Forces, Vietnam.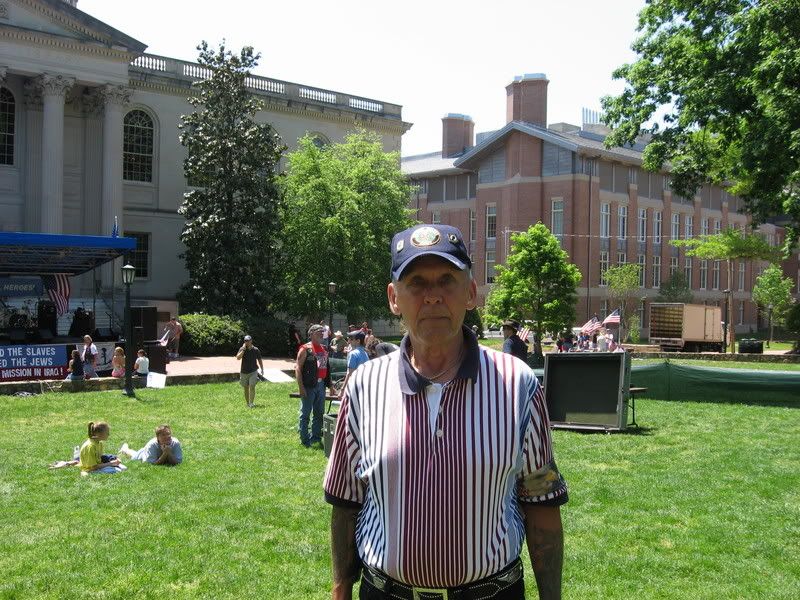 George Sanek, another of the NC-GoE organizers.
"The Gathering of Eagles changed my life," said George Sanek, a retired Army Chief Warrant Officer and retired North Carolina police officer, harking back to the vilification and shame unjustly heaped on Vietnam-era troops by 60s anti-war protestors. "It's time for us veterans to be silent no more. The Gathering of Eagles gives me a chance to say things I haven't been able to say for 40 years. Our core message isn't the politics of the war, it's troop support. The GoE wants other veterans to join us. Come nest with the Eagles!"
At the GoE in DC, George was particularly appalled by the anti-war protesters indoctrinating children to hate the United States. "Watch this video!" he urged, pressing a slip of paper into my hand. It is a moving film about our troops, Remember Me, made by a 15-year-old girl who wants to join the Army after graduation.
Speakers and Entertainers
Campus GoE organizer Tony Stevenson emceed the program. A Navy brat, but one with with a beard, two-tone hair and an academic air, Tony is a free-thinking individual who arrived at his support for the troops through his own observations.
Tony Stevenson (red shirt, right), is the student chairman who helped organize this UNC-CH Gathering of Eagles. At left is Rich Ward, lead guitarist/songwriter of the renowned heavy metal band Stuck Mojo that played at this Gathering event. Stuck Mojo is one of the few popular touring heavy metal bands whose lyrics also hold appeal for "conservative" audiences.
Speaker Jenny Stevens, President of Conservative Women's Voice at UNC-Chapel Hill, said, "Being a conservative on this campus ain't easy, but we do it," to loud applause. She alluded to the anti-war protests often subsidized on campus, and described the public service efforts of her organization, such as combating domestic violence, as well as CWV's support for Gathering of Eagles at this rally and in Greensboro the week before.
Major Ted Kaiser, another speaker, zeroed in on the lack of media support during this war, especially in contrast with the press conduct during WWII, the era of the "Greatest Generation." This generation would also be regarded as the greatest, he observed, if the agenda of the press were not so completely focused on touting failures. He spoke of the treatment of Vietnam veterans. "Many have now made it their mission to see that this generation is not vilified," he said, asking God's blessing on the Vietnam veterans present and thanking them for their service.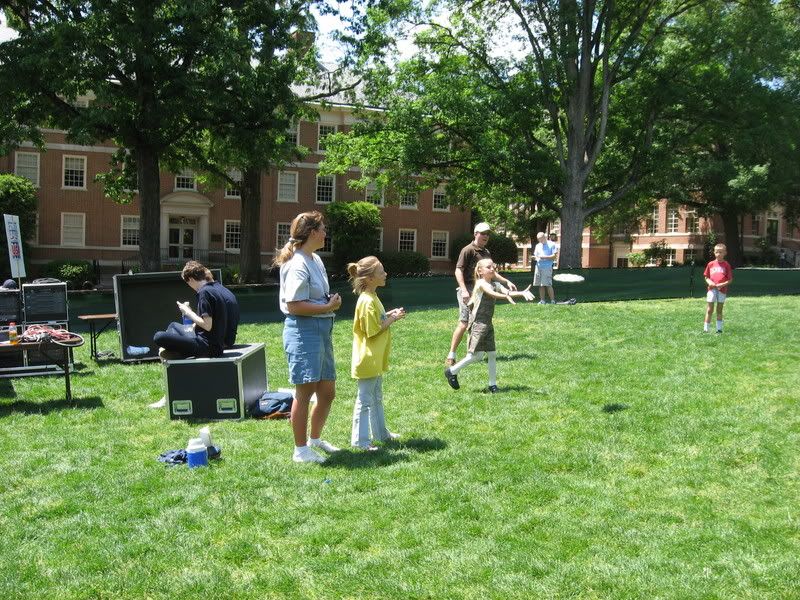 Major Ted Kaiser with his wife and three children, playing Frisbee on the lawn at the GoE rally. After finishing his master's in chemistry at UNC-Chapel Hill, this Iraq veteran will be assigned to West Point to teach. Major Kaiser and his wife say they have not been ill-treated due to his military service on the Chapel Hill campus — sounds like politeness is still important in the South.
Veteran Dwain Cleveland performed his song, Old Glory, at the GoE-CH rally.

Another speaker and Marine veteran, R. J. Del Vecchio, asked not to be pictured, the better to continue investigating leftist rallies. He is a former combat photographer and the author of Whitewash/Blackwash: Myths of the Vietnam War, which is in its third printing. This 60-page volume is a text for high school and college students that refutes the negative misinformation campaigns promulgated against the United States military by the American left in concert with the North Vietnamese during that conflict. "Nobody who has been to war is pro-war," he said. "We need to expose the leaders of the anti-war movement. They are not grassroots citizens like the troop supporters; they are radical extremists."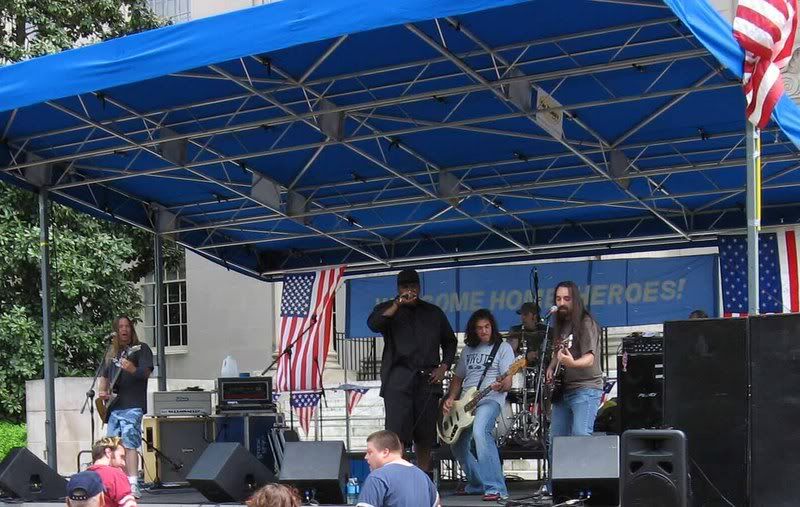 Stuck Mojo, the Atlanta-based band that wailed at this Gathering of Eagles event, defies many of the stereotypes about heavy metal bands.
Stuck Mojo's rockin' sounds brought more UNC students out to the Gathering to mingle with veterans. As lead singer/songwriter Rich Ward's web site explains, "The story begins with the signing of the Declaration of Independence... my great grandfather four times removed on my mother's side, was one of the original signers of this historic document. Each generation that followed also found one of my ancestors woven into the fabric of American history. My great grandfather graduated from and taught at West Point as would his son eventually following in his footsteps. My grandfather was appointed as military aide to then Franklin Roosevelt during World War II and was present at the Yalta Conference..." Stuck Mojo, begun in 1989, has toured in the U.S. and U.K. and has completed nine albums. Wikipedia says the band is "highly controversial due to their "somewhat politically incorrect views" – such as patriotism, Southern pride and, today, a Christian motto on one of their tee shirts.
Veterans and Supporters from Miles Around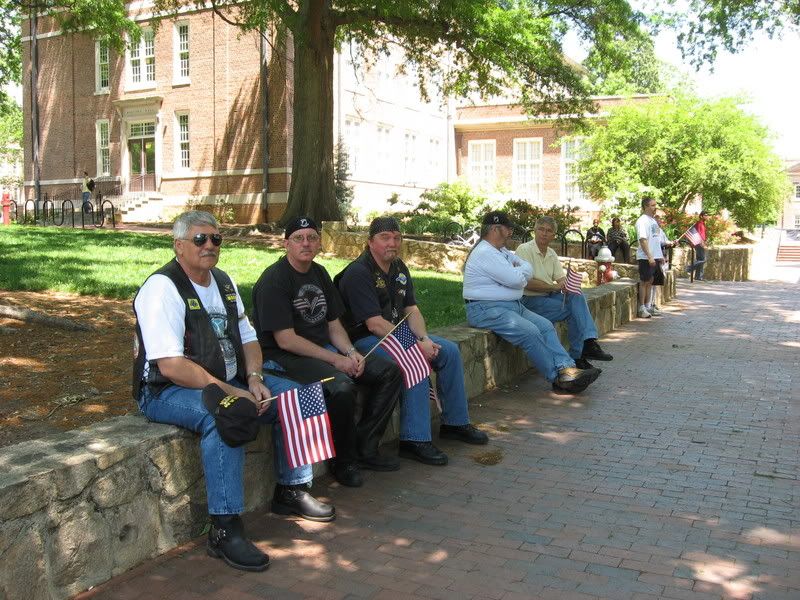 Some veteran bikers soak up the shade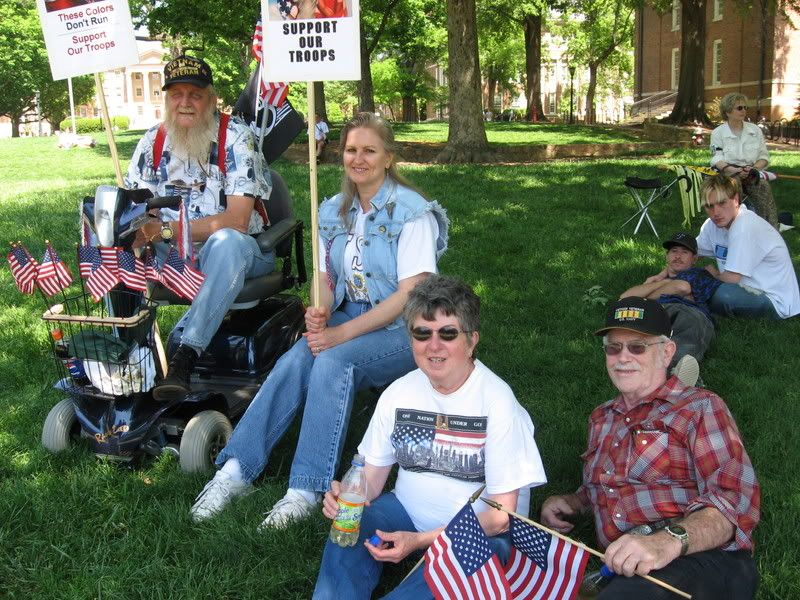 The Navy veteran on the left completed 3 tours in Vietnam. Jim Sanders and his wife Tammy had been at the Greensboro rally. He was quoted in the Greensboro News and Record as saying, "We didn't lose that war — we weren't allowed to win it." Both rejected the idea that the Congress can micromanage a war from DC. The couple seated in front on the grass had come in from Iowa for this rally.
Moonbats Number Barely in the Single Digits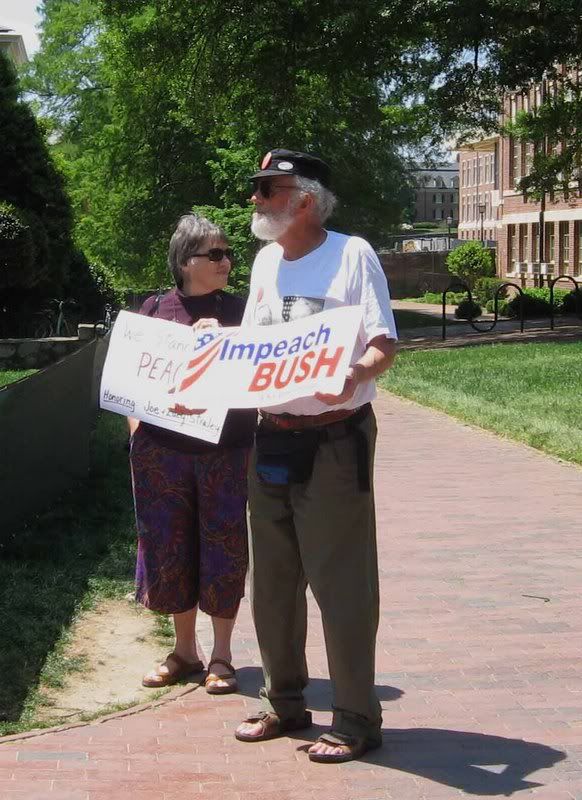 No pro-troops rally is complete without a couple of old hippie die-hards. UNC-Chapel Hill, being in the South, was a polite campus. Only two wrinkled old moonbats showed up, and when they were asked not to stand near the stage with their "Impeach" signs, they cooperatively moved to the rear, where several Eagles converged on them to shoot them — with cameras.
Where there are moonbats and their fawning lackeys in the mainstream media, you are also likely to see counterprotest activists. Just one or two Eagles, FReepers or Protest Warriors is usually all it takes to throw the lefties' smug self-assurance into a tailspin.
Protest Warrior DefenderUSA brought two large Protest Warrior placards with her. A North Carolinian and former Army lab technician at the Landstuhl Army Medical Center in Germany, DefenderUSA says that she is setting an example for her teenage daughter by going to every rally within a 250-mile radius.
FReepers Albion Wilde and freema are pictured above. Other Free Republic members in attendance were Coop of the DC Chapter, a GoE member and organizer, and lurker ReasonIsFaith, a self-described "recovering liberal," with his 12-year-old son. "I just called Homeland Security and the Attorney General's office," ReasonIsFaith said, "to report Harry Reid. I said he created a national security threat with his statement that we lost the Iraq war."
This festival was attended by some of the East Coast's most dedicated troop supporters, bringing creativity, ideas and commitment to the task of wresting our nation back from the bleeding left edge. Where Eagles fly, others may soon follow.
•••
Additional links:
The prior week's Gathering of Eagles in Greensboro, NC on April 22 to counterprotest Cindy Sheehan: WakeUpAmerica blog with photos (scroll down).
Click here for free downloadable troop support poster graphics from Tamanders.com

.

---
TOPICS: Activism/Chapters
KEYWORDS: chapelhill; freep; freerepublic; gatheringofeagles; goe; infinitefreep; protestwarrior; unc
---
Navigation: use the links below to view more comments.
first 1-20, 21-40, 41-60, 61-77 next last
---
---
---
---
---
---
---
---
---
---
---
---
---
---
---
---
---
---
---
---
---
Navigation: use the links below to view more comments.
first 1-20, 21-40, 41-60, 61-77 next last
---
---