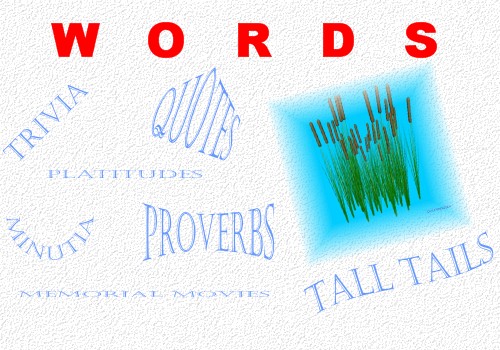 WORDS!!! - It's Story Time

TTT/PPP/MMM Part 1

Tall Tails and Trivia; Pithy Platitudes and Proverbs; Monumental Movies and Minutia



Oh My.. words.. how they can paint a picture, rip apart a soul or start a war. From the same lips a mother can soothe a crying child and moments later destroy the ego of the child's dad. Lyricists have inspired romance, tears and suicide. Authors make fortunes with eager fans awaiting the next offering from their keyboard. Poets are memorialized from the offerings of a broken or troubled soul. Screenwriters are in demand for the way they can modify existing writing or develop original material for the big screen. Students can be inspired or devastated by the words from their teachers and mentors over the years.

Words can be truthful, sincere, loving, supportive, encouraging. They can be evil, piercing, disingenuous, destructive, and deceitful. They can mend or they can rend.

The very same words from the same mouth can be quite different with tone, volume & body language at variance.

Words come from the heart and often the heart must be examined.

Today we will have fun with words…. Phrases, paragraphs, short stories.

What are the words that were the best you ever heard? What are the words that tore your soul apart? What is the funniest story you ever heard? The saddest? Most life changing?

What is your idea of a "good/acceptable" lie.. or is there such a thing?

What is your favorite biblical proverb?

What is the favorite or most memorable saying from your childhood (parent or teacher origin)?

What is your favorite author? His/her works?

What is your favorite movie? Screenwriter?

What is the funniest joke you can recall? What is the funniest play on words you recall? Are you an oxymoron fan?

Do you have story of personally being wounded by a "friend's" words?

Do you have a favorite word?



Tall Tails




(Yes, I know it should be "tales" but then it wouldn't fit my "tails" series, would it?)

"When I was your age I walked 15 miles each way to school in knee deep snow with holes in my shoes"

"You better clean your plate because the children in China are starving " - huh?

" It is just up the road "a piece"… you CAN'T miss it"

"My wife doesn't understand me"

"Easy assembly"

"Pro wrestling is real… the moon landings are faked."

"I just buy Playboy for the great articles."

"Now, I am not meaning to gossip, I am just telling you this so you can PRAY FOR HER."

"Love means never having to say you are sorry"

"No, my dog doesn't bite (hard)"

"I have the prettiest blind date to fix you up with."


.



Quotable Quotes





"It is Finished" Jesus Christ 33 AD

"God is dead" Nietzsche 1882 AD

"Nietzsche is dead" God 1900 AD

"Before God we are all equally wise – and equally foolish" - Einstein 1879 - 1955 AD

"Imagination is more important than knowledge – Einstein

"Be not ashamed of mistakes and thus make them crimes" Confucius 551 – 479 BC

"Hold faithfulness and sincerity as first principles" Confucius

"Happiness is when what you think, what you say , and what you do are in harmony" Mahatma Gandhi 1869-1948 AD

"I believe in equality for everyone, except reporters and photographers" Gandhi

"The weak can never forgive. Forgiveness is the attribute of the strong" Gandhi



Trivia



Email, internet postings, crossword puzzles & a game called Trivial pursuit have made us a world knowledgeable on trivia. How else would you know:



The extract vanilla comes from an orchid plant

Orchid means "testicles"

Who the fourteenth secretary of state was.

The number of electrons in a hydrogen atom.



Pithy Platitudes

A stitch in time saves nine

A penny saved is a penny earned

The early bird gets the worm (great if you like worms, huh?)

The second mouse gets the cheese

The fool says in his heart, there is no God.

Time waits for no man.

Honey attracts more bees than vinegar.

Confession is good for the soul

Honesty is the best policy

Haste makes waste

Close only counts in horseshoes

There are no atheists in Foxholes

Fine wine is like a fine woman (or is it the other way around?)

Never do anything important when you are exhausted

Don't put a pea in your nose



Proverbs



From the mind of Solomon, perhaps the wisest man who penned scripture (well if you consider someone with thousands of wives wise) comes the biblical book of Proverbs.

A few of my favorites:

12:18 – "Reckless words pierce like a sword, but the tongue of the wise brings healing."

23: 9 – "Do not speak to a fool, for he will scorn the wisdom of your words."

12:10 – "a righteous man cares for the needs of his animal, but the kindest acts of the wicked are cruel."

31: 8-9 – "speak up for those who cannot speak for themselves, for the rights of all who are destitute. Speak up and judge fairly; defend the rights of the poor and needy."

21:3 – "To do what is right and just is more acceptable to the Lord than sacrifice."

1: 7-9 – "The fear of the Lord is the beginning of knowledge; but fools despise wisdom and discipline. Listen my son to your father's instruction and do not forsake your mother's teaching. They will be a garland to grace your head & a chain to adorn your neck."

19:22 – What a man desires is unfailing love; better to be poor than a liar."

12:11 – "He who works his land will have abundant food, but he who chases fantasies lacks judgment."

26:20 – "Without wood a fire goes out; without gossip a quarrel dies down"

12:19-20 – Truthful lips endure forever, but a lying tongue lasts only a moment. There is deceit in the hearts of those who plot evil, but joy for those who promote peace."

12:22 "The Lords detests lying lips but he delights in men who are truthful.

20:3 – "It is a man's honor to avoid strife, but every fool is quick to quarrel."

25:15 – Through patience a ruler can be persuaded, and a gentle tongue can break a bone.

26:18-19 – Like a madman shooting firebrands or deadly arrows is a man who deceives his neighbor and says, "I was only joking!"



Monumental Movies



Yes, yes, I know –I KNOW!!! -.. Gone with the Wind, right? BUT…A movie with a title that goes with the thread today & is a really funny movie is TRUE LIES. Staring Jamie Lee Curtis & The Arnold. The tango scene was a hoot as was the scene when they are describing their "careers"…real & "the lies" with the bad guys.


.

I am an epic movie fan & a fan of movies based on historical facts.. Loved many of the war movies of past & contemporary. Troy, The Patriot, Gladiator, Lawrence of Arabia, Saving Private Ryan….big casts, action, human emotions, joy & sadness.

The sentimental & scary ones.. Titanic, Casablanca, Ghost, Sixth Sense, Wizard of Oz, Psycho, and who could forget Jack Nicholson's face in The Shining?

Special effects to me are special. Harry Potter, Matrix series, Star Wars, LOTR… In awe & think, How DO they DO that? I love good acting & when I want it, love live theater… no special effects (well, sometimes a few) there!

What are your favorites… what words in them struck a cord? Which character do you associate with to make this a relevant movie? (this shows the screenwriter did a good job!) AND MOST IMPORTANT FOR THIS THREAD, WHAT IS YOUR FAVORITE MOVIE LINE(S)???



Minutia



Much of minutia is the stuff that doesn't need to be said…or dwelt on… like one's digestive process or lack thereof; hours of telling & retelling and yet AGAIN telling what your cat or dog or kid did last night; the fun details of your three week hospital stay; recap of your weeks soap operas.. Believe you get the picture. Good or better minutia in conversation might include your true weight & age & hair color (ha); your best recipe for "whatever". Still might not need to be said but at least they will feel the satisfaction of getting some REAL info.

NOW what is last word from you? Words of wisdom? Two Cents – opps that is tomorrow.