---
How to not handle a young-earth creationist employee: Fired in wake of finding dino soft tissue
Observation Deck ^ | 07/30/2014


Posted on 07/31/2014 2:58:12 PM PDT by SeekAndFind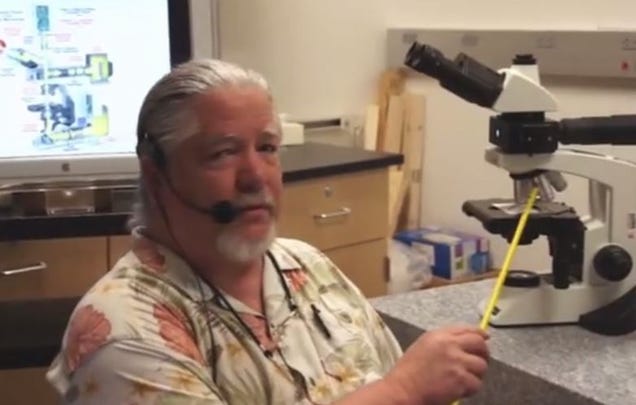 A young-Earth creationist microscope technician formerly at California State University-Northridge is suing his former employer for religious discrimination, wrongful termination, and the violation of free speech.
Who's the plaintiff?
Mark H. Armitage. Mr. Armitage is a microscopist; he's worked with microscope sales and services since at least 1984. When not involved in commercial microscopy, he is interested in scientific microscopy. He did undergraduate work without a degree in Biology at the University of Florida, he acquired a B.S. in Education at Liberty University, an M.S. in Biology (emphasis in parasitology) at the Institute for Creation Research, an Ed.S. in Science Education from Liberty University, and is a doctoral candidate at Liberty University in Science Educational Leadership.
He's managed electron microscope labs at the Institute for Creation Research, at the Creation Research Society Van Andel Creation Research Center, at Azusa Pacific University and at the Biology Department at California State University-Northridge (henceforth, CSUN). He was an Adjunct Professor at Azusa Pacific University and was at least some of the time an Instructor at CSUN.
Who's the defendant(s)?
The Board of Trustees of CSU, CSUN Biology Professor Ernest Kwok, CSUN Biology Department head of technical services William Krohmer, and CSUN Biology Chair Randy Cohen.
What's the story?
Mr. Armitage applied/interviewed/etc. for a position at CSUN in late 2009. During the interview process he informed the interview panel (two professors and Mr. Krohmer) that he had published positively about young-earth creationism. CSUN and/or the Biology Department and/or his interview panel and/or the Electron Microscopy/Confocal Committee apparently were okay with this, they offered him a two-day-per-week technician position deemed "permanent part-time" and he accepted. It sounds like things were going okay until some stuff started to happen in 2012.
In March of 2012, Dr. Oppenheimer, the Chair of the Electron Microscopy/Confocal Committee, sent an email to the Biology Department stating that Mr. Armitage was doing a good job. Mr. Armitage mentions in his lawsuit that, as of that time, his young-earth creationist beliefs were "generally unknown to students, faculty, and staff".
In middle May of 2012, Mr. Armitage went to a dinosaur dig in the Hell Creek Formation of Montana. This dig was conducted with Dr. Kevin Anderson (fellow young-earth creationist) and guided by Mr. Otis Kline (also a young-earth creationist). The dig was being done expressly to find dinosaur bones to break them apart to find soft tissue. Pieces of horn, rib, and vertebrae, presumably from Triceratops, were discovered on this dig, and the specimens were studied at CSUN.
Then Mr. Armitage's big week happens. He doesn't mention it in his lawsuit, but on June 7-9th, 2012, the Creation Research Society Board of Directors had their meeting, Mr. Armitage, as a member of the board, attended and talked about his less-than-a-month-old project. He was interviewed by a young-earth creationist podcast on June 8th, talking about his preliminary findings. That day, Mr. Armitage also appeared at the Rocky Mountain Creation Fellowship's monthly meeting identifying as a Biologist at CSU-Northridge, speaking about how scientific timescales must be wrong. This is relatively a lot of vocalism by Mr. Armitage about his beliefs, and possibly the most vocal he is about his beliefs since he was hired at CSUN.
By this time, Dr. Oppenheimer had retired and Dr. Kwok had become the new Chair of the Electron Microscope/Confocal Committee. He was, for all intents and purposes, Mr. Armitage's new supervisor. This change of Chair occurred around the same time that Mr. Armitage was studying the Triceratops specimen at CSUN. According to the lawsuit:
In demonstrating the use of a microscope to students, Plaintiff would engage in brief socratic dialogue about the possible age of the horn. These types of exchanges were consistent with leading students through the scientific method and were within the scope of Plaintiff's employment. One of Dr. Kwok's students was stunned by the discovery and its implications and went to tell Dr. Kwok about it.
This description of events sounds like Mr. Armitage informed some students of his young-earth creationist beliefs, and this might be where Dr. Kwok, his new supervisor, found out about them as well. Unmentioned by the lawsuit, students (undergrad? grad?) in biology departments are not big fans of hearing about young-earth creationism, so at least one of these students might have thought Mr. Armitage was proselytizing to them, even if he didn't intend to.
So on June 12th (the first day of work after Mr. Armitage returned from his young-earth creationist meeting), Mr. Armitage accuses Dr. Kwok of going into Mr. Armitage's lab and saying "We are not going to tolerate your religion in this department!! This is a science department and we will only have science here – none of your creationist projects or your religion." Mr. Armitage told Mr. Krohmer and Dr. Cohen about this incident, Mr. Krohmer and Dr. Cohen tell Mr. Armitage that there's no problem, they'll do something about it, but Mr. Armitage alleges that this is all they did about the incident.
I find it odd that Dr. Kwok got upset with Mr. Armitage three days after Mr. Armitage was at a young-earth creationist meeting. Was Mr. Armitage extra-chatty that day with students about how the Earth is thousands of years old? Was he extra-chatty because he had been recently talking to fellow young-earth creationists? The timing here seems really odd.
Mr. Armitage and Dr. Anderson's paper is submitted on December 9th 2012, revised December 28th, accepted for publication on January 3rd, 2013, and on February 13th 2013, the paper is published online as an early-access article in Acta Histochemica (said article is published as text in July of 2013). That day, Dr. Kwok apparently has a secret gathering wherein a decision is made to fire Mr. Armitage. A week later Mr. Krohmer tells Mr. Armitage his days at CSUN are numbered, and on February 27th Mr. Armitage is fired.
In July of 2013 Mr. Armitage filed a Fair Employment and Housing Act complaint at the state of California, in response the Department of Fair Employment & Housing told him he had a right to sue within one year, and a year later (4 days ago) the lawsuit appeared.
Where the heck did things possibly go wrong?
It sounds like Mr. Armitage said something not-very-scientific towards students and may or may not have told them that dinosaur fossils are thousands of years old. Maybe Mr. Armitage shouldn't have done that.
It sounds like Dr. Kwok did not react professionally towards his technician, Mr. Armitage, by allegedly yelling at him in Mr. Armitage's workplace. If this allegation is true, Dr. Kwok probably shouldn't have done that.
It sounds like Mr. Krohmer and Dr. Cohen did not do their job of taking an employee complaint as seriously as it should have been taken. They should not have done that.
Mr. Armitage's lawsuit mentions nothing being said between Mr. Armitage and Dr. Kwok between June of 2012 and February of 2013. Maybe Mr. Armitage should have gone to his new supervisor and done something to temper his alleged frustration towards Mr. Armitage.
Did Mr. Armitage get fired for being a young-earth creationist?
He certainly thinks so, and a lot of content online is presenting this story as if this was definitely the case. From what I can find online, it sound like Mr. Armitage initially got into trouble with his new supervisor because he inadvertently talked to a/some student/s about young-earth creationism. His new supervisor was apparently unaware of Mr. Armitage's beliefs, and didn't much appreciate them. This trouble with his supervisor appears to have not blown over, if anything it apparently got worse, leading to a situation wherein it looks like the paper's online publication made Dr. Kwok push for Mr. Armitage's termination. Maybe that's a coincidence, maybe Dr. Kwok just wanted Mr. Armitage gone by the end of February...
Dr. Kwok had an employee who he found out was a young-earth creationist, who was talking to students about young-earth creationism, and who was going to publish an article, with a fellow young-earth creationist, about specimens that said employee believes are evidence of young-earth creationism. All of these factors might have led to a willingness to let Mr. Armitage go and find a replacement for the position.
Mr. Armitage's lawsuit mentions, without further comment, that the same former Chair who praised Mr. Armitage's work in March of 2012 also stated that the lab needed another employee, because Mr. Armitage's two-days-per-week employment was not enough to meet the demands of the lab. The lab is currently functioning and has staff, so it seems like Mr. Armitage was let go so that his job could be expanded and filled by someone else.
But we have to wait for the rest of the story to develop before we really know what occurred.

---
TOPICS: Religion; Science; Society
KEYWORDS: creation; evolution; fired; lawsuit; scienceeducation
---
Navigation: use the links below to view more comments.
first 1-20, 21-36 next last
---
---
---
---
---
---
---
---
---
---
---
---
---
---
---
---
---
---
---
---
---
Navigation: use the links below to view more comments.
first 1-20, 21-36 next last
---
---