---
Big and Little Pixels (The END of Obama ??)
My Own Common Sense | May 1, 2011 | ML/NJ


Posted on 05/01/2011 6:40:13 PM PDT by ml/nj

I'm not any sort of graphics expert. I invite the comments of those who are. But if any are going to tell me that Adobe Acrobat or Illustrator do these things to a pdf file, then please provide me with some example from the Internet of a pdf file that was posted before April of this year that purports to be derived from a single scan of a single document, that exhibits the same peculiarities as those I show here, which are present in what I will refer to as Bamie's Bogus Birth Certificate II (BBBCII).

I think all must agree that the human who created the White House pdf file had to have done so by once scanning, or photographing, a single document; and then importing the entire image so derived into some one program that produced the file. If more than one image was used to produce the file, then it is a fraud.

I came to my discovery about the varying pixel sizes as a result of reading a thread here on FR about a pair of letter B's which exhibited identical pixellation in the WH document. These can be seen in the upper left in the image below. The details are inside a four minute video at the link given in that thread.

I really wanted to post little pictures to exhibit what I will be talking about here as I go. For some reason, Photobucket (the hosting site I use and pay for) would not let me do that. Numerous attempts to upload the individual images in the composite shown below failed. (I thought the individual files might be too small, but I was able to upload an image of my granddaughter's two front teeth created exactly as these images from BBBCII were created.)

I should say something about how they were created. I opened the White House pdf file in Photoshop. (I have Version 6.) When one does this, Photo shop asks for some parameters. I took the defaults (8.5 x 11, CMYK color, Anti aliasing and Constrain Proportions on) except that I asked for 1200 pixels per inch. All of the little images in the composite below were isolated and copied from the resultant image that Photoshop created; and pasted into a new image. I did add some captions to the composite until Photoshop got made at me and wouldn't let me caption the last to images I added. Anyway, here it is: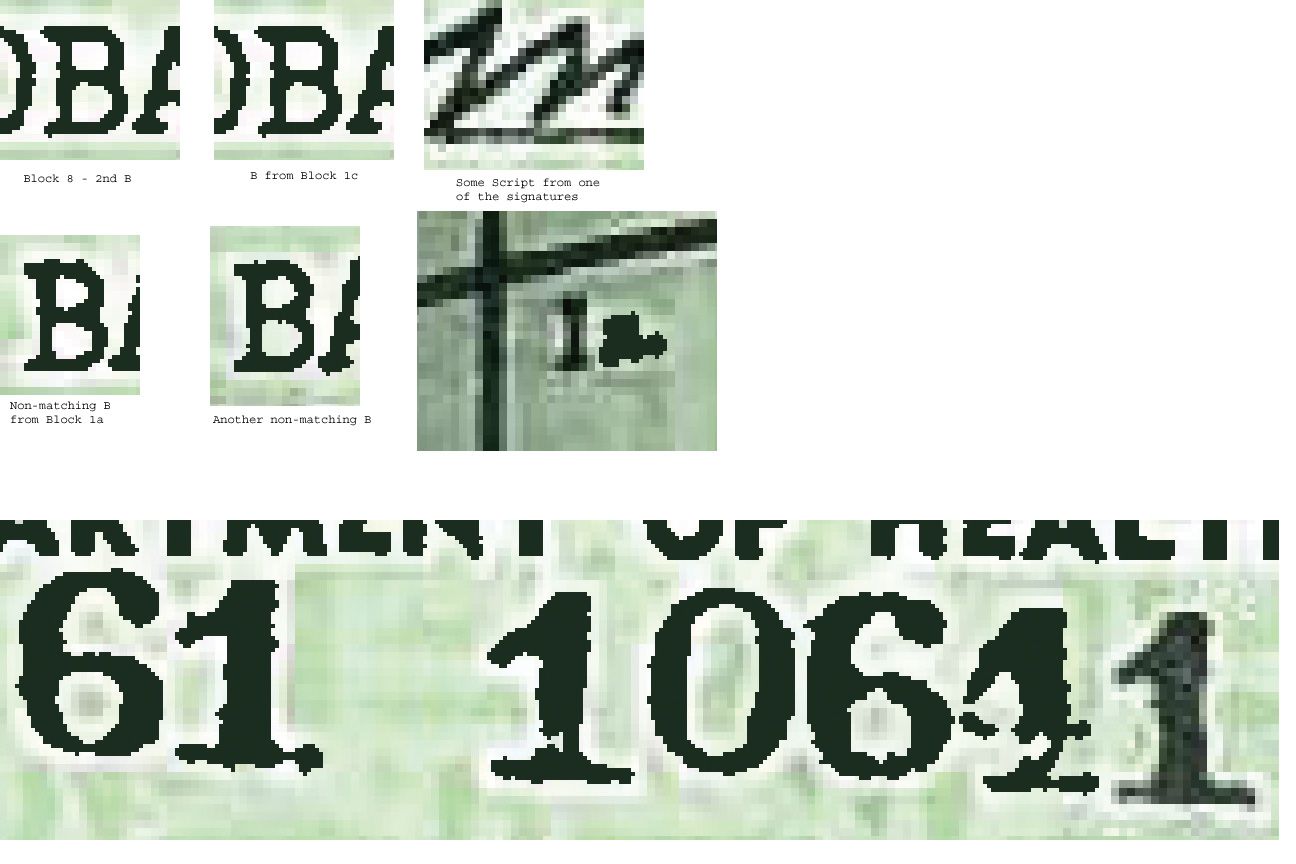 (I've constrained the width of the image a bit, in order that the text not force one to scroll every line to see beginning and end. I think this smaller image makes my point, but one can see the full size image here.)
At the upper left are the two identically pixellated B's, and below them are images of two other B's from the document when demonstrate why it is so unlikely that teo typewritten B's would present identically in a scanned document such as this. The presenter in the video thinks they were pasted into a composite document. (And I think he is right. But that won't be my point here, though ANY pasting is prima facie evidence of fraud SFAIAC.)
I thought maybe the B's were identical only because they weren't scanned with high enough resolution. That's why I chose 1200 pixels per inch. I wanted my resolution to be higher than any sane scanning resolution.
There's another reason the B's could be identical. If the pdf producing program recognized these as B's then maybe it would substitute it's own B for whatever it actually saw there. (Which sort of leaves the open question as to why it did no substitute for the other obvious - to any reasonable OCR software - B's.)
So I wanted to see how parts of the document that no OCR software could recognize looked. Look at the little piece of signature at the upper right of my composite. THE PIXELS ARE ALL FOUR TIMES THE SIZE OF THE ONES IN THE IMAGE TO THE LEFT. (I.e. they are 2x2, whereas the ones in the B images are 1x1.) Common sense tells me that non-standard images like signatures should be rendered with the smallest pixels, if some intelligence is going to be applied to choosing pixel sizes for different part of an image. But here the opposite is the case.
These different pixel sizes are the sizes are the clearest evidence so far that different images were brought together to produce BBBCII and that it is a fraud. No movies are necessary; just these still images and some common sense.
Some additional thoughts ...
The green background is entirely composed of large pixels everywhere. I suppose the pdf producing software could recognize the background and reproduce it in this fashion, but why? Why not the best resolution? It's just memory and processing time which are dirt cheap these days.
The registration number is interesting to look at from a pixel standpoint. I know others have commented that the final one seems differently produced than the other ones in the same image. In fact, it looks like it was produced from a font set, whereas the others look like they were draw directly from the scan. But the final one is composed of the large, low resolution pixels and the direct scan stuff uses the small pixels. This is more what I would expect from software that applies some intelligence to pixel size selection. But it is opposite from the signature example.
Finally I consider the scan of the form graphics that identify Block 1a on the document. Certainly there is nothing here, except the one, which any OCR software might identify. The little 'a' and the period following are just a blob, and they are the only part of this piece of the image rendered in small pixels.
The bottom line for me is that different parts of the BBBCII image were captured and/or created at different times, because they are composed of different sized pixels; and in no consistent way that could be explained by any intelligent software algorithm.
ML/NJ

---
TOPICS:
KEYWORDS: birthcertificate; certifigate; enoughalready; hopespringseternal; naturalborncitizen; pixels; thistimeforsure; vanity
---
Navigation: use the links below to view more comments.
first 1-20, 21-40, 41-60, 61-73 next last
---
---
---
---
---
---
---
---
---
---
---
---
---
---
---
---
---
---
---
---
---
Navigation: use the links below to view more comments.
first 1-20, 21-40, 41-60, 61-73 next last
---
---