---
Art Appreciation/Education "class" #4: Expressionism
6/16/05 | republicanprofessor


Posted on 06/16/2005 8:02:07 AM PDT by Republicanprofessor

Okay, today our theme, for this fourth "class," is emotional expressionism. This developed in the first decade of the twentieth century and features Matisse, as a French Expressionist (or Fauvist, if you want to get really picky) and the two branches of German Expressionism: the Bridge and the Blue Rider. They are all inspired by the work of van Gogh and Cezanne which we saw in the last "lesson": the emotional power of van Gogh and the strong composition of Cezanne.

Henri Matisse (1869-1954) dropped out of a career as a lawyer. He became a leader of the Fauves (which also included Derain, Braque and many other more minor artists). His Joy of Life is the quintessential Fauve painting. (This was posted earlier on a thread dealing with the Barnes Foundation, which is where the painting is located, and for many years it was only reproducible in black and white, a very frustrating fact for the art historian.)

What parallels do you see between the works below? What values do they show? How does Matisse's use of brighter colors, simplified line and shape exaggerate his meaning?
Joy of Life 1905 by Matisse vs. Titian's Bacchanal of the Andrians from 1522.
Note the flat women in the middle. Matisse's contemporaries (including Seurat, whose pointilistic--or dotted--paintings were very much on the cutting edge) were shocked at the flat treatment. Seurat was not shocked at the fact that nudes were in the picture, because nudes in these suggestive pose go back to Titian, Giorgione and others of the Renaissance in Venice, as in that right painting. But the fact that Matisse chose to exclude modeling (or shading) of the bodies to make them "flat" is what appalled Seurat. But does Matisse still convey their curvilinear and seductive shapes? Surely, with that wonderful, sensuous line around them. Matisse is an expert at line. He is also a master of color: notice the wonderful bright colors, popping out and celebrating everywhere. And what is going on? Have you ever enjoyed music and dance at a picnic? That's what we see. And a rapturous kiss in the lower right, with figures absorbed into one (like Klimt's Kiss that Liz posted a few weeks ago.)
And for those who would say that he can't draw, let me enlighten you. Matisse would draw from the live model for several hours every morning. But then he would go into his studio and extract the essence of certain poses to emphasize the joy he wanted to convey. Look at all the steps he went through to create Le Luxe I and Le Luxe II below. This example is not as good as the 20-30 steps he went through to develop his Pink Nude on the far right below, but I don't have that slide here. Matisse's work must be the most deceptively simple in art history.
I could go on and on about Matisse, but let's jump to Germany (and let FReepers add which are their favorite Matisses on the thread below). There were two movements of Expressionism in Germany: the Bridge (Die Brucke) which included Kirchner, Nolde and others in the cities; and the Blue Rider (Der Blaue Reiter) which included Marc and Kandinsky in the country. What comparison of values and forms can you see below? Do they use different shapes and colors to convey their meaning?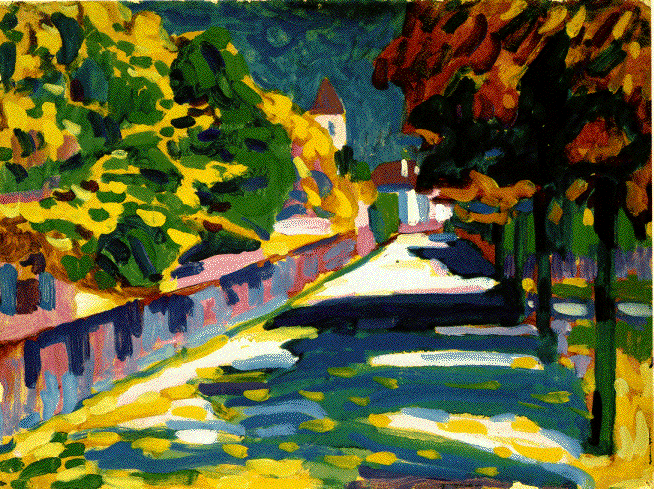 I am a country person, so you have to take what I say with a great deal of salt. But I always find the city images by Ernst Ludwig Kirchner (1880-1938) racked with tension. These ladies are crowding me out of the street and remind me of the adage that "You can't be too rich nor too thin." (Say that in a really high and snotty voice). The bright red-pink background presses forward to make the space even more claustrophobic. Nearly all of Kirchner's work has these angled shapes and tension throughout. And he did have a mental breakdown of sorts after being in WWI, and he retired to Switzerland to paint and to get his act back together again. But even those paintings in Switzerland have his tell-tale angles and tension.
But Franz Marc(1880-1916) has such a sense of joy and peace in his work. Like Matisse, his colors are bright and appealing. He wanted to see nature from the perspective of the animals. Have you ever seen a yellow cow dance? The curves of the Blue Horses are also the essence of "horsehood," if there is such a word.
One other Bridge artist is Emil Nolde (1867-1956). He was actually very religious and tried to bring that emotionally into his works. I love his dance around the golden calf, below, because it really captures that cravenness that drove Moses to break the commandments. See the golden calf in the central background? Nolde also did some touching images, such as letting the children come to Christ (below, right).
Now to the most difficult artists of this section. Open your minds for a new concept of art, because we are definitely moving into non-objective art. The cool thing is that in four different countries in 1911, four artists were independently working towards art that was no longer based in the real world (as in no-objects). These included the Russian Kasimir Malevich, the Dutch Piet Mondrian, the American Arthur Dove and the German Wassily Kandinsky (1866-1944).
One evening Kandinsky came home to his studio and had a new vision. As it turns out, one of his abstract (but recognizable) early paintings was on its side, so he saw it through completely new eyes. He didn't see clouds, a hill, or whatever. He saw that puffy shapes of white, textured greens and independent lines could create feelings without having to represent anything in this world. At nearly the same time, he went to a concert by an avant-garde composer called Arnold Schoenberg. This music did not use the normal traditions of music: there was no major or minor key (any note could be used), no traditional use of theme or harmony, etc. (I think early atonal music is much more difficult to "get" than the paintings.) Kandinsky did some paintings of this concert and he and Schoenberg began a long correspondence about modernism that is fascinating. See the yellow piece below. (The Jewish Museum in NYC had a great exhibition on this a year or two ago, and the catalogue, complete with CD, is awesome.)
So, here are four works by Kandinsky. Can you tell the earliest work? It's the first one. Imagine it on its side and the liberating effect this had on him. Now see if you can discern a difference in mood between the other pieces? How is he using color, line and shape differently? Now don't just dismiss it as a bunch of "squiggles a kindergartner could do." Look carefully.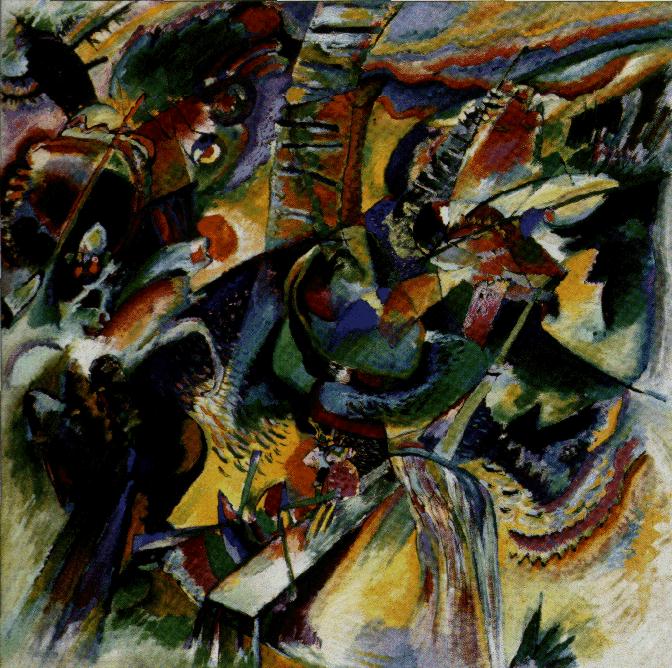 Kandinsky's early work (I don't know this title: train perhaps?) c. 1911 1911 Black Spot 1912 Ravine 1914
Now, what Kandinsky did (in more intellectual terms) is the following: he freed color and line from each other (as Pollock would do so even more later on). Up until now, line has always defined the outer border of a form, be it a flower, a nude, or whatever. But now the line can do its own thing in a corner, and the color can flow freely. Kandinsky said that he did not really paint music, but to emphasize the musical connection in class, I ask if one can perhaps "hear" different instruments. Does that huge "black spot" perhaps remind one of cymbals crashing, drums or low bass? Or maybe a tuba. The ravine image, on the far right, is really dark and scary. Was he communicating an experience during a walk? I see a "waterfall" in the lower right.
At this time, the "meaning" in these paintings is often the joy of discovering abstraction and non-objective art. Different people might see different things: a mountain or a body or a waterfall. But you can't go off into a long story about this mountain or person climbing it. These paintings are meant to be enjoyed for their visual pleasure: the contrast of line against color, very much like the sound of a clarinet with a violin. Music is not "representational." Mozart did not write with a little story in mind (although later composers did write "program" music about the course of a river or whatever). Kandinsky wanted to create this same, absolute pleasure that we feel in music: one theme against another, the pure sound of instrument against another instrument, color against line.
This stuff is not easy to get; but this is (again) a short introduction to some of these wonderful ideas. I love Kandinsky, but he is not easy to understand.
By the way, a few images by the other non-objective artists.
Malevich Compressed 6 Mondrian and Dove Nature Symbolized all about 1911 or soon thereafter. Notice how Dove is a bit different? What has he added to his works that the other Europeans don't have?

---
TOPICS: Arts/Photography; Education
KEYWORDS: appreciation; art; education; kandinsky; kirchner; marc; matisse; nolde
---
Navigation: use the links below to view more comments.
first 1-20, 21-38 next last
---
---
---
---
---
---
---
---
---
---
---
---
---
---
---
---
---
---
---
---
---
Navigation: use the links below to view more comments.
first 1-20, 21-38 next last
---
---