---
Colombia's election: How could the voters be so stupid? They just elected a far-left Hugo Chavez-adoring freak named Gustavo Petro for president
American Thinker ^ | 06/21/2022 | Monica Showalter


Posted on 06/21/2022 9:40:03 AM PDT by SeekAndFind

Colombia, which is America's strongest ally, has always had the most level-headed voters in the region.

They've had two conservative parties, sometimes at once, and voters there have always rejected the crazy left, which in their case, is a Castro-grade revolutionary crazy grade of left, with Bill Ayers-types on steroids. They did, after all, fight a 60-year war against Marxist narcoterrorists, with only a few university wokesters defending them.

So it was shocking news that on Sunday, Colombians went and elected just about the worst leftist of this stripe, a former M-19 narcoguerrilla named Gustavo Petro, president, turning one of the most conservative countries in the region to the far left for the first time. The freak belonged to the M-19 narcoterrorist outfit that operated in the 1980s and 1990s, aligning itself at some point with Pablo Escobar himself. That group blew up the Colombian Supreme Court -- with all the justices in it -- and a huge loss of life.

No normal person would join a detested group like that. After that, Petro went on to whoop it up with Hugo Chavez as the best of radical leftist allies, and like Chesa Boudin, became "an advisor" to the late, unlamented, Venezuelan thug. Petro and Chavez go way back, as this tweet suggests:

Picture of Colombia's new president Gustavo Petro with the great socialist leader Hugo Chavez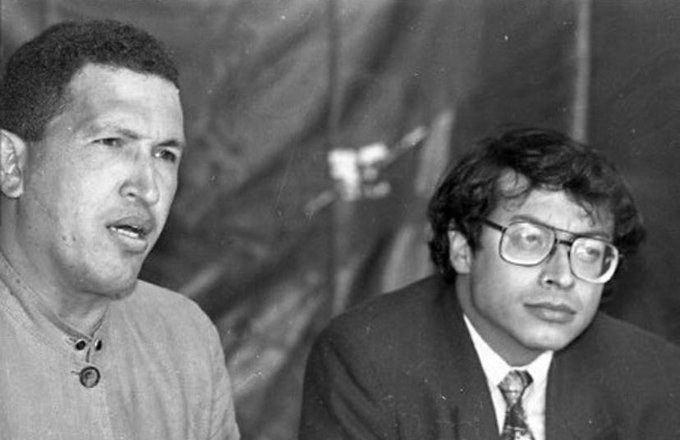 pic.twitter.com/gCkp5diZGx — Profé (@ProtestaBloc) June 20, 2022
Venezuela wasn't a warning to Petro, it was the playbook.
After that, he became a lousy blue-city mayor of Bogota for a stretch, reducing the quality of life same as is seen in blue cities here. He had to have had some kinds of political skills, given his record both as a reviled leftist terrorist and a crappy mayor.

(Excerpt) Read more at americanthinker.com ...
---
TOPICS: Foreign Affairs; News/Current Events; Politics/Elections
KEYWORDS: biden4commies; bidenacommie; boudin; chesaboudin; colombia; columbia; commies; communism; gustavopetro; hugochavez; leftist; narcoterrorists; putin; venezuela; xi
---
Navigation: use the links below to view more comments.
first 1-20, 21-40, 41-53 next last
---
---
---
---
---
---
---
---
---
---
---
---
---
---
---
---
---
---
---
---
---
Navigation: use the links below to view more comments.
first 1-20, 21-40, 41-53 next last
---
---