---
SUPPORTING OUR TROOPS - Olney's Summer Wrap, Weeks 221-242, April 03 - Sept 03, 2010 Very Pic
Sept. 06,2010


Posted on 09/07/2010 5:35:18 AM PDT by trooprally

A lot has happened in Olney this lomg hot and dry summer of 2010. Our tale follows primarily in pictures. Not every week is included.

Patriots who have attended over the summer are: Legionnaires Glenn (USMC, Iwo Jima, WWII), Dave (Army, WWII) and friend Janet, Halsey (USMC, Korea), Jack (Coastie, Korean War Era), Dennis (Army, Korea) and Carl (Army, Vietnam).

And FReepers Cindy_True_Supporter, Eager, Fraxinus, GunsAreOK, iMacMan, [Mrs] T, me, [Mr] T, and VictoryNY.

And II - Lurker Bill and Daughter, and Lurker Deb

And III - GoE members Sandy and Theresa from New Jersey.

There are no pictures for Olney's August 28 Rally but Lurker Bill held down the corner while we all attended Glenn Beck's Restoring Honor Rally.

WEEK 221, APRIL 03,2010

BELOW LEFT: Halsey, me and Lurker Bill's daughter. BELOW RIGHT: Legionnaire Jack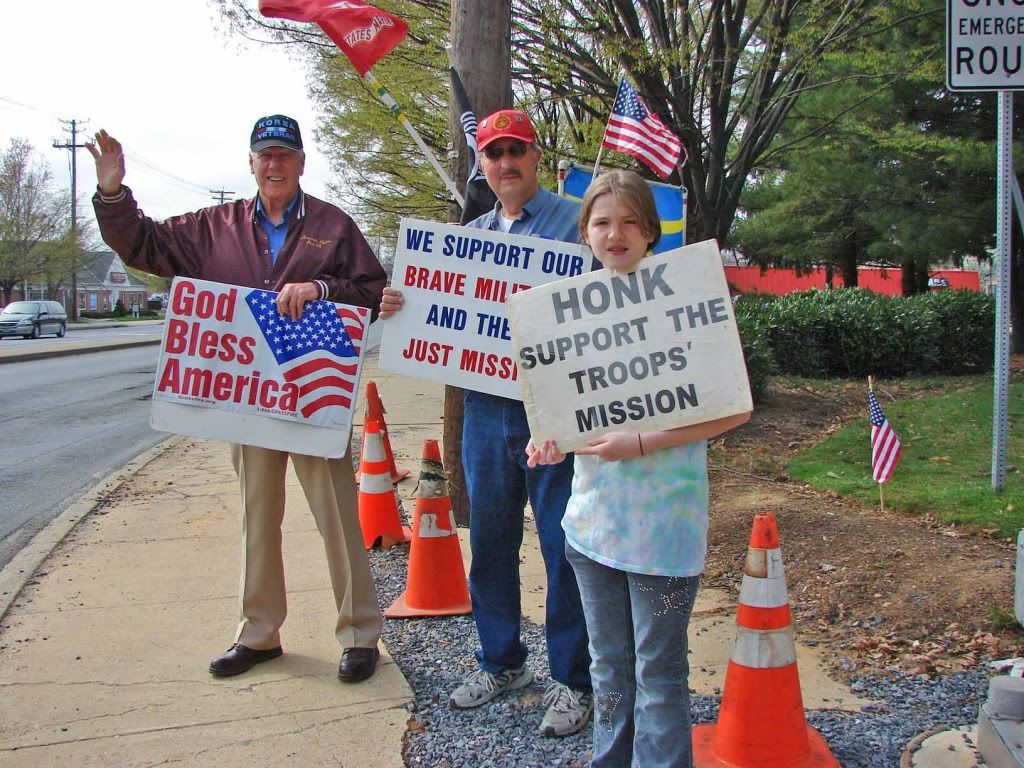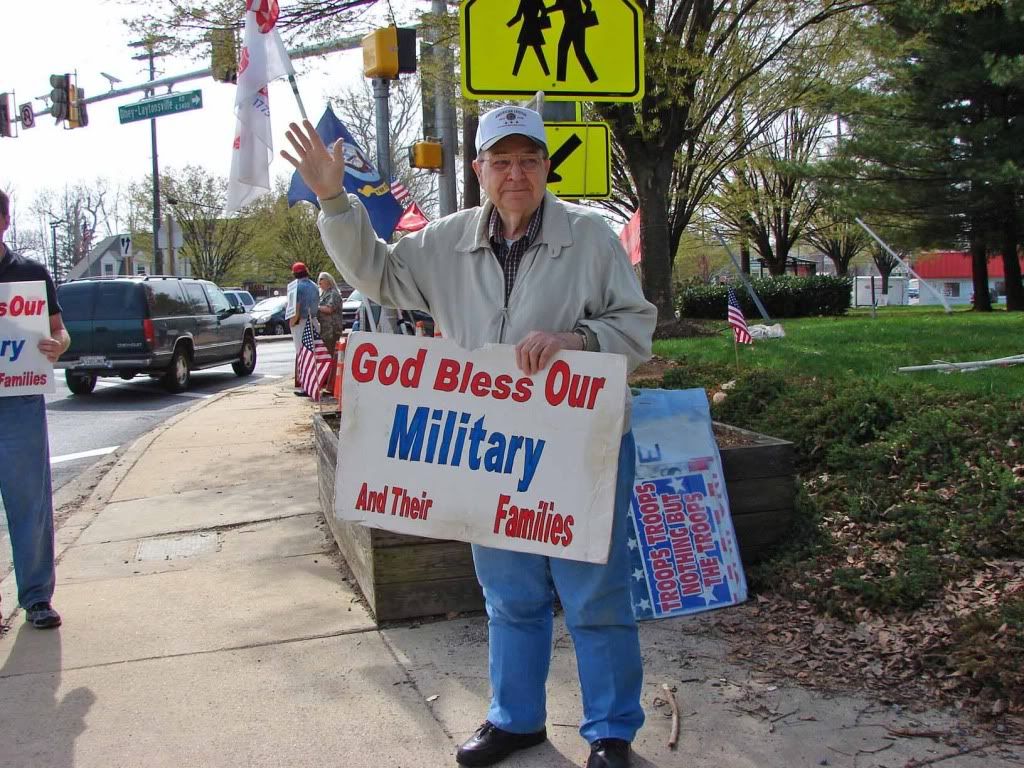 BELOW: And we still had our passing supporters.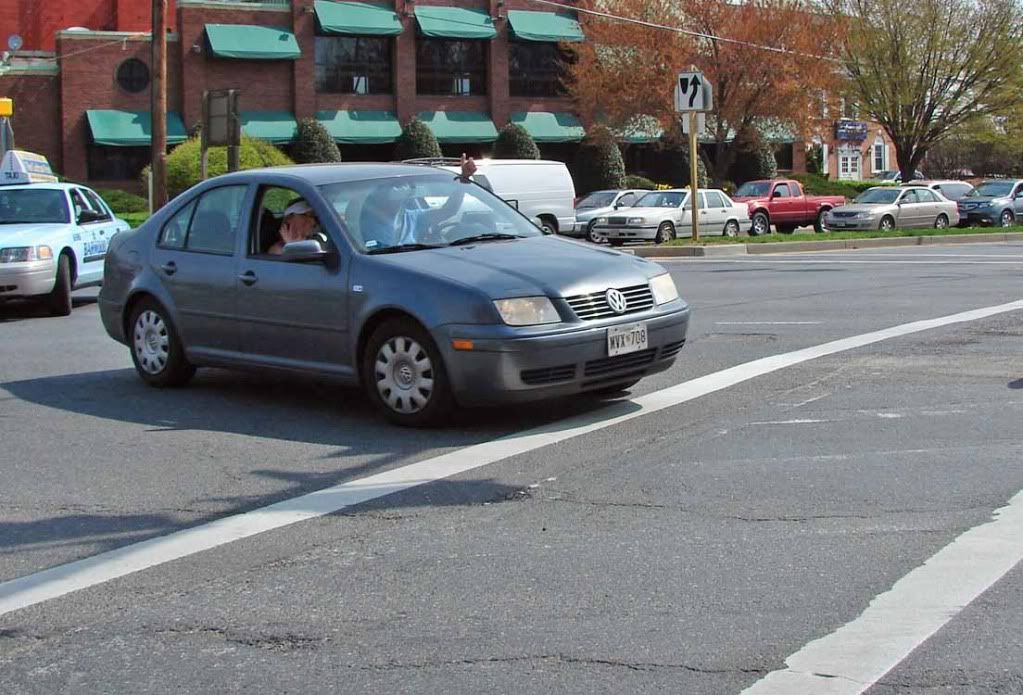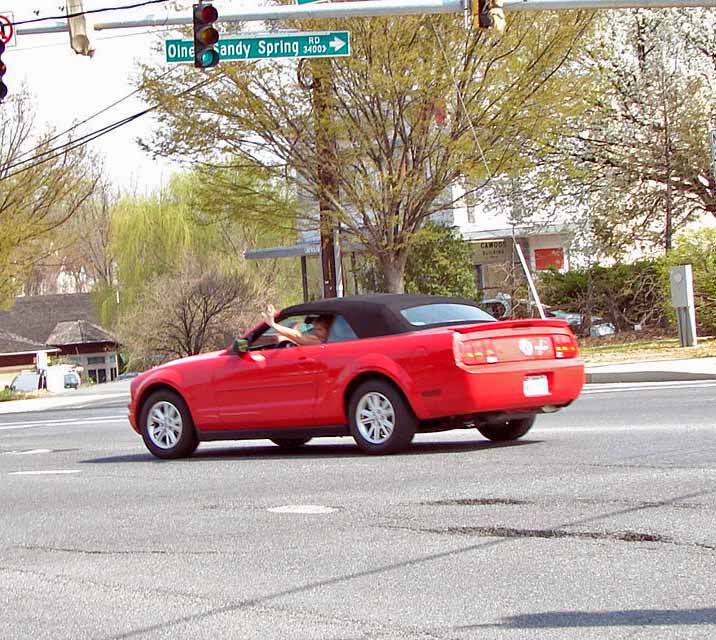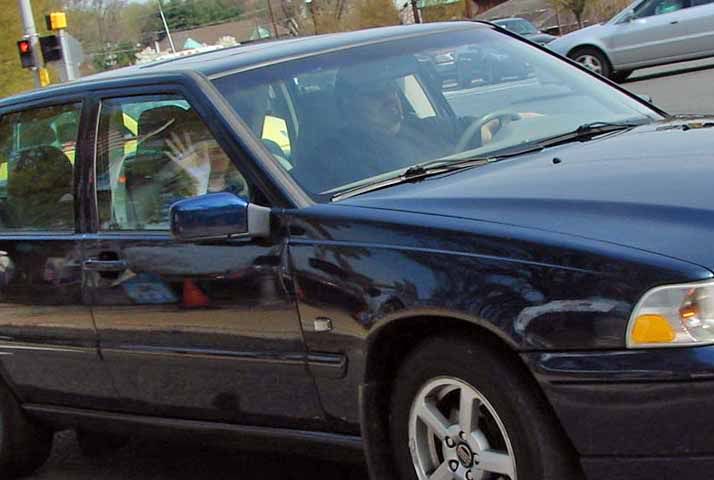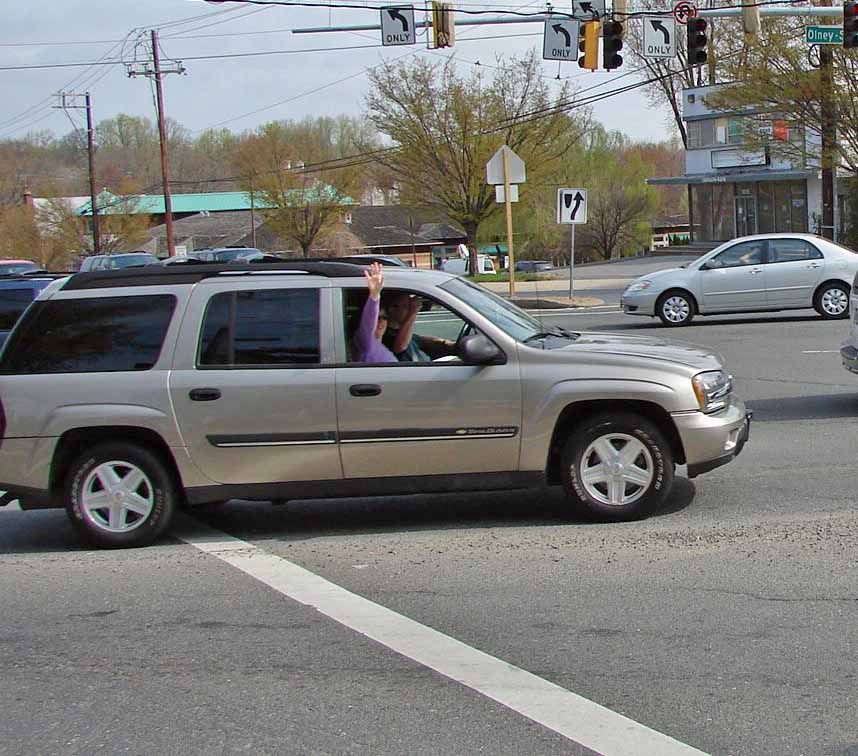 WEEK 222, APRIL 10,2010
Pictures this week also include those taken by iMacMan
BELOW LEFT: [Mrs] T and Cindy_True_Supporter. It was still chilly out there. BELOW RIGHT: Sisters on their weekly walk.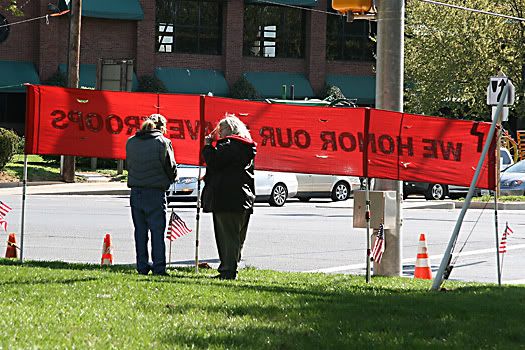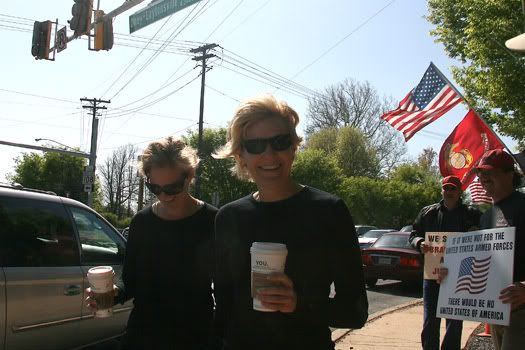 BELOW: And more of our passing supporters.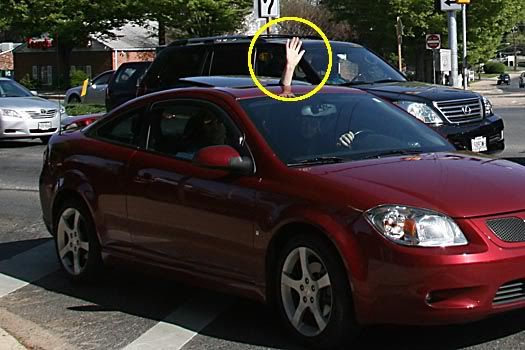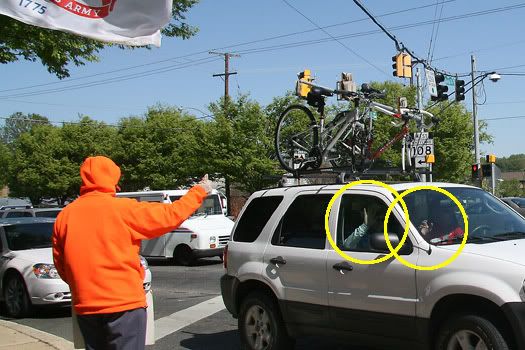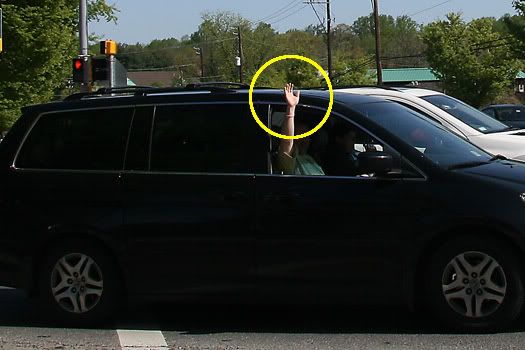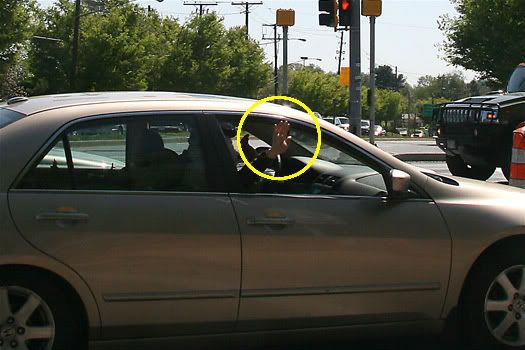 BELOW LEFT: Fraxinus, iMacMan and construction. BELOW RIGHT: Dave and Janet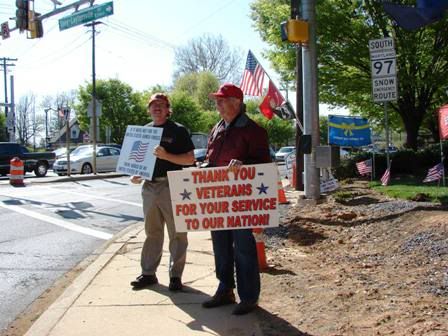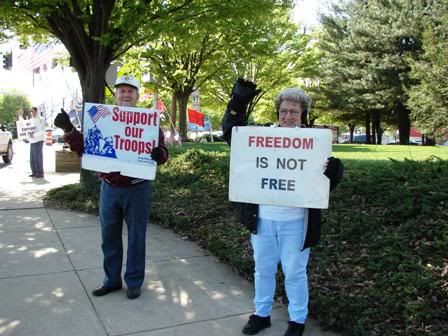 BELOW LEFT: Me and Fraxinus. BELOW RIGHT: Supporter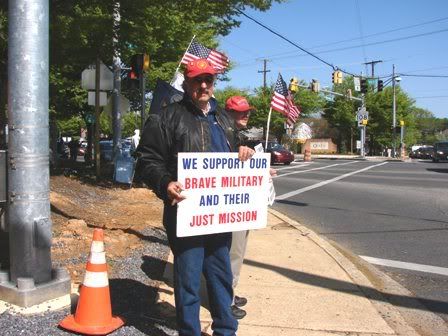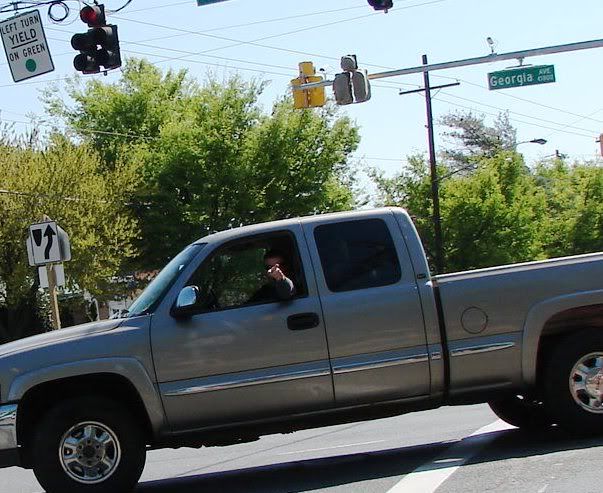 WEEK 223, APRIL 17,2010
BELOW LEFT: Me with wind blown flags. BELOW RIGHT: Cindy_True_Supporter and Lurker Deb having a bad hair day with the wind.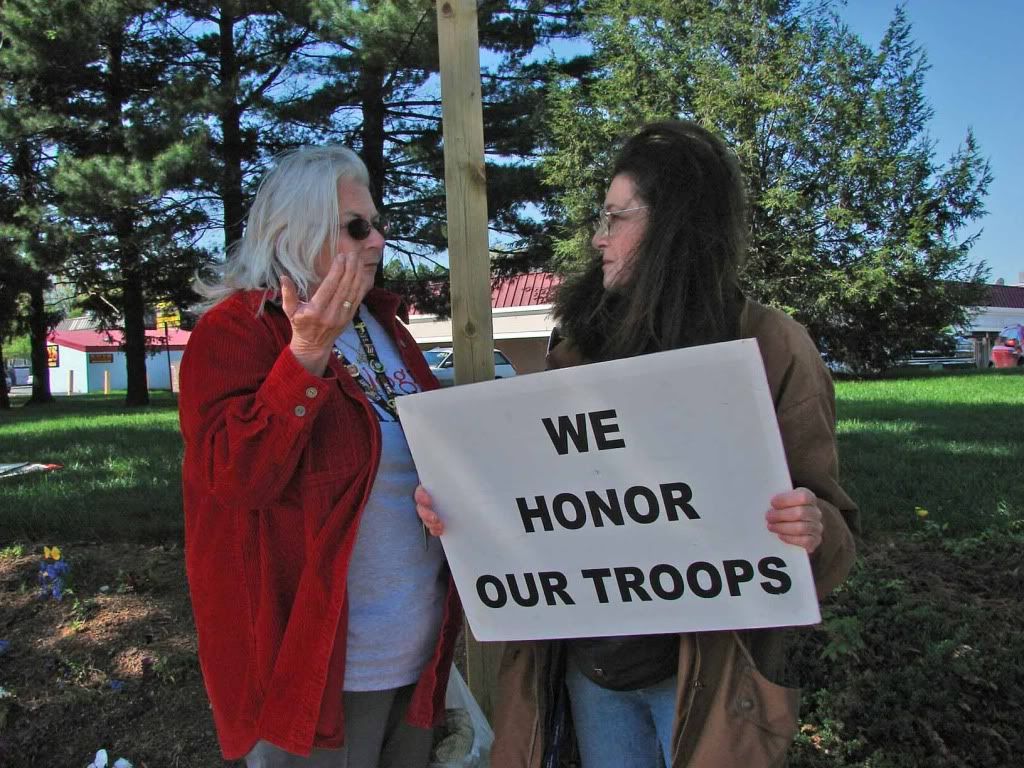 BELOW LEFT: VictoryNY being herself. BELOW RIGHT: Lurker Bill, Glenn and Dennis.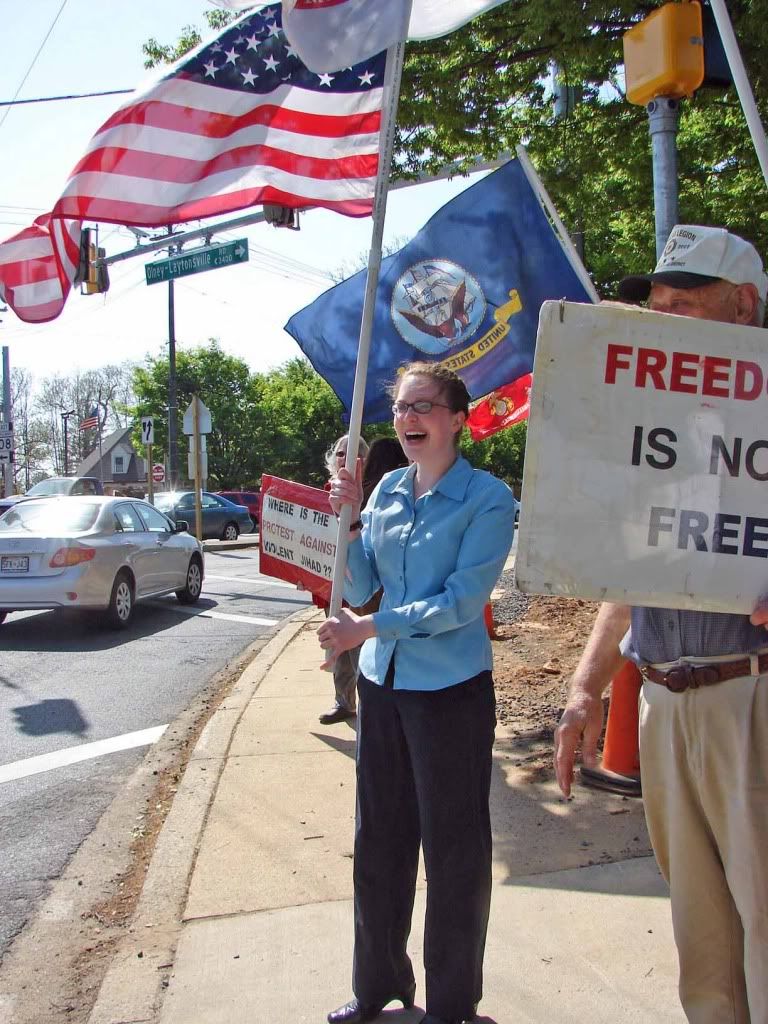 WEEK 224, APRIL 24,2010
BELOW LEFT: Cindy_True_Supporter - "Dang, they are leaving already??" BELOW RIGHT: Moonbats' perp walk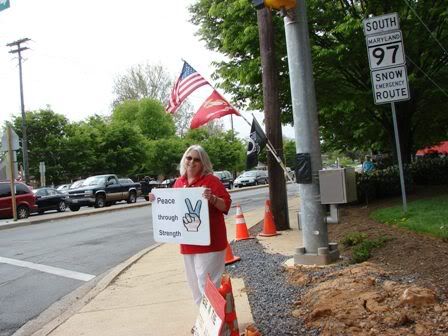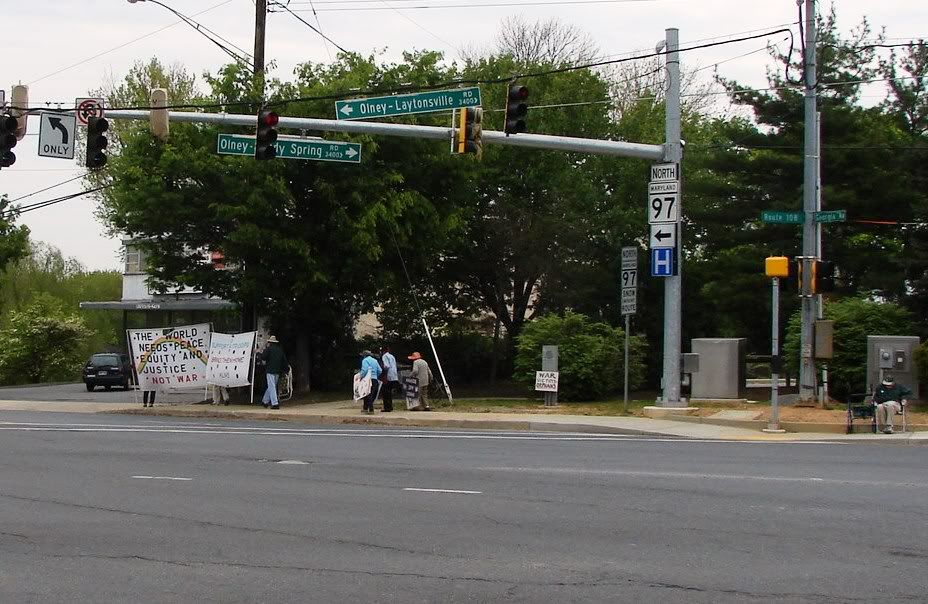 BELOW: Continuous Support. While I am not posting similar pics in further weeks, they still continue to honk, wave and shout "Thanks". One car even held up a small sign the said "Thank You".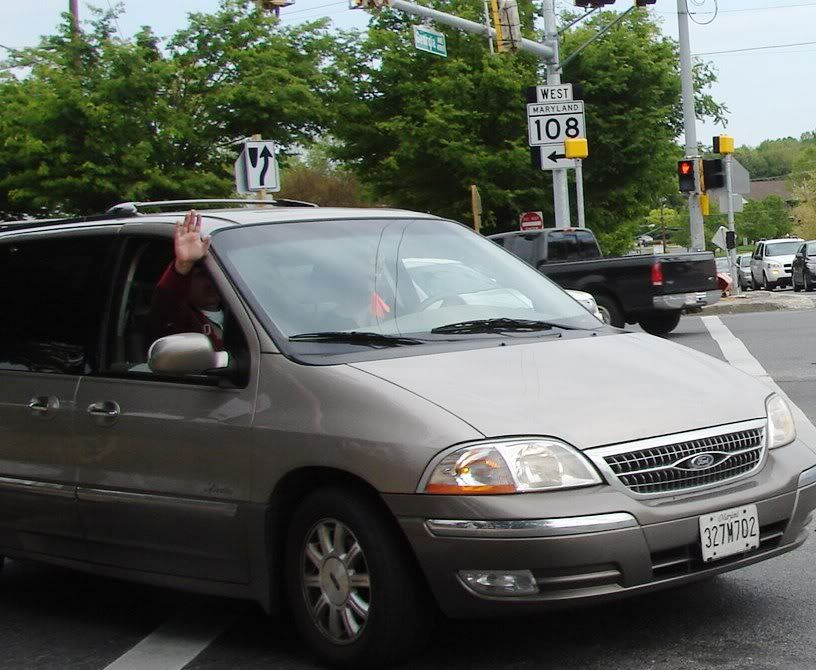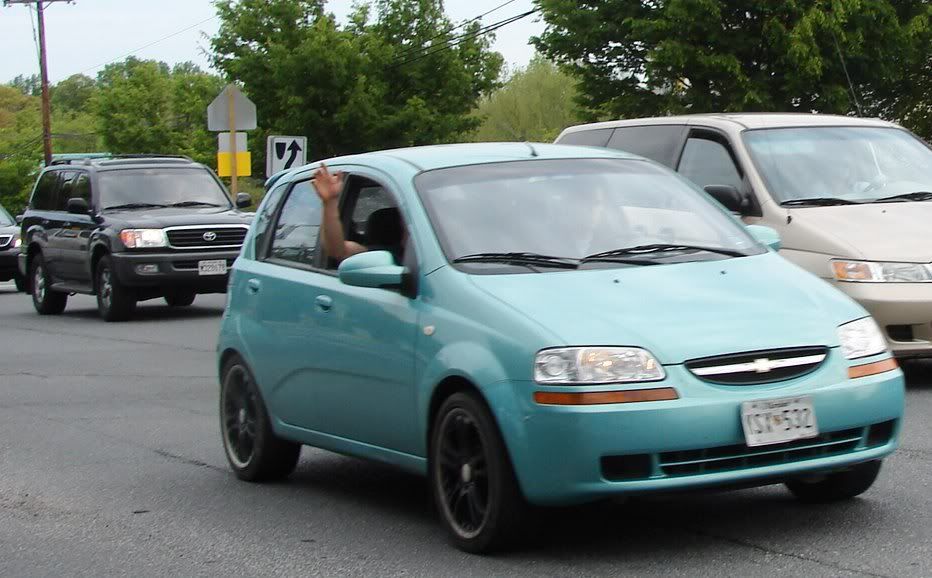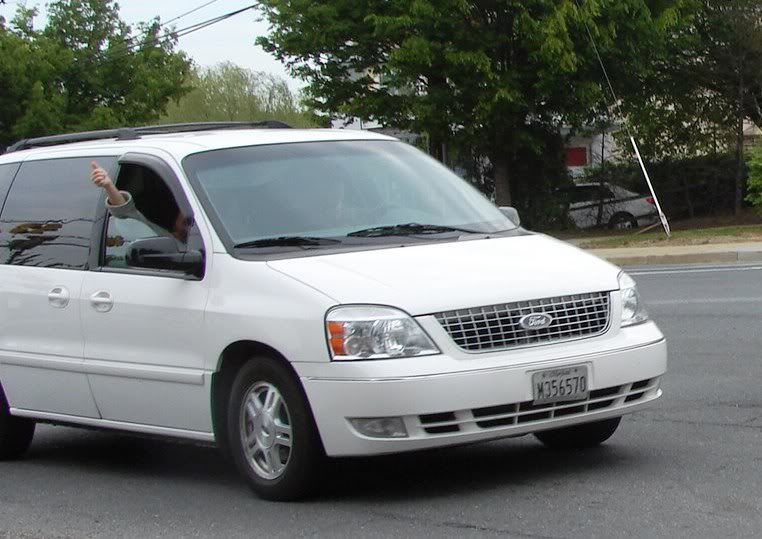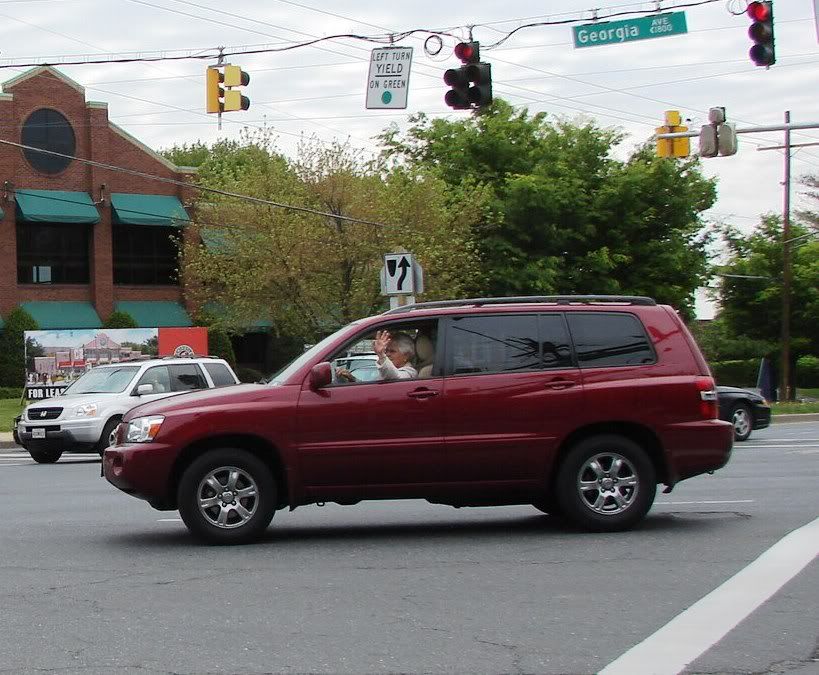 WEEK 228, May 22,2010
BELOW LEFT: After "The ONE's" repugnant behavior to the Israeli Prime Minister, we decided to show our support for Israel. BELOW LEFT: Close up of sign with Cindy_True_Supporter holding map of Israel's "peaceful" Muslim neighbors.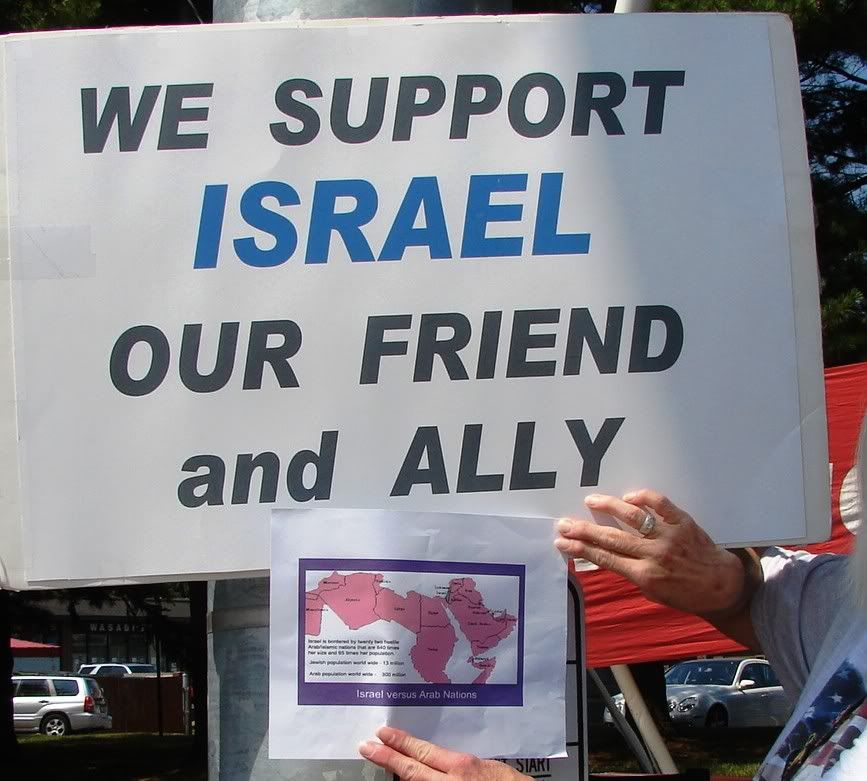 WEEK 229, May 29,2010
BELOW LEFT: GunsAreOK with disgruntled passerby. BELOW RIGHT: We did not fly the Israeli flag this Memorial Weekend. This week was for our soldiers who have given the most they could. The freshly planted flowers were appropriate for this Memorial Weekend.
WEEK 230, June 05,2010
BELOW LEFT: We finally got our We Support Israel sign mounted in front of the Israeli flag. BELOW RIGHT: One of several small Israeli flags on soon to be gone raised planter.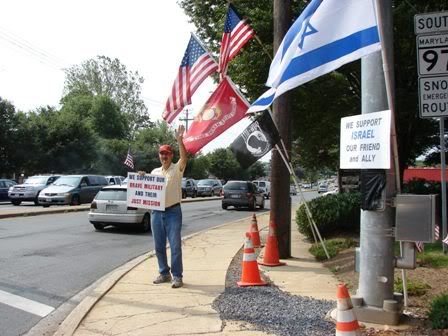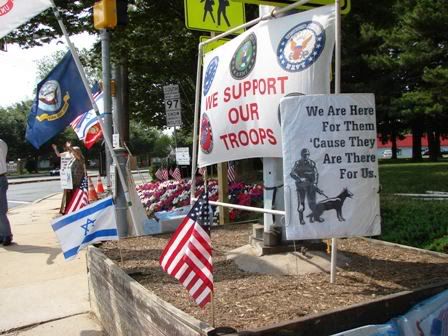 WEEK 233, June 26,2010
BELOW LEFT: After several weeks of rehab, the all weather Blue Banner is back. Lurker Bill's mother-in-law stitched a new border and L. Bill added grumlets to hang it. The banner is on our extreme right flank and almost never gets into pictures. BELOW RIGHT: GunsAreOK , Halsey and Dennis. Guns has become a regular in Olney this summer.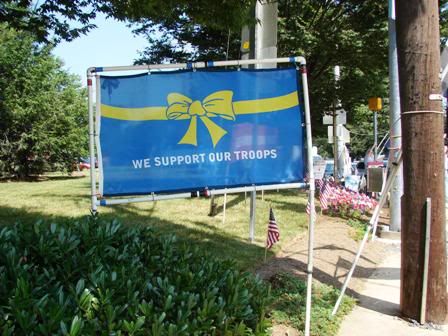 BELOW LEFT: Our raised planter has been removed. We found a new location for the U.S./Army flag. BELOW LEFT: Who can forget Doctor Raoul from Week 5 standing on the planter?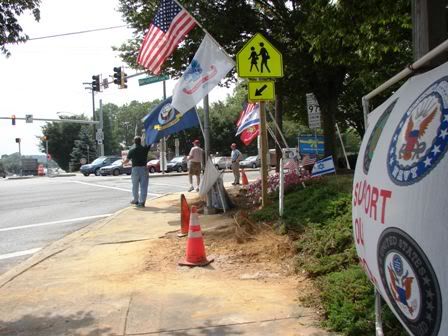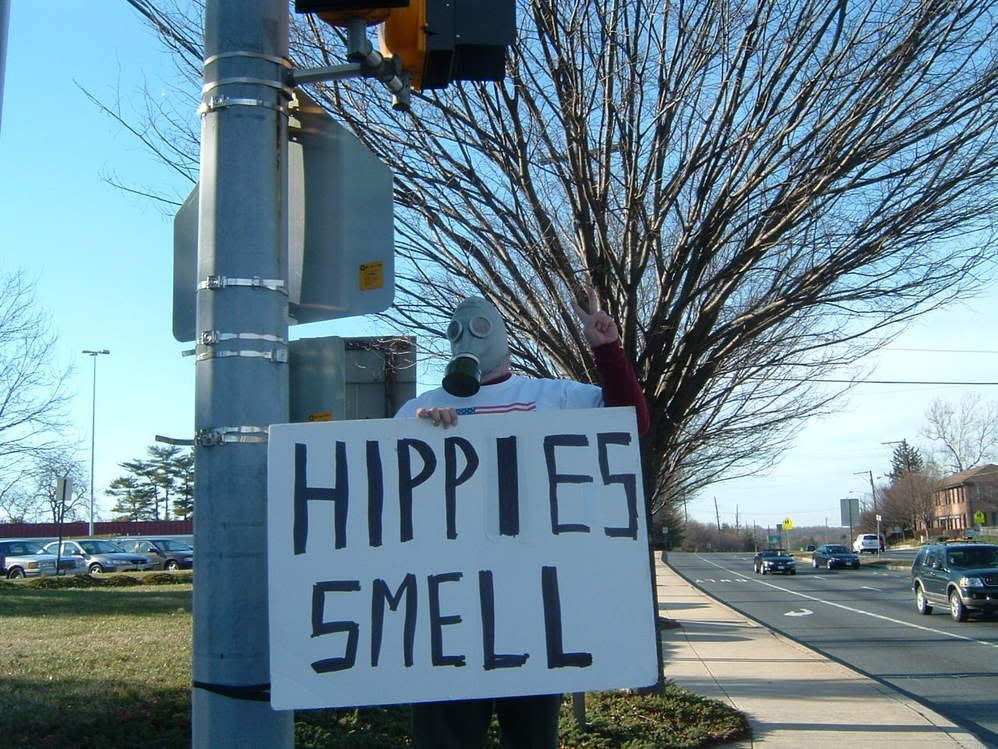 WEEK 234, July 03,2010
BELOW: After some health problems, Eager (right) once again joins the Olney Patriots.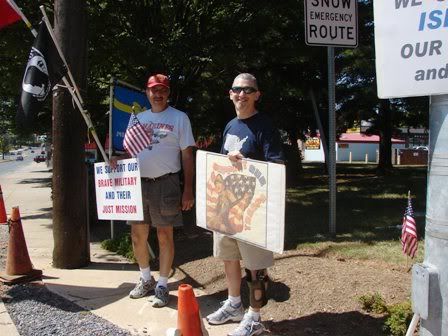 WEEK 236, July 17,2010
BELOW: Lurker Deb with our famous Walter Reed sign, standing with Cindy_True_Supporter.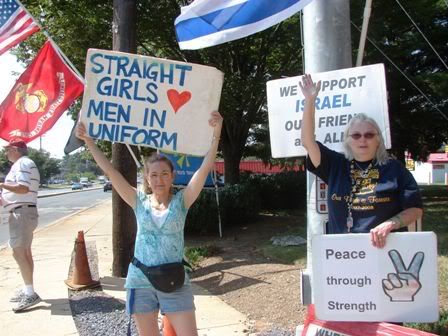 WEEK 237, July 24,2010
BELOW: With the very hot weather, the previous Monday & Tuesday temps were over 100, most everyone is wearing shorts. Our corner has also finally been finished. We have a NEW concrete walk
BELOW: Even the moonbats have learned. They have started to arrive an hour early. We adjusted out time appropriately but stay an extra half hour till 11AM, just because we are better.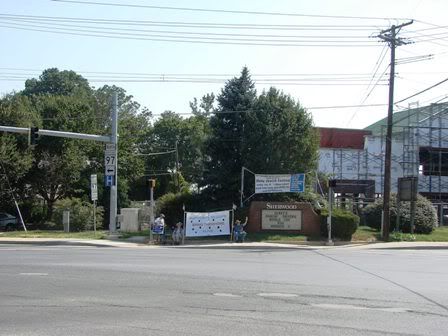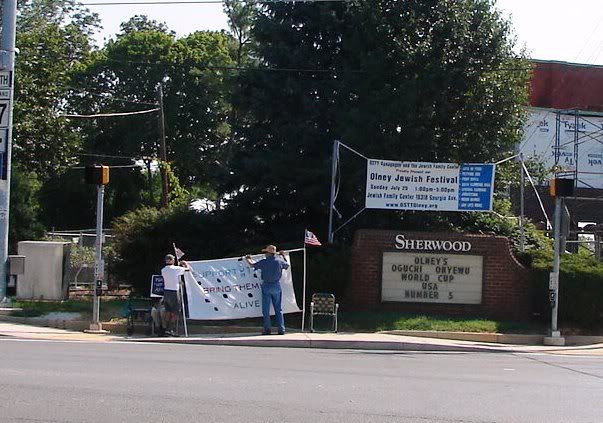 WEEK 241, August 21,2010
This week was extra special. We had a whole lot of patriots this week so we were able to occupy 3 corners, surrounding the moonbats.
BELOW LEFT: GoE Member Sandy BELOW RIGHT: and his wife, Theresa.
BELOW LEFT: Lurker Bill on the northwest corner. BELOW RIGHT: Me and one of our grandsons on the southeast corner.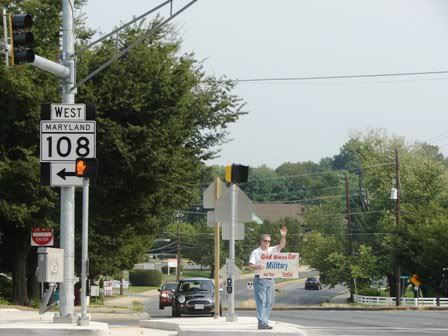 BELOW LEFT: One of our granddaughters. BELOW RIGHT: The other granddaughter.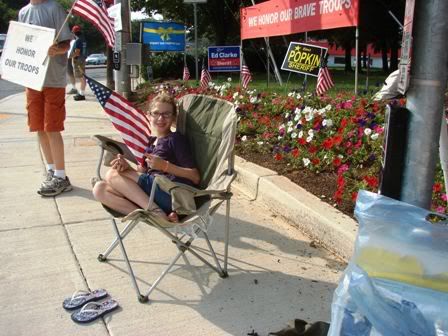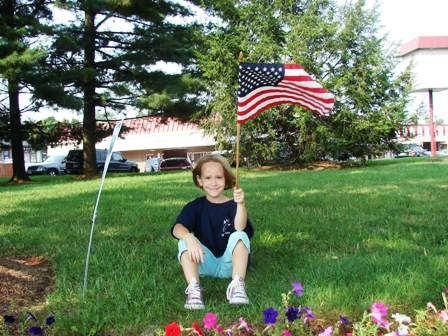 BELOW LEFT: Our other grandson. BELOW RIGHT: The Legionnaires and GunsAreOK holding down our left flank.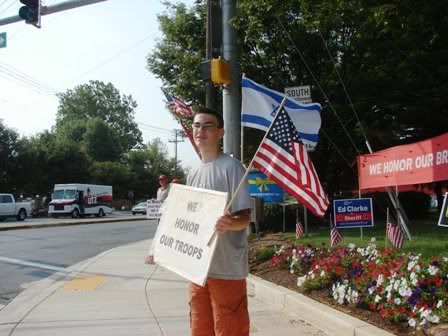 BELOW: And with the earlier, cooler start, the moonbats have a big turnout protesting our military.
WEEK 242, August 28,2010
No pictures for this week. Lurker Bill held down the corner by himself as we were all at Glenn Beck's Restoring Honor Rally.



WEEK 243, September 03,2010
[Mrs] T and I were absent this week attending our Marine son's WELCOME HOME party. But Fraxinus took pictures for us on his iphone. It takes some real good pictures.
BELOW LEFT: Halsey, Jack and Lurker Bill. BELOW RIGHT: Fraxinus (photo taken by Cindy_True_Supporter), Glenn and Dennis.
In the words of that waskily wabbit -




WARNING TO FREEPERS ATTENDING OLNEY
Some new money makingSPEED CAMERAS have been installed on north bound Georgia Avenue right before you enter the main business district. Slow your speed after the light at King William Drive.
And a new one has been placed just south of Brookeville, between Brookeville and the Longwood Community Center.




REMEMBER
Next Saturday, same place, Georgia Avenue, MD Rte. 97 and MD Rte. 108 in Olney
NEW TIME - 10:15 AM to 11:45 AM


As always, the D.C. Chapter's rules for protesting will be in effect. Briefly, they are: No violence, no profanity, no racism, no provocations, obey the law and treat all law enforcement officers with respect.

---
TOPICS: Activism/Chapters; Free Republic; US: District of Columbia; US: Maryland; US: Virginia
KEYWORDS: aar; military; mobilizingmothers; moonbats; opinfinitefreep; patriotism; peaceactionmc; rally; supportourtroops
---
---
---
---
---
---
---
---
---
---
---
---
---
---
---
---
---
---
---
---