---
A Freeper Odyssey: New Skete Monastery
Self ^ | 12/15/08 | Joe 6-pack


Posted on 12/15/2008 5:17:42 PM PST by Joe 6-pack

The contents of this thread will already be familiar to the members of the Free Republic "Doggie Ping" list, and it is only at the insistence of some members of that coterie that I post this for all. I was hesitant to do so at first, thinking that, having already shared it with members of that group on another thread, the interest level among the Freeper population at large would be somewhat limited. Upon further consideration however, my experiences of this Saturday past filled me with a sense of joy, peace and total happiness that I suspect few are ever fortunate enough to experience, and in this Holiday season, I am compelled to believe that it's not only proper, but incumbent upon me, to share these feelings of cheer and good will with all.

As I've written elsewhere, regardless of how long I remain on this earth, one of the most enriching, and rewarding aspects of my life will always be the bond I established with a German Shepherd puppy upon my return to the states from Korea in the fall of 1998. Timber, as he was to be known, became my constant sidekick, best friend, roommate, and quite literally, my guardian angel. Not only was he, by any definition, simply a great dog, but also became my unflagging companion through some of the very worst times of my life. Through it all I was grateful for the bond we had, and that bond was in large part, if not exclusively the result of a small community of men, the Monks of New Skete in Cambridge, NY.

Many monasteries seek perfection in specific endeavors not for vanity or profit, but simply to gather glory to God and to, in their own small way, close the gap between heaven and earth. In some monasteries this means the crafting of wines or ales; in others, icons or manuscripts. At New Skete, the monks dedicate themselves to breeding the very best German Shepherds, and running an all breeds obedience school. Timber was the dog that he was because of the love, dedication and devotion that the New Skete Monks invest in breeding these excellent animals and in their books that espouse a training methodology that deeply involves the master as well as the dog, introducing a spiritual element to the nexus between the two. I have long yearned to travel to New Skete, if for no other reason than to extend my gratitude to these men whose efforts had so greatly enhanced and blessed my life. My urge to travel there had increased since Timber's passing in 2007, and being in the northeast for work, I had the opportunity on Saturday to realize this ambition.

New Skete is located in upstate NY, just a few short miles west of the Vermont border. As the week drew to a close, I watched the news reports as severe weather cudgeled the New England area. I gave a passing thought to contacting the monastery to see if they were even accessible, but decided against it. This trip was as much for Timber's memory as it was for me. Even if the roads were closed, I had to make the attempt on Timber's behalf…for the dog who would have done anything for me without any second thoughts or feasibility study. I owed his memory that much.

According to the Monastery website, the gift shop is open from 10:00 a.m. - 12:00 p.m. and 2:00 p. m. - 4:00 p.m., so I had to time my arrival carefully. My GPS said it would take about four hours to get there from my Piscataway, NJ hotel where I was working, so I left NJ around 9:00 a.m. hoping to make it there for the afternoon hours and allowing an hour for road detours, accidents and other delays. The website also explicitly states that kennel tours cannot be given for liability reasons, so my expectations were limited...get there, do some Christmas shopping in the gift shop, grab some photos of the grounds and maybe talk to some of the monks.

As I went north there was some frost on the ground, and the temperature steadily dropped. The sky was clear, but the landscape was bleak with frost until I cleared Albany. As I entered Troy, NY, it was like stepping through the wardrobe into Narnia, and the landscape instantly became a winter wonderland. Snow covered the ground and the trees were glistening in ice, but the roads were miraculously clear. As I pushed onward it seemed as though time rolled back a few years with each passing mile. My route to New Skete wound through some beautiful little towns, over rushing creeks and rivers, past quiet farmland resting under its winter blanket of white, and through thick forests, no less dense for their absence of leaves.

The further north I traveled, the colder it became…
…even the cattle were dressed for the weather...
The trip went smoothly and at 12:45 p.m. I turned onto New Skete Road…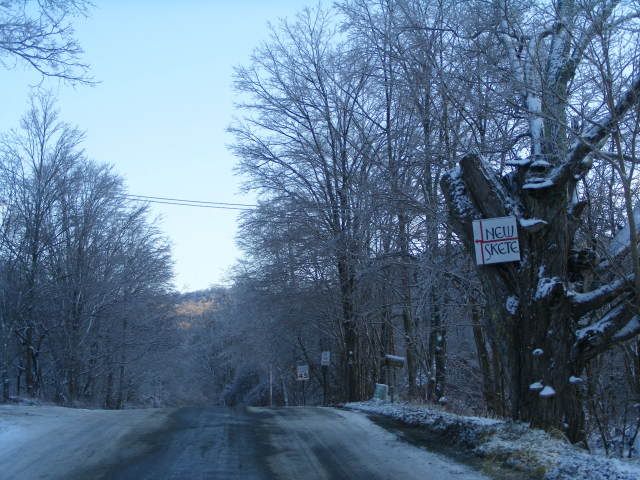 As I climbed the mountain, something told me I was in the right place…
I made my way up the entry road and located the gift shop parking area. Even though I'd arrived an hour before their posted business hours, an "Open" banner flapped in the sun. I entered the shop and was welcomed by New Skete Brother Ambrose and his dog James. I spoke with Br. Ambrose as James gave me the once over, decided I was a dog lover and teased me with his tennis ball. The shop was filled not only with the Monks' well known tomes on dog behavior and training, but religious texts, prints of icons, religious memorabilia, clothing items and produce from the farm administered by the Monks, Nuns and lay community of New Skete. Although Br. Ambrose had to field numerous calls for Christmas orders from the excellent New Skete Catalog. James made for perfectly suitable company as I browsed the shelves and did some gift shopping of my own. As time allowed, Br. Ambrose gave me an overview of the Monastery, and told me I was basically free to walk the grounds, which I did, but not before Br. Ambrose graciously agreed to take a photo of James with yours truly….
Due to the weather, there were no other visitors, and the dogs (and monks) were pretty much indoors, but I didn't mind; the scenery was absolutely beautiful!
The deceased members of the New Skete community are interred on-site, and I couldn't help but notice there were a number of veterans among them.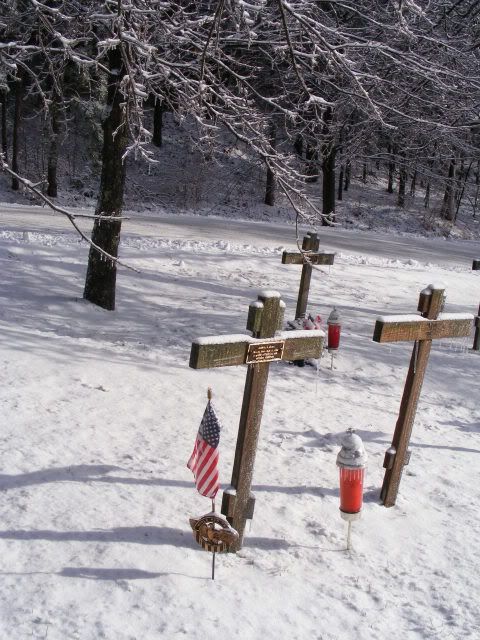 The original temple was built by the brothers after their founding in 1967. Apart from a few power lines, I felt as though I'd stepped into the 19th Century, and in every direction, I turned, a near perfect Christmas card unfolded in the landscape around me.
Frozen cranberries, anyone?
I also drove across the valley to the Nuns of New Skete who also play an integral role in the community and are actively involved in the operation of the farm and raising of the dogs. I had planned attending the scheduled vigil at 5:00 p.m. and about 4:00 p.m. (when the bookstore does close) I found myself sitting alone, meditating in the darkened Church...I was at peace, and it had already been a wonderful day. I was approached by Br. Stavros who introduced himself...He invited me to the cloisters for a cup of tea, and I happily accepted....but first, he needed me to accompany him to get his dog...He took me to the Puppy Kennel.
Normally, this is a building accessible only to the monks and prospective owners who have spent several years on a waiting list, met the monks' screening criterion and been willing to pay the going rate for these Ferraris of the dog world...now I, Joe 6-pack, was getting exclusive access!!! Br. Stavros gave me tour of the facility then picked up his puppy, Walla...
"Hey Joe 6-pack...would you mind holding my dog for a minute?"
"Not at all!" says I. The last thing one expects at a monastery is a smooch from a cute young female! After tea with Walla and Br. Stavros, it was time for Vigil, and the main church was gorgeous in the dimming light...
After the small, intimate and utterly beautiful service, Br. Stavros asked if I'd like to stay for dinner with the monks!! I told Br. Stavros that was like asking a nine-year-old little leaguer if he'd like dinner with the '27 Yankees! I was honored...and I dined with the monks on inch thick pork chops, sweet potatoes and mixed vegetables...and here I was, a neophyte amongst some of the very best people at what they do on the face of the earth!! I was simply in awe, but even more unbelievable was their utter humility and sincerity. Imagine Babe Ruth and Lou Gehrig taking an honest interest in a nine-year-old's hitting techniques and swapping dugout stories...I can think of no more accurate analogy. During dinner we talked. We talked about our dogs, past and present. We talked about religion, and spirituality. We talked about the meal. Several brothers were also from Western PA and we talked about home.
But mostly we talked about dogs, and I thanked them with all the gratitude in my heart while the dogs of New Skete lay around the outside of the monks' table, in perfect obedience to their masters.
Following the meal and a beautifully sung compline, I mingled briefly with the brothers and their dogs, namely Petra, a six-month old whose perfect obedience belied an apparent ebullience that will be hers all her life, and Ziko…God bless Ziko. He had Timber's size and "suffer-no-fools" demeanor. I was drawn immediately to this magnificent animal and crouched next to him. He snuggled his powerful head against me. Everything about him was like my Timber. I closed my eyes and caressed his head with my fingers. The texture of his hair, the shape of his skull, the musculature of his jaws, his ruler-straight nose that shot forward from his face, then dropped in a perfect, planar wedge to the tip of his cool moist muzzle. I was transported immediately to a thousand distant days and places when I'd held that head, and before I opened my eyes, a tear rolled down my cheek. I was home.
Br. Stavros, Br. Mark, Joe 6-pack/Ziko, Br. David/Petra
Moonrise over New Skete
---
TOPICS: Miscellaneous; Pets/Animals; Religion; Travel
KEYWORDS: doggieping; newsketemonks
---
Navigation: use the links below to view more comments.
first 1-20, 21-40, 41-53 next last
---
---
---
---
---
---
---
---
---
---
---
---
---
---
---
---
---
---
---
---
---
Navigation: use the links below to view more comments.
first 1-20, 21-40, 41-53 next last
---
---