Joe 6-pack
America: Fanfare For The Common Man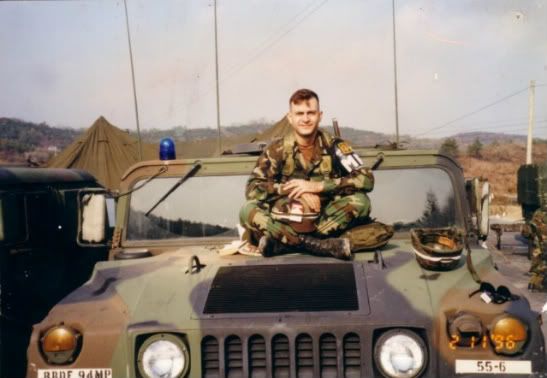 "I do not seek to understand that I may believe, but I believe in order to understand. For this I believe: that unless I believe, I should not understand. "
~ St. Anselm of Canterbury
Timber

9/17/98 - 7/12/07
Every person should be so lucky to meet such a dog once in their life.


I was privileged to live, work and play with one almost every day for nine years.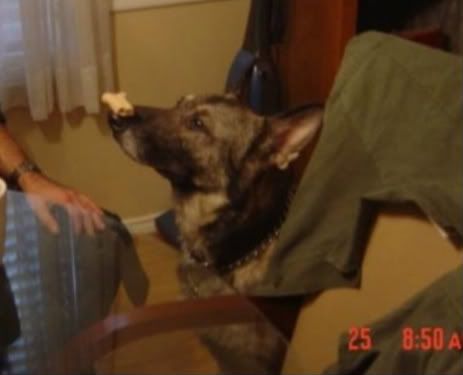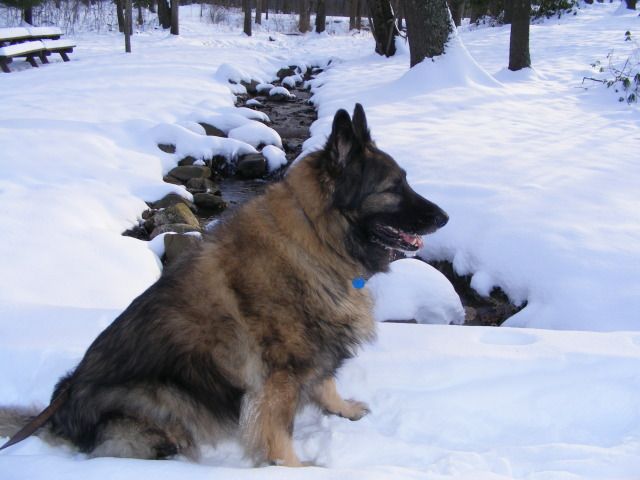 Timber's adopted little brother, Ranger.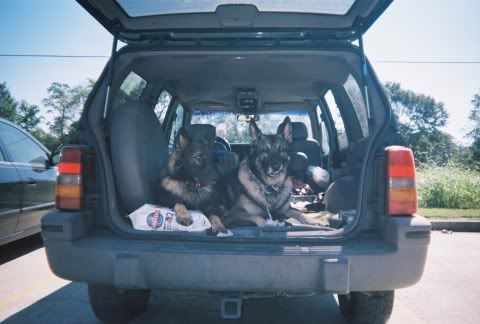 My Pack
Ranger (left) is a Belgian Tervuren rescued after Hurricane Katrina. Timber (right) was a pure German Shepherd.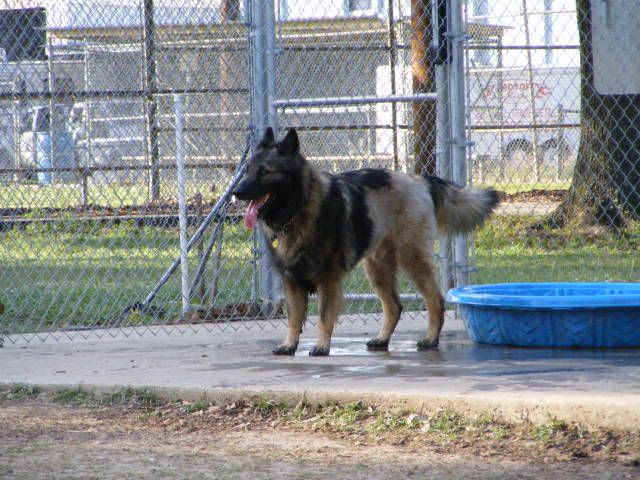 Ranger: Dog Park Hegemon
Tribute To The SAR Dogs & Handlers of 9/11
I Saw In Louisiana A Live-Oak Growing
I saw in Louisiana a live-oak growing,

All alone stood it and the moss hung down from the branches,

Without any companion it stood there uttering joyous leaves of dark green,

And its look, rude, unbending, lusty, made me think of myself,

But I wondered how it could utter joyous leaves standing alone there without its friend near, for I knew I could not,

And I broke off a twig with a certain number of leaves upon it, and twined around it a little moss,

And brought it away, and I have placed it in sight in my room,

It is not needed to remind me as of my own dear friends,

(For I believe lately I think of little else than of them,)

Yet it remains to me a curious token, it makes me think of manly love;

For all that, and though the live-oak glistens there in Louisiana

solitary in a wide flat space,

Uttering joyous leaves all its life without a friend or lover near,

I know very well I could not.
-- Walt Whitman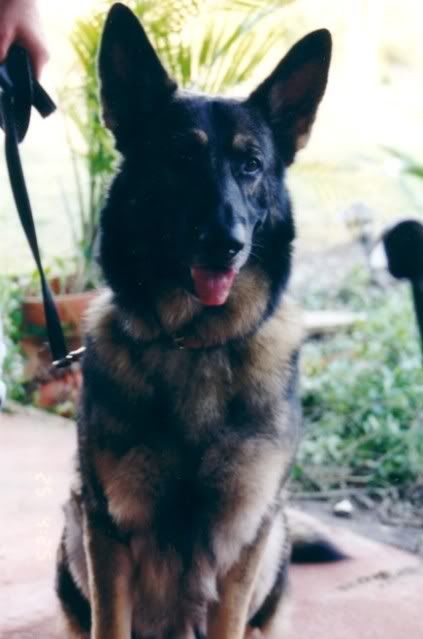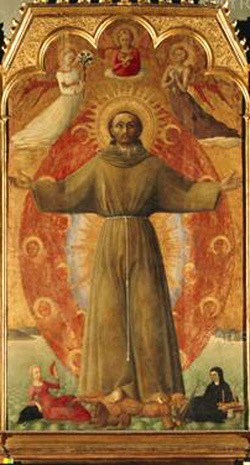 "If you have men who will exclude any of God's creatures from the shelter of compassion and pity, you will have men who will deal likewise with their fellow men."
"I have been all things unholy. If God can work through me, he can work through anyone."
"Preach the Gospel Always. When necessary, use words."
- St. Francis Assissi
Dante's Prayer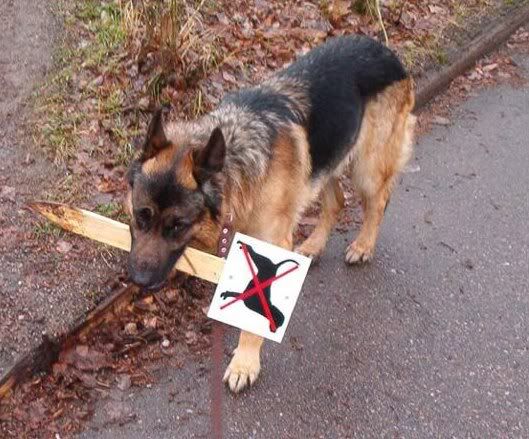 The Men that Don't Fit In
- Robert W. Service
There's A race of men that don't fit in,


A race that can't stay still;


So they break the hearts of kith and kin,


And they roam the world at will.


They range the field and they rove the flood,


And they climb the mountain's crest;


Theirs is the curse of the gypsy blood,


And they don't know how to rest.
If they just went straight they might go far,


They are strong and brave and true;


But they're always tired of the things that are,
And they want the strange and new.


They say: "Could I find my proper groove,


What a deep mark I would make!"


So they chop and change, and each fresh move


Is only a fresh mistake.
And each forgets, as he strips and runs


With a brilliant, fitful pace,


It's the steady, quiet, plodding ones


Who win in the lifelong race.


And each forgets that his youth has fled,


Forgets that his prime is past,


Till he stands one day, with a hope that's dead,


In the glare of the truth at last.
He has failed, he has failed; he has missed his chance;


He has just done things by half.


Life's been a jolly good joke on him,


And now is the time to laugh.


Ha, ha! He is one of the Legion Lost;

He was never meant to win;


He's a rolling stone, and it's bred in the bone;


He's a man who won't fit in.
======================================================
My job supports my art habit. I dabble in calligraphy and manuscript illumination...here are samples of my work: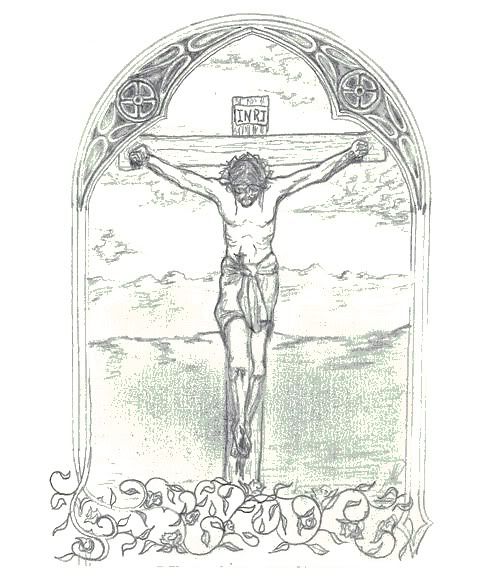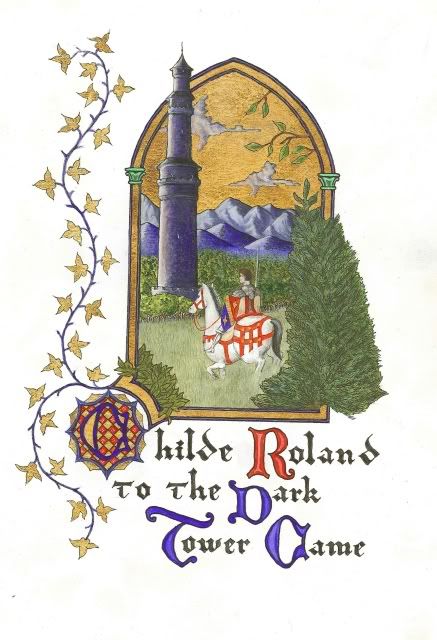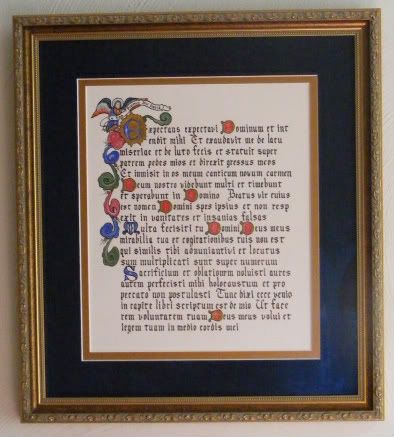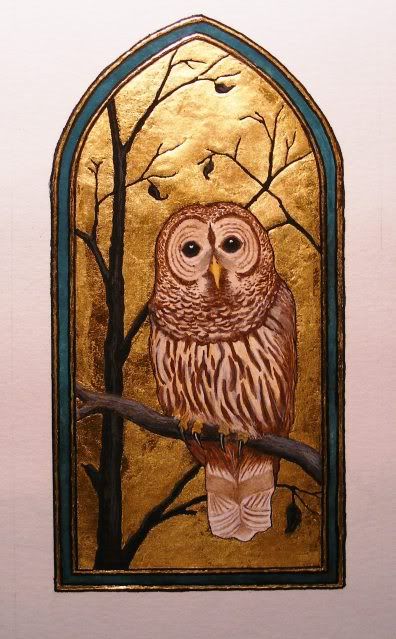 Let's face it; you probably clicked on my profile page to see what makes me tick and you'll probably gain more insight here than from anything else I've written...
Charlie Zahm - Minstrel Boy: Charlie Zahm is perhaps better known as a Celtic/Gaelic folk singer, but also performs a lot of historical American martial music. His voice is on display here in its fullest glory, and does justice to an equally dignified song of old.
Ennio Morricone - On Earth as it is in Heaven: The only word in the English language that comes close to describing this performance is, "Celestial." The near two minutes of solid applause at the end speaks for itself.
Rushlow Harris - Bagpipes Cryin': If you don't love this performance, you have no business on Free Republic.
Shane McGowan/Sinead O'Connor - Haunted: Song originaly performed by the Pogues (McGowan's old group) for the Sid and Nancy soundtrack. The steel guitar is sweet, and this duet is perhaps the best synthesis of delicate, polished femininity and a somewhat coarse, rugged masculinity.
Pogues - Rainy Night In Soho: One of the Pogues' definitive classics. Although the term, "Irish Folk Punk Band" may sound awkward, they bring it all together here. A magnificent little tune.
Additional tune links I enjoy...
Thea Gilmore - Sweet Child O' Mine (acoustic cover)
Donovan & Crystal Gayle - Catch The Wind
Danez Prigent & Lisa Gerrard - Gortoz A Ran J'Attends
Acoustic Soul cover of Van Morrison's Into the Mystic
Some Korean gal performing Beethoven's Fur Elise on electric violin.
The Corrs - So Young (Unplugged)
The Mike Curb Congregation - Burning Bridges (theme from Kelly's Heroes)
Pirates of the Mississippi - Feed Jake
Pam Tillis - Maybe It Was Memphis
Within Temptation - Our Farewell
Iggy Pop w/ Kate Pierson - Candy
David Ball - Riding With Private Malone
Greg Kihn Band - The Breakup Song (They Don't Write 'Em Like That Anymore)
Over The Rhine - I Want You To Be My Love
Lisa Gerrard - Now We Are Free
Mary Fahl - Going Home (Gods & Generals opening credits)
Willie Nelson & Ray Charles - Seven Spanish Angels
David Gilmour - Dimming of the Day
Emmylou Harris & Dave Matthews - Gulf Coast Highway
Pat Benatar - We Belong (awesome live performance)
Stay tuned, and check back for more links; I'm always adding new ones...Right now, though, I'm going to get me a sandwich.
======================================================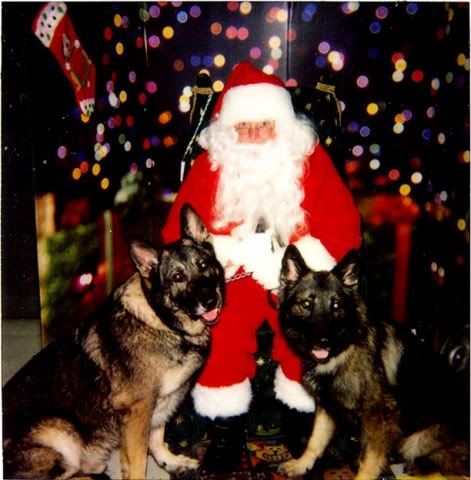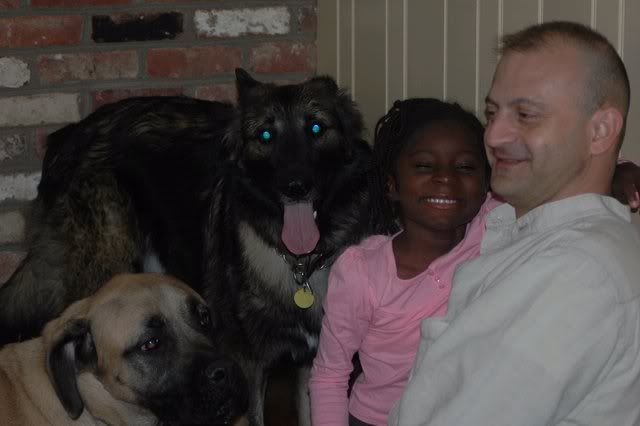 English Mastiff, Belgian Tervuren, Haitian Niece and American Redneck.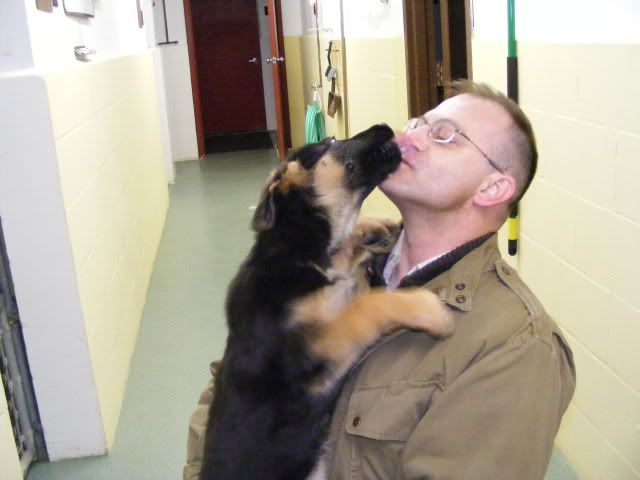 My visit to New Skete Monastery, December 13, 2008.
Well....you checked out my profile for some reason....most likely it WAS something I said...instead of just looking, why not post a reply or shoot me a FReemail? Lemme know what's on your mind, eh?
different people have hit this!
I've got your number, now.
500 years from now, proponents of man-made global warming will be viewed in the same light we now look at the pre-Colombian flat earthers.
~ Keeping the Viking Kitties out of trouble since 1999 ~
========================================================
Doggie Ping List:
AnAmericanMother; Titan Magroyne; Badeye; SandRat; arbooz; potlatch; afraidfortherepublic; Uriah_lost;ecurbh; MarkL; Joe 6-pack; OldPossum; RDTF; divine_moment_of_facts; garandgal; lonestar; JJR RNCH; Fire_on_High; pgobrien; EverOnward; nmh; submarinerswife; tajgirvan; osagebowman; brooklin; lucyblue; Slings and Arrows; StayoutdaBushesWay; RosieCotton; RikaStrom; PzLdr; Darnright; Jemckay19; MaryFromMichigan; RottiBiz; e_castillo; ellery; LucyJo; gjeiii; altura; the lastbestlady; RightOnTheLeftCoast; Honeybunch; Peace4EarthNow; freekitty; envision; RightFin; spotbust1; uglybiker; EdReform; BruceysMom; kalee; slugbug; Biggirl; Ultra Sonic 007; sweetiepiezer; Brad's Gramma; NicNacPattyWac; trisham; dervish; acad1228; dervish; Sensei Ern; There's millions of'em; Slings and Arrows; whatshotandwhatsnot; MarkL; gjeiii; Staff Sgt. Max Fightmaster; the OlLine Rebel; Don W; 19th LA Inf; Ray54; JACKRUSSELL; MoochPooch; Judith Anne; EnnisExile; OneVike; Shyla; HairOfTheDog; Enough_Deceit; TexasRepublic; FocusNexus; Emperor Palpatine; birddog; Purdue Pete; GodBlessPeggyNoonan; kimmers; A knight without armor; Greg223; doberville; TASMANIANRED; Ditter; big'ol_freeper; whinecountry; jackshel; GrandmaPam; SGCOS; PistolPaknMama; USMCWife6869; bukkdems; Hyzenthlay; Wonderama Mama; Recovering Ex-hippie;berdie; Glacier Honey; Lucius Cornelius Sulla; Abathar; papasmurf; Homer_J_Simpson; Kimberly GG;caramiar; momto6; Eaker; word_warrior_bob; proudofthesouth; Revelation 5; RepublicanChick; Mama_Bear; chicagolady; wigswest; Lady J; bayouranger; SilentGypsy; StayoutdaBushesWay; diji; ColdOne; fideist; DollyCali; azishot; Cuttnhorse; buschbaby; xsmommy; wyokostur; MarineMom613; jemckay19; Shady; Pentagon Leatherneck; Sarah Barracuda; Immerito; spitter; LongElegantLegs; SZonian; Americanwolfsbrother; nina0113; Red in Blue PA; libertarian27; austingirl; muddypaws; MountainDad; momtothree; mom4kittys;ironman; Forrestfire;Lokie;Mears; gruffwolf; Fiddlstix; rottndog; CSM; Fred Hayek; WarEagle; BlueAngel; CELTICGAEL (Celt);bootless; Malone LaVeigh; norton; STE=Q; Aussiebabe; patriciamary; Gvl_M3; ChocChipCookie; CPOSharky; Mata-Sherry; gonzo; heshtesh; brytlea; 2nd amendment mama; chrisinoc; Bockscar; JouleZ; Rushmore Rocks; SueAngel; mcshot; warsaw44; Gargantua; Roos_Girl; DivineMomentsOfTruth; Harry Pothead; ZULU; tob2; stylecouncilor; simplesimon; ezoeni; Las Vegas Ron; katiedidit1; BigEdLB; Lil Flower; Finatic; eartrumpet; mickie; lonevoice; JLLH; 24Karet; loungitude; screaminsunshine; left that other site; PeanutbutterandJellybean; scripter; dainbramaged; Wicket; SuzyQue; KirbDog; Envisioning; Chances Are; bushwon; Gene Eric; lone star annie; FortWorthPatriot; JSteff; rarestia; Monkey Face; basil; TenthAmendmentChampion; Altariel; moose07; Onelifetogive; algernonpj; RedWhiteBlue; BunnySlippers; jesseam; ab01; Jonah Hex; Marcella; ZX12R; Grumpybutt; proud American in Canada; rmh47; freeangel; LaybackLenny; ConservativeOrBust; aldabra; Bronzy; ChowChowFace; mojitojoe; pops88; LSAggie; nixonsnose; gibsosa; SeaDragon; mel; Salamander; Colonel_Flagg; VeniVidiVici; Joan Kerrey; Stormdog; SJackson; pallis; KGeorge; Shadowfax; DrKay; Tomato lover; hoosiermama; Ken H; LurkedLongEnough; beebuster2000; CaptSkip; xvq2er; fatfertile; 5th MEB; SamAdams76; eCSMaster; americas.best.days...; mojo114;LaRueLaDue; Marisu; FreeManWhoCan; Marisu; matchgirl; Gefn; DallasSun; pigsmith; MtnClimber; hummingbird; supremedoctrine; Daryl Dixson; The_Media_never_lie; Delphster; KneelBeforeZod; eddiespaghetti; pax_et_bonum; Pajamajan; glock rocks; glock rocks; PizzaDriver; Baynative; Perdogg; curmudgeonII; JulieRNR21;Viking2002; woofie; Geronimo; alrea; Jim Kirk; originalbuckeye;88keys; make no mistake; locountry1dr; yorkiemom; TNoldman; sonjay; lormand; faux_hog; Southside_Chicago_Republican; RedStateRocker; DoodleDawg; Old Sarge; ForMyChildren; FlyingEagle; NerdDad; gwjack; glenduh;huldah1776; Spacetrucker; envision; juggernaut; mbynack; LS; Optimom; KeyLargo; johnk; CottonBall
;
WOOOF!
The Doggie Ping list is for FReepers who would like to be notified of threads relating to all things canid. If you would like to join the Doggie Ping Pack (or be unleashed from it), FReemail me.
Other articles with keyword "DOGGIEPING" since 12/29/04