---
Did the Pope (John Paul II) REALLY kiss the Koran?
Dangus -- Vanity


Posted on 12/13/2011 9:55:16 PM PST by dangus

I pray I haven't been guilty of the sin of calumny against a pope! In several Free Republic threads over the years I took as an accepted fact that the Pope kissed the Koran, and in several, commented that the Pope had erred on the side of peacemaking, by making this unscripted gesture of respect. I was surprised by finding some denials of this event.

Those who believe the Pope kissed the Koran apparently include the man who was the Patriarch of the Chaldean (Iraqi Catholic) Church at the time, Raphael Bidawid: "I renewed our invitation to the Pope because his visit would be for us a grace from heaven. It would confirm the faith of Christians and prove the Pope's love for the whole of humanity in a country which is mainly Muslim. At the end of the audience the Pope bowed to the Muslim holy book the Koran presented to him by the delegation and he kissed it as a sign of respect.

Finding that quote, originally from a reputably Catholic source, seemed to clinch the issue for me. But then I noticed something: All of the other pictures of the Koran that I found are very plainly labelled, usually in Arabic, "Koran."

All the images of the pope kissing the Koran are stills from the same image, which is in pretty poor resolution. It is clear, however, that the stylish imprint on the book, while reminiscent of the Koran, is not actually the Arabic script that appears on the Koran.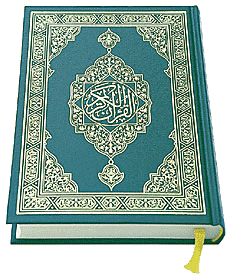 The next thing that struck me is that as I examined the "Koran" that the Pope kissed is that it looked like a binder. Sure, it's a green book with fancy caligraphy embossed on the cover, but who puts the Koran in a binder?
Sure, you THINK you see the pope kiss the Koran, but I bet you also THINK you see him do so in front of the Muslim who gave it to him. Nope. The man in the picture is a Christian. Which brings up the next question: If it was the Koran, did the Pope know this? It's common Arab protocol to kiss a gift one has received, and the Pope could easily have been simply following protocol respectfully, and not recognizing that the gift was, if it was, a Koran. Has anyone ever read anything which confirms that he Pope knowingly kissed the Koran?

---
TOPICS: Catholic; Islam; Ministry/Outreach; Religion & Culture
KEYWORDS: korankissingpope
---
Navigation: use the links below to view more comments.
first 1-20, 21-40, 41-60, 61-80 ... 101-107 next last
---
---
---
---
---
---
---
---
---
---
---
---
---
---
---
---
---
Comment #17 Removed by Moderator
---
---
---
---
Navigation: use the links below to view more comments.
first 1-20, 21-40, 41-60, 61-80 ... 101-107 next last
---
---