---
House Republican 'Speechless' After Senior FBI Official Admits Not Reading Durham Report
Epoch Times ^ | 05/24/2023 | Frank Fang


Posted on 05/24/2023 9:10:21 PM PDT by SeekAndFind

Rep. August Pfluger (R-Texas) said he was "speechless" when he learned that a senior FBI official had not read the Durham report, which was released more than a week ago.

Pfluger, chairman of the Homeland Security Subcommittee on Counterterrorism, Law Enforcement, and Intelligence, questioned Jill Murphy, deputy assistant director of counterintelligence at the FBI, during a hearing on May 23.

"Special Counsel Durham assesses that neither U.S. law enforcement nor the Intelligence Community appears to have possessed any actual evidence of collusion in their holdings at the commencement of the Crossfire Hurricane investigation," Pfluger said. Crossfire Hurricane is the FBI codename for the agency's 2016–17 FBI investigation into the Trump campaign's ties to Russia.

Pfluger continued, "The bureau subsequently discounted or willfully ignored material that did not support the narrative of a collusive relationship between [former President Donald] Trump and Russia."

"As the deputy assistant director for the FBI Counterintelligence Division, are you familiar with this report?" Pfluger asked.

In response, Murphy said, "I have not read that report."

"I'm honestly speechless at this point in time," Pfluger said in reply.

When pressed on why she had not read the report, Murphy said, "I just haven't had time."

"This is a sincere question. Does election collusion worry you?" Pfluger asked Murphy, who said it "obviously" worried her.

"I would highly recommend reading that because we spent four years discussing that. There was uncorroborated evidence—the Durham report specifically outlines the outcome of that. It's very disappointing to hear this."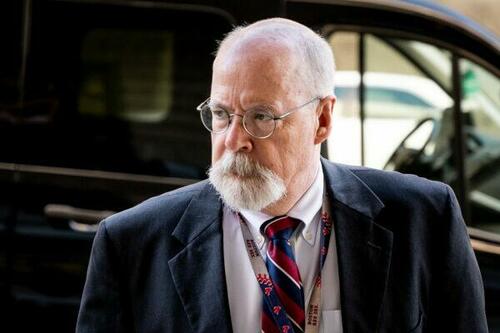 Special counsel John Durham arrives at federal court in Washington on May 18, 2022. (Teng Chen/The Epoch Times)
Durham Report
John Durham, appointed by then-Attorney General William Barr in October 2020 to review the 2016–17 FBI investigation of alleged ties between Trump and Russia, found that the FBI "relied on "raw, unanalyzed, and uncorroborated intelligence" for its investigation.
"The objective facts show that the FBI's handling of important aspects of t
Following the report's release, the FBI acknowledged mistakes in its investigation of the Trump campaign, while Trump said in a statement that "the American Public was scammed."
"The Durham Report spells out in great detail the Democrat Hoax that was perpetrated upon me and the American people. This is 2020 Presidential Election Fraud, just like 'stuffing' the ballot boxes, only more so," Trump added.
Other Republicans at the hearing shared Pfluger's astonishment that Murphy had not read the report.
"I also was surprised at your answer—you haven't read the Durham report," said Rep. Dan Bishop (R-N.C.). "Why is that not a matter of such import that you would want urgently to understand what the special counsel concluded about the work of the counterintelligence division? In such a grave case?"
Murphy replied, "Sir, if you'd like a brief on the Durham report from the counterintelligence division, I'm happy to take that back."
"Wow, that sounds almost contemptuous," Bishop said in response. "Do you intend to read it?"
"I do intend to read it," Murphy told Bishop.
Read more here...
The Crossfire Hurricane matter were seriously deficient," Durham added in the report.

---
TOPICS: Crime/Corruption; Culture/Society; Front Page News; Government; News/Current Events; Politics/Elections
KEYWORDS: arrestwraytoday; corruption; durhamreport; fbi; fedmob; jillmurphy
---
Navigation: use the links below to view more comments.
first 1-20, 21-31 next last
---
---
---
---
---
---
---
---
---
---
---
---
---
---
---
---
---
---
---
---
---
Navigation: use the links below to view more comments.
first 1-20, 21-31 next last
---
---