Previous tag lines:
"Dealing with the pampered and effeminate Americans will be easy." --Osama bin Laden
If handing over all your wealth to the government makes you a slave, what does handing over 1/3 of your wealth make you?
You can't spell P-R-A-V-D-A without AP.
The greatest gift parents can give their child is siblings.
"For some, the conservative constituency is an inconvenience. For me, it's my hope." -Duncan Hunter
---
The 2012 Santorum for President ping list
21twelve; Absolutely Nobama; AFPhys; afraidfortherepublic; AmericanInTokyo; American Constitutionalist; Antoninus; AuH2ORepublican; Bigg Red; BillyBoy; BlackElk; Brices Crossroads; BufordP; CainConservative; Carry_Okie; ConservativeNewYorker; Controlling Legal Authority; cripplecreek; curmudgeonII; daisy mae for the usa; Dan.israel.2011; darrellmaurina; DesScorp; detective; DoughtyOne; Dr. Brian Kopp; Dr. Sivana; Eagle of Liberty; eagles_rest; Elvina; EnglishCon; Engraved-on-His-hands; Flashman_at_the_charge; geologist; Gil4; gimme1ibertee; GoCards; God'sgrrl; Golden Gate; GracieOMalley; Grunthor; Guenevere; guinnessman; GulfBreeze; Hoodat; Huber; icwhatudo; Ingtar; italyconservative; JCBreckenridge; JrsyJack; Joann37; Joe 6-pack; KarenMarie; KC_Right_Wing_Conspirator; Kevmo; Kimberly GG; King Moonracer; koinonia; Lauren BaRecall; Lazlo in PA; lightman; llmc1; LucianOfSamasota; madison10; MaryLou1; matt1234; MiddleEarth; mkjessup; Mozilla; MSSC6644; NoRedTape; o2bfree; Paleo Conservative; PennsylvaniaMom; PGalt; Pinkbell; PreciousLiberty; pulaskibush; RasterMaster; Reddy; RIRed; RobinOfKingston; rwilson99; Salvation; samiam1972; seanmerc; Seaplaner; South40; Springman; stephenjohnbanker; Sun; the lastbestlady; TheConservativeParty; Theodore R.; Timber Rattler; Two Thirds Vote Aye; U-238; victim soul; WhistlingPastTheGraveyard; writer33; Yaelle; Yorlik803
Santorum for President ping. Let me know if you want on or off the list.
Like Rick on Face Book.
Top 10 Reasons why Conservatives should support Santorum
16 Reasons Why Mitt Romney Would Be a Really, Really Bad President
---
The (now defunct) Duncan Hunter Ping List:
007girl; 230FMJ; abigailsmybaby; absolootezer0; afnamvet; Afronaut; airborne; ajolympian2004; alicewonders; alpha-8-25-02; Angelas; antihannityguy; Antoninus; Aquamarine; Aquinasfan; areafiftyone; Arsee; AuntB; azhenfud; babyfreep; Barnacle; Barney Gumble; Battle Axe; bboop; beachn4fun; beaureguard; beltfed308; BigFinn; Bigg Red; Billy Boy; BlackbirdSST; blackie; BoilermakerCAengineerguy; Bonaparte; Brad's Gramma; Brandie; brazzaville; Brian Sears; buschbaby; Ca.Native.Southern.Soul; Califreak; CaliGirl-R; calinative31; CAluvdubya; Candor7; Canticle_of_Deborah; CarolinaGOP; Carpe Cerevisi; cgk; CheneyChick; Christian Cage; claud; colorcountry; Columbine; CompSciGuy; Condor51; conservatrice; Constitution1st; CounterCounterCulture; coton_lover; cripplecreek; crunk; cshnorthcarolina; CT102ndInfSister; cuz_it_aint_their_money; cyberant; cyn; Czar; Danielle; DarthDilbert; David Isaac; deadhead; dejajude; del4hope; Deo volente; dfwddr; DH4Pres08; digital-olive; Dinah Lord; dit_xi; do the dhue; DocRock; Dtogo; Duncan Hunter Ambassador; EarthBound; Earthdweller; ElevenB; Ellesu; ElPatriota; Elyse; emily geiger; EnigmaticAnomaly; Enterprise; esarlls3; Esther Ruth; etabeta; EyeGuy; ezsmoke; fetal heart beats by 21st day; Fiddlstix; Fierce Allegiance; Fire_on_high; firebrand; fishtank; FlashBack; Frank_Discussion; Freee-dame; FreePoster; Free Vulcan; freedomfiter2; frogjerk; Frwy; gemoftheocean; gidget7; GipperCT; glennbeck08; GLH3IL; Global2010; gogeo; GrandEagle; Greg F; Greystoke; grizzled bear; Guenevere; gulfbreeze; Gvl_M3; hawkboy; healy61; HonestConservative; HuntsvilleTxVeteran; Hydroshock; icwhatudo; ImaGraftedBranch; imahawk; incindiary; Inclines to the Right; investigateworld; iopscusa; IrishRainy; ishabibble; Issaquahking; JacksonCalhoun; James Ewell Brown Stuart; Jan in Colorado; janetgreen; javachip; JDoutrider; jedward; jehardy; Jim 0216; jimmyk; jmc813; Joann37; johnnyd; JRochelle; just a nobody; justanotherfreeper; JWinNC; KC_Right_Wing_Conspirator; Kenny Bunk; Kevmo; kidd; Kimberly GG; KJC1; Knitting A Conundrum; LachlanMinnesota; Ladycalif; LadyJMayo; lakey; Lando Lincoln; Lauren BaRecall; Leatherneck_MT; Lee'sGhost; Lexinom; LFOD777; LibertarianInExile; LibertyGrrrl; llmc1; LowOIL; lucky american; lucyblue; luv2lurkhere; macmedic892; madison10; maggiem; MagUSNRET; Man50D; marinamuffy; MarkLevinFan; MattinNJ; mek1959; melissa_in_ga; meyer; MichiganConservative; mickeylee; miliantnutcase; mjaneangels@aolcom; mkjessup; MNJohnnie; Mom4kittys; Momaw Nadon; MomofMarine; Motleygirl70; Mr. Mojo; Mr. Silverback; Mrs.Liberty; nam vet; narses; NathanDahlin; NCSEADOG; nepppen; NewLand; NordP; Normal4me; notaliberal; nothingnew; Noumenon; NRA2BFree; nurse-rn; OB1kNOb; OhioInfidel; OKSooner; Old_Mil; OldFriend; OMalley; OneLoyalAmerican; ozarkgirl; pamlet; panaxanax; paperdoll; pattty; Paul Ross; petertare; Pinkbell; pissant; pollywog; Post-Neolithic; prisoner6; processing please hold; ProCivitas; Psyop; Raquel; Ramcat; rantblogger; RasterMaster; Reaganwuzthebest; Reddy; reportgirl73; right way right; jmyrlefuller; rmlew; Roamer_1; rob21; Rockitz; rosalita; rwh; RXSalesman; rzeznikj at stout; samm1148; sandyeggo; saradippity; sarasmom; sauropod; Scholastic; sd-joe; SeaBiscuit; seanmerc; seekthetruth; Sensei Ern; Shazolene; showme_the_Glory; SierraWasp; Sister_T; sitetest; Smokin' Joe; sneakers; SoCalPol; socialismisinsidious; SolidWood; Soul Seeker; stentorian conservative; stephenjohnbanker; Sun; SusanD; Sweetcaroline; sweetiepiezer; Tadslos; talkshowamerica; tearlenb; texastoo; thchronic; The Blitherer; TheCause; thehumanlynx; Theophilus; Theresawithanh; tiger-one; Travelgirl; trimom; Trueblackman; txrangerette; txroadhawg; Txsleuth; Ultra Sonic 007; unfortunately a bluestater; upsdriver; uptoolate; usslsm51; Valpal1; Velveeta; Vicomte13; Virginia Ridgerunner; wastedyears; WatchingInAmazement; westmichman; WFTR; wheelgun; WhistlingPastTheGraveyard; wildandcrazyrussian; wildcatclan; wildcatf4f3; wjcsux; WLR; wolfcreek; Xenophon450; Yorktownpatriot; Zechariah11; ZULU
---
Presenting the Catholic Caucus "ignore" banner...
As a faithful Catholic, I am placing this thread on

IGNORE
If you are Catholic, be aware that this thread contains slanders about the Catholic Church. We should not reward invincibly ignorant anti-Catholic bigots by engaging them in futile debate. Therefore, please do not respond to any of the lies about the Catholic Church contained on this thread.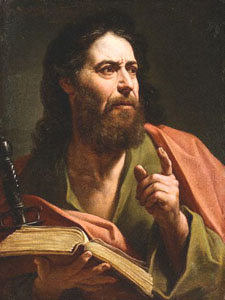 Saint Paul pray for those who hate the Church.
The Defeat Romney / Defeat Obama Ping List
A select group of activists dedicated to defeating Romney and Obama in 2012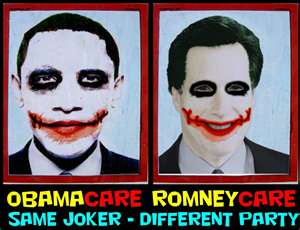 Ensuring Romney's Defeat
16 Reasons Why Mitt Romney Would Be a Really, Really Bad President
FReepmail me to join the Ping List.
The Defeat Romney / Defeat Obama ping list:
506Lake; gidget7; GulfBreeze; Lady4Liberty; mkjessup; Nik Naym; Paperdoll; reaganaut; salvation; thesearethetimes...; wjcsux