---
NOW THE TROOPS HAVE TO DEFEND WALTER REED, TOO – FReep # 99: 3/09/07
DC Chapter | March 15, 2007 | Albion Wilde, with photos by [Mrs] Trooprally and PleaDeal


Posted on 03/15/2007 12:26:00 PM PDT by Albion Wilde

WASHINGTON, DC, March 9, 2007— Most Americans will root for an underdog. Since the dubiously motivated articles stirring up scandal at the Walter Reed Army Medical Center appeared in the Washington Post over the past weeks, the motorists who beeped for our troop-support rally at the gates of Walter Reed on Friday night were now double, triple in number. Now it wasn't just a discreet little toot every five or ten cars; it was many drivers at a time releasing loud, long, sometimes frankly impassioned blasts of the horn, from cars, trucks, Metro buses, even a DC police car – hospital zone or no hospital zone. As inaccurate as they were melodramatic, the articles critical of Walter Reed have drawn the troops into the libmedia's anti-war web of deceit more than ever, forcing them to face the enemy at home as well as abroad.

There isn't space in this weekly chronicle to refute all the when-did-you-stop-beating-your-wife allegations and innuendo in those articles. Their transparently disdainful purpose was to demoralize the troops and embarrass the administration – certainly not to benefit the soldiers, veterans and family members who are now burdened by extra layers of uncertainty about their care in the middle of a war that the Loony Left seems to feel is as unnecessary as, say, personal integrity.

What these developments have meant for us in the the DC Chapter of Free Republic is the joy of more visits from troops to our four-corner, Friday-night rallies outside the main gates. This week the Walter Reed Med-Hold platoon sergeant, John Dail, stopped by to shake hands all around.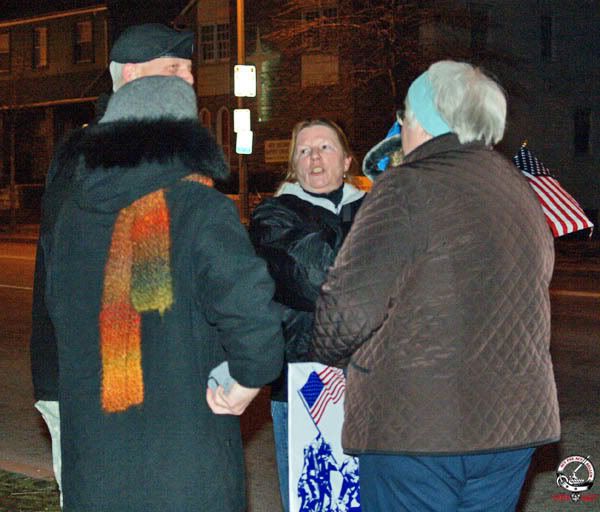 Almost hidden by surrounding FReepers, Sgt. 1st Class John Dail tells Albion Wilde, [Mrs] Trooprally and Taco Mamma about some new residence arrangements. Platoon Sgt. Dail is responsible for the soldiers in Med-Hold status at WRAMC, which he says involves meeting or working with the requirements up to 30 recovering individuals each day. Photo by PleaDeal
I asked Sgt. Dail about Building 18, which had been cited by the Post article for mold and vermin. (It's worth noting here that Building 18 is not a medical care facility, it is a barracks. It is not on the main 116-acre campus of Walter Reed; it is a former motel, across the 6-lane Georgia Avenue bounding the eastern perimeter of the base, that was purchased as an overflow residence for outpatient and recovered soldiers waiting for transfers out of Walter Reed. Yet much of the uproar resulting from the articles has created the impression that the patient-care areas of the hospital are similarly contaminated, which they are not.)
"The residents of Building 18 have moved to Building 14, right on the base," Sgt. Dail revealed. "It has apartments with kitchens, DVD players in the rooms. They just got a plasma TV over there. It's a beautiful building – one of the best I've seen in the Army.
"The residents didn't want to move, and didn't really understand why they had to move," Sgt. Dail went on. "But now we are going to improve all the facilities," he added, indicating that the shake-up has resulted in different budget priorities at Walter Reed, which had in 2005 been scheduled to be phased out altogether over the succeeding decade. For now, the Student Company was moved out of Building 14 to off-base civilian housing leased to WRAMC, and the "Med-Holds" were moved into 14, where those who are still reporting for outpatient medical appointments will be closer to the hospital building. The Student Company will now commute to the base.
As for Building 18, the subject of one of the scandal-mongering articles, Sgt. Dail said that inspectors determined "there were only seven rooms in that building that really needed work." My own sources on the base say that the mold was a result of a bathtub overflow, not from a problem in the larger infrastructure. One source, who has managed other residence buildings on the base, said that problems affected less than 5% of the rooms in Building 18, which is only one of many residences serving recovering troops at WRAMC. Other troop accommodations are comparable to upscale hotels, or, like the Fisher Houses, are home-like environments housing entire families of spouses and children of the recovering troops.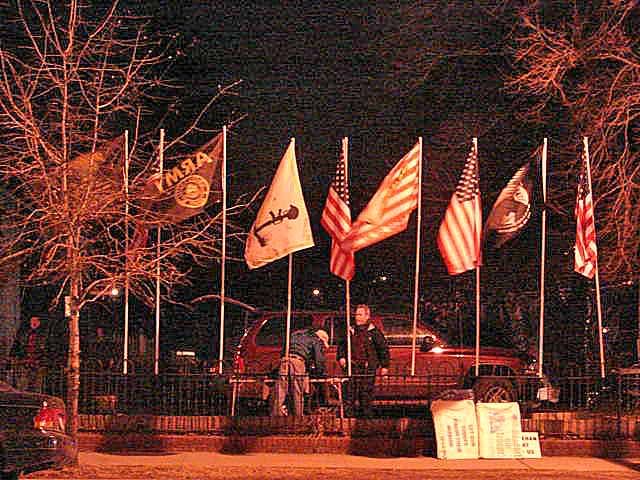 Part of our display of Coalition flags across the street from the base. Along with our largest MOAB (Mother of All Banners), it's what the recovering troops see as they walk or drive out of the base on a Friday evening going northward, to the restaurant section in nearby Silver Spring. Photo by [Mrs] Trooprally
Some women who were recently College Republicans and are now in Capitol Hill careers, wave to the passing troops from the main, northeast corner. From left, Chevelyn, Laura and Miss USA. Photo by PleaDeal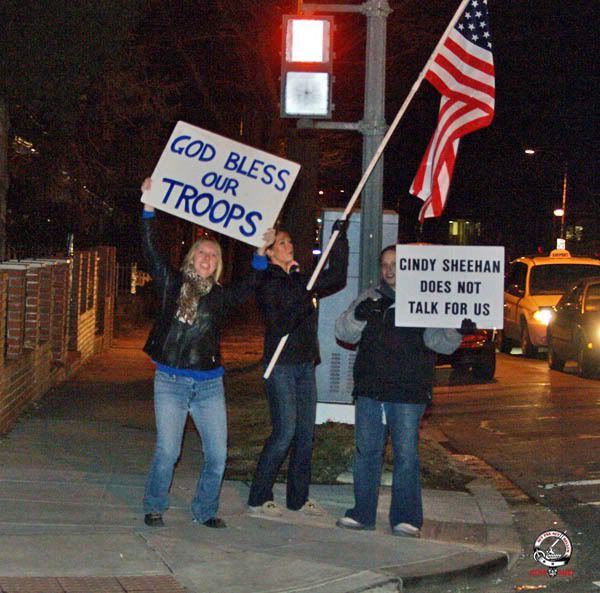 More of their college-to-career friends on the southeast corner: Lindy, Ashley R and Amanda. Photo by PleaDeal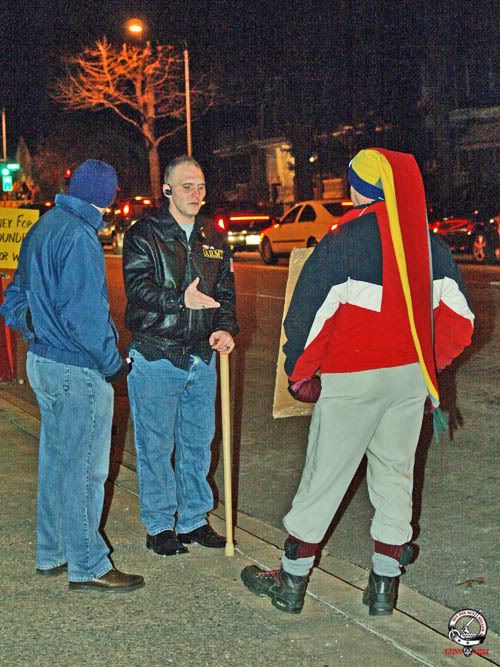 Veteran and FReeper Citizen SMASH and Walter Reed patient Tim attempt to "reason" with one of the anti-war protestors down the street from the main gates. Dressed like an elf, this moonbat, Mike, claims he is a Vietnam veteran. For some old hippies, The Sixties is an era like the Civil War was to an older generation – it will never be over. Photo by PleaDeal
Specialist Tim, an MP of the 198th National Guard troop, was wounded in Afghanistan 15 days before the end of his tour. He was thrust into the spotlight on the previous Friday, March 2nd, as he stood near our rally. A Fox affiliate local DC television station interviewed him about the conditions at Walter Reed; he appeared on the 11 PM news for a very brief sound bite. On Wednesday of the past week, he and three other patients, with help from FReeper Just A Nobody, organized a lengthy press conference in support of WRAMC that was attended by major news outlets and then ignored, except for a tiny blip on FoxNews. (Even Demo-leaning pollster Zogby admitted last week that readers perceive a leftist bias in media coverage.)
Tonight, Tim (who will soon return home to Kentucky to continue healing, where he hopes to enter local politics) determined to talk with the anti-war protestors down the block, to lodge his objection to their phony "vigil" outside the hospital. "We need to put our attention back on the War in Iraq, on the Congressional resolution to support the troop surge," he said, "instead of on any problems at WRAMC. Because if we don't, we're just going to have more soldiers in Walter Reed. We need the funds for the ammo and armor to fight the war."
It must have been "Salad Dressing Night" in the Pinko contingent, as well as the usual, "Shirk Adult Responsibility for Non-Partisan Respect towards Our Wounded, at Least Outside Their Hospital" Night. Photo by PleaDeal
After talking with them, Tim circled back to the FReeper coffee stand. He related that the anti-war protesters said they are bringing "visibility" to their perception that supporting the troops means not allowing them to perform their military jobs. "It's not about visibility," Tim said. "It's about the fact that they're on what I consider sacred ground. This is our home, this is where I live, where my brothers and sisters live who have lost an eye, a leg, part of their brain..." he trailed off, and then continued, eyeing some nearby young FReeper females. "Hitting on women is why I came out here," he joked, "but if there's a bonus like debating with the Commies, I'm for it! They [the Pinkos] seem to think the Afghanistan War is different than Iraq, but I say no. Those people need to move to the other side of the street!"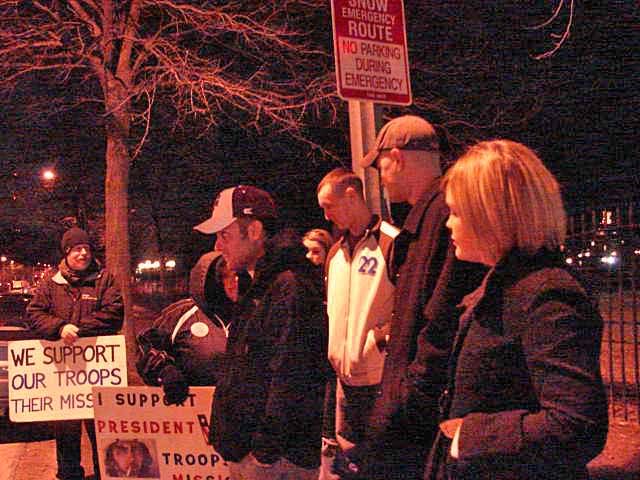 A group of four visitors to a Walter Reed patient (center, in white and black ball cap), an Army captain from Texas wounded in Afghanistan, walked all four corners to greet FReepers. One of the friends is also the wife of a Coast Guard marine. FReepers Kristinn and Just A Nobody hold troop-support signs, left. Photo by [Mrs] Trooprally.
This week's Honor Roll of troop supporters: FReepers present were Albion Wilde, BufordP, Cindy-True-Supporter, Citizen SMASH, Danang68, Fraxinus, Just A Nobody, Kristinn, PleaDeal, PrezUSA222, Taco Mamma, tgslTakoma, Tom the Redhunter, [Mr & Mrs] Trooprally and VAFlagWaver; lurkers included Amanda, Ashley R, Bill from MD, Chevelyn, Laura Bush, Lindy and Miss USA.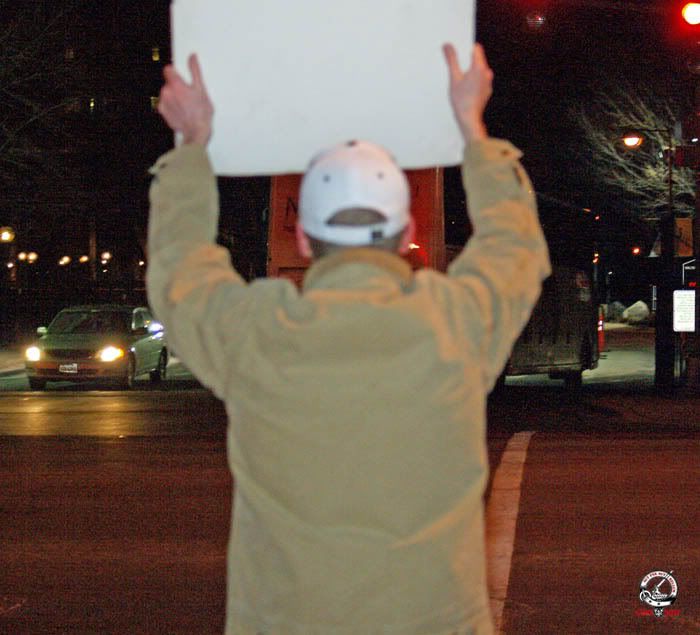 PrezUSA222, a FReeper and ROTC student, brandishes his sign at the bus returning to the gates after a weekly dinner in town that is donated to wounded troops and their families staying at Walter Reed. Photo by PleaDeal
Due to the anticipated large anti-war protest this Saturday, March 17, 2007 in Washington, Free Republic and other groups organized A Gathering of Eagles. Tens of thousands of veterans and patriots have reserved hotel rooms and will be there to counter-demonstrate. Areas have been zoned off by the Park Service for safety.
We urge every FReeper to come on out and stand with us.
Here's where you can click for maps and more info.
The lefties' usual penchant for vandalism, especially their recent assaults against decency – putting a CodePink costume on the statue at the Navy Memorial and spray paint on the steps of the U.S. Capitol – will be effectively neutralized by the nearby presence of so many veterans who have established their bravery in service to their country.
A Gathering of Eagles has now got them running scared.
* * *
To view all of the photos of this FReep by [Mrs] Trooprally, click here.
To view all of the photos of this FReep by PleaDeal, click here. To view a complete archive of Walter Reed FReeps maintained by BufordP, click here.

---
TOPICS: Activism/Chapters; News/Current Events; US: District of Columbia
KEYWORDS: antiwar; dcchapter; freep; walterreed
---
Navigation: use the links below to view more comments.
first 1-20, 21-40, 41-60, 61-78 next last
---
---
---
---
---
---
---
---
---
---
---
---
---
---
---
---
---
---
---
---
---
Navigation: use the links below to view more comments.
first 1-20, 21-40, 41-60, 61-78 next last
---
---