---
Week 48: 03/17/06 - Freepers Continue Mission To Honor WRAMC Wounded Warriors - Join us March 24th
March 23, 2006 | Plea Deal, albion Wilde, iMacMan, bmwcyle, Jimmy Valentine's brother, me


Posted on 03/23/2006 12:43:05 PM PST by tgslTakoma

Edited on

03/23/2006 1:13:08 PM PST

by Jim Robinson. [history]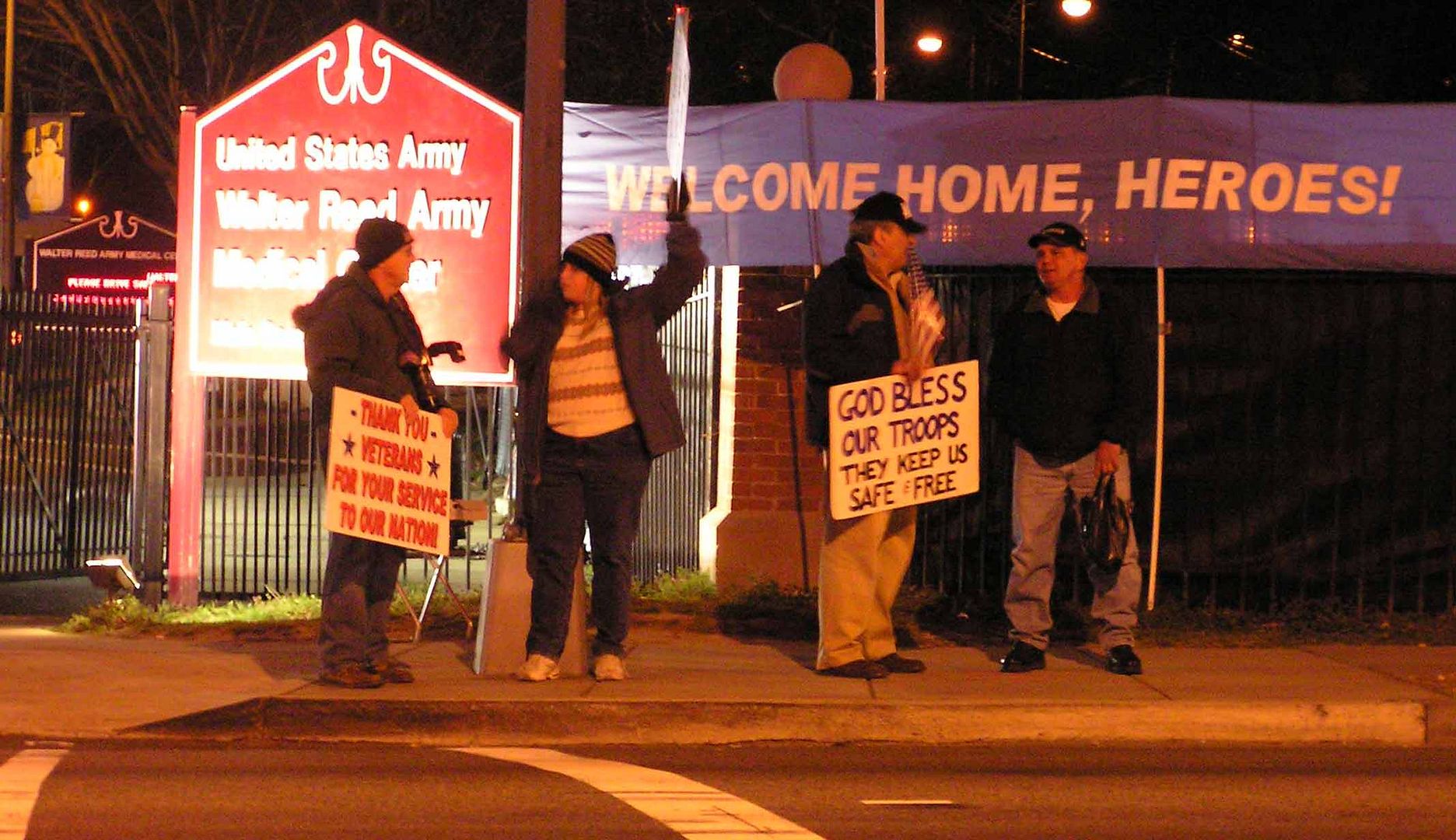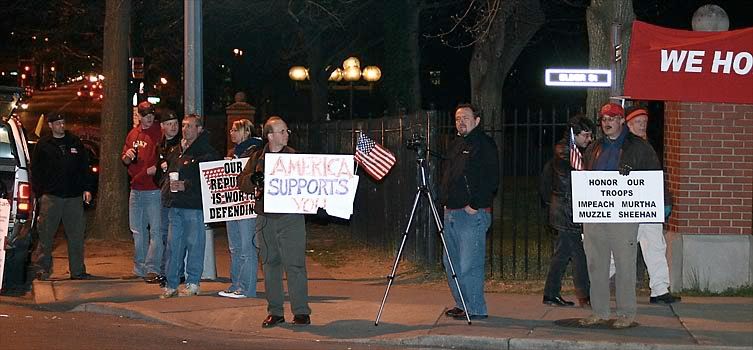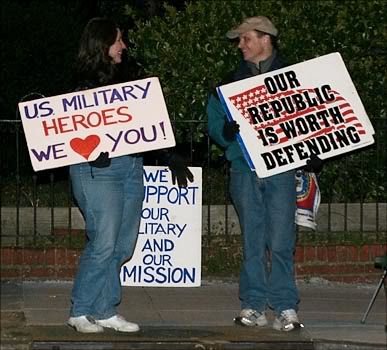 With BillF's computer issues still keeping him busy, the After Action Reports have been written by substitute authors Albion Wilde and Plea Deal. Plea deal had an emergent issue this week, so she handed off all of her notes and photo links to me. I'll pretty much just be transcribing her fine notes to this report, so please thank her for doing that. My apologies in advance for any omissions or misrememberings.
St. Patrick's Day HONOR ROLL of Freepers:
AirForceBrat23; albion wilde; AllRightAllTheTime; AlwaysFree; apple blossom; lurker Bill from MD, bmwcyle; concretebob; Cindy-True-Supporter (& son Gavin); Danang68; iMacMan; Mrs. iMacMan; Jack Deth; Jimmy Valentine's Brother; JoyJoyfromNJ; justanobody; maica; PleaDeal; spiff; Taco Mamma; TgslTakoma; tom the redhunter; trooprally [Mr and Mrs]; TrueBlackMan; and one FReeper who's name I never got.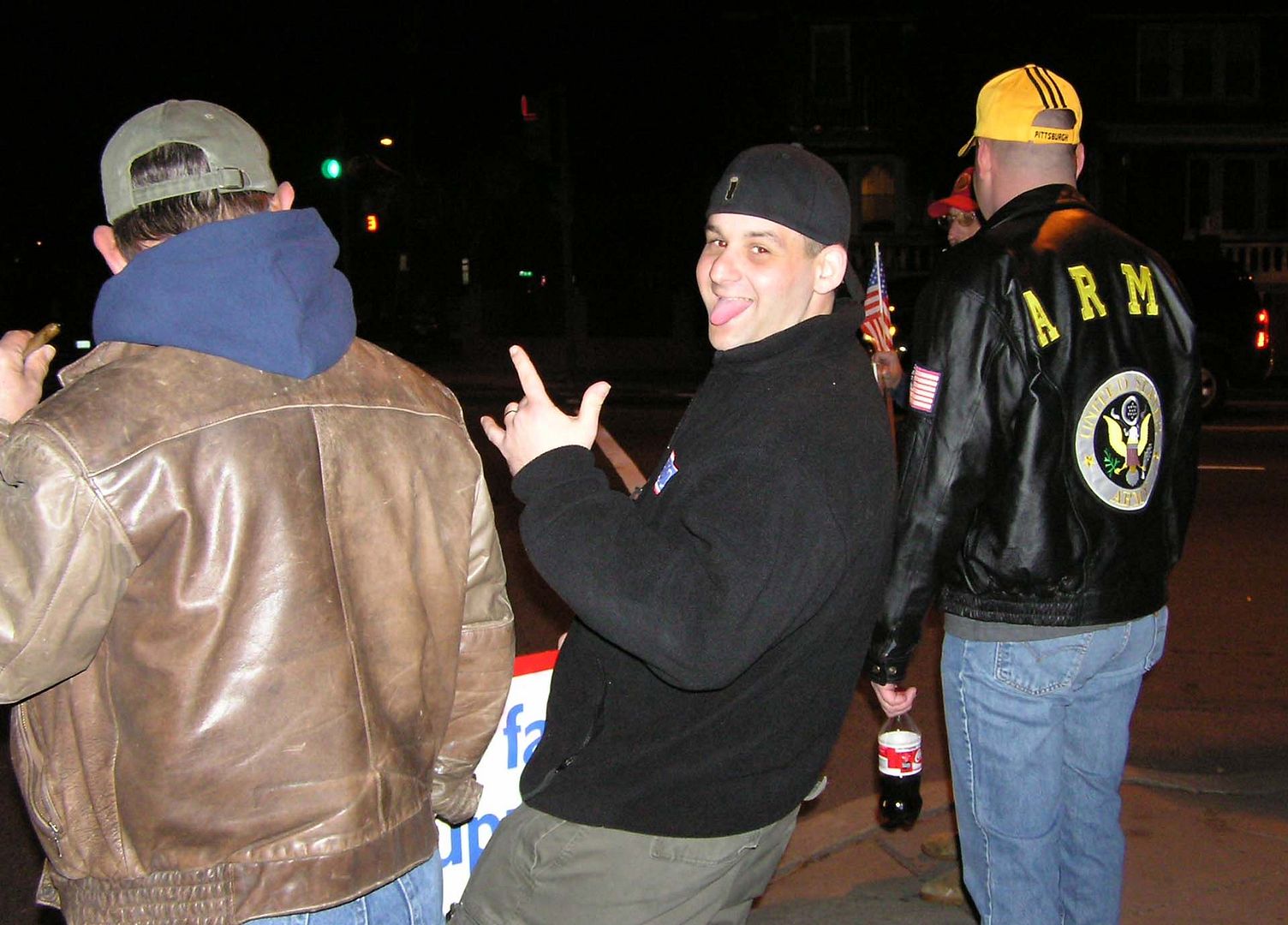 HEROES HONOR ROLL: Bill, Jeremy, Wes, Mike, and Maj. "Taco" Bell, USMC.
While we were all standing on the corners waving signs and flags (some of us in goofy St. Paddy's Day garb), we were surprised and delighted to see Trueblackman walking down the street to join us.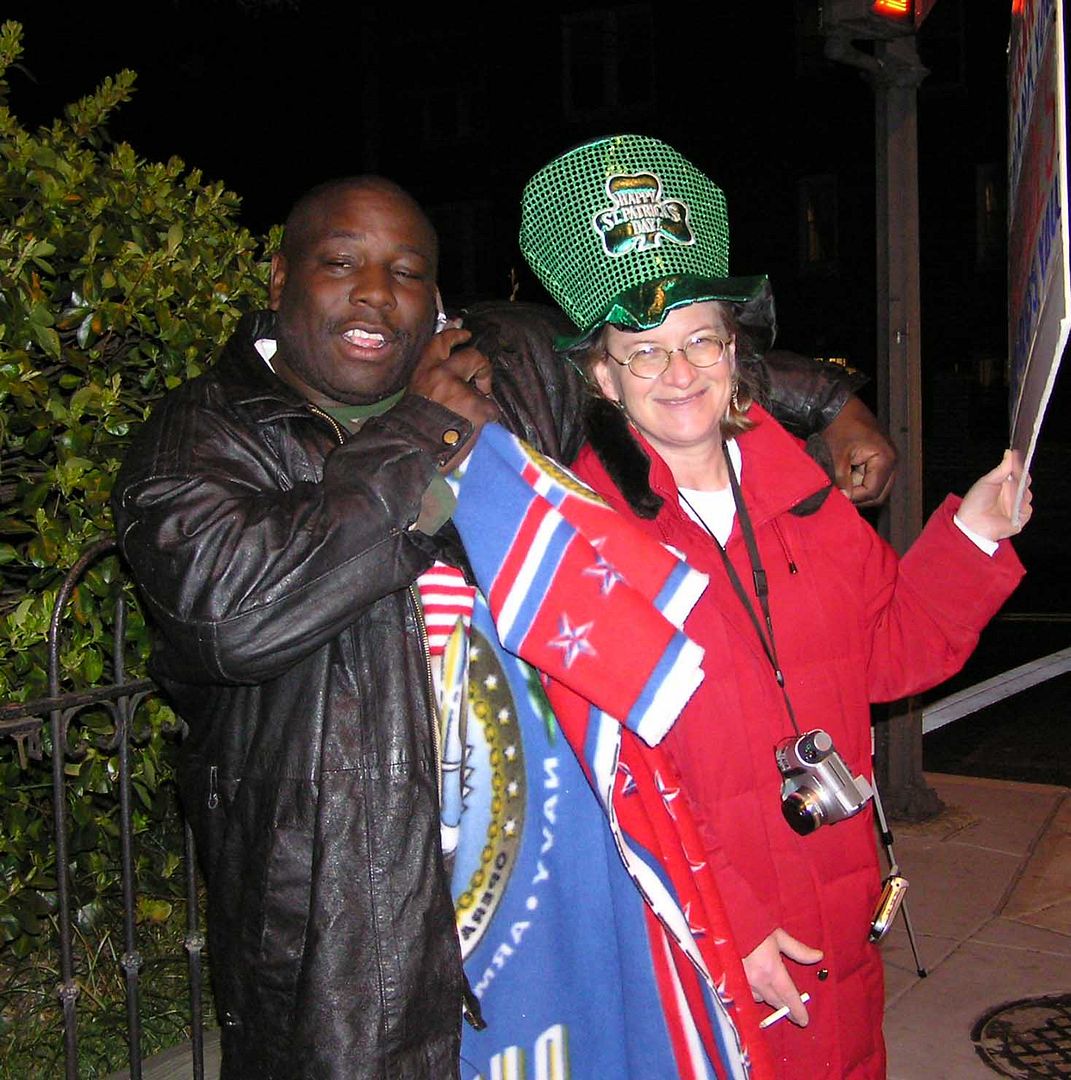 He missed us so much he moved back to DC. Welcome back, Trueblackman! Code PinkO is in serious trouble now that you're back in town.
Trueblackman was only there a short time before he was on the HotLine to Mark Levin;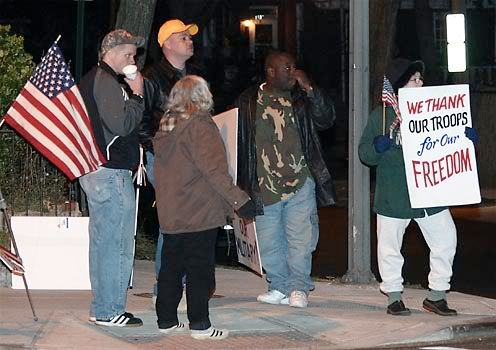 and he gave a "Man On The Street" Report live to all of Mark's listeners.
Thanks for doing that for our troops, Tbm and Holdonnow!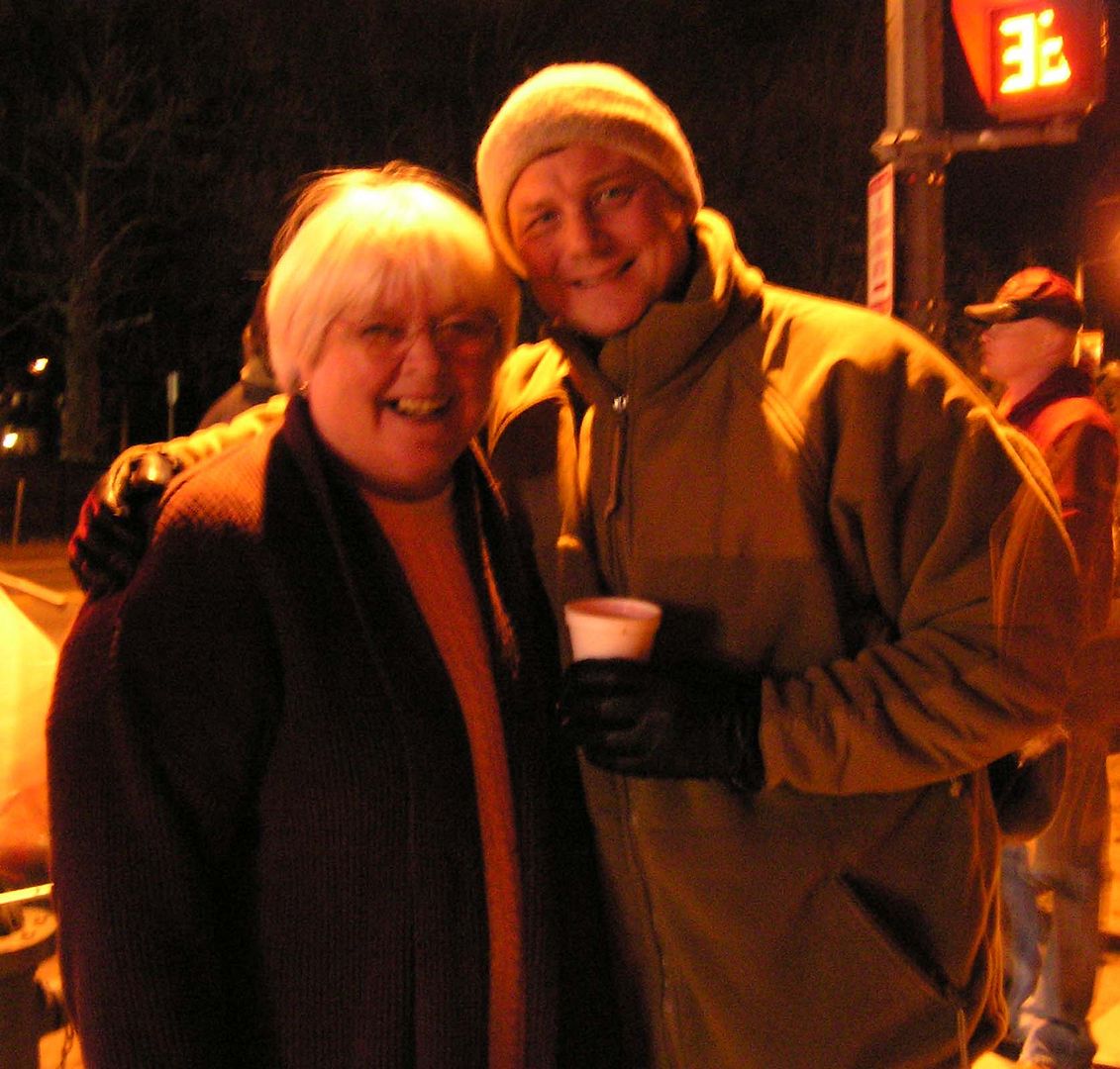 Proud and relieved parents, TacoMama and Danang68 arrived at Walter Reed with a surprise visitor - their son "Taco" !! Taco had just returned from a tour in Iraq. He gave up a cushy job flying for a major airline to re-enlist and become an "air boss" in some God-forsaken base in Iraq. God Bless our ALL-VOLUNTEER military! Taco is the author of the blog SandGram and according to PleaDeal's notes, is hilarious. I would have to agree that Taco has a great sense of humor.
A Dutch radio reporter arrived on our corner, though we're not sure how he found his way there. It may have been the press release that FR put out in advance of the nationwide Support Our Troops and Their Mission weekend demonstrations (to counter the fizzling anti-war/anti-USA demonstrations the lefties were holding) to commemorate the third anniversary of the liberation of the Iraqi people. The reporter spoke with both the CodePinkos and Taco.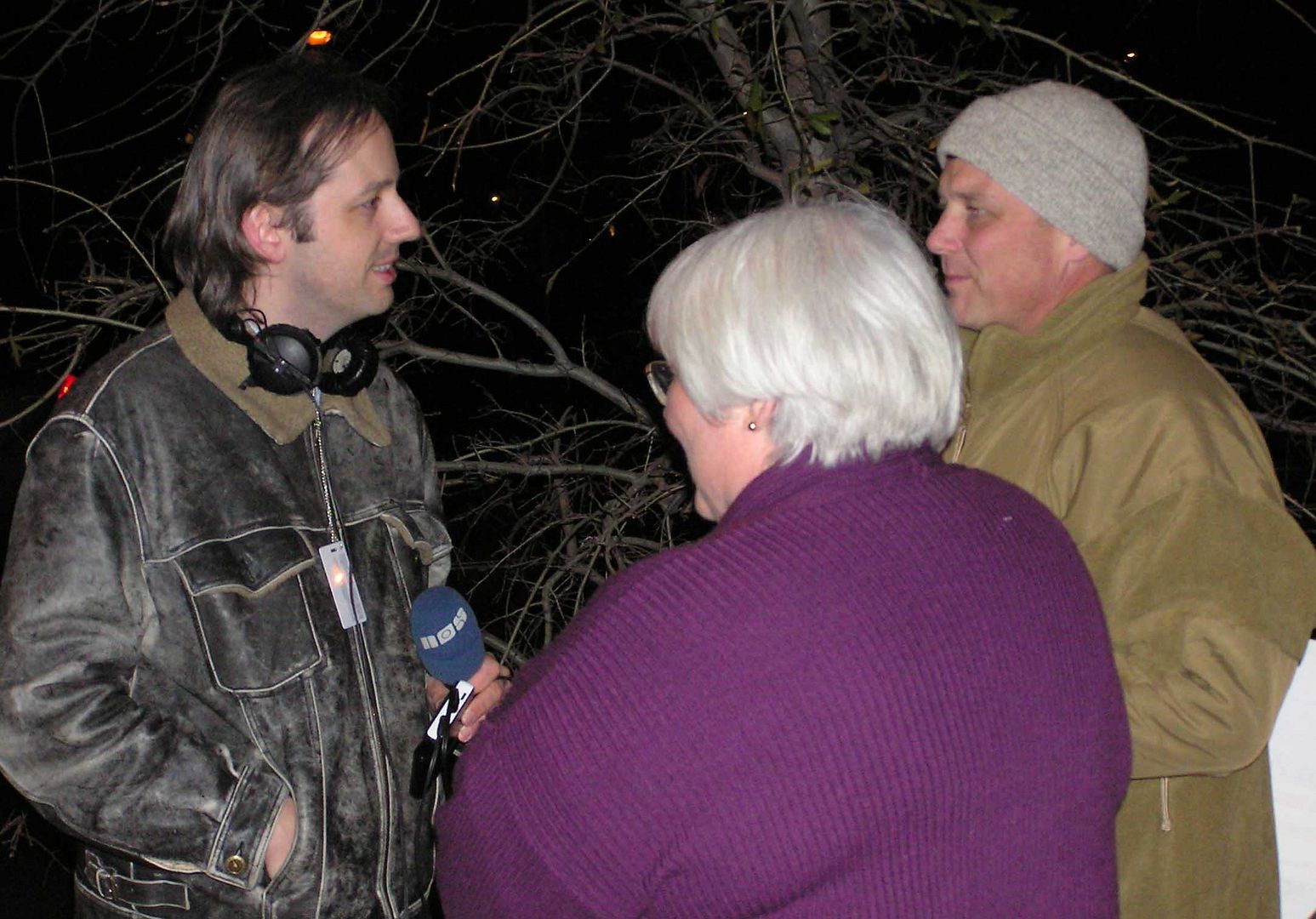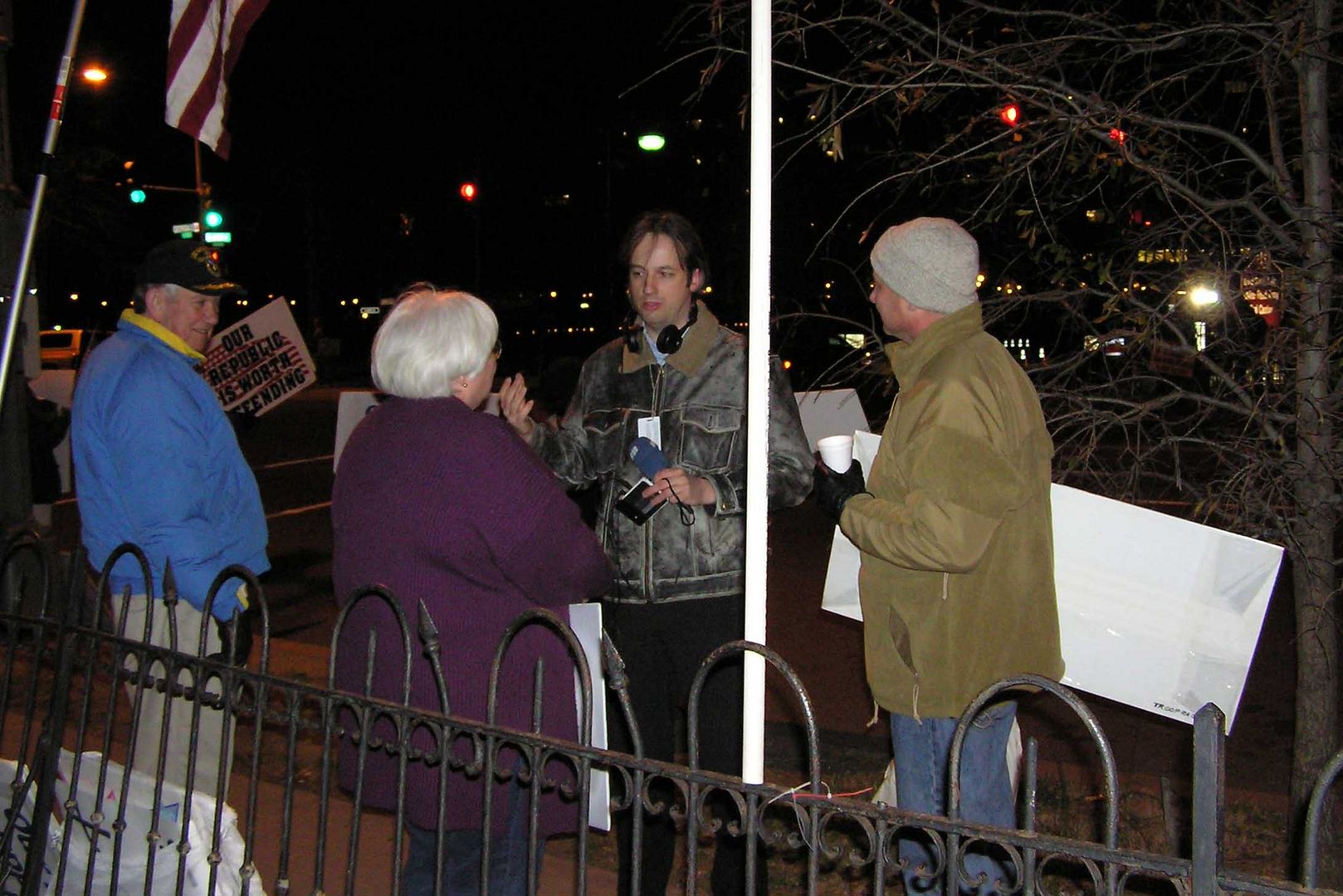 He spoke to Taco a long time and seemed very impressed with his service and attitude.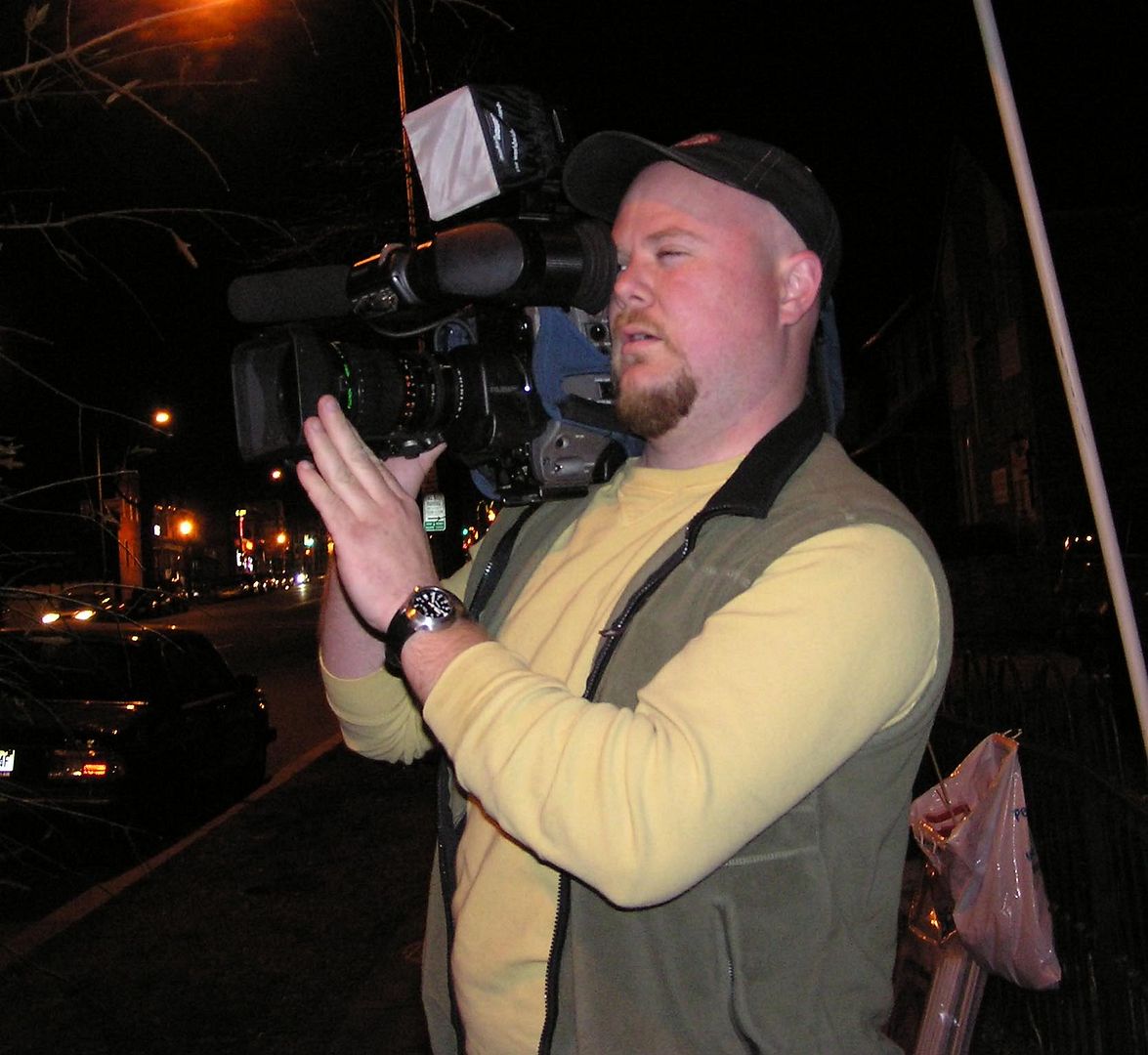 Shortly after that, a cameraman from a CBS affiliate was driving by in his camera-van and saw our demonstration; and he stopped to shoot some video. He started out with a bad attitude, but after talking with TacoMama for a while he let on that he's retired Air Force and not really sympathetic to the Pinkos.
Karl Rove clone, and faithful Arizona Freeper, Spiff, continued his MultimediaPsyOp against the commie Code PinkOs.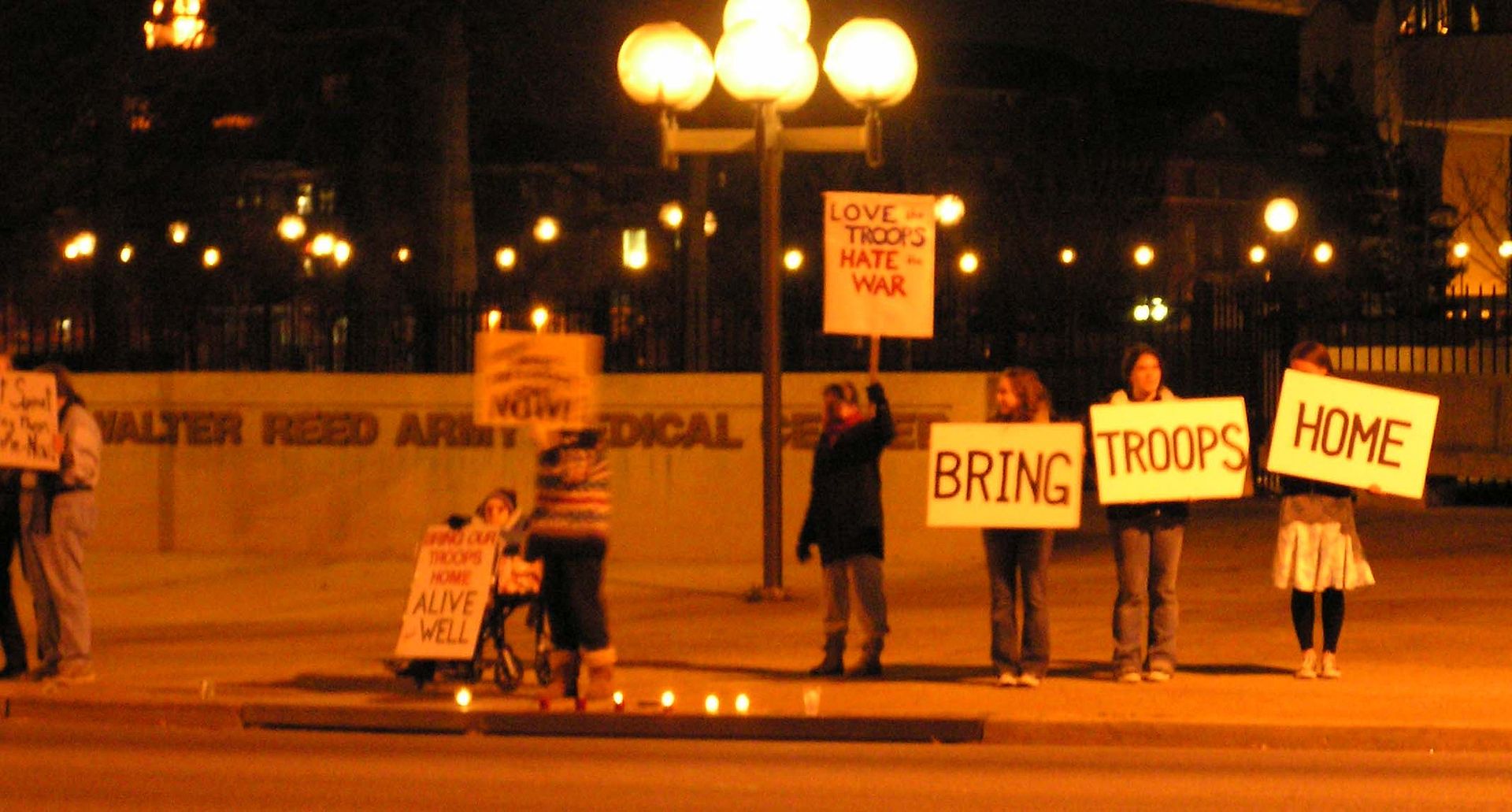 He saw three adolescent girls walk down to the PinkOs' candle-party, so he headed down the street to talk with them. He was trying to tell the three adolescent girls (seen in photo holding "bring - Troops - Home" signs) what CodePink was really all about (and they were listening) when he was told repeatedly (by "Large Marge" and Allison Yorra ___(fill-in-the-blank) to "leave". Allison, who has a face for radio and an apparent tendency towards blind rage, lashed out at our charming Spiff. She called him a "little s**t" and an "unmitigated turd".

Great work, Spiff. That six-week course in PsyOp is really paying off.

:-)

Having said his peace to the teenaged kids, and tiring of listening to the raging dames, Spiff was walking back up towards the American Zone...


when he noticed the little old lady in the wheelchair was being put in her car by one of the commies and was having some difficulty. None of the Pinkos seemed to care about the poor old woman, so Spiff offered assistance and helped. Again, he showed how nice we are compared to the BS commies. Hooray!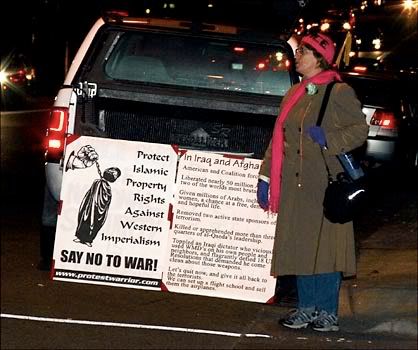 "Large Marge" was so incensed at Spiff's intrusion on their candle-party that she walked up the street looking for Kristinn to whine to. She wanted him to make Spiff go away. Not finding him, she asked Bmwcyle to make Spiff "behave".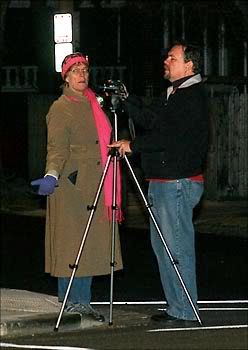 Ever the diplomat, Bmwcyle said "I'm busy" and told her to get lost. As Marge stomped off, Freepers taunted her with sounds of whining and crying. Have you ever noticed how Marge's nose is always way up in the air?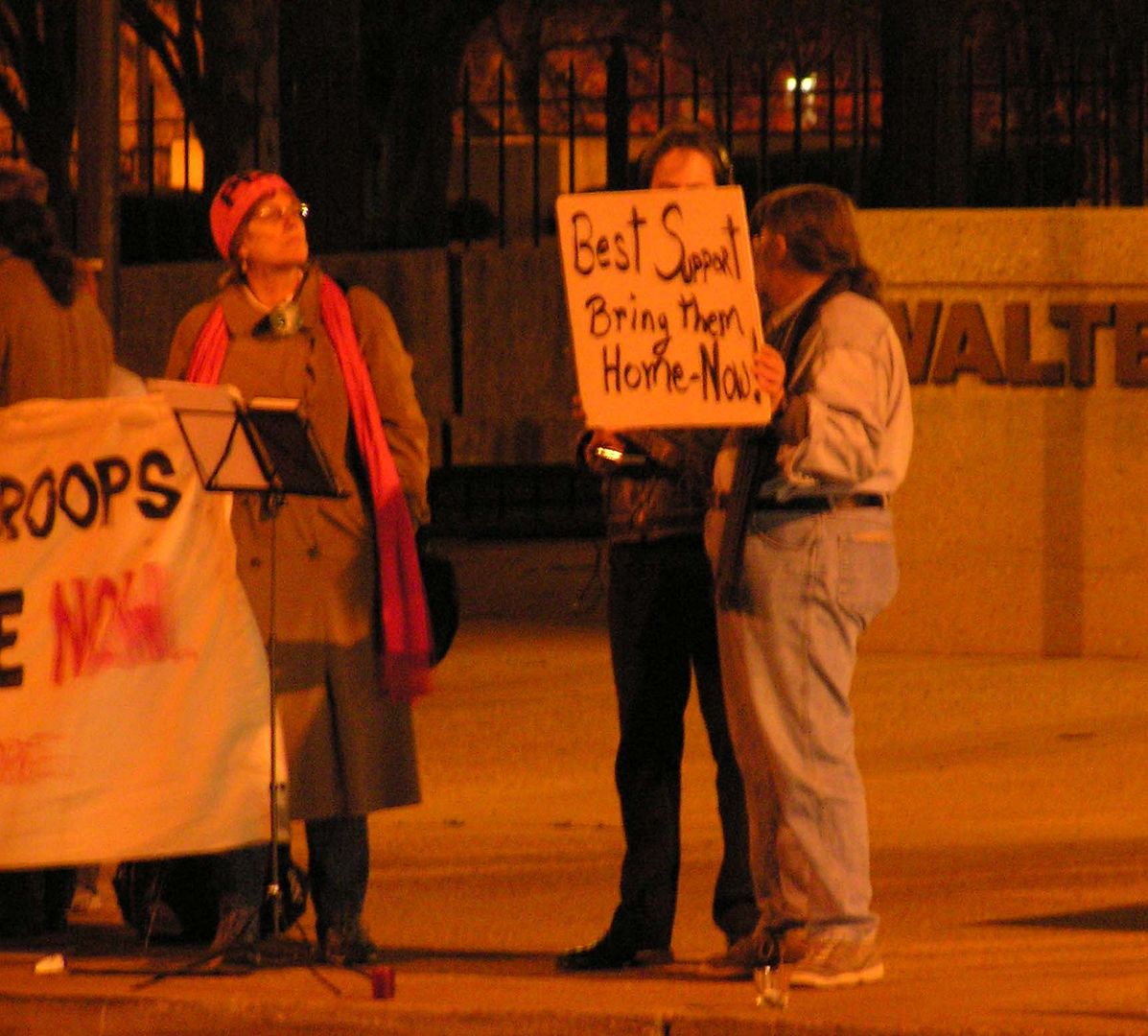 There is always so much going on, on all four corners, that one person cannot see and hear everything. On every corner there are stories told and friendships made, and you are only seeing and reading just a small part of it here.

Attention Freepers who were there last Friday: Please add your thoughts and stories to this thread.
Via Freepmail this afternoon, Jimmy Valentine's brother adds this:
Don't know if you met the First Sargeant who'd been shot five times.

Doctors had told his parents that he most likely wouldn't come out of the coma, or if he did he definitely wouldn't walk again.
He'd lost a kidney, spleen and part of his liver.

He wanted to go down and talk to Code Pinky's but we thought that would ruin his St Paddy's day.

He was with the rangers and part of a listeniing post on the Syrian border.

19 years; currently working with the disabled at WRAMC.

Says morale inside is great and the amputees would go back in a heartbeat if they were allowed to.

For some reason he wanted to thank FR for being at the gates and showing our support.

I think we have to pull duty on Friday nights for the duration.

This ain't about code pink any more.
So there it is, folks. We're in this for the duration. How about you?

Do you have a Friday night that you can "donate" to help bolster our wounded warriors' morale, and help them to heal?

Let's help our wounded heroes maintain a positive attitude.
We absolutely must keep the pressure on Code Pink and keep showing the wounded troops at Walter Reed that Code Stink doesn't speak for the nation.
STAND UP FOR AMERICA THIS WEEKEND - COUNTER THE LEFT, SUPPORT OUR TROOPS
This FReep is rewarding, fun, and important for our troops and our nation. So come on out and make some new FRiends and thank some real Heroes!
For those of you in the DC area, we still need some additional FReepers to join us for FReeping Code Pink every Friday night, until further notice, starting at 6:30 pm and until about 9:30 pm.
How about coming out this Friday? You can join us in progress if you can't make the beginning of the event.
Come help us fill All 4 Corners!
Can you sacrifice an evening to honor the much greater sacrifice that the troops are making for our freedom?
As always, the DC Chapter's rules for protesting will be in effect.
Briefly, they are: No violence. No profanity. No racism. No provocations. Obey the law. Treat all law enforcement officers with respect.
Walter Reed Army Medical Center, 7200 Georgia Ave. at Elder St., NW
Patriots have all four corners of that intersection with Protest Warrior having the permit for the two corners on the West and Free Republic DC Chapter having the permit for the two corners on the East.
On street parking is usually easy to find. Location is about 6 or 7 blocks from the Takoma metro station and is walkable, but it is best if you get a ride. If you want a ride, FReepmail tgslTakoma and/or BillF (assuming his computer comes back to life), preferably with your cell phone number as far in advance as possible. We'll do our best to arrange a ride from the Takoma Metro station for you.

---
TOPICS: Activism/Chapters; Free Republic; News/Current Events; US: Arizona; US: District of Columbia; US: Maryland; US: New Jersey; US: Virginia; US: West Virginia; War on Terror
KEYWORDS: collegerepublicans; dcchapter; freep; protestwarrior; rally; walterreed
---
Navigation: use the links below to view more comments.
first 1-20, 21-40, 41-60, 61-66 next last
---
---
---
---
---
---
---
---
---
---
---
---
---
---
---
---
---
---
---
---
---
Navigation: use the links below to view more comments.
first 1-20, 21-40, 41-60, 61-66 next last
---
---