---
U.S. Rep. William Jefferson (RAT-LA) downplays stop at his New Orleans house (used National Guard)
2theadvocate.com ^ | 9/15/05 | WILL SENTELL


Posted on 09/16/2005 4:31:57 AM PDT by Libloather

Jefferson downplays stop at his New Orleans house
By WILL SENTELL
wsentell@theadvocate.com
Capitol news bureau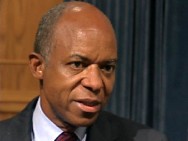 During a National Guard-led tour of his hurricane-ravished district, U.S. Rep. William Jefferson asked to stop at his New Orleans home, a guard spokesman said Wednesday.
Lt. Col. Pete Schneider, public affairs officer for the Louisiana National Guard, told news reporters that the guard was assisting Jefferson in his check of damage Sept. 2, four days after Hurricane Katrina struck.
Guardsmen were getting around the Democrat's congressional district in a truck designed to navigate the high waters that crippled the New Orleans area for days during post-hurricane flooding.
Residents were banned from visiting their homes because of high waters and other dangers.
Schneider was asked about the issue during a briefing at the Office of Emergency Preparedness. The tour was first described Tuesday on the ABC News program "Nightline."
"He asked to be taken to his residence," Schneider said of Jefferson, who represents the state's 2nd Congressional District.
Jefferson downplayed the episode and said that, like anyone, he wanted to check on the condition of his home and neighborhood in Uptown New Orleans.
"If I could have done it by myself, I would have done that," Jefferson said in a telephone interview Wednesday.
National Guard officials said conditions were too dangerous for him to travel without an escort because of snipers and other problems, he said.
Asked if he received a privilege not available to most, Jefferson said, "If you were an elected or appointed official, you would have been escorted around town."
Schneider said Jefferson entered his New Orleans residence and took out some unspecified items. Jefferson said he removed a computer and some bags for his children, who attend schools in New York and Boston.
Schneider said that during the stop at the Jefferson residence, the National Guard truck got stuck. One guardsmen then signaled a nearby military helicopter, which dispatched a diver for what was initially thought to be a rescue mission at the Jefferson home.
Schneider noted that the guard has provided assistance getting around the New Orleans area to a wide range of officials, including President Bush. He said he was not aware of any other requests by officials to visit their homes.
Asked if Jefferson's request was unusual, Schneider said, "You would have to ask Congressman Jefferson's office."
Jefferson said he and others tried to wave away a helicopter rescue diver -- he thinks it was a U. S. Coast Guard operation -- but was unable to do so. He said a third-story door on his home was kicked down in the confusion on whether a rescue was needed.
Federal agents recently raided Jefferson's New Orleans and Washington homes and his car and cited an ongoing criminal investigation. Federal officials have not provided details. Jefferson has declined comment on the probe.

---
TOPICS: Crime/Corruption; Extended News; Government; News/Current Events; Politics/Elections
KEYWORDS: bribery; corruption; downplays; guard; house; jefferson; la; ll; national; new; orleans; rat; stop; us; william; williamjefferson
---
Navigation: use the links below to view more comments.
first 1-20, 21-26 next last
---
---
---
---
---
---
---
---
---
---
---
---
---
---
---
---
---
---
---
---
---
Navigation: use the links below to view more comments.
first 1-20, 21-26 next last
---
---