---
(blast from the past) Journalist Nina Burleigh would have gladly performed a Lewinksky
various sources | 7-16-04 | dfu


Posted on 07/16/2004 10:28:27 AM PDT by doug from upland

What has happened to journalism? It used to be that a reporter sought the true story. It was the story and not political agenda that was important. Isn't that what journalism professors teach in journalism schools?

Unfortunately, the mainstream press, always in the lefties' corner, is blatantly and unapologetically cheering for the RATS in broad daylight. It is fine to have an opinion, but label the piece as op-ed rather than labeling it as a news story. That is what the left does every day in the stories and in deceptive headlines.

It has only been a few days, but are we really expecting a TIME MAGAZINE cover to show a picture of Joe Wilson sipping sweet tea in Niger with a banner headline: HE WAS THE ONE WHO LIED!

No, don't expect to see that.

Here is the bio of a supposedly serious journalist, Nina Burleigh.

NINA BURLEIGH
Contributor
TIME Magazine

Nina Burleigh is currently a contributor to TIME Magazine covering Congress. She covered Bill Clinton from January 1992 through November 1994, first for People Magazine, then for TIME. She has worked on or written stories about Clinton's politics, policies, strategies, staff and has travelled with him around the United States as a reporter for TIME. She also spent much of 1992 and 1993 focused on Hillary Rodham Clinton.

Burleigh is a native of Chicago who began her career in journalism at the Associated Press in Springfield, Illinois, and Chicago. Between 1987 and 1992, she was a regular contributor of features and a weekly column to the Chicago Tribune, specializing in women and feminist issues. She has also done some war reporting for TIME, covering Baghdad in 1991 and Haiti in 1994.

Burleigh, 34, is single and has a Master's in English Literature from the University of Chicago. She lives in Washington, D.C. Her writing on politics and other topics has appeared in TIME, Spy, Regardie's, the Chicago Tribune, Z Magazine and other publications.

================================================

Source: SOURCE.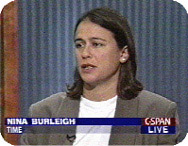 Here is a blast from the past. A serious journalist would have gladly given the disgraced and impeached X42 a Lewinsky. I wonder how the rapist's sweet little wifey reacted to that?
Sex for a Cause

by Carolyn Gargaro & Stephanie Herman - Rightgrrl Founders
July 10, 1998
Updated: July 16, 1998

"I'd be happy to give him [oral sex] just to thank him for keeping abortion legal."

Those were the enlightening words uttered by former Time contributor and White House correspondent Nina Burleigh in an interview in Mirabella magazine, as reported by Howard Kurtz in a Washington Post Article. However, it was learned on 07/16/98 that her comment was a little different from that. Nina Burleigh has now filled in what word she really used in the spot the Post bracketed and revealed her next sentence to Kurtz, that he did not share with readers.

Her full quote: "I would be happy to give him a blowjob just to thank him for keeping abortion legal. I think American women should be lining up with their presidential kneepads on to show their gratitude for keeping the theocracy off our backs."

So women should all break out their kneepads. Sorry Nina, I think we'll pass on your "blow the President" suggestion. Not all American women live by your standards - or lack thereof.

This new information is in the July 20th edition of the New York Observer in Nina's opinion piece, "My Spin Through the Cycle," relating her experience at becoming a mini-celebrity over her comments. While the paper has a Web site www.observer.com, the text of articles is available only through AOL. Key word: NYO.

Nina's comments are quite interesting, considering that just a few years back author (and liberal) Rene Denfeld accused radical feminism of adopting rather Victorian attitudes toward sex. Perhaps in response (or perhaps not) the feminist camp has donned a new attitude toward sex: it's OK if it's done for the cause.

Take young feminist writer Anastasia Higginbotham's political motivation for becoming a lesbian. "Sleeping with women... is also something I aspired to as a die-hard advocate for women," writes Higginbotham in an essay, "Chicks Goin' At It." "I worried (and still do occasionally) that I was taking on lesbianism out of loyalty to a cause, fearful that my capacity to sleep with the bad guys was bad for PR."

Nina Burleigh's definition of oral sex as the supreme thank you for a correct-thinking liberal male nicely fleshes out the observations of Star Parker in her essay Why the Modern Woman voted For Bill Clinton. "The way liberal women have justified their vote for Bill Clinton kind of reminds me of the relationship a whore has with her pimp," states Parker. "She knows he's using her, but because he alludes to providing for her children, she'll tolerate the abuse. All the President had to do to solidify the female block was smooth talk promises of daycare, family leave and college for our kids." Think NOW might disagree? They don't, actually. When President Clinton signed the welfare reform bill, they admitted feeling used in the NOW National Times: "...it feels like Clinton came around and sweet-talked us in 1992 and then didn't respect us in the morning."

What would pro-choicers say if the situation was reversed and a pro-life woman said she would give Pat Buchanan oral sex "just to thank him for his position against abortion"? Can you imagine the outrage? The cries of pro-choice feminists on the "submissive" nature of this action, and the finger pointing at pro-life women en masse would be, no doubt, a media event. We can just imagine the headlines: "Self-Righteous Abortion Foes Admit to Sexual Favors to Further Their Agenda." Oddly, we don't see many media accounts of Nina Burleigh's statement.....

We're not suggesting that all, or even most pro-choice women, would perform oral sex on a married president to thank him for keeping the exploitive procedure of abortion legal, but Nina Burleigh's quote seems to mirror at least the attitude of many female Clinton supporters. Clinton helps the liberal pro-choice agenda, so many liberal pro-choice women look the other way when it comes to his alleged sexual harassing behavior, his coddling of China, a nation which forces women to be sterilized and have abortions in the ninth month, and some of his anti-woman actions in general.

How ironic that some of the same women who forgive Clinton's anti-woman behavior, and possibly, if there are other women out there like Nina Burleigh, would submit themselves sexually to him, do so to keep their precious, "empowering" right to choose -- a "right" which, if taken away, would undermine women's equality. Or so they claim. It seems as if these same women who swoon over President Clinton have done a pretty good job of undermining women's rights all by themselves.

This article is copyright © 1998 Carolyn C. Gargaro & Stephanie Herman. All rights reserved. It may not be reproduced with out specific consent of the authors.

Related Links:
---
=================================================
Note to all: well, isn't right wing talk radio a partisan cheerleader? Yes, it is. It is filling a vacuum. It is making up for the failure of the leftists in control to present the facts. But the hosts don't attempt to fool people that they are presenting objective news. They are giving their opinions. Actually, even though they are giving their opinions, they are doing a better job of portraying the real news than does the mainstream media. What about that little story about Yellow Cake? Where is it Brokaw? Where is it Jennnings? Where is it Rather? Where is it NY TIMES? (oh, that's right....the NYT had it buried in the business section.....funny, a rumor started by the RATS about Cheney made it above the fold on Page 1)

---
TOPICS: Culture/Society; Government; News/Current Events; Politics/Elections
KEYWORDS: burleigh; cheapwhore; leftistwhore; mediawhore; ninaburleigh
---
---
---
---
---
---
---
---
---
---
---
---
---