---
Pastor threatens school with lawsuit after daughter sent home for homophobic t-shirt
Metro Weekly ^ | 9/14/2020 | Rhuaridh Marr


Posted on 10/02/2020 7:10:07 PM PDT by simpson96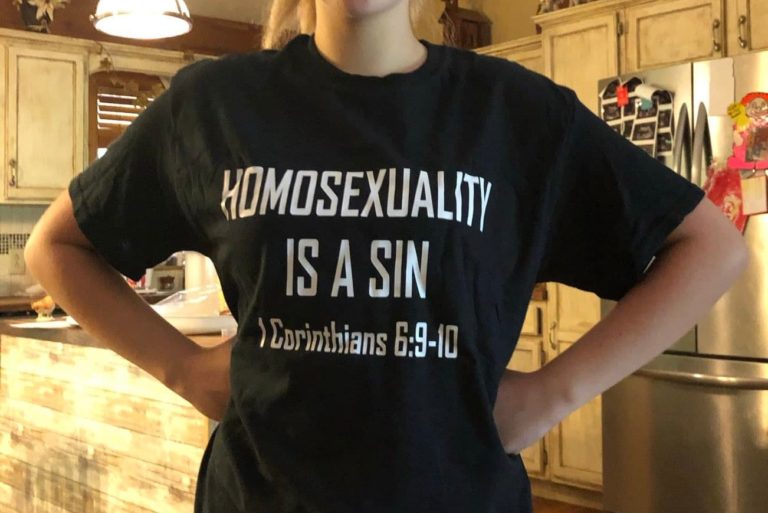 A homophobic pastor is threatening to sue a public high school in Tennessee after his daughter was sent home for wearing an anti-gay t-shirt.
Rich Penkoski, leader of extremist anti-LGBTQ hate group "Warriors for Christ," told the Christian Post that his daughter's First Amendment rights were violated after she was told to leave Livingston Academy in Livingston, Tenn.
His daughter Brielle, who is 15, wore a t-shirt with "homosexuality is a sin" written on the front, as well as "1 Corinthians 6:9-10," (snip)
"My 15 year old was thrown out of school for the day for wearing this shirt," Penkoski tweeted last month. "#lgbt wants to trample on your #freespeech rights while they cry for special rights."
Speaking to the Christian Post, Penkoski said that Brielle was sent to the school's principal, Richard Melton, who asked her to remove the shirt because of its "sexual connotation." When she refused, she was sent home, he said.
Penkoski complained that one of the school's teachers had an LGBTQ Pride sticker in their classroom featuring the words, "Diverse, Inclusive, Accepting, Welcoming Safe Space For Everyone."
He seemed perplexed as to why Melton would allow the sticker, but not his daughter's homophobic t-shirt, and said that Brielle wanted to "express her values."
"She wanted to do this on her own. She wanted to go there to…express her values like all the other kids do," he said. "They've got kids walking around with the pride symbol on their sneakers and pride clothing and nobody bats an eye."
Penkoski continued: "She was basically censored. It's not fair…that she's told that she can't wear that shirt and other people can wear the stuff that they wear."

(Excerpt) Read more at metroweekly.com ...
---
TOPICS: Chit/Chat; Education; Local News; Religion; Society
KEYWORDS: antichristian; arth; bidenvoters; gaystapo; homofascism; homosexualagenda; lavendermafia; livingston; penkoski; sodomandgomorrah; tennessee; warriorsforchrist
---
Navigation: use the links below to view more comments.
first 1-20, 21-40, 41-60, 61-63 next last
---
---
---
---
---
---
---
---
---
---
---
---
---
---
---
---
---
---
---
---
---
Navigation: use the links below to view more comments.
first 1-20, 21-40, 41-60, 61-63 next last
---
---