---
To: bitt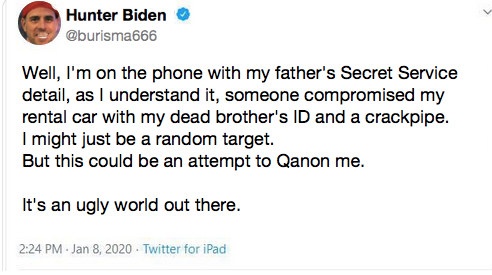 1,120
posted on
01/08/2020 8:34:33 PM PST
by
grey_whiskers
(The opinions are solely those of the author and are subject to change with out notice.)
---
To: All
Lol
Dr. Drew says he might challenge Adam Schiff for congressional seat
..."I was watching all the impeachment proceedings and I was going, 'Oh my God, our Congress is tied up and we're dying out here in California. What are these people doing?' "
Pinsky, 61, lamented the lack of action from Schiff, specifically with regard to the issue of homelessness in the state of California....

1,122
posted on
01/08/2020 8:44:07 PM PST
by
StormFlag
(Even in the mud and scum of things, something always, always sings. Ralph Waldo Emerson)
---
To: grey_whiskers
Time for bed!
1,126
posted on
01/08/2020 8:52:59 PM PST
by
Pete from Shawnee Mission
(Photo credit Kelly Sikkema Glowing Sun over the tree horizon Lk. Namakagan WI)
---
To: grey_whiskers
JMHO, Krugman should have just called his lawyer, found some real nice rock to crawl under and then STHU.
He's still going to jail but now everybody in the country will laugh at him....before they spit on him and wish him in Hell.
1,128
posted on
01/08/2020 8:58:23 PM PST
by
Unrepentant VN Vet
(Never quit anything in my life, ain't going to start quitting now. WWG1WGA)
---
To: grey_whiskers
---
FreeRepublic.com is powered by software copyright 2000-2008 John Robinson