---
Francisco Franco, grandfather, painter
Fototeca Hispanica. El Mundo, other
Posted on 07/23/2013 6:35:27 PM PDT by annalex
Francisco Franco, grandfather, painter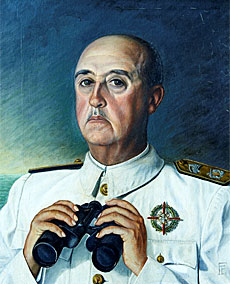 The grandson of the Caudillo revealed in his book, "La naturaleza de Franco. Cuando mi abuelo era persona" that his famous grandfather, and, in my estimation, easily the greatest national leader of the 20th century, was also a painter.
"After dinner, granddad often would lock himself in the studio and paint. ... Francisco Franco was a loving grandfather, excellent companion in hunting and fishing, my teacher and my friend. When we were alone, fishing or sitting around the campfire, gradndad told me stories from his youth. They always began with the words 'When I was a regular man...'".
What do you think? I expected depth, that I do not find in the pictorial exercises of Hitler's and Churchill, and I found it. The hunting scenes in particular reveal a man who understands the tragedy that has befallen Europe, knows his brutal age and has the courage to fight through it; and at the same time his inner eye hasn't lost the tranquility of the soul that we detect in the beautiful pond scene.
Franco was not a professional artist: we see an uncertain line and awkward composition; the color seems to be a bit timid. But on the insight into his age and hours, I'll take his work over Dali's dull and hate-filled "Premonition" any time.


Carmen Franco, the daughter




Carmen
---
TOPICS: Arts/Photography
KEYWORDS: franciscofranco; franco; spain
---
Navigation: use the links below to view more comments.
first 1-20, 21-27 next last
---
---
---
---
---
---
---
Comment #7 Removed by Moderator
---
---
---
---
---
---
---
---
---
---
---
---
---
---
Navigation: use the links below to view more comments.
first 1-20, 21-27 next last
---
---