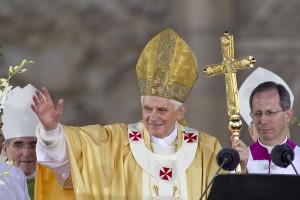 In his Apostolic Letter Porta Fidei (The Door of Faith), Pope Benedict XVI explained his reasoning behind declaring the Year of Faith (Oct 11, 2012 – November 24, 2013). While I recommend that you read the full document, here are 10 highlights that every Catholic should know.
1. The Door of Faith Is Always Open – Although we may choose to resist, the Lord's door is always open and He waits patiently for us to enter.
2. The Journey of Faith Lasts A Lifetime – We start on this journey at baptism and complete it at our death. Faith is not a destination, but a journey – one which lasts a lifetime!
3. Lukewarmness is Not an Option! - The Holy Father states that we "cannot accept that salt should become tasteless or the light be kept hidden". We are called to live and share our Catholic Faith and can't get complacent.
4. Belief In Jesus Is the Way to Salvation – Want to know the way to "arrive definitively at salvation"? Believe in Jesus Christ and follow the teachings of His Church.
5. Vatican II Meant Something – As Catholics, we should all become familiar with the documents of the Second Vatican Council. Reading them will teach us much about our Catholic Faith.
6. Read The Catechism – It's been 20 years since the new Catechism of the Catholic Church was published. If you're serious about living your Catholic Faith, it's time to either get a copy, take your copy off of the bookshelf or read it online. It is a treasure and summarizes 2000 years of Church teaching!
7. Share Your Faith – According to Pope Benedict, "A Christian may never think of belief as a private act". While that's exactly the opposite of what the world tells us, who are you gonna believe – the pope or the world?
8. Look To The Past – By faith…Mary accepted the angel's word and believed the message, the Apostles left everything to follow Jesus, the disciples formed the first community and the martyrs gave their lives. These men and women are our role models and show us what it means to truly believe. Imitate their lives!
9. Be Nice – Faith and charity go hand in hand. We can believe all we want, but it is meaningless without love.
10. Trust in Mary - When we begin to stumble, we should turn to the Mother of God, who was proclaimed "blessed because she believed" (Luke 1:45). She'll help you to overcome your doubts and continue on your journey of faith.
This Year of Faith provides us with an excellent opportunity to learn, live and share our Catholic Faith. Let's not pass up the chance. Jesus is holding the door open for us. Let's be sure to enter in!