---
Spanish Man Miraculously Cured by John Paul II's Hat (i.e. relic) [Catholic Caucus]
PR Web ^ | March 28, 2011


Posted on 03/28/2011 1:29:18 PM PDT by NYer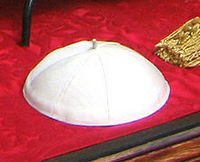 John Paul II wore a white skull cap, also called a zucchetto or pileolus
Atlanta, GA (PRWEB) March 28, 2011
Spain's bureaucratic health care system almost killed Madrid resident Carlos Vazquez, a Crohn's disease sufferer. But contact with John Paul II's white papal cap miraculously cured him in 2006, author Randall Meissen relates in "Living Miracles: The Spiritual Sons of John Paul the Great" (Mission Network: Alpharetta, GA, 2011). John Paul will be beatified on May 1 due to a French nun's cure from Parkinson's, but a second miracle is needed before declaring him a saint.
Carlos Vazquez experienced constant pain and severe weight loss during his struggle with Crohn's disease, a supposedly incurable autoimmune disorder causing inflammation of the digestive tract. By September of 2006, after dropping to eighty-four pounds, his situation was life threatening. Nonetheless, Vazquez was repeatedly turned away by Spain's public health system due to bureaucratic technicalities.
A friend of Carlos Vazquez's family lent him a relic of John Paul II, one of the pope's white papal skull caps, and suggested he pray to the pope for a miracle. The cap, properly called a zucchetto, was placed in the Vazquez living room; thereafter, Vazquez and wife prayed daily for aid from the deceased pope.
On the night of November 14, 2006, Vazquez went to bed, suffering from his usual abdominal pain and unable to eat solid food. That night, he dreamt about John Paul II, and the next morning awoke, free of pain and with restored energy.
Stunned by the change, Vazquez called his doctor, who insisted that a cure was impossible and that he should not risk eating solid food. Vazquez ignored that advice and went out to eat in celebration on the evening of Nov. 15. As he downed a steak dinner, an espresso, and a few shots of liquor, his relatives started shouting, "It's a miracle. It's a miracle."
Today, Carlos Vazquez continues in good health and devotes his time to "Misioneros urbanos" (Spanish for urban missionaries), a Madrid based charity providing rehabilitation and job training for inner city homeless.
"I don't know if this type of healing will receive official recognition," says book author Randall Meissen, "but it can't hurt to praise God in face of such a cure."
Some Christian groups frown on the practice of keeping relics, but for Catholics, objects that came in contact with a saint or blessed (like John Paul's hat) are considered second class relics. First class relics are limited to the actual remains of a saint or blessed, commonly fragments of bones.
Controversy and charges of sacrilege have erupted in the past when relics have surfaced on Ebay or in public auctions. The sale of relics is strictly forbidden by Catholic Canon Law (canon n. 1190).
"Sure, there can be misuses of relics," says Meissen, "but the use of relics has a basis in the Bible. Christians who scoff at relics turn a blind eye to passages of scripture." According to the Bible, a dead man came to life after touching the bones of the prophet Elisha (2 Kings 13:20-21), Christ's cloak once occasioned a cure (Matt. 9:20-22), as did St. Peter's shadow (Acts of the Apostles 5:15-16) and cloths that touched St. Paul (Acts of the Apostles 19:11-12).
As for John Paul II's papal hats, they are not in short supply. He commonly gave them away as gifts. The Shrine of Our Lady of Czestochowa in Doylestown, PA, has one on display, as does Father Gary Dailey, pastor at University of Massachusetts Catholic Newman Center in Amherst.
"Together with my chalice, it is my prized possession," says Father Dailey. "I was convinced back in 1987 when I met him that this man was going to be a saint; I knew I had just touched a saint."
About the book:
Living Miracles: The Spiritual Sons of John Paul the Great is available on Amazon.com.
Author Randall J. Meissen, LC, former professor at Legion of Christ College in Cheshire, Connecticut, currently works in youth ministry in Valencia, Spain. He podcasts on John Paul 2 at JohnPaulMoments.com and can be contacted at rmeissen(at)johnpaulmoments(dot)com.

---
TOPICS: Catholic; Current Events; Prayer
KEYWORDS: jpii; miracle; spain
---
Navigation: use the links below to view more comments.
first 1-20, 21-22 next last
---
---
---
Comment #3 Removed by Moderator
---
---
Comment #5 Removed by Moderator
---
Comment #6 Removed by Moderator
---
---
---
---
---
---
Comment #12 Removed by Moderator
---
---
---
---
---
---
Comment #18 Removed by Moderator
---
---
---
Navigation: use the links below to view more comments.
first 1-20, 21-22 next last
---
---