---
The 815 Creed [satire]
Captain Yips Secret Journal ^ | 1/20/2007 | Jack White


Posted on 01/21/2007 5:11:35 PM PST by sionnsar

Warning! Satire Ahead. Something snapped last night . . . This is satire. This is not fact. Yet.

<satire>

Announcing a joint project of the Episcopal Peace Fellowship, Episcopal Women's Caucus, and the Standing Committee on Liturgy.

We have come to realize that The Episcopal Church will require a new creedal formulary if it is to bring reconciliation by means of the Millennium Development Goals. We offer this creed, reflecting and including all that is good, to the Church, for use in place of outmoded formularies reflective of patriarchal and unscientific eras. We presented this to the Presiding Bishop, and her comments are appended.

A word from the Presiding Bishop:
Use this, or I send Beers after you. Capisce? +++++KJS

I believe in God, the indulgent Parent of all of us, who cannot be put into a small box, and in Jesus, our Magic School Bus to the divine, who among others like Buddha and Mohammed and Martin Luther King gave us some good ideas about God, and the Holy Spirit, who makes me feel good about myself and affirms me in all my being.

And I believe in The Episcopal Church, inclusive, prophetic, and speaking truth to power, whose polity is mighty in the world and cannot be challenged, whose canons are wise and full of grace, whose diocesan borders cannot be crossed (unless the bishop denies Women their rightful, God-given, mandatory and unchallengeable right to Ministry, in which case we're gunning for you), from which no parish can escape; I believe in one Baptism, after which I can do whatever I want, I believe in a Woman's right to Control her Body, I believe that sexual orientation is genetically determined, I believe in recycling, low pollution vehicles, fair trade coffee, and I don't give a fig for the resurrection of the dead. Shalom.


</satire>

---
TOPICS: Humor; Other non-Christian
KEYWORDS:



---
To: ahadams2; Way4Him; Peach; Zippo44; piperpilot; ex-Texan; ableLight; rogue yam; neodad; Tribemike; ..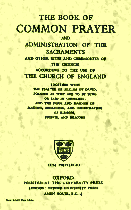 Traditional Anglican ping
, continued in memory of its founder
Arlin Adams
.
FReepmail
sionnsar
if you want on or off this moderately high-volume ping list (typically 3-9 pings/day).
This list is pinged by
sionnsar
,
Huber
and
newheart
.
Resource for Traditional Anglicans:
http://trad-anglican.faithweb.com
More Anglican articles
here
.
Humor:
The Anglican Blue
(by Huber)
Speak the truth in love. Eph 4:15
2
posted on
01/21/2007 5:12:16 PM PST
by
sionnsar
(†trad-anglican.faithweb.com†|Iran Azadi| 5yst3m 0wn3d - it's N0t Y0ur5 (SONY) | UN: Useless Nations)
---
To: sionnsar
I just posted this on another discussion but it is worthy repeating and committing to memory:

"A preaching that does not point out sin is not the preaching of the gospel. A preaching that makes sinners feel good, so that they become entrenched in their sinful state, betrays the gospel's call. A preaching that awakens, a preaching that enlightens - as when a light turned on awakens and of course annoys a sleeper - that is the preaching of Christ, calling: Wake up! Be converted!" by Oscar Romero. From THE VIOLENCE OF LOVE (Orbis, 2004)

3
posted on
01/21/2007 5:22:48 PM PST
by
lightman
(The Office of the Keys should be exercised as some ministry needs to be exorcised)
---
To: sionnsar
---
To: sionnsar
I also believe in recycling, low pollution vehicles, and fair trade coffee!!!!

But even more so, I believe in the unaltered Nicene Creed with no feminazi changes or alterations whatsoever.

And I also believe that we need to resist the New World Order, including those NWO operatives who want to replace the true Gospel with the MDGs, and to annoint Bono as our savior instead of Christ.
5
posted on
01/21/2007 9:00:28 PM PST
by
Honorary Serb
(Kosovo is Serbia! Free Srpska! Abolish ICTY!)
---
FreeRepublic.com is powered by software copyright 2000-2008 John Robinson