Once you were in darkness, but now in the Lord you are light.
Live as children of light---for the fruit of the light is found in all that is good and right and true.
Try to find out what is pleasing to the Lord.
Take no part in the unfruitful works of darkness,
but instead expose them.
Ephesians 5:8-11
The Rublev Icon of the Holy Trinity
Emblem of the Society of the Holy Trinity
A TAGLINE HISTORY

"The Office of the Keys should be exercised as some ministry needs to be Exorcised". (START through October 2006)
The tag line is this Lutheran's cry of frustration about Bishops who refuse to exercise every aspect of their ministry, especially calling to account and enforcing discipline on wayward clergy. Some of those wayward clergy have become so infected with the spirit of postmodernism and outright hedonism that I believe Exorcism may well be the only cure.
"If false accusation weren't a problem it wouldn't be in the 10 Commandments." (October 2006 - March 2008)
In late September 2006 I was informed of a vendetta launched against me by a former colleague who sought to strip me of some professional credentials. The matter was not brought to conclusion in my favor until June of 2007, and even then the former colleague persisted in pressing his malicious false claims.
"Waiting for Godot and searching for Avignon." (March 2008 - August 2008)
I'm not really a fan of Camus other than for his phrase il faut cultiver votre jardin; however, the notion of being in exile, expectationis for God to break through once again rings well with the most ancient Creed and the final hopes of St. John Marantha! As for Avignon; well, I'm basically declaring myself to be in schism/status confessionis from Bishop B. Penrose Hoover, the Lower Susquehanna Synod, the Evangelical Lutheran Church in America, and its PC-laden Evangelical Lutheran Worship. So I am searching for the antiPope--whether he be LCMS, LCMC, AMiA, Anglican Use Rite, or Antiochean remains to be seen.
"Sarah Palin: A REAL woman, not an empty pantsuit." (August 2008 - Election Day 2008)
Barack Øbama = Empty Suit. Hillary Clinton....does she wear anything other than pant suits? Sarah Palin is the antithesis of both!
"Dies Irae, dies illa" (ELECTION NIGHT, 2008)
From the Latin Requiem Mass; translated, "Day of Wrath, O Day of mourning"
"BHO: I'd rather defy than deify." (November 5 - Thanksgiving 2008)
The early adulation of the President-elect verged on breaking of the First Commandment.
"Red & Blue B. Hussein Obama posters make great kindling!" (Thanksgiving 2008 - Inauguration Day 2009)
I lit one to kindle the woodstove on Thanksgiving Eve. Made me feel REAL warm and toasty!
"Adjutorium nostrum (+) in nomine Domini." (Inauguration Day 2009 - January 2012)
Time to get over the anger and disappointment over moral failures in so many institutions and individuals (thanks, Kolokotronis!);
time to return to Psalm 146:3 "Put not your trust in rulers nor in any child of earth, for there is no help in them";
time to return to the Prayers at the Foot of the Altar from the Tridentine Mass (used in the 1958 Lutheran Service Book and Hymnal): translated,


"Our help is in the name of the Lord".
"Adjutorium nostrum (+) in nomine Domini: Nevertheless, vote Santorum!" (January 2012 - July 2012)
For the Latin, read above.
Regarding the English: In July of 2006, two days after the death of my father, I was privileged to offer an invocation at a major law enforcement conference to which both Senator Santorum and his challenger, William Casey, Jr., had been invited to speak.
After the formal presentations Bill Casey,Jr., quickly disappeared to his next engagement, while Senator Santorum remained, willing to talk with any and all.
We had an extended conversation about his pending defeat, brought on solely by the ignorance of an electorate incensed by the Pennsylvania legislature's "midnight pay raise" who were too ignorant to understand the difference between a PENNSYLVANIA Senator and a U.S. SENATOR FROM PENNSYLVANIA.
I thanked him for his tireless efforts for the weakest among us, namely, those who are are in utero and I urged him to consider a run for higher office, namely, the White House.
I asked the Senator if I might share a prayer with him, and he consented.
I shared a prayer from the close of the Lutheran service of Morning Prayer, a prayer which has been a source of strength during my own times of personal transition:
Lord God,
you call your servants to ventures of which we cannot see the ending,
through paths as yet untrodden,
through perils unknown.
Give us faith to go out with good courage,
not knowing where we go,
but only that your hand is leading us
and your love supporting us
through Jesus Christ our Lord.
Amen
.Our help is only in the name of the Lord, but there is only one candidate in 2012 who brings the Godly virtues into public life.
One of the marks of the Beast is a white lower case "f" on a blue square (August 1 - 10, 2012)
Facebook is an Eighth Commandment-free zone predominated by condependant narcissists and voyeurs. Its omnipresence and entanglement into e-commerce are spreading like metastatic cancer.
Settling for the "lesser of two..." is still choosing Evil (August 10, 2012 - October 14, 2012)
So here is our wonderful "choice":
Øbamacare or Romneycare
Repeal of DADT by Executive Order or Gay "marriage" in Massachuesetts by Executive Order.
If the Patriarchate of the East held a state like the Vatican I would apply for political asylum. (October 14, 2012 - PA primary day 2013)
That's where I am politically and ecclesiologically, sports fans.
And I mean no disrepect to my dear friends in the ACNA, NALC, and LCMC.
Buzzed and buggered bath house Barry: the Benghazi bungler (PA primary day 2013 - June 10, 2013)
www.freerepublic.com/focus/bloggers/3022320/posts
Prosecute the heresies; pity the heretics. (St. Barnabas Day - October 19, 2013)
A variation on "hate the sin but love the sinner". I am very prejudiced against heresies, but I truly pity the unenlightened heretics.
O Lord, save thy people, and bless thine inheritance (Oct 20, A.D. 2013 - Feb 27, A.D. 2016)
The first phrase of the Orthodox Troparion for the Exalatation of the Holy Cross, celebrated universally (by both the Christian East and West) on September 14:
O Lord, save thy people, and bless thine inheritance
Giving to thy Church victory o'er her enemies
And by the power of the Cross preserving Thy Kingdom
I'm nobody special...just a follower of the siren song of the Ison. (Feb 28, A.D. 2016 - Nov 16, A.D. 2016 )
For those not familiar with Byzantine chant, the Ison is a steady, drone-like note, "the floor on which the melody dances".
Some have looked on my journey into Orthodoxy with awe as though I were a modern day Abraham. But really, my sole claim to being "special" is that I am a Baptized child of God.
Beat the Philly fraud machine the Amish did onest, ja? (Nov 16, A.D. 2016 - Jan 15, A.D. 2017)
The Pennsylwania [sic] Dutch Country is the epicenter of Trumpistan. Former Governor Rendell thought that humpty Trumpty would have a great fall but all of his bookies and all his henchmen couldn't pull off Philly fraud once again.
Trump = The Twenty-frrst century's Teddy Roosevelt. (January 15, A.D. 2017 - August 17, A.D. 2017 )
Uses Twitter as bully pulpit and won't be afraid to carry much less use a big stick.
Antifa is full of Bolshevik. (August 17, A.D. 2017 - June 21, A.D. 2018)
Antifa is just a repackaging of the Revolutionary Communist Party trying to celebrate the centennial of the ultimately failed "revolution" in Russia. Strange that nobody has been noting that anniversary. The fact that "Bolshevik" sounds like a word for bovine excrement also is merely coincidental.
Obama's legacy in 13 letters: BLM, ISIS, & ANTIFA. New axis of evil. (June 22, A.D. 2018 - Feb 2019)
Note that "new axis of evil" also contains 13 letters. Hah!
I am a binary Trinitarian. Deal with it! (Feb 2019 - present)
Too much "political correctness" both in the naming of God Who has revealed Himself to us as "Father, Son, and Holy Spirit" (that's the Trinitarian part) and in the gender identification of we who were created male and female (exclusively!) in His image. The present fad of "non-binarism" and expressed by "and my pronouns are..." is BRAVO SIERRA
( Pending) Wesleyan sanctification has its perfection in Orthodox Theosis.
This began to become autobiographical in late March of 2015.
(Pending) Byzantine Troparia: the "praise choruses" of antiquity.
Or, perhaps, I should use my high functioning autistic young adult son's turn of the phrase: "'Praise choruses'are the bastardization of Byzantine Troparia."
I was a church musician before--and after--I was Ordained. My love of the Christian East and my disdain for the banality of modern Western worship are no secrets. Sound byte theology may be applied to Church music.
The Millenials are asleep in their "wokeness".
At the suggestion of my FReeper son...a Gen Y who has no patience with the SJC crowd.
THE LUTHER ROSE
Appears with every "Lutheran Ping"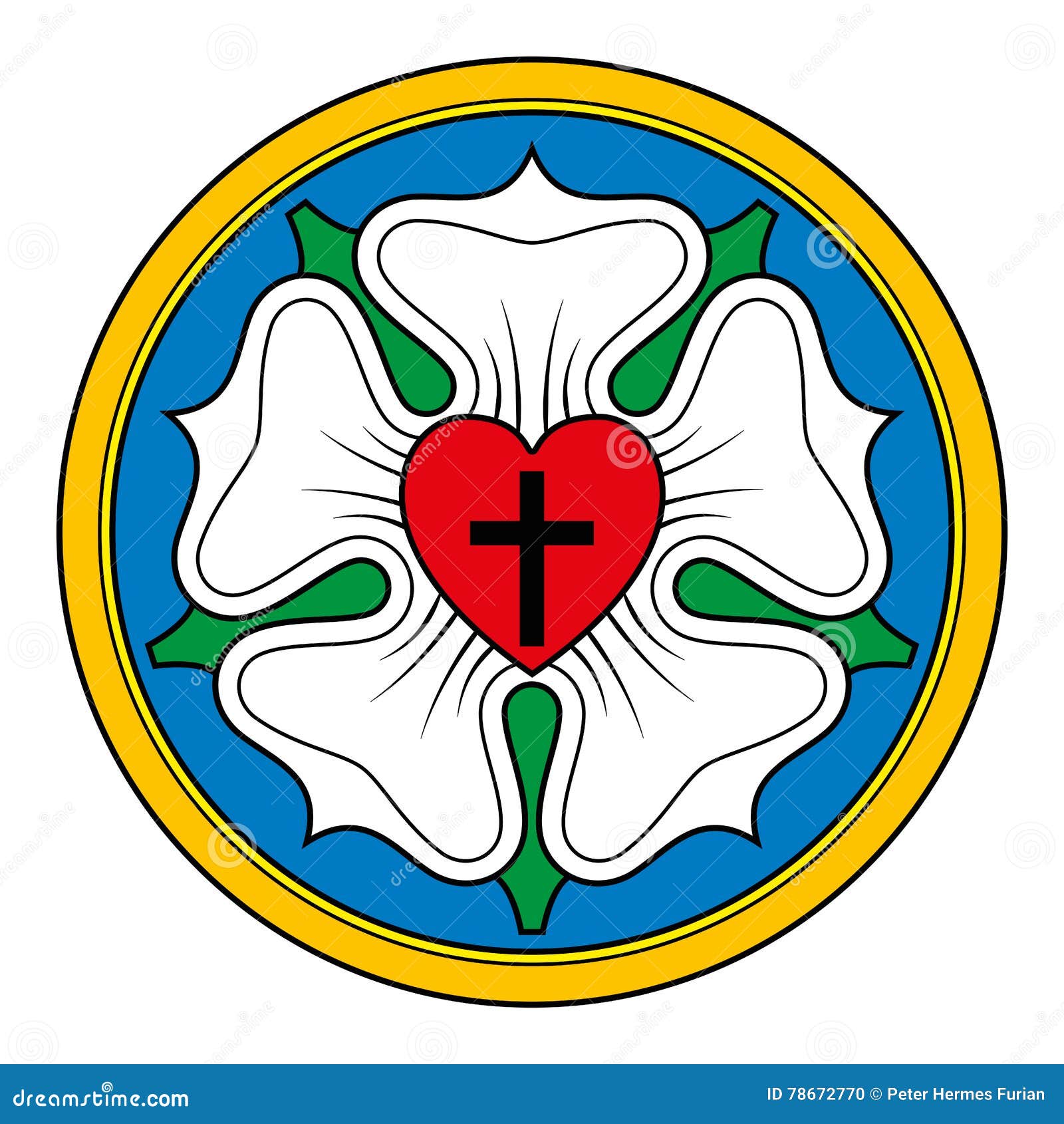 Designed by Dr. Martin Luther, the Luther Coat of Arms has become the world-wide symbol of the Church of the Augsburg Confession, commonly known as the Lutheran Church.
This explanation is the gist of a letter written to his friend, Herr Spengler, town clerk of Nuremberg.
The Luther Rose:
* "The first thing expressed in my seal is a cross, black, within the heart, to put me in mind that faith in Christ crucified saves us. 'For with the heart man believeth unto righteousness.' Now, although the cross is black, mortified, and intended to cause pain, yet it does nor change the color of the heart,does not destroy nature (i.e., does not kill, but keeps alive). 'For the just shall live by faith,' by faith in the Savior.
* But this heart is fixed upon the center of a white rose, to show that faith causes joy, consolation and peace.
* The rose is white, not red, because white is the ideal color of all angels and blessed spirits.
* This rose, moreover, is fixed in a sky-colored background, to denote that such joy of faith in the spirit is but an earnest beginning of heavenly joy to come, as anticipated and held by hope, though not yet revealed.
* And around this groundbase is a golden ring, to signify that such bliss in heaven is endless, and more precious than all joys and treasures, since gold is the best and most precious metal. Christ, our dear Lord, He will give grace unto eternal life."
-- Martin Luther
Keep a Good Lent
That phrase appears beneath the "Lutheran Ping" banner from Ash Wednesday until the Easter Vigil. But the line is not one that I can claim as original.
During my ministry I have been blessed to serve beside some truly excellent colleagues, among them, the late Reverend David Hoh, who entered into Life on Christmas Eve of 2005, and whose newsletter meditations had oftentimes assisted my inspiration. Pastor Hoh had commented in one newsletter that although we often consider the Church Year to be like a circle, an endlessly repeating cycle of feasts and fasts, in reality it is more like a spiral staircase: the progression 'round and 'round accompanied by a constant vertical motion. That motion is the constant growth, maturity, and aging that is our mortal human condition.
So we do not approach each Christmas, or Lent, or Easter, as the same people that we were a year before; nor shall we approach them as the same people again hereafter. Each year brings with it fresh triumphs and tragedies--each new beginning offers new challenges and chances.
I credit Pastor Hoh for the thought that we should commend one another to "keep a good Lent". The Lenten season really does not have a greeting, like "Merry Christmas" or "Happy New Year." So, he proposed, we should greet (and exhort) one another to "keep a good Lent."
ABOUT THE ORTHODOX PINGS
For the past three years I have been administering the Lutheran Ping list. Through the discussions on those threads I came to know and love former FReeper Kolokotronis. He and I have engaged in many fine in forum and PM discussions through the years.
Recently he anounced his departure from Free Republic, and sent his Orthodox Ping list to two Orthodox as well as to Traditional Anglican Sionnsar (another very fine Christian gentleman, now of Blessed Memory) and yours truly. For that unexpected grace I am simultanteously awestruck, flattered, and humbled. K~ must discern in me something other than the "typical" Lutheran (whatever that may be); of course, my congregation has the full set of Festal Icons and I celebrated the Eucharist during the first two weeks of Advent ad oriens in blue Philoneon.
So all can do at this juncture is to ponder Luther's catechetical question, "what does this mean?"
UPDATE, A.D. 2021: It means that over six years ago my family left the Lutheran Church and were received through the Sacrament of Chrismation into the Orthodox Church; and that I am now waiting Ordination into the Holy Diaconate.

visited 33 states (66%)
Create your own visited map of The United States or Like this? try: Google Ransom Note

visited 4 states (30.7%)
Buy Douwe's Machine Learning Book