---
Catholic Meditation: To the Immaculate Conception on this Election Day
Various | 11/7/06 | Knitting a Conundrum


Posted on 11/07/2006 9:09:52 AM PST by Knitting A Conundrum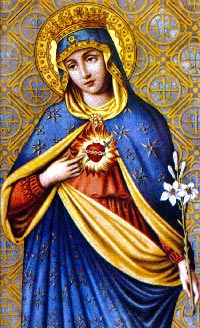 Michael Brown at Spirit Daily reminds us that the "Most Reverend John Carroll, of Baltimore, America's first Roman Catholic bishop, consecrated the newly-created nation under the protection of the Blessed Virgin Mary with the title of the Immaculate Conception in 1792 and decades later Pope Pius IX formalized Carroll's acclamation -- proclaiming the Immaculate Conception as the patroness of the United States in 1847."

Knowing this, I invite you to join me in prayer for Our Lady's prayerful intercession in the election today, that the outcome may be according to the Father's will, that the rights of the unborn and the vunerable be protected, the sanctity of marriage be strengthened, and that we as a nation may reject the darkness sweeping across the world both in the waves of terror from the Islamic Jihadists and from those who would reject God and bring us all down in some dark decadent image of a faithless world.




O Heart who knows well how to love,
as generous as human heart can be,
channel of God's grace for this sad world,
ark of the covenant,
who carried within you the one who created you,
You who offered your love,
Your generous heart,
no matter the cost, the sorrow,the grief,
or how many swords would pass through
simply because the Lord asked it,
simply because you loved greatly,
Simply because that was you.

Mother of my Lord,
Immaculata,
Heaven's brightest rose,
Great-heart,
Full of Grace,
blessed,
Pray for us now, and at the hour of our deaths,
Amen.

---
TOPICS: Catholic; Prayer; Religion & Politics
KEYWORDS: election2006; electiondayprayer
---
---
---
---
---
---
---
---
---
---
---
---
---
---