---
Speaker McCarthy Rejects White House Demand For "Clean" Debt-Ceiling Hike
Epoch Times ^ | 01/18/2023 | Mark Tapscott


Posted on 01/18/2023 6:09:08 PM PST by SeekAndFind

Speaker of the House Kevin McCarthy (R-Calif.) rejected President Joe Biden's demand that Congress increase the nation's debt ceiling without attaching any conditions such as the spending cuts that virtually all congressional Republicans are demanding.

In an informal news conference with reporters just outside the Capitol, McCarthy said "we're six months away, approximately, and what I would like to do is sit down with all the leaders, especially the President, and start having the discussion."

The Speaker said Biden's refusal to discuss anything other than a "clean" increase in the debt ceiling, which limits federal borrowing, is "a sign of arrogance that he would say he wouldn't even discuss it. I mean think about what the Democrats have done just in four years, they've increased discretionary spending by 30 percent. When Republicans were in control for eight years, discretionary spending didn't go up one dollar."

Noting the national debt is nearly $32 trillion, McCarthy asked "why would you do this to any future generation in anything we do? Why wouldn't you sit down and talk, especially with something as serious as a debt limit; why would you want to wait until the end? Who wants to put the nation through some type of threat at the last minute with the debt ceiling? Nobody wants to do that."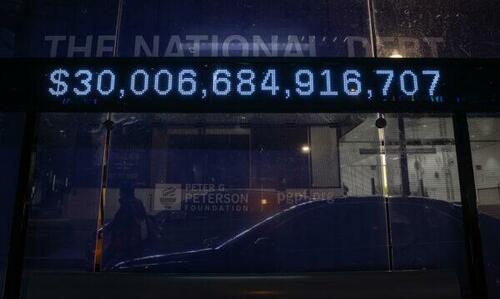 A Peterson Foundation billboard displaying the national debt is pictured on K Street in downtown Washington on Feb. 8, 2022. (Jemal Countess/Getty Images for Peter G. Peterson Foundation)
McCarthy added that "any household that was mis-spending, the first thing they would do is sit down and set a budget. Why wouldn't we request the House and Senate to do a budget … why wouldn't we now set a budget, set a path that will get us to a balanced budget? And let's start paying this debt off and make sure future generations have as many opportunities as we do."
Medicare, Social Security and the military would not be subject to spending cuts, according to McCarthy, who said Biden's demand for a debt ceiling increase without strings is "off the table."
Biden Responds to Demand for Cuts
McCarthy's comment follows Biden's Jan. 16 remark describing Republican demands that the debt ceiling increase be combined with significant cuts in federal spending as "fiscally demented." The interest costs of servicing the national debt are in excess of $500 billion annually.
Congress approved and Biden signed into law a $1.7 trillion omnibus spending bill in late December that keeps the government funded through September. The immediate problem is that federal borrowing to pay for the omnibus bill technically will hit the debt ceiling Jan. 19, according to Secretary of the Treasury Janet Yellen.
As a practical matter, the Treasury department has ways of avoiding a default on the debt interest payments that would give Biden and the Congress several months in which to work out a deal involving a boost in the ceiling combined with some level of specific spending cuts sought by House Republicans.
House Republicans are backing McCarthy's demand for spending cuts. Rep. Ralph Norman (R-S.C.) issued a Jan. 17 statement in which he says "every major piece of financial legislation ought to come with some incremental, responsible spending cuts to keep us moving along a trajectory towards a balanced budget.
"That'll take time and effort of course, but whether it's a normal appropriations bill or something like a debt ceiling increase, every step along the way represents another opportunity to cut a little more spending to help balance the budget within 10 years."
Concerns Over National Debt
Similarly, Rep. Victoria Spartz (R-Ind.) issued a warning to her GOP colleagues and an unexpected vow, saying, "Our national debt is approaching a level not just harmful to economic growth and irresponsible to future generations, but dangerous to our national security today. We are entering treacherous waters and must couple any debt ceiling increases with real reforms."
The Indiana Republican continued, saying "huge amounts of politically directed spending and crony capitalism have created a significant oligopoly problem in nearly every market sector—not much different from oligarchs ruling in post-socialist countries. Health care monopolies lobbied by special interest groups, like hospitals, is one of the major examples.
Read more here...

---
TOPICS: Breaking News; Business/Economy; Culture/Society; Government; News/Current Events
KEYWORDS: abouttime; congress; debt; debtceiling; kevinmccarthy; nomoretoukraine
---
Navigation: use the links below to view more comments.
first 1-20, 21-40, 41-57 next last
---
---
---
---
---
---
---
---
---
---
---
---
---
---
---
---
---
---
---
---
---
Navigation: use the links below to view more comments.
first 1-20, 21-40, 41-57 next last
---
---