---
OBAMA vs. BIBI: SHOWDOWN (ILLUSTRATED)
various ^ | june 12, 2009 | Cinnamon Girl


Posted on 06/12/2009 7:04:25 AM PDT by Cinnamon Girl

A Tale of Two Leaders: Obama vs. Bibi (ILLUSTRATED)
Benyamin Netanyahu was born in Tel Aviv, Israel in 1949, a year after the state of Israel declared independence.
Barack Hussein Obama may or may not have been born in Hawaii, United States in 1961. Kenya is not part of the United States.
In his early years, Bibi served as a captain in the Sayeret Matkal reconnaissance unit of the Israeli Defense Force.
In his early years, Obama says he did marijuana, cocaine and booze.
Bibi's brother, Yoni, (who attended Harvard) was wounded in the 1967 War and later killed during the raid on Entebbe.
Obama's brother, George, lives in a shack in Nairobi. In January he was arrested for drug possession.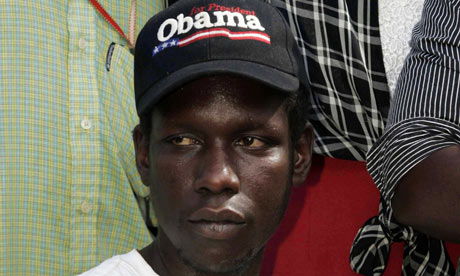 Bibi attended MIT, and later received a Masters from the Sloane School of Management.
Obama attended Occidental College and Columbia, deciding five years after graduating to attend Harvard Law School. During the years in between he was a community organizer in Chicago.
Bibi has been elected to serve in the Israeli Knesset since 1988, and was elected Prime Minister in 1996, and again in 2009. He has also served as head of the Likud party for much of the time since 1993 and as Finance minister.
Obama was a state senator before being elected to the U.S. Senate in 2005. Three years later he ran for, and was elected president of the United States.
Benyamin Netanyahu is fluent in English and Hebrew and he is considered a powerful speaker with a beautiful voice.
Barack Hussein Obama, who is also considered a powerful and influential speaker, says he's embarrassed that Americans don't know a foreign language and he says, "I don't speak a foreign language. It's embarrassing!"
On occasion, Bibi, who is Jewish, will include Biblical quotes in his speeches, like: "G-d will give might to His people, G-d will bless His people with peace." (Psalm 29)
On occasion, Obama, who says he is not muslim and that Jeramiah Wright is not his pastor, will include quotes from what he calls the "holy Koran" like: ""Be conscious of God and speak always the truth."
Bibi lives with the daily threat of war, the frequent reality of war, and is surrounded by enemies who seek the annihilation of Israel and the Jewish people.
Barack Obama lives with the daily threat of harsh words from left-wing supporters, slipping poll numbers, and the disapproval of muslim leaders around the world.
In Egypt last week, Obama declared that the Israelis must stop building in the settlements and must accept a "two state" solution.
This Sunday, Bibi will have to decide: will he follow the orders of Obama and the arab nations or stand strong and defend Israel. What will it be, Bibi?
---
TOPICS: Israel; Your Opinion/Questions
KEYWORDS: article2section1; barackobama; bho44; bhomiddleeast; bibi; bibinetanyahu; birthcertificate; birthers; certifigate; colb; israel; naturalborn; netanyahu; obama; obamanoncitizenissue; showdown
---
Navigation: use the links below to view more comments.
first 1-20, 21-40, 41-60, 61-72 next last
---
---
---
---
---
---
---
---
---
---
---
---
---
---
---
---
---
---
---
---
---
Navigation: use the links below to view more comments.
first 1-20, 21-40, 41-60, 61-72 next last
---
---