---
Saudi Oil Worth More to Democrats Than American Oil?
Flopping Aces ^ | 05-22-08 | Mike


Posted on 05/22/2008 8:41:11 PM PDT by Starman417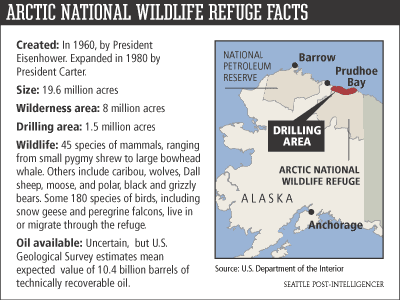 Daily oil production on the coastal plain of the Arctic National Wildlife Refuge, an area which Congress originally designated for oil exploration when it set up the refuge, is estimated by the Energy Information Administration (Dept. of Energy) to be able to produce approximately 1, 000,000 barrels of crude oil per day.
With current imports of foreign oil running over 12,000,000 barrels per day (EIA chart), production of one million barrels of U.S. oil would be an important first step to energy independence.
But this is how Senator Charles Schumer dismissed the benefits of ANWR in an April 28 press conference:
SCHUMER: What does the president do? He takes out the old saw of ANWR. ANWR wouldn't produce a drop of oil in ten years, and it's estimated that if they drilled in ANWR, in 20 years it would reduce the price one penny. We've been pushing for a long time for energy efficiency. We believe in a price-gouging bill so that the big oil companies can't collude. We believe that there's too much speculation in the markets, and we believe that ought to be reined in.
So why did he say this two weeks earlier on the Senate floor:

(Excerpt) Read more at Flopping Aces ...

---
TOPICS: Politics/Elections
KEYWORDS: anwr; oil; saudi; shumer
---
---
---
---
---
---
---
---
---
---
---
---
---
---
---
---