---
DANCIN' in the STREETS with FLAGS: GATHERING of EAGLES III at WALTER REED, FReep #126—9/14/07
DC Chapter | September 21, 2007 | by Albion Wilde, with photos by [Mrs] Trooprally


Posted on 09/21/2007 11:13:26 AM PDT by Albion Wilde

Edited on

09/21/2007 8:26:05 PM PDT

by Lead Moderator. [history]

WASHINGTON, DC, September 14, 2007— This week, thousands of veterans, civilian supporters and military family members came to the Nation's Capital to lobby Congress to support the troop surge in Iraq, witness General Petraeus's report, or attend Saturday's Gathering of Eagles III. Many also chose to spend Friday with the DC Chapter of Free Republic cheering the wounded at Walter Reed. Some 157 patriots, representing 24 states and DC, surrounded the gates — the most ever in the 126 weeks the DC Chapter has been rallying outside Walter Reed every Friday night to counter anti-war demonstrators. By more than 10 to 1, we outnumbered the dozen or so decency-deprived moonbats who showed up down the street.
Just two of the four corners that teemed with FReepers, Eagles, Protest Warriors, Gold Star and Blue Star families, Rolling Thunder, Vietnam Vets of America and troop supporters representing dozens of other organizations. Melanie Morgan and Move America Forward's caravan came from California, gathering flags, signs and more patriots at stops across the country, as they had done last March for the first Gathering of Eagles.
We were buoyed by the presence not only of military families and Gathering of Eagles (GoE) leaders, but also by renowned journalists Melanie Morgan, who published a series of accounts on the Move America Forward (MAF) site, and Michelle Malkin, who posted a video on her news site HotAir (and also here). Ms Malkin's article mentions an early count of 109 for our side, but our Honor Roll below lists 157 — and there would have been more if it hadn't rained!
Since all the the radical leftists George Soros could afford were scheduled to show up in DC the following day for their advertised "die-in" on the Capitol lawn, you'd think a few more would have come to CodePink's weekly Walter Reed "vigil." Two obvious conclusions must be drawn: One: bad-mouthing the military while facing the disapproval of a large group of real veterans is a knee-knocking dose of reality. And Two: it's just too inherently disgusting to protest the war at a military hospital, even for Marxist die-hards. That should tell you something about the paid agitators who do persist.
The DC Chapter rules for FReeping in public prohibit violence, profanity or unlawful behavior. Ever since we chased the Pinkos away from the main gates 19 months ago, we stay clear of them unless they start something, as CodePink leaders like to do from time to time. But with so many other organizations on "our" corners for this FReep, several veterans decided on their own that they've earned the right to stand where they want on the public sidewalk outside Walter Reed, even if it meant getting into the lefties' faces:
WAAAAAAH! Lefties, always the pro-diplomacy, anti-guns, anti-military, anti-war puritans, are also always the first to call armed peace officers instead of negotiating when real patriots invade "their" space.
AWWWWWW! Lefty union agitator Bruce Wolf had to go all the way home and retrieve his group's permits before the Metro police officer would ask the flag-waving patriots to return to "our" four-corner permit area around the gates.
Most of the evening, however, focused as usual on four hours of cheering everyone who came and went from Walter Reed, answering with hoots and hollers the non-stop whistles, shouts, beeps, arm signals and airhorns of passing traffic, and dancing in the streets with flags when the bus arrived to return wounded troops to Walter Reed after dinner in town: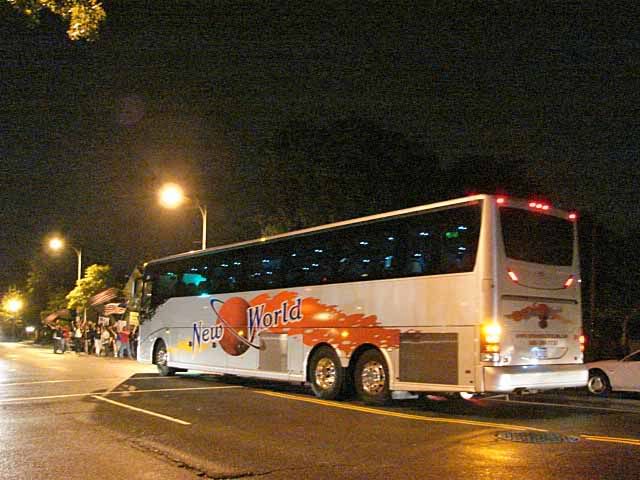 Look for your photo at this event,
or gaze with envy if you weren't here:
See all of [Mrs]Trooprally's excellent photos of this FReep by clicking HERE. Click on the small photos to enlarge them, making sure to see all 5 pages, or view them as a slideshow HERE.
HONOR ROLL:
If I missed your name, or mistook your information,
please accept my apologies.
FReepmail Albion Wilde to make a correction.
National GoE Leaders and Media:
Capt. Larry Bailey, Chairman, Gathering of Eagles (GoE)
Colonel Harry Riley, Chairman, EaglesUP
(with his son Brad and grandson Ryan)
Chris Hill, GoE National Director of Operations
Ernie "Smiling Hawk" Tucker, co-Chaplain, GoE; Chaplain, Military Order of the Purple Heart
Melanie Morgan, journalist, radio host; Chairman, Move America Forward
Michelle Malkin, Bryan Preston, journalists, HotAir.com
Kit Lange, GoE webmistress
Gold Star family members and Speakers for GoE rally:
Debbie Lee, Gold Star Mother
Deborah Johns, Blue Star mother
Gary Qualls Gold Star Father
Gary's sister, Angel, Gold Star Mother and Blue Star Mother
Deb May, Gold Star Wife
Laura Youngblood, Gold Star Wife
FReepers, from DC Chapter and many other states: 3-DJoy, AConservativeRealist, Albion Wilde, BillF, chcknhawk, Cindy-True-Supporter, concretebob, Danang68, Deputy Dawg, Doctor Raoul, do the dhue, EaglesUpFlorida (FL GoE & EaglesUp Coordinator), Fraxinus, GodBlessUSA, GunsAreOK, HonestConservative, Jimmy Valentine's brother, JoyJoyfromNJ, kristinn (DC Chapter co-leader), Little Bill, LUV W, mithglin, Mrs.Nooseman and Pretty Kitty (Oregon), mtngrandpa (Colorado GoE Coordinator), Olney-Keith, Pasquale, ponsdorf, PrezUSA222, Race Bannon, STUDABAKER, Taco Mamma, TennesseeNana, tgslTakoma, Tom the Redhunter, TroopRally [Mr & Mrs], Trueblackman, USMCdaughter1, VAflagwaver, VictoryNY and Yorktownpatriot.
DC area lurkers: Alicia, Andrea, Bill from MD, Mrs chcknhawk and 3 kids, Eddie, George & Ethel, Matt, Michael, Rocco, T.J. and Verity Kindle (Little Green Footballs).
PATRIOTS, BY STATE (some State groups also included persons named above):
California: Mary P (MAF) and Mike of Operation Helmet (provides helmet upgrade kits to help prevent combat brain injury).
Colorado: Freewheeler (GoE; "Support Victory" car magnets), and Susie.
Connecticut: Dinky Dawg (EaglesUp).
Florida: Denny, Ed D, Frank, R.J., Ron and Tommy (Vietnam vets).
Illinois: Don Costello (GoE, Vets for Freedom State Coordinator).
Indiana: Jim J (GoE, Indiana State Coordinator), Kurt (active duty Army) and Ron R.
Louisiana: Robert (Special Forces veteran).
Massachusetts: Paul (Iraq vet), Tony and Rich.
Nevada: Fritz
New Hampshire: (Freeper listed above)
New Jersey: Karl (Coastal NJ Protest Warrior Chapter Leader), Bob G, Carl, Carolyn, Holly, Garth, John, Tim.
New York: Deborah, Frank, Joe S, Julia, Monk (22-yr Marine vet, Lebanon – just enlisted in Army), Phil & Kathy.
North Carolina: Bubba & Donna, Chris, Daniel (Army ROTC, UNC-Charlotte), Emmit (GoE), Jamie & George Samek (GoE), Jim T, Kelly, Larry (Bubba's brother-in-law), Lori & Larry Hoffa (GoE), Mike (Vietnam vet), Tina M (Blue Star Mother), Patrick, Pete M, Ray (Vietnam vet), Soapbox (Rolling Thunder), Yack (Patriot Guard, EaglesUp) & Yack's Girl.
Oregon: (2 FReepers listed above)
Pennsylvania: Bill from Schwenksville, Bob, Squid Doe (Patriot Guard & GoE), and FReeper Olney-Keith's Mom, Dad, wife Sara & her Mom.
South Carolina: Don & Stan (Rolling Thunder, Vietnam Vets of America), George B.
Tennessee: Leta Carruth of ProgressThroughPeace foundation, providing social infrastructure to Kosovo communities.
Texas: Amanda, Joe V (Iraq vet), Ken and Street Sleeper.
Virginia: Angela, Daniel (active duty Coast Guard), Linda, Ranger Steve & Susan, and YankeeMom.
Wisconsin: 1SGWalt, Tracy.
Vermont: Kathy Upton (GoE VT State Coordinator).
West Virginia: Jack (GoE), daughters Megan &Janie.
GoE & Eagles Up, home states unknown: Chris "Airborne", Dave and Ron K.
Belize, Central America: Jim D (Vietnam vet).
Great job, Patriots!
Come back and see us again soon!
It means the world to the troops....
Photo by VAFlagWaver
Bubba's gigantic 12 x 20-foot flag couldn't be missed.
Special thanks go out to Bubba, Donna and Jim T of GoE-NC,
who brought with them many generous donations
to the wounded at Walter Reed.
• • •
Additional Links:
BufordP's Archive of all Walter Reed FReeps
Come join the Walter Reed FReep every Friday between the hours of 6:30 pm to approx 9:30 pm, at Georgia Ave and Elder Sts NW, Washington, DC. Parking on the north east corner on Elder Street, or in the church parking lot.
Directions to our Walter Reed FReep location from the Takoma Metro station
If you can't get to DC but would like to do something for the wounded,
get ideas by FReepmailing Albion Wilde, Cindy-True-Supporter, VAFlagwaver, or PleaDeal.

.

---
TOPICS: Activism/Chapters; Culture/Society; News/Current Events
KEYWORDS: aar; dcchapter; gatheringofeagles; goe; rally; supportourtroops; walterreed
---
Navigation: use the links below to view more comments.
first 1-20, 21-40, 41-60, 61-80 ... 121-124 next last
---
---
---
---
---
---
---
---
---
---
---
---
---
---
---
---
---
---
---
---
---
Navigation: use the links below to view more comments.
first 1-20, 21-40, 41-60, 61-80 ... 121-124 next last
---
---