---
Dinner and United 93 w/ President Bush and First Lady - unexpected guests...with pictures



Posted on 05/31/2006 7:17:53 PM PDT by chris_in_nj

Edited on

05/31/2006 7:36:51 PM PDT

by Admin Moderator. [history]

Well, yesterday was just fantastic and I hope I can do the evening justice with my limited writing ability(I was a Math major!).

First, I must truly thank the MANY of you who responded to my post announcing my excitment about dining and viewing movie United 93 with POTUS and FL Laura Bush. Your many kinds words were very moving and I appreciate each and every one of your prayers, well wishes and thanks/praise for my father and the 39 others who stood up in the first minutes of the war on terror. I will try to respond to each of you but I the list is long and I my time is limited...family, job, yadda, yadda, yadda. But please do not think for one moment your time and consideration is not appreciated.

A few minutes after 4pm my mother, Maureen, and I decide to walk from the St. Regis Hotel to the White House - only a few blocks. But w/ the temp about 98 degrees we cab it over to the SW entrance behind the Treasury Building. Security, waiting room, etc and we proceed to another room to wait in. On the walls in built in shelves is the China and Crystal selections from the past administrations.

Knowing my good friends at FR appreciate The Gipper I took a shot of the Reagan pattern. Here you go fans: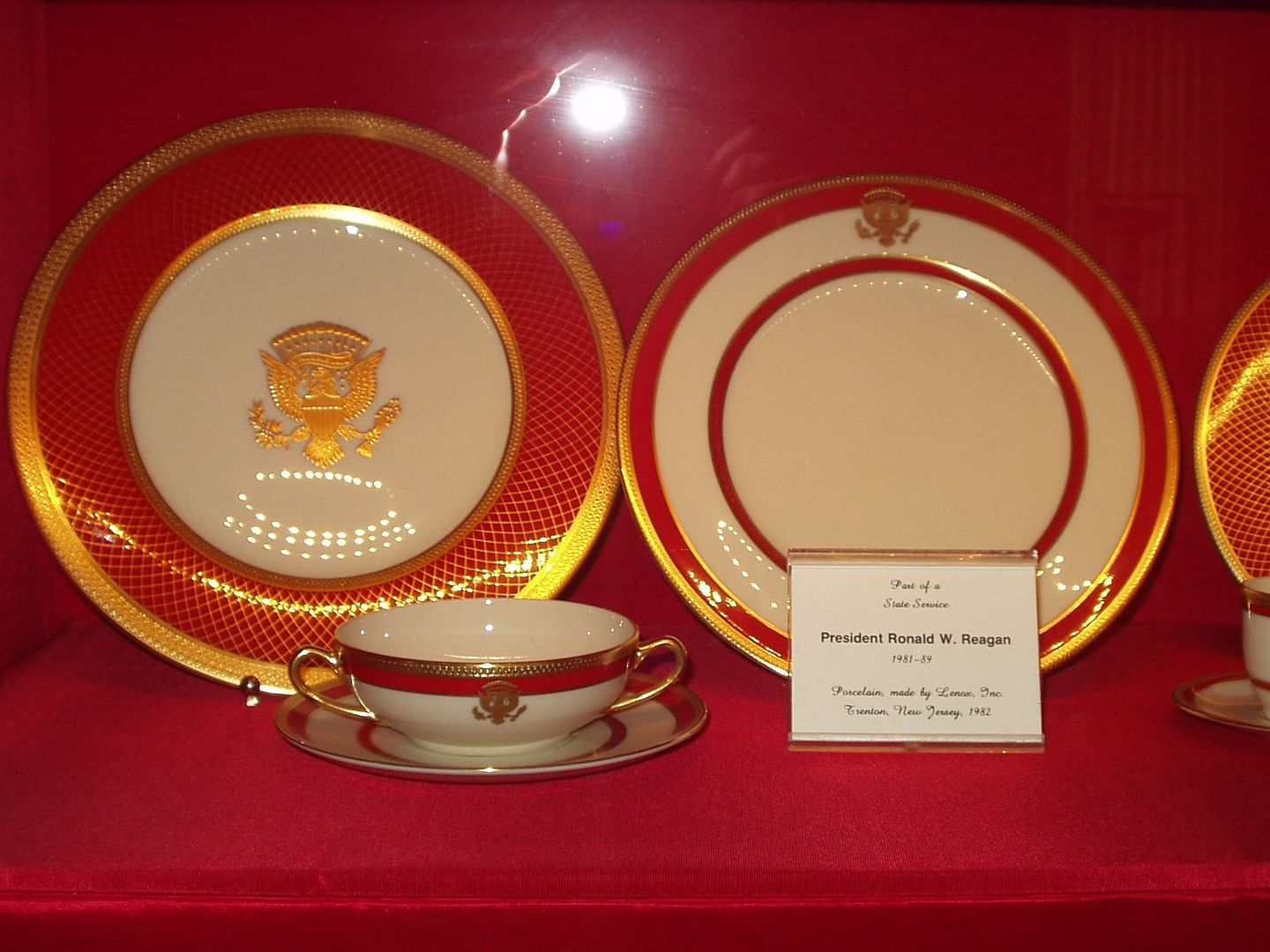 Also...Lincoln is my wife's favorite President so here is a shot of the card and the China as well: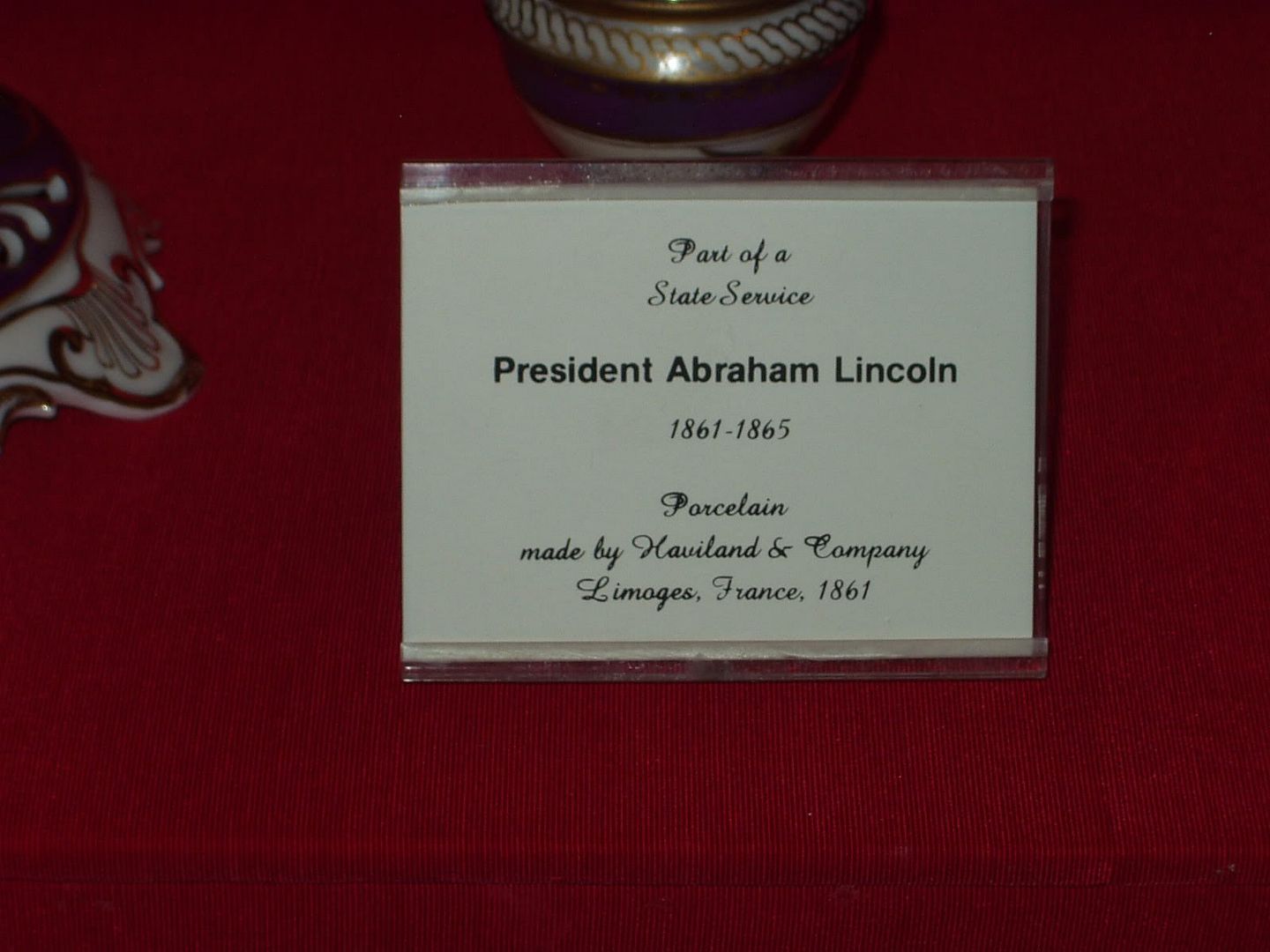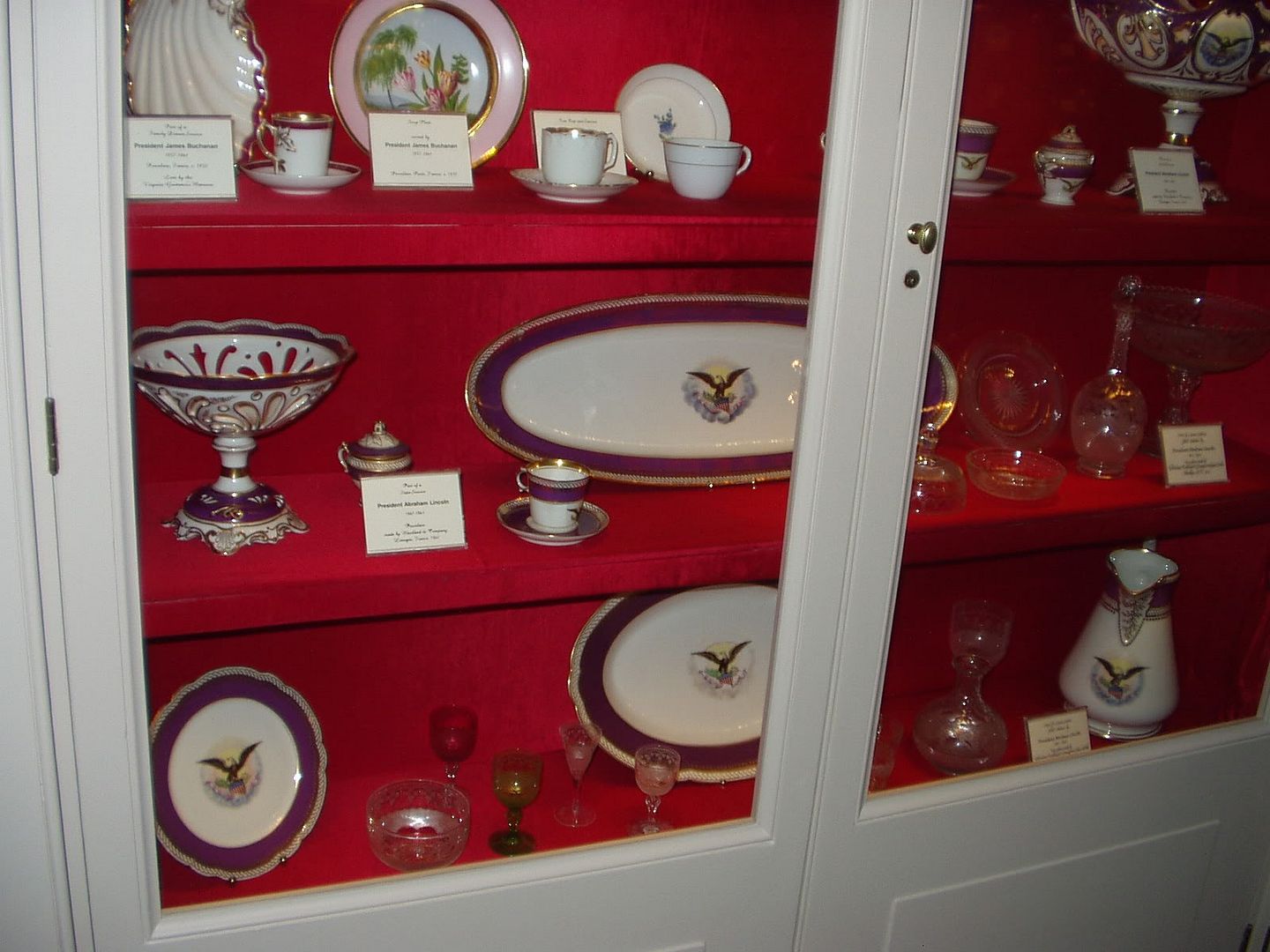 Well - then it was into room where we got instructions on the receiving line to meet and take a picture with the President and First Lady. The line moved rather expeditiously. The First Couple was - for the 3rd time I've met with them - as gracious and inviting as ever. BTW - Laura looks fantastic...even my mother commented on how great she looked. Dubya had on a great red Power Tie. The photo was taken by the WH photographer and will be sent to us later...I'll post it when we get it.
After the photo we were asked to go to the buffet set out for a nice casual dinner. Why, I don't know, but a number of you wanted to know what they served. So it was flatbread w/ guacomole, then tomato/cucumber salad in vinaigrette(sp?), eggplant parm(yumm) chicken, ziti, shrimp and pasta...quite a few choices -and yes, everything was great! A nicely chilled white wine was served and was perfect for the dinner chosen...and perfect for the hot weather!
As my mother and I took our seats in a corner table we called over Margie and Barb Cashman. My father was travelling to Yosemite to go hiking w/ Billy Cashman - an ironworker from NYC who hails from Hell's Kitchen. There were 2 seats left at our table - all the table were VERY small....intimate might be a more proper way to describe it. Well as I'm speaking to my mother a gentleman taps me on the shoulder and says "Hi, I'm......" well I didn't need an introduction. It was The Architect himself...and his smile was a mile wide and he was extremely friendly. He introduced us to his wife Darby - and I had the TREMENDOUS privilege of sitting right next to her for dinner as Karl moved to the table next to us. Right after dinner Darby, who was an absolute delight to speak with - I really hit it off with her - got Karl to take a picture with me and my mother....here you go....
Just before this was taken I said to Karl "my good friends at FreeRepublic.com say hello and send their best"....he looked back and said, "Well, they're a good bunch of folks". I left it at that...even if he lurks - I doubt he'd tell little 'ol me.....or should I say "me", cause I ain't so little!!
After a few minutes into our dinner POTUS and FL come out of the photo room and join 2 seperate tables to work the room. POTUS was right in front of us...about 10 feet away.
For me, one of the great things last night was chatting w/ Darby Rove for about 45 minutes or so. She was very easy to talk to and was genuinely interested in our stories of 9/11 - not just about the Flight 93, but the whole day and how it effected us. Again - she was just wonderful.
During the serving of dessert POTUS came over to our table and talked with us for a few minutes. My mother and I each gave him some words of encouragement that we are all praying for him to guide us in these times and he was, as expected, very grateful and gracious in accepting our well wishes. He posed for a photo while he spoke to our table....so here is one with me and my mother and President Bush behind us....while he chats w/ Barbara Cashman....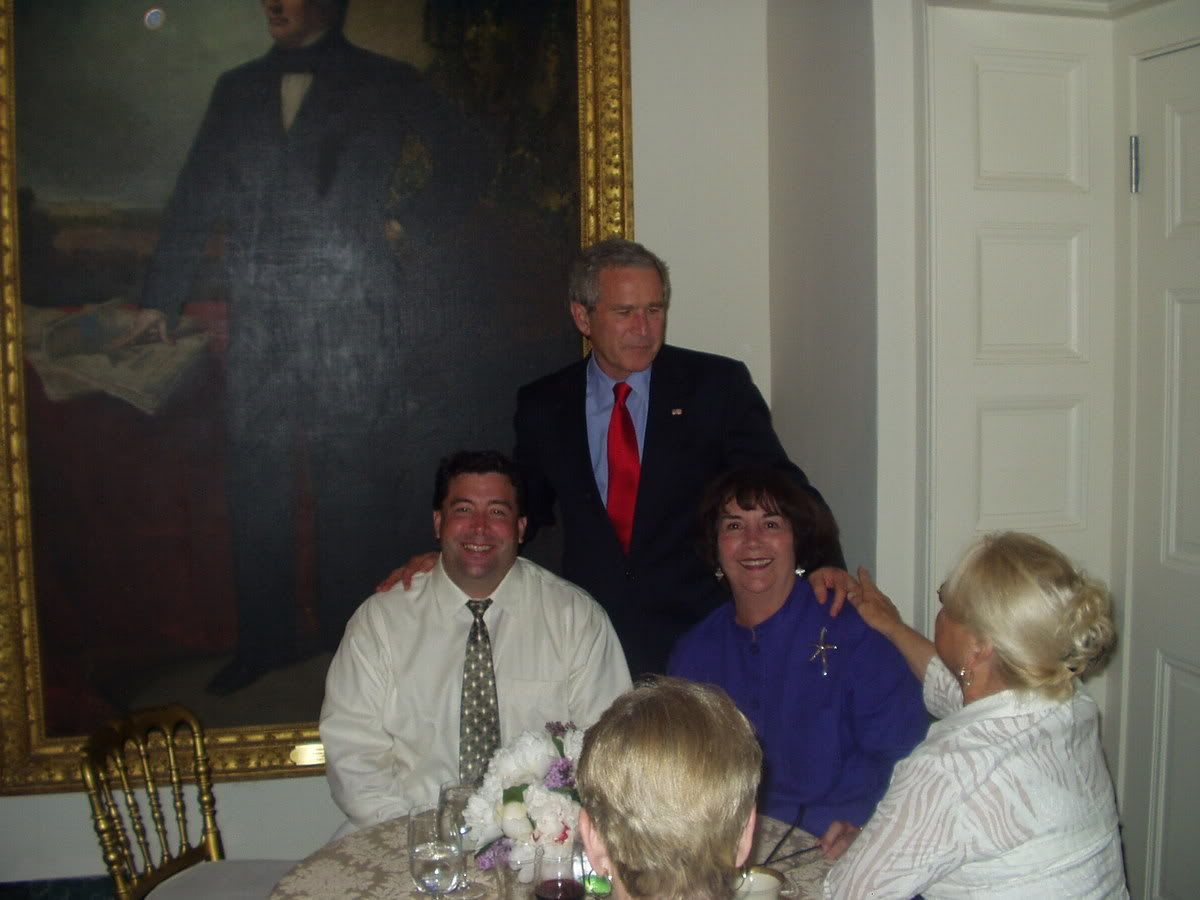 Here is another as he is walking away. Darby Rove is in the front of the picture on the left.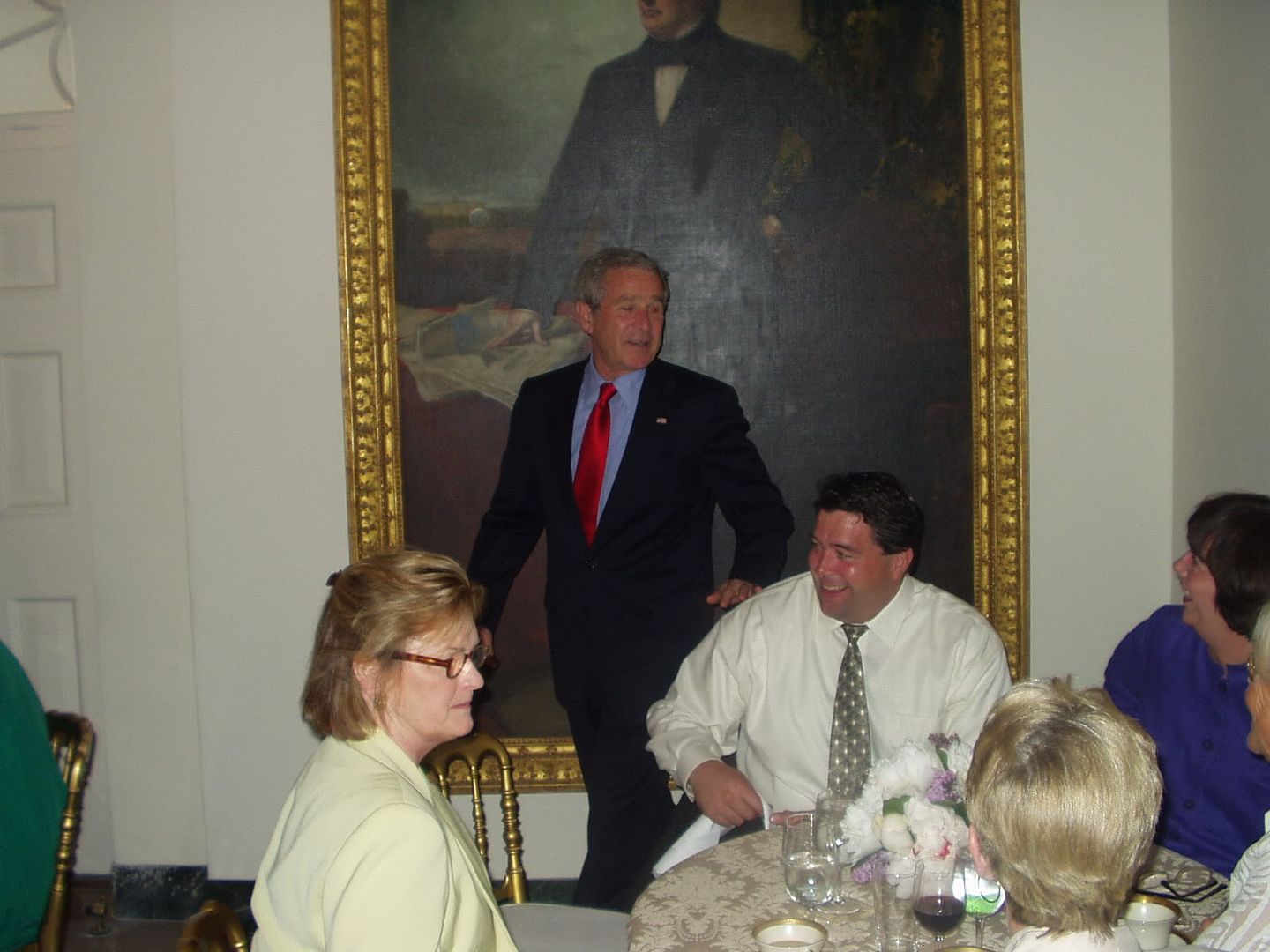 As two from each family were invited for dinner only one could see the movie due to the capacity of the theater...so my mother, who had not seen the movie, figured viewing it w/ the President and First Lady is about as good a chance as any to see it....I must agree!
I was to take an insider's tour of the WH while the movie was showing. Just as I was about to embark on the tour an aide came over and announced there were a few seats available. I have already seen the movie - and I really wanted to get the tour!! But just in case Mom Driscoll had a tough time I wanted to be there - she was, to say the least, very anxious about seeing her husband's murder played out on film. I took an available seat right behind her.
By the way - the theater is WAY cool. About a 10 foot screen w/ about 40 of the most comfortable theater seats you could imagine and a killer sound system. The movie was, as I've said in my review from when I saw it at the World Premiere at the Tribeca Film Festival, truly amazing. Intense. Enraging. Bursting with Pride, Bursting w/ heartache - the tale was told in about 90 minutes - an absolute must see.
My mother held tough but a tissue was necessary at the end. A number of the family members were audibly sobbing. After a few minutes of credits the lights were on and POTUS and FL lead the way out to greet and comfort those who viewed the film.....it was incredibly touching. They were hugging some folks that were crying and just lendinga shoulder to cry on.
My mother and I stayed near the back and were the last to see the President after the movie. He was blown away and very complimentary about the movie. I figured this was as good as any to get a shot of the President and my mother alone....so here it is....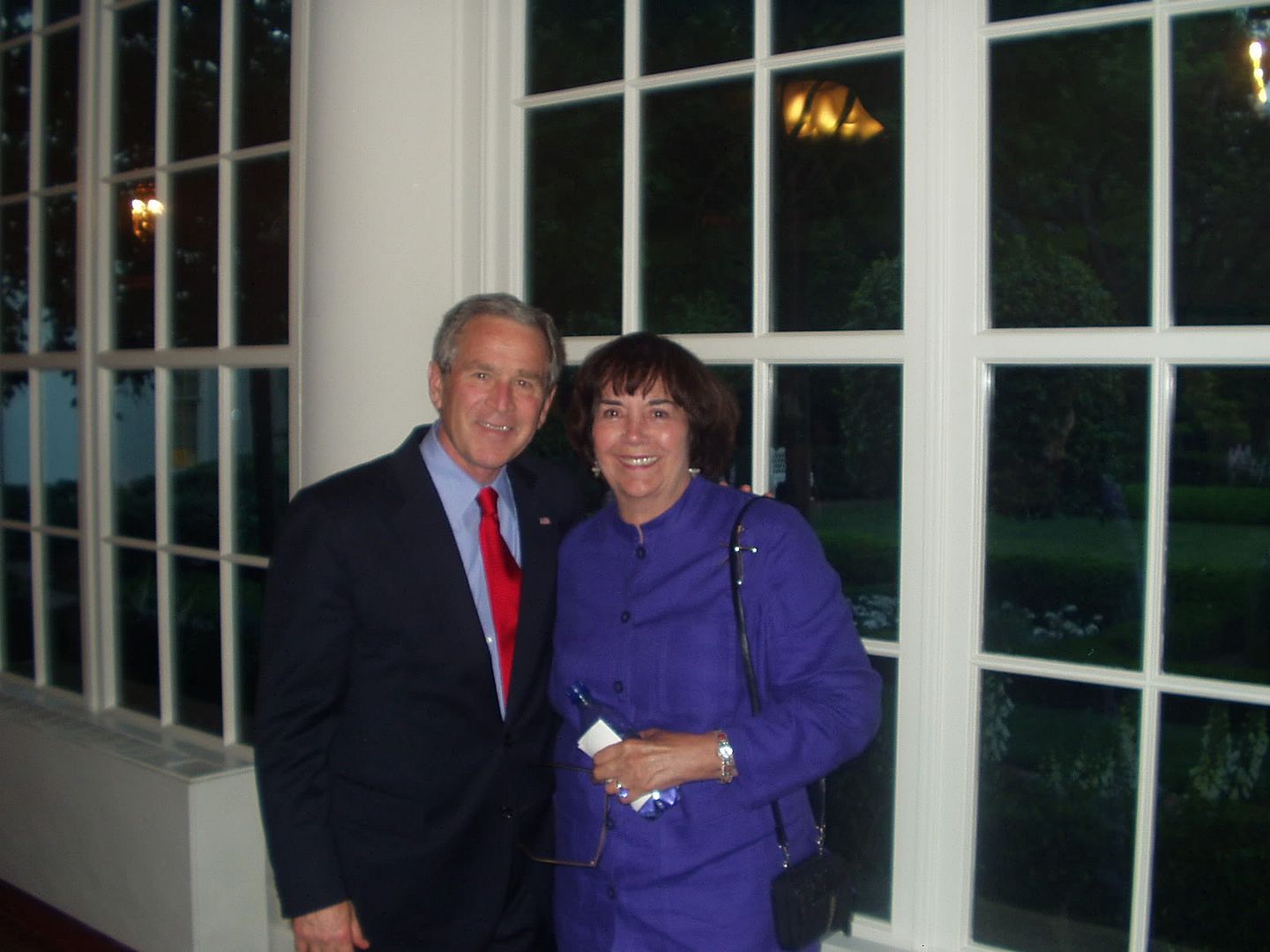 After a big thank you and a firm handshake POTUS walked away for the night. But I heard a voice that I know well...and so did my mother. I said to her 'OK, my turn I absolutely HAVE to get a pic w/ him!". As he turned around I shook his hand and told him how big a fan I was of his and that I wish him nothing but the best in his new position. I must say - Tony Snow was so unbelievably warm and disarming it was like talking to a childhood friend. He repeated thanked us for coming to the WH so HE had the honor to see the film with us...I told him we reciprocate the thanks and the honor was all ours. I asked for a photo and he practically jumped at the chance and was genuinely happy to do so.....so here is a shot w/ one very friendly Tony Snow.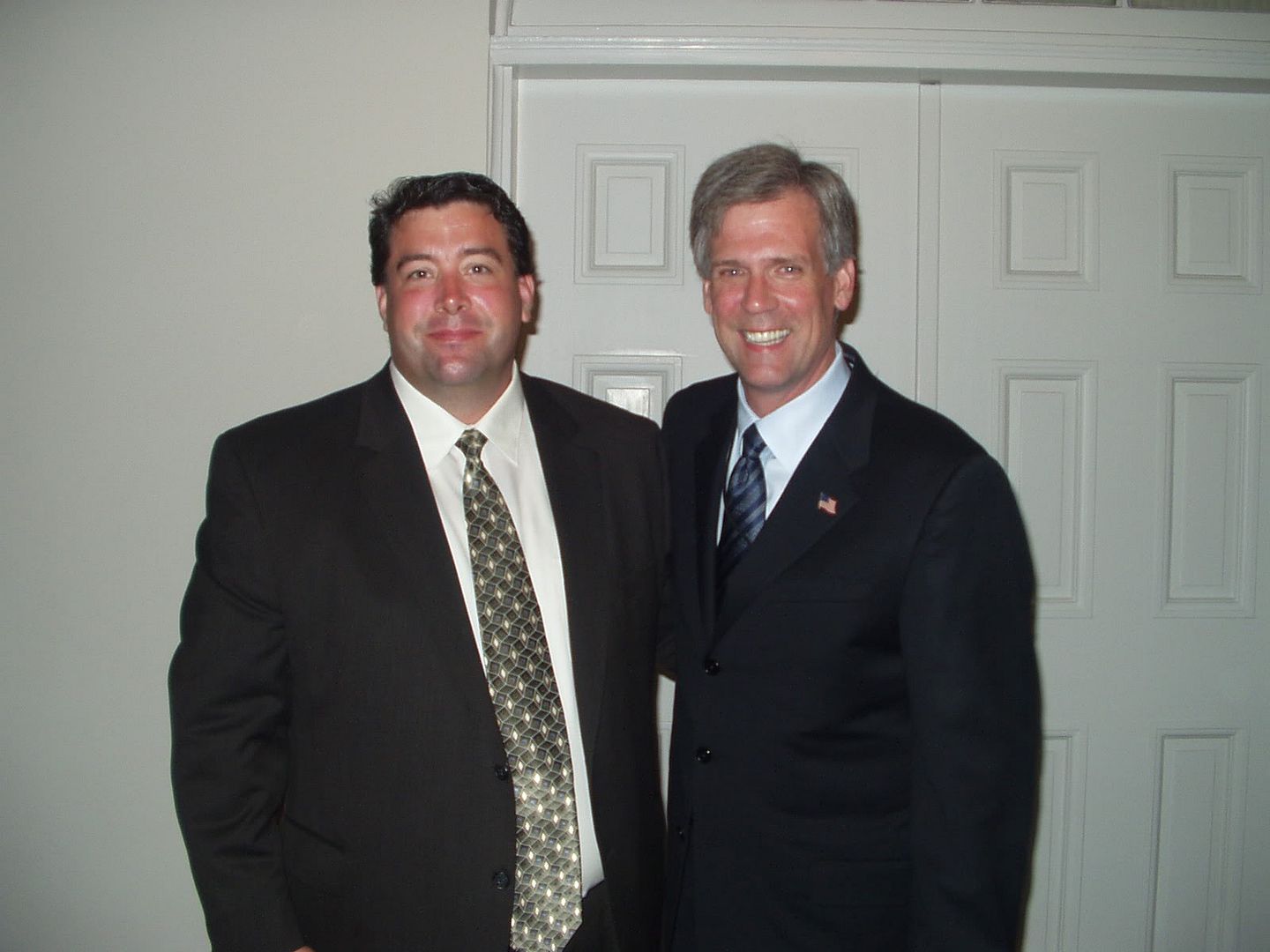 Well - that pretty much closed out the evening. It was one I will never forget. My mother and I walked out of the White House and inot the humid 85 degree night night still high from the fumes of power and gracious reception. The wake of the film was still rippling through our minds and so we went to my FAVORITE restaurant in DC only a block away: Old Ebbett's Grill, for a drink. 3 pints of Guinness later and Big Chris was feeling just about right. Southern Comfort took care of my mom and we were back at the St. Regis hotel by about 10pm.
Called the wife and hit the hay.
The next mornign I walked around and took in some sights on an early morning walk. The Vietnam Veteran's Memorial brought tears to my eyes. I've seen it before but all the wreaths left by the many Veteran's groups from Memorial Day was emotionally overwhelming. The names of 58,000 dead Americans shook me to the core. I know the heartache of losing someone to an enemy of the state - and to lose on of 40 on the plane was horriffic. So the collective loss of 58,000 was too much to handle. I turned my heads to the many kids on their year-end class trip and shed a few tears in my own silence while looking down upon a flag-inspired floral arrangement left by the South Jersey Vietnam Veterans...this is where I live - and it just hit me like a ton of bricks.
Well, I hope this gives some insight into my night. And to the good nature of our leaders and their staff and advisors. The evening truly could not have been much better save the fact that Dick and Lynn Cheney were not there.
Oh - by the way - Harriet Myers was in attendance as well. I was not able to get a picture of her though, sorry!
Thank you again to all the great freepers who are interested in this story. You've been tremendously supportive in ways you do not even know. Thank you!!
A very appreciative fellow FReeper,
Chris in NJ

---
TOPICS: Breaking News; Culture/Society; Front Page News; Government; News/Current Events; US: New Jersey; US: New York; US: Pennsylvania; Your Opinion/Questions
KEYWORDS: aar; bush; chrisinnj; d; dinner; flight93; greatposts; picsaretherightsize; tookewl; united93
---
Navigation: use the links below to view more comments.
first 1-20, 21-40, 41-60, 61-80 ... 481-484 next last
---
---
---
---
---
---
---
---
---
---
---
---
---
---
---
---
---
---
---
---
---
Navigation: use the links below to view more comments.
first 1-20, 21-40, 41-60, 61-80 ... 481-484 next last
---
---