---
A Lesson From History
Self | 5/25/02 | Self


Posted on 05/25/2022 3:32:33 PM PDT by justme4now

Before I post the lesson from history:
First things first!


All of the talk/nonsense about the banning of "assault weapons!"


Define "assault weapon!"
Scary black thing?
What?




How do you explain this?



President Biden's pick to lead the Bureau of Alcohol, Tobacco, Firearms and Explosives, Steven Dettelbach, acknowledged Wednesday that he does not have a definition for the term "assault weapon."

ATF DEFINITION

---
TOPICS: Chit/Chat; History; Miscellaneous; Society
KEYWORDS: assault; banned; rifle; weapons

The Reason For This Post

"One of the ordinary modes, by which tyrants accomplish their purposes without resistance is by disarming the people, and making it an offense to keep and bear arms."

Joseph Story , Supreme Court Justice on the 2nd amendment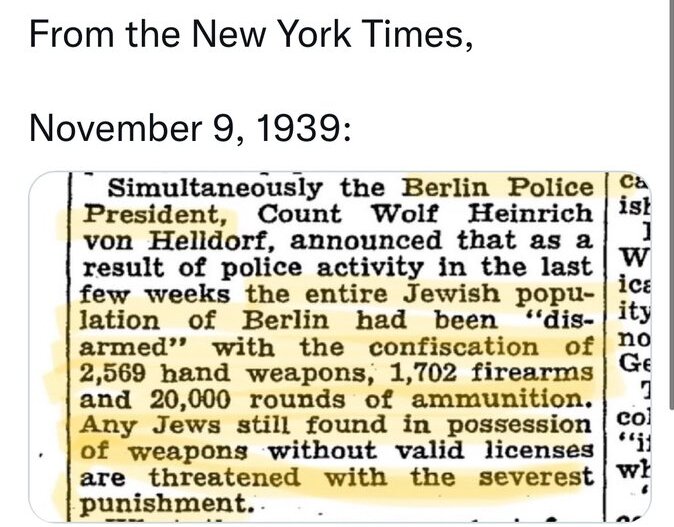 ---
To: justme4now
We're looking at another ammo and weapon shortage. Maybe bidet will be as good a gun salesman as obozo was.
2
posted on
05/25/2022 3:37:26 PM PDT
by
dynachrome
("We cannot save Ukraine by dooming the US economy." Rand Paul)
---
To: justme4now
When they demand our guns we might as well turn them in bullets-first, because they are going to kill us anyway.
We might even win.
3
posted on
05/25/2022 4:29:42 PM PDT
by
E. Pluribus Unum
(Affirmative action is systemic/institutional racism/sexism targeting straight, white males.)
---
To: justme4now
I think it's fully automatic weapons, not assault weapons that the banners want to ban.
---
To: cymbeline
A sharp stick in the right hands could take out dozens in any closed area.
5
posted on
05/25/2022 6:47:07 PM PDT
by
GreyHoundSailor
(LGBTQ - Let's Get Brandon To Quit)
---
FreeRepublic.com is powered by software copyright 2000-2008 John Robinson