---
HERE IS BILL GATES' INJECTABLE BIOCHIP, FOR THOSE WHO THINK IT IS CONSPIRACY THEORY
wordpress.com ^ | NOVEMBER 2, 2020 | Publius


Posted on 08/13/2021 1:15:49 PM PDT by ransomnote

This is Part Three of a three-part series.  Part I. Part II)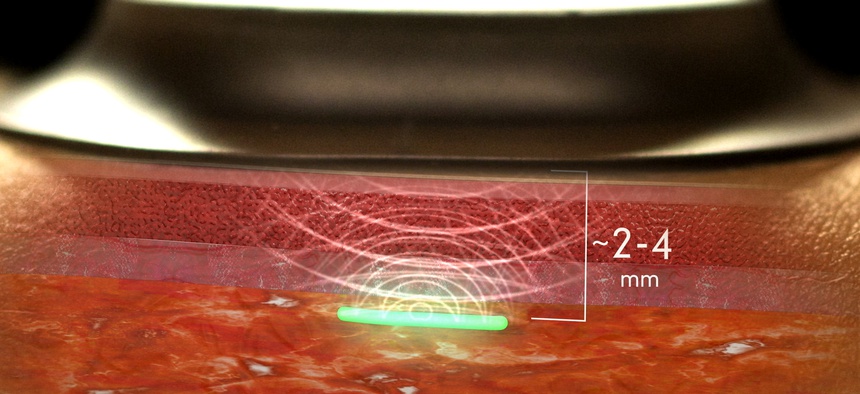 A Silicon Valley company with early funding from the US Department of Defense's highly secretive Defense Advanced Research Projects Agency (DARPA,) is expecting approval of an injectable, permanent under-the-skin biochip sensor made of advanced hydrogel material sometime in the spring.
The chip is being touted as a way to detect COVID infections as soon as the body begins to show symptoms.
It has been known since the end of May, according to the CDC, that COVID is a 99.8% survival rate virus, similar to flu, which is 99.9%.    While it is true that severe cases of COVID can have serious after-effects, this is true of any serious case of a respiratory disease, including flu.
Defense One, a defense industry trade website, writes in "A Military-Funded Biosensor Could Be the Future of Pandemic Detection."
"Why are pandemics so hard to stop? Often it's because the disease moves faster than people can be tested for it. The Defense Department is helping to fund a new study to determine whether an under-the-skin biosensor can help trackers keep up — by detecting flu-like infections even before their symptoms begin to show. Its maker, Profusa, says the sensor is on track to try for FDA approval by early next year."
According to a Profusa press release the biosensor is:
Inserted under the skin with a syringe, the string includes a specially engineered molecule that sends a fluorescent signal outside of the body when the body begins to fight an infection. The other part is an electronic component attached to the skin. It sends light through the skin, detects the fluorescent signal and generates another signal that the wearer can send to a doctor, website, etc. It's like a blood lab on the skin…"
Once implanted the chip is permanent, fusing with living tissue and blood vessels:
"Smaller than a grain of rice, each biosensor is a flexible fiber about 5 mm long and half a millimeter wide, comprised of a porous scaffold that induces capillary and cellular ingrowth from surrounding tissue…The data is relayed to a smart phone for an encrypted personal record and historical tracking. Data can be shared securely via digital networks with healthcare providers."
Profusa says the sensor:
"is on track to try for FDA approval by early next year."
Critics of the technology, such as Dr. Carrie Madej, assert that the chip represents a total control platform which links humans to an artificial intelligence network, which can track and read every facet of a person's life, including mood, fear, anxiety, even level of sexual activity, by detecting and reading the body's complex chemistry at all times.
A key director of the Bill and Melinda Gates Foundation, Dan Wattendorf, who specializes in "Innovative Technology Solutions," comes from a military background at DARPA, the US military's spook technology arm.  Wattendorf oversees the foundation's strategy to develop and implement "new biomarkers."
DARPA is a "partner" of Profusa, which received DARPA funds at its inception.
Gates Foundation Funded Imperial College's Professor Neil Ferguson, Who Made Lockdowns Possible
The pubic record now shows that Bill Gates gave nearly $8 million to Imperial College's Professor Neil Ferguson, author of the now discredited report which forecast over 2 million dead in 2020 in the US if it did not lock down and implement mask laws.   The report became the basis, cited by Dr. Anthony Fauci and other international health officials, for the present lockdowns.  The report is entitled "Report 9 – Impact of non-pharmaceutical interventions (NPIs) to reduce COVID-19 mortality and healthcare demand"
MUCH MORE AT LINK

---
TOPICS: Miscellaneous
KEYWORDS: aliens; antivaxhysteria; bigfoot; borg; clickbait; conspiracynutjobs; dumbingdownfr; dumblescummer; fantasy; froctormurderers; humbledrunkard; humbledrunker; humbledumber; illuminati; lizardpeople; mentalillness; nutcasealert; pharmapushers; provaxkillers; qtarddelerium; qtardfantasy; qvirus; ramsomtakeawalk; ransomnut; seekpsychelp; someretardedblog; superfake; thcparanoia; wboopi; zotthisnut
---
Navigation: use the links below to view more comments.
first 1-20, 21-40, 41-60, 61-80, 81-90 next last
---
---
---
---
---
---
---
---
---
---
---
---
---
---
---
---
---
---
---
---
---
Navigation: use the links below to view more comments.
first 1-20, 21-40, 41-60, 61-80, 81-90 next last
---
---