---
mail-in cheating in NY state
Post Star (Warren County NY paper) ^ | Sep 28 2020 | me


Posted on 09/28/2020 7:49:12 PM PDT by palmer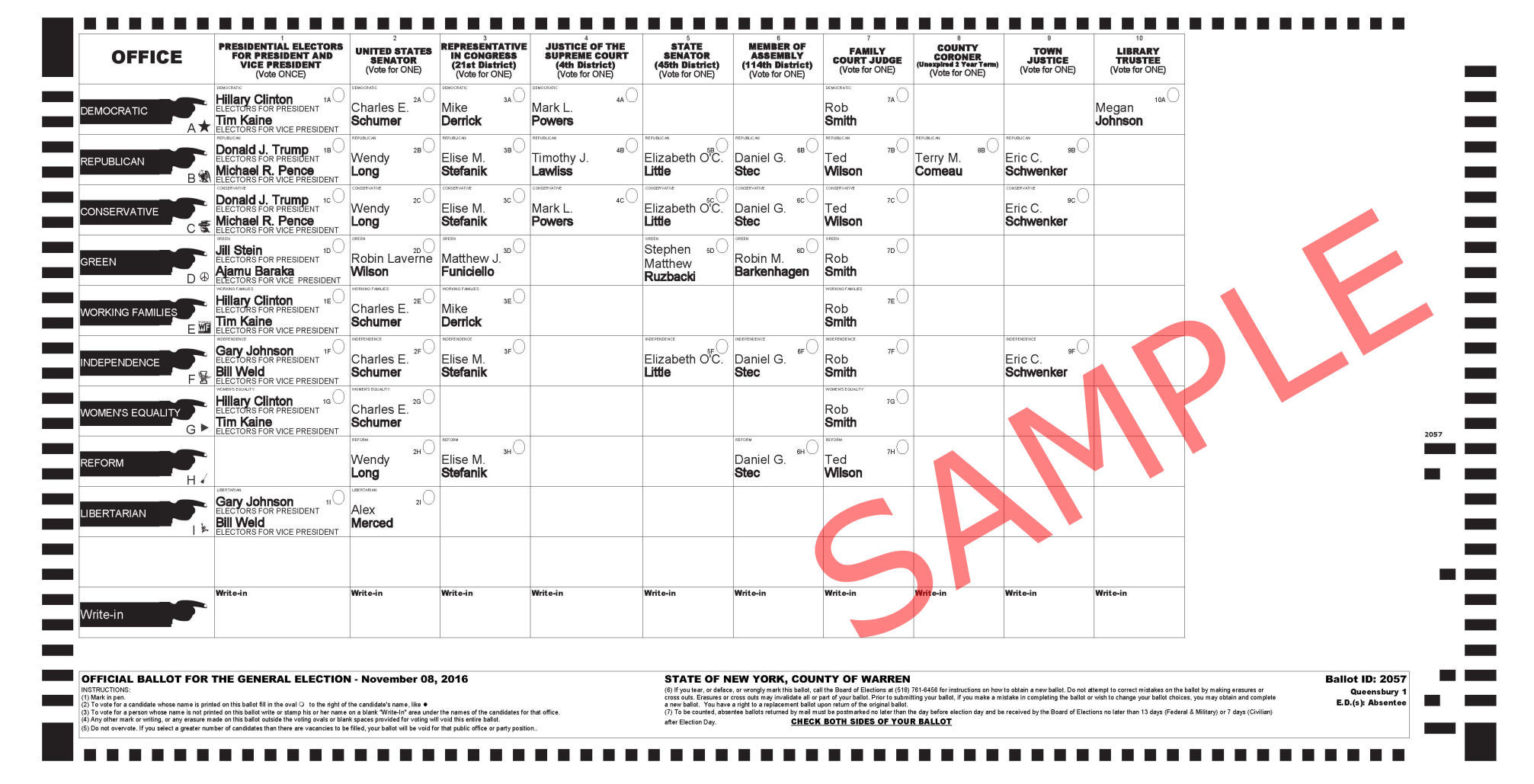 ---
TOPICS: Computers/Internet; Conspiracy
KEYWORDS: electionfraud; fraud; huh; mailballots; newyork; newyorkstate; ny; vanity; voterfraud

This is a sample ballot from NY state. The ballot ID is 2057 which is 2211012 in base 3 or 100000001001 in base 2. Nether of those matches the block code on the right which looks like a 10 digit base 3 block code. So there is security by obscurity of the block code. But once someone sees a few ballots and figures it out, nothing will stop them from printing unilmited ballots, filling them out and mailing them back.

Unfortunately (or fortunately for rats) the state allows absentee ballots to be downloaded and printed. So there is no possibility of security paper, embossing or other security features in a mailed-out paper ballot. Just the ID and block code. If it is base 3 and randomly assigned there are 59,048 different codes, so a random ballot ID and random block code are likely to be rejected. But if it is not random, then all bets are off.

---
To: dp0622
Not sure how far I am off here. Can you really download and print your own ballot? Can there be other codes other than the limited block code on the right?
---
To: palmer
I live in New York State. You have to request an absentee ballot. This is the application form you can download and print:
New York State Absentee Ballot Application
For the June 23rd primary this year, Cuomo ordered that absentee ballot applications be sent to every voter on the voter rolls in NY State. I got one, but ripped it up, because I voted in person.
The sample ballot you posted is the type that is found at the polling site for people to look at before they go into the booth. You have to sign under your name in the alphabetical book they have, and you are then given your own numbered ballot. The number on the ballot is written down, along with your name on a separate list. There are no absentee ballots for this years election posted for download. I could not find any, just the applications to request an absentee ballot to be sent to you.

3
posted on
09/28/2020 8:21:11 PM PDT
by
mass55th
("Courage is being scared to death, but saddling up anyway." ~~ John Wayne)
---
To: mass55th
Thanks, I thought I read the ballot itself could be downloaded and printed but that must have been the application only. That allows paper security features plus the possibility of security features (or difficulty in cloning) the return envelope.

---
FreeRepublic.com is powered by software copyright 2000-2008 John Robinson