Special Edition
04-15-19
***After Action Report***
I just got back from the demonstration in Fresno, California. It wasn't a Free Republic event, but was sponsored by the local Tea Party and Free Republic was notified at the last minute, so Freeper attendence was small.
I counted about 5-6 Freepers. I'd say the total attendance was 50-60 people total, maybe a bit more.
There was a Tea Party board member with a sound system and microphone, a guy and his buddy from some web site that I forgot the name of and he was live-streaming the event somewhere on the internet. I asked him if he could put a link to it on Free Republic and he said he'd try, but he may not be able to figure it out or remember.
This guy's organization has 1 million followers on Facebook and he said they get hundreds of thousands of views on their podcasts.
Jim Robinson and his wife were in attendance, as well as Just Amy and Stuart something, FReepers all.
There were lots of American flags, an Israeli flag, a Christain flag, and a "thin blue line" police flag being toted by two law enforcement types (incognito).
I especially liked when a Fresno PD vehicle drove by and tooted his siren at us. That generated a lot of whoops. Tons of honks from passing motorists. I only saw one middle finger and I gave him what fer as best I could. Not sure if he heard me, though. One anti-American shouted "Free Palestine" in response to the Israeli flag.
I met one cute lady that said she was from Patriot Soapbox and of course I chatted her up a bit. Me and Jim Robinson recruited her to visit Free Republic. She mentioned Q and I showed her my Q shirt underneath my Trump shirt and she got all excited. She may be coming to Free Republic if she follows through. She looked us up on her phone in front of Jim Robinson.
When she started going on about Q, I looked at Jim Robinson and said, "See?" He smiled.
Is she my next future ex-wife? TBD.
I mingled and chatted up a bunch of people. The Tea Party guys said they do this type of thing once a month or so in Fresno. I told them to make sure they notify FR in advance and we could get more people out with some notice.
There were young and old alike in the crowd, which was nice to see. The vehicular support was overwhelmingly positive with just a few derps making noise.
I had a hard time taking pics and need to work on my photography skills, but I did manage to wrangle a few into postable images. Here they are.
Let's start with a pic of the man himself, Jim Robinson. My son picked me up and I had the honor of introducing him to Jim Robinson. He is pictured with his wife and the FReeper named Stuart something. He didn't remember his screen name, haha.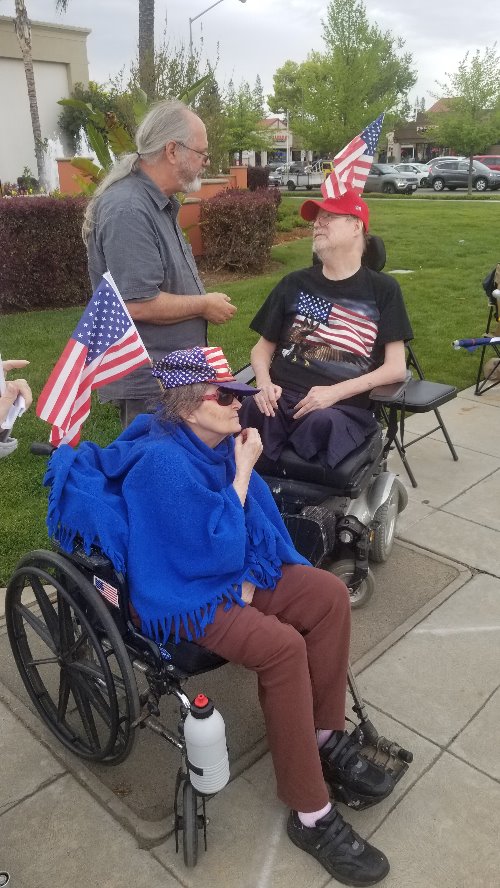 Here's a couple of rough old boy, one holding the Thin Blue Line Flag. The guy on the motorized thingy was partners with the Podcast dude, both of them really nice guys.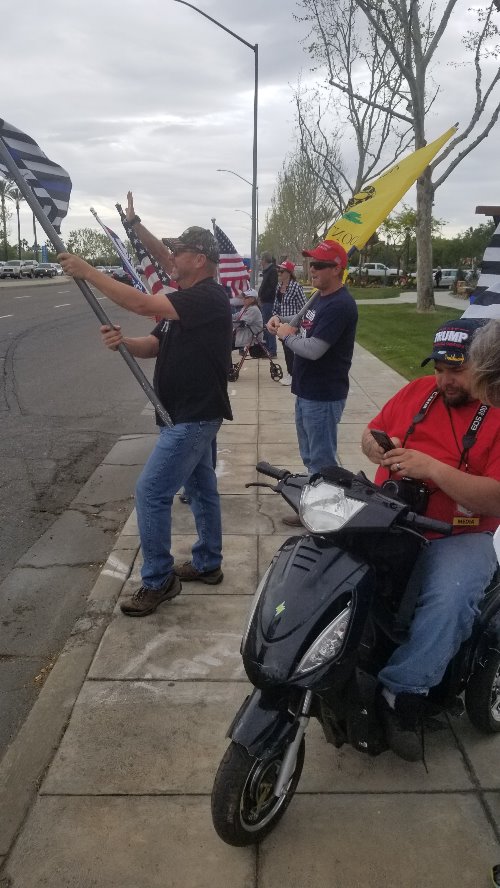 Here's some random dude standing next to the Tea Party sound system.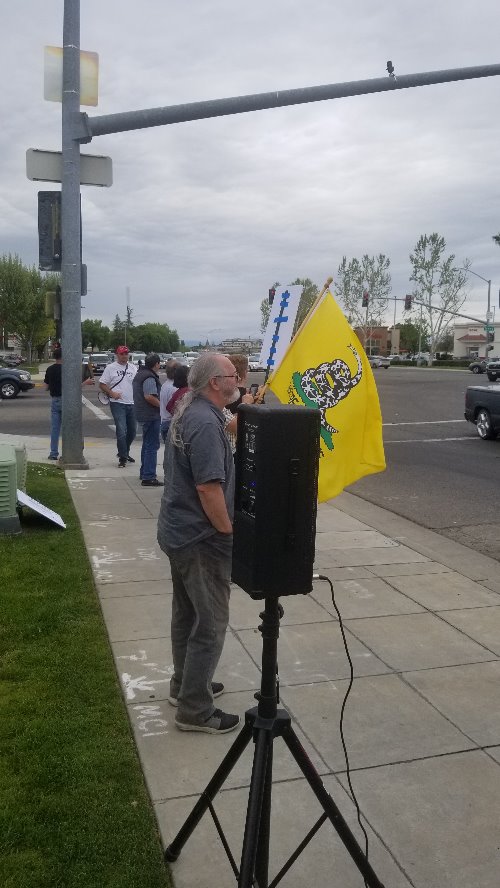 Here is the stingy brim battalion, and they came prepared with a diverse assortment of chapeaus.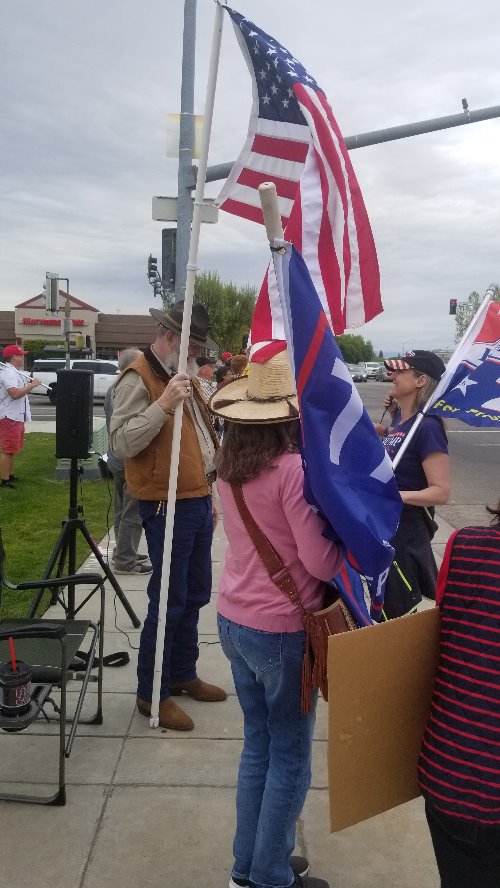 Here's half the crowd, the other half was behind me. In the right foreground is Israeli flag girl. She also had a "Christian flag". Diversity was the watchword of the day.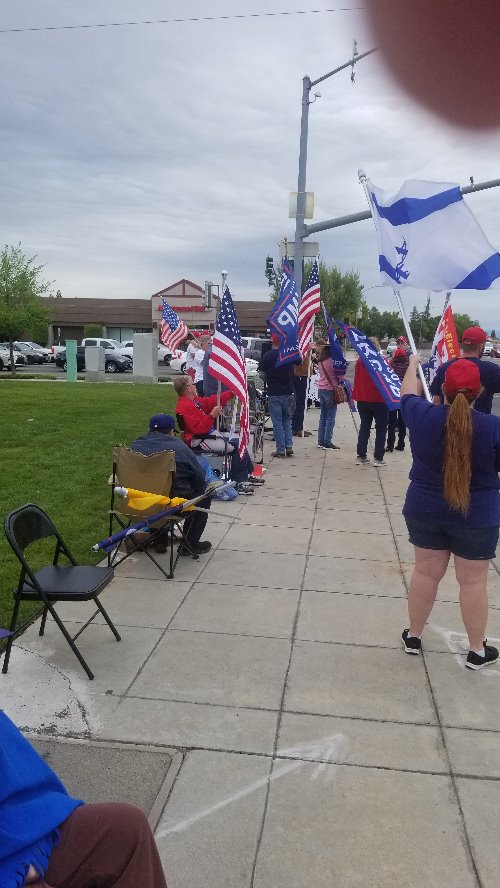 My favorite moment was when this Fresno PD copper gave us a whoop on his sireen, proving the our local po-po is po-patriot.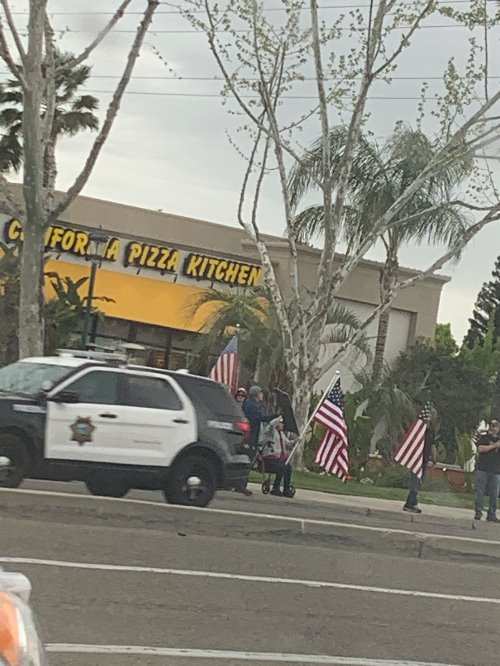 And finally, here's my view as I was leaving early cause my insubordinate son dragged me off. I missed the after party with the FReeper contingent at a local (and excellent) eatery. P.S. and now I'm starving. I'll get that bad seed back.
I had an awesome time and need to go do those more often. I hope that guy posts his link to the live-cam and I hope the cute little lady joins us.