---
Idiot Kaepernick is an outright cop-killers-supporting communist
various sources (links included) | Nov 20, 2017 | various authors


Posted on 11/20/2017 6:52:02 AM PST by ETL

I'm sure most if not everyone here already knows this, I just wanted to share some new stuff I personally learned earlier today regarding the shirts he wears at his press conferences. I've added the new pieces onto the things that I've previously posted here.
Kaepernick social media posts laud Black Lives Matter, Black Panthers,...
August 30, 2016
FoxNews.com

"'History!' Kaepernick wrote on Instagram Oct. 15 [2015], when he marked 50 years since the Black Panther Party was founded.

Kaepernick has posted 170 photos or videos on his Instagram account in the four years since he created it. Most of his first 128 posts were pics of him in football gear, publicity photos or shots taken with friends.

But 31 of his last 42 posts have strong social justice connotations, often featuring quotes from radical Nation of Islam leader [communist] Malcolm X, Black Panthers founder Huey Newton and cop killer Assata Shakur [aka, communist-revolutionary JoAnne Chesimard]

During a Sunday news conference about the flag flap, Kaepernick dressed in a black hat with a large, white "X" and a T-shirt that featured photos of Cuban despot Fidel Castro and Malcolm X."

http://www.foxnews.com/sports/2016/08/30/kaepernick-social-media-posts-laud-black-lives-matter-black-panthers-since-dating-activist-dj.html
________________________________________________
________________________________________________________________
Here's a close up of the jerk's shirt. It reads "Like Minds Think Alike" (Fidel Castro and black radical/communist Malcolm X)
"With the 49ers visiting the Dolphins this week, San Francisco's Colin Kaepernick engaged in a conference call with members of the South Florida media. However, one reporter wanted to discuss something that happened in August, when Kaepernick wore a shirt that appeared to show support for Fidel Castro, which led to a tense exchange.
The shirt depicted scenes from a 1960 meeting between Castro and Malcolm X, and it bore the phrase, "Like minds think alike." Kaepernick wore it to a news conference after the 49ers' third preseason game, which was when his refusal to stand during the national anthem became a major national story."
https://www.washingtonpost.com/news/early-lead/wp/2016/11/24/colin-kaepernick-grilled-by-miami-dolphins-reporter-over-fidel-castro-shirt/?utm_term=.1db56249b83a
________________________________________________
From the Maoist Internationist Movement:
[1960s/original] Black Panther Party [BPP] Archives
From the article: REVOLUTIONARY HEROES
"On May 1st, May Day [1969], the day of the gigantic Free Huey rally, two of Alioto's top executioners vamped on the brothers from the Brown Community who were attending to their own affairs. These brothers, who are endowed with the revolutionary spirit of the Black Panther Party defended themselves from the racist pig gestapo [the police].
Pig Joseph Brodnik received his just reward with a big hole in the chest. Pig Paul McGoran got his in the mouth which was not quite enough to off him.
The revolutionary brothers escaped the huge swarm of pigs with dogs, mace, tanks and helicopters, proving once again that "the spirit of the people is greater than the man's technology."
To these brothers the revolutionary people of racist America want to say, by your revolutionary deed you are heroes, and that you are always welcome to our camp."
Source: Maoist Internationist Movement
Article: REVOLUTIONARY HEROS (May 11, 1969)
http://web.archive.org/web/20060717050055/http://www.etext.org/Politics/MIM/bpp/index.html
_____________________________________
"'History!' Kaepernick wrote on Instagram Oct. 15 [2015], when he marked 50 years since the Black Panther Party was founded.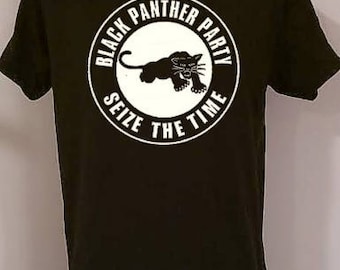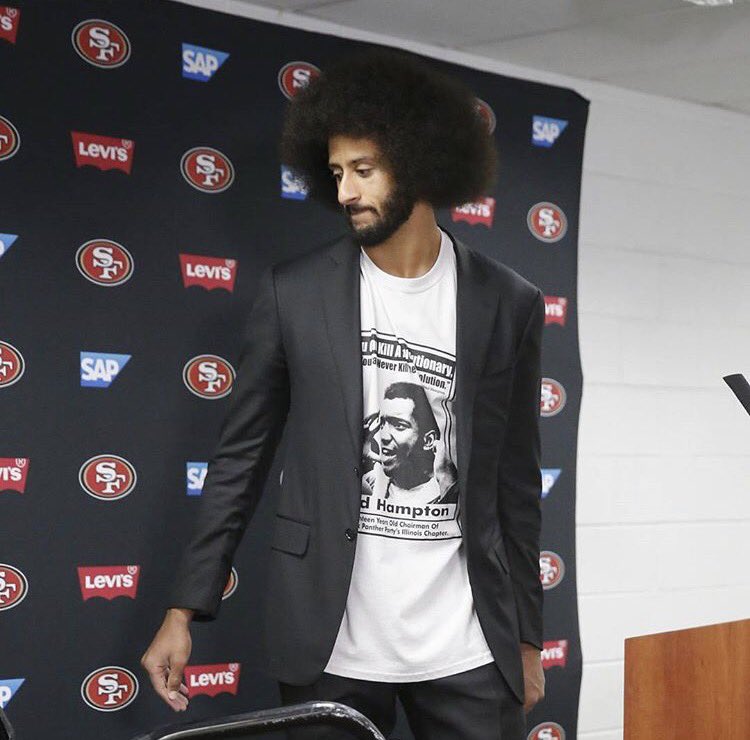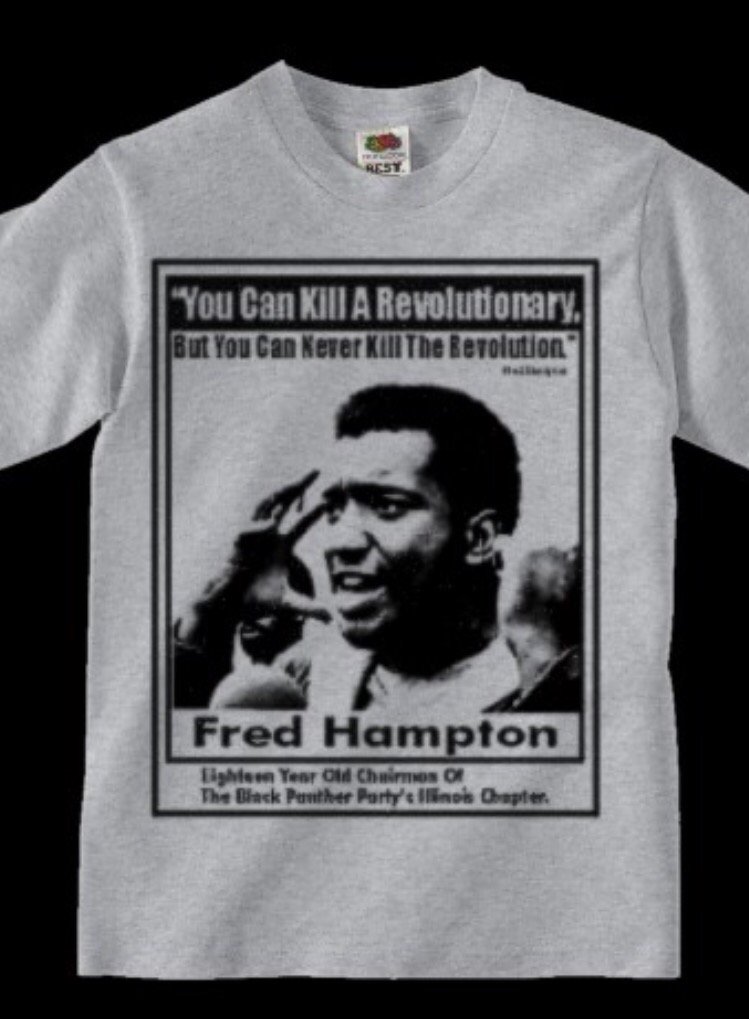 _____________________________________
"Huey Percy Newton (February 17, 1942 – August 22, 1989) was an African-American political activist and revolutionary who, along with Bobby Seale, co-founded the Black Panther Party in 1966. He continued to pursue an education, eventually earning a Ph.D. in social philosophy.[1][2] In 1989 he was shot and killed in Oakland, California. ..."
"As a student at Merritt College in Oakland, Newton became involved in politics in the Bay Area. He joined the Afro-American Association (AAA), became a prominent member of Phi Beta Sigma fraternity, Beta Tau chapter; and played a role in getting the first African-American history course adopted as part of the college's curriculum.
He read the works of Karl Marx, Vladimir Lenin, Frantz Fanon, Malcolm X, Mao Zedong, Émile Durkheim, and Che Guevara.
During his time at Merritt College, he met Bobby Seale, and the two organized the Black Panther Party for Self Defense in October 1966.[3]"
https://en.wikipedia.org/wiki/Huey_P._Newton
_____________________________________________________
The Peoples Temple of the Disciples of Christ
In January 1977, Jim Jones, leader of The Peoples Temple of the Disciples of Christ (commonly shorted to the Peoples Temple), visited Huey Newton in Havana, Cuba.[43]
After Jones fled to "Jonestown," a [communist] commune he established in Guyana for his followers, Newton spoke to Temple members in Jonestown via telephone expressing support for Jones during one of the Temple's earliest "White Nights".[44]
Newton's cousin, Stanley Clayton, was one of the few residents of Jonestown to escape the area before the 1978 mass murder of 900 Temple members by Jones and his fanatics through forced suicide.[44]
https://en.wikipedia.org/wiki/Huey_P._Newton#The_Peoples_Temple_of_the_Disciples_of_Christ
_____________________________________
From Wikipedia, with references at site:
"In 1951, [Reverend Jim] Jones (Jonestown) began attending communist meetings and rallies in Indianapolis.[4] Jones became flustered at harassment he received during the McCarthy Hearings,[4] particularly, regarding meetings between Jones and his mother with Paul Robeson.[5] This, among other things, provoked a seminal moment for Jones where he asked himself "how can I demonstrate my Marxism? The thought was, infiltrate the church."[5][4]"
"In the summer of 1977, Jones and most of the 900 members of the People's Temple moved to Guyana from San Francisco after media pressure built.[25] Jones left the same night that an editor at New West magazine read Jones an article by Marshall Kilduff to be published detailing allegations by former Temple members.[25][16] Jones named the settlement Jonestown after himself.
Jones purported to establish Jonestown as a benevolent model communist community stating, 'I believe we're the purest communists there are.' [26] Jones' wife, Marceline, described Jonestown as "dedicated to live for socialism, total economic and racial and social equality. We are here living communally."[26] Jones wanted to construct a model community to show others and stated that Prime Minister of Guyana Forbes Burnham 'couldn't rave enough about us, uh, the wonderful things we do, the project, the model of socialism.'[27] In that regard, like the restrictive emigration policies of the then Soviet Union, Cuba, North Korea and other communist republics, Jones did not permit members to leave Jonestown.[28]
Jones and several members argued that the group should commit "revolutionary suicide" by drinking cyanide-laced grape flavored Flavor Aid (often misidentified as Kool-Aid) along with a sedative.[39]
One member, Christine Miller, dissents toward the beginning of the tape.[39] When members apparently cried, Jones counseled "Stop this hysterics. This is not the way for people who are Socialists or Communists to die. No way for us to die. We must die with some dignity."[39] Jones can be heard saying, "Don't be afraid to die" and, regarding death as "just stepping over into another plane" and that "[death is] a friend."[39] At the end of the tape, Jones concludes: "We didn't commit suicide, we committed an act of revolutionary suicide protesting the conditions of an inhumane world."[39] Children were given the drink first and families were told to lie down together. The mass suicide had been discussed in simulated events called "White Nights" on a regular basis, while members drank liquid Jones first told them was poison during at least one of those White Nights.
http://en.wikipedia.org/wiki/Jim_Jones
_____________________________________

_____________________________________
---
TOPICS: Chit/Chat
KEYWORDS: blackpanther; blackpanthers; colinkaepernick; communist; kaepernick; nationofislam; paulrobeson; revolutionaries
---
Navigation: use the links below to view more comments.
first 1-20, 21-32 next last
---
---
---
---
---
---
---
---
---
---
---
---
---
---
---
---
---
---
---
---
---
Navigation: use the links below to view more comments.
first 1-20, 21-32 next last
---
---