Thousands of Cubans have died in front of Castro's infamous 'paredón' (the wall). There was no discrimination, as far as sending people to the firing squad was concerned. Young and old, black and white, rich and poor were sent to 'el paredón'.
Many of those who helped Castro gain power, like Comandantes Ernesto Sori Marin and William Morgan, an American, were among the thousands who were shot.
Fidel Castro questioning a Cuban farmer who was later executed.The woman behind Castro is Celia Sánchez, Castro's mistress during his time at the Sierra Maestra and sitting next to him is Camilo Cienfuegos.Even before the triumph of the Revolution, Castro and his gang were prone to murder those who disagreed with them.In the photo below, taken while still in the Sierra Maestra mountains, Fidel Castro's brother, Raul, is seen getting ready to shoot a young rebel soldier who disobeyed orders.
And more than fifty years after the above photos were taken, Castro and his gang of murderers continue to send to the firing squad, those Cubans who oppose his betrayal of the Revolution.
Priests Juan Miguel Aldaz and Jose Luis Garrigoitia, pray with prisoner Ramon Reytor, minutes before he was executed in the town of Manzanillo, Oriente province.
Fathers Aldaz and Garrigoitia with the prisoners moments before they were murdered
Prisoners were taken to the town cemetery and they would have to wait in line and witness the other executions, before they themselves were shot.
Col. Cornelio Rojas, chief of police of Santa Clara, is shown here in a jail cell before che Guevara ordered him to be shot to death without a trial.
The photos above show the brutal murder of Col. Rojas, who was shot to death on orders of Guevara, without the benefit of a trial.
https://www.therealcuba.com/?page_id=55
_______________________________________________

________________________________________________________
"Kill all the rich people. Break up their cars and apartments. Bring the revolution home, kill your parents, that's where it's really at"
--Bill Ayers (1970), quoted in New York Times, September 11, 2001:
Article: "No Regrets for a Love Of Explosives; In a Memoir of Sorts, a War Protester Talks of Life With the Weathermen"
http://query.nytimes.com/gst/fullpage.html?res=9F02E1DE1438F932A2575AC0A9679C8B63&sec=&spon=&pagewanted=1
________________________________________________________
"Dig It. First they killed those pigs [ie, rich people/capitalists], then they ate dinner in the same room with them, they even shoved a fork into a victim's stomach! Wild!"
-Weather Underground leader and wife of Bill Ayers, Bernardine Dohrn, referring to the Manson murders
Article: Allies in War -by David Horowitz
FrontPageMagazine.com | Monday, September 17, 2001
http://www.frontpagemag.com/Articles/Read.aspx?GUID=63512670-BF7C-42A0-B41D-5D0FB9E09C09
________________________________________________________
"It was at the Chicago home of [Bill] Ayers and [Bernardine] Dohrn that Obama, then an up-and-coming 'community organizer,' had his political coming out party in 1995. Not content with this rite of passage in Lefty World - where unrepentant terrorists are regarded as progressive luminaries, still working 'only to educate' - both Obamas tended to the relationship with the Ayers."
Article: The Company He Keeps:
Meet Obama's circle: The same old America-hating Left
http://article.nationalreview.com/?q=YThjYTU1ZDBjNmQ2YzcwNzU1MmYwN2JiMWY0ZGI0NDA=&w=MA==
________________________________________________________
"In 1995, State Senator Alice Palmer introduced her chosen successor, Barack Obama, to a few of the district's influential liberals at the home of two well known figures on the local left: William Ayers and Bernardine Dohrn. ..."
"I can remember being one of a small group of people who came to Bill Ayers' house to learn that Alice Palmer was stepping down from the senate and running for Congress,"
http://www.politico.com/news/stories/0208/8630.html
________________________________________________________
"They're certainly friendly" -quote from 'Obama's chief strategist (and reigning expert on Chicago's political tribes), David Axelrod,' on the Bill Ayers, Obama relationship.
http://www.politico.com/blogs/bensmith/0208/Ax_on_Ayers.html
=========================================================
The Center for Public Intellectuals & The University of Illinois-Chicago (UIC)
April 19th-20th, 2002, Conference
[Participants include: William/Bill Ayers, Bernardine Dohrn, Sen Barack Obama]
April 19th-20th, 2002
Chicago Illini Union
828 S. Wolcott
This conference is part of the Center's mission of helping to create a more engaged civil society, working towards social change, fostering coalitions between theorists and activists, and combating anti-intellectualism in contemporary culture. It will be both a celebration of ideas and a rigorous examination of the roles and responsibilities that intellectuals play in society.
I. Why Do Ideas Matter? (a keynote panel)
We introduce the "meta" theme of the conference by hearing "success stories" from diverse voices discussing their experiences intervening intellectually.
Timuel Black, Chicago activist; Prof. Emeritus, City Colleges of Chicago
Lonnie Bunch, President, Chicago Historical Society
Bernardine Dohrn, Northwestern University Law School, Children and Family Justice Center
Gerald Graff, UIC, College of Liberal Arts & Sciences
Richard Rorty, Stanford University, Philosophy
III. Lunch and Public Encounters
Alternative breakout tours led by Chicago activists. Tours of Bronzeville and other communities, and visits to organizations that are working on partnering theorists with activists.
IV. Intellectuals in Times of Crisis
Experiences and applications of intellectual work in urgent situations.
William Ayers, UIC, College of Education; author of Fugitive Days
Douglass Cassel, Northwestern University, Center for International Human Rights
Cathy Cohen, University of Chicago, Political Science
Salim Muwakkil, Chicago Tribune; In These Times
Barack Obama, Illinois State Senator
Barbara Ransby, UIC, African-American Studies (moderator)
The Center for Public Intellectuals
University of Illinois-Chicago (UIC):
http://www.uic.edu/classes/las/las400/conferencealt.htm
http://www.uic.edu/classes/las/las400/conferencealt.htm
________________________________________________________
Just now came across this! Don't yet know if it's for real, but it certainly could be. They worked together at the University of Chicago. Annenberg Project, etc.
May be the only pic they couldn't get their hands on to destroy.
______________________________________________________________
[Obama] is named Chairman of the Board of the Chicago Annenberg Challenge founded by Bill Ayers
(article typo has Ayers instead of Obama)
In late 1993, Bill Ayers, now an associate professor of education at the University of Illinois Chicago Circle Campus, organized a team to put together a grant proposal to secure nearly $50 million from the Annenberg Challenge. The money was to be used by Ayers and co. to bolster the radical Local School Councils reform project that Ayers and Obama had championed back in 1988 through the ABCs.
The grant application was successful and in early 1995 Barack Obama was named chairman of the board of the Chicago Annenberg Challenge. Ayers was named co-chair of the Challenge's operative and strategic body, the Chicago School Reform Collaborative. Ayers and Obama work together for the next five years on raising an additional $60 million in matching money from local foundations and corporations and using the money to intervene in the governance of the Chicago public schools.
The Challenge through a multi-million dollar Leadership Development Initiative intervened in the School Council elections in the middle of what was known as the Chicago School Wars. At the same time Chicago Mayor Richard Daley was pushing, successfully, to gut the power of the Councils.
http://noquarterusa.net/blog/2008/08/12/the-obama-ayers-top-ten-highlights-of-the-20-year-obama-ayers-connection/
__________________________________________________________
"The Small Schools Workshop was founded in 1991 at the University of Illinois at Chicago to provide support for teachers who were trying to create new smaller learning environments. Its director is Michael Klonsky, a former professor of education at UIC."
http://en.wikipedia.org/wiki/Small_Schools_Workshop
__________________________________________________________
Some background on Bill Ayers' SDS comrade, Michael Klonsky
(Chicago Annenberg Challenge-related)
"One of Bill Ayers' and Bernardine Dohrn's comrades in the late 60s Students for a Democratic Society was Mike Klonsky. When Dohrn and Ayers moved in one direction toward the violent tactics of the Weather Underground, Klonsky, in the wake of the Soviet invasion of Czechoslovakia, dropped the pro-Russian communist politics of his parents and became a committed Maoist. As leader of the Communist Party (Marxist-Leninist) in 1977 [not to be confused with Communist Party USA. CPML no longer exists, CPUSA formed decades earlier and is still around-ETL], he travelled to Beijing and was toasted by the senior Beijing leadership.
When the crazy left of the 70s died in the 80s, Klonsky went to graduate school in education in Florida and then moved to Chicago.
While driving a cab there he [Michael Klonsky] was recruited by his old friend Bill Ayers to head up a new project called the Small Schools Workshop in 1991. It's offices were in the Department of Education building at the University of Illinois Chicago Circle Campus where Ayers taught.
In 1995 the newly formed Chicago Annenberg Challenge headed by Ayers and Obama gave the Workshop a grant of $175,000.
The Annenberg Challenge also had its office space in the same building as Ayers Department and the Workshop, rent free courtesy of the University.
In 2008 Klonsky ran a blog on the official Obama campaign website on education policy and "social justice" teaching. When discussion of the Klonsky blog emerged in the blogosphere, it was promptly shut down by the campaign and all of the posts made by Klonsky were removed from the site."
http://noquarterusa.net/blog/2008/08/12/the-obama-ayers-top-ten-highlights-of-the-20-year-obama-ayers-connection/
______________________________________________________________
Pope Francis, "Liberation Theology", Obama, his "reverend" Jeremiah Wright (his pastor of 20+ years, who babtized his kids and married he and Michelle), the Russian Orthodox Church, and the Communist KGB...
Pope Francis: 'Liberation Theology Was Good for Latin America'
by Thomas D. Williams, Ph.D.
Jan 27, 2017
In a controversial interview, Pope Francis has publicly defended Liberation Theology, calling it a "positive thing" in Latin America. ..."
In a striking revelation in 2015, the highest ranking Cold War defector asserted that the KGB had created Liberation Theology, exporting it to Latin America as a means of introducing Marxism into the continent.
Ion Mihai Pacepa, a 3-star general and former head of Communist Romania's secret police who defected to the United States in 1978, has been called "the Cold War's most important defector." During the more than ten years that Pacepa worked with the CIA, he made what the agency described as "an important and unique contribution to the United States."
He is reported in fact to have given the CIA "the best intelligence ever obtained on communist intelligence networks and internal security services."
"Liberation theology has been generally understood to be a marriage of Marxism and Christianity.
What has not been understood is that it was not the product of Christians who pursued Communism, but of Communists who pursued Christians," Pacepa said.
In his role as doctrinal watchdog, Cardinal Joseph Ratzinger referred to Liberation Theology as a "singular heresy" and a "fundamental threat" to the Church.
http://www.breitbart.com/national-security/2017/01/27/pope-francis-liberation-theology-good-latin-america/
____________________________________________
Liberation Theology Activist: Pope Francis Is One of Us
by Stefan Farrar
December 27, 2016
BERLIN (ChurchMilitant.com) - The main figurehead of liberation theology in the 1980s is praising Pope Francis, and criticizing the signatories of the recently sent dubia.
Leonardo Boff, a main proponent for liberation theology in Brazil throughout his life, gave an interview to the German newspaper Kölner Stadt-Anzeiger in Berlin, which was published on Christmas.
Boff entered the Franciscan order in 1959 and was ordained a Catholic priest in 1964, where he became a controversial figure with his prominent advocacy of left-wing causes. During his priesthood, he became a vocal critic of capitalism and a strong proponent of liberation theology.
Liberation theology is a religious movement that offers a Marxist understanding of poverty and oppression, and which had its start in South America in the 1960s.
One KGB defector who later converted to Catholicism claimed it was a movement created by the KGB and spread by willing South American bishops. ..."
Lots more at link...
https://www.churchmilitant.com/news/article/liberation-theology-activist-pope-francis-is-one-of-us
_______________________________________________________
Obama's Church: Gospel of Hate
Kathy Shaidle, FrontPageMag.com
Monday, April 07, 2008
In March of 2007, FOX News host Sean Hannity had engaged Obama's pastor in a heated interview about his Church's teachings. For many viewers, the ensuing shouting match was their first exposure to "Black Liberation Theology"...
Like the pro-communist Liberation Theology that swept Central America in the 1980s and was repeatedly condemned by Pope John Paul II, Black Liberation Theology combines warmed-over 1960s vintage Marxism with carefully distorted biblical passages.
However, in contrast to traditional Marxism, it emphasizes race rather than class. The Christian notion of "salvation" in the afterlife is superseded by "liberation" on earth, courtesy of the establishment of a socialist utopia.
http://web.archive.org/web/20090321190904/http://www.frontpagemag.com/Articles/Read.aspx?GUID=30CD9E14-B0C9-4F8C-A0A6-A896F0F44F02
______________________________________________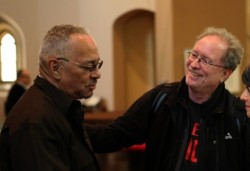 Obama's self-proclaimed "spiritual advisor" (for 20+ years), Jeremiah Wright, with communist-revolutionary, domestic terrorist, Bill Ayers
===================================================================================================
From David Horowitz's FrontPageMag.com/DiscoverTheNetworks.org:
LIBERATION THEOLOGY
"...
liberation theology's real creator was the Soviet Union's foreign intelligence and domestic security agency, the KGB.
Patriarch Kirill, who today heads Russian Orthodox Church, secretly worked for the KGB under the code name "Mikhailov" and spent some 40 years promoting liberation theology.
Ion Mihai Pacepa, the highest-ranking Soviet-bloc official ever to defect to the West, writes: "Liberation theology has been generally understood to be a marriage of Marxism and Christianity.
What has not been understood is that it was not the product of Christians who pursued Communism, but of Communists who pursued Christians....
Its genesis was part of a highly classified Party/State Disinformation Program, formally approved in 1960 by KGB chairman Aleksandr Shelepin and Politburo member Aleksei Kirichenko, then the second in the party hierarchy after Nikita Khrushchev."
Adds Pacepa: "In 1971, the KGB sent Kirill — who had just been elevated to the rank of archimandrite — to Geneva as emissary of the Russian Orthodox Church to the World Council of Churches.... Kirill/Mikhailov's main task was to involve the WCC in spreading the new liberation theology throughout Latin America.
In 1975, the KGB was able to infiltrate Kirill into the Central Committee of the WCC — a position he held until he was "elected" patriarch of Russia, in 2009.
Not long after he joined the Central Committee, Kirill reported to the KGB: 'Now the agenda of the WCC [World Council of Churches] is also our agenda.'"
http://www.discoverthenetworks.org/viewSubCategory.asp?id=2990
____________________________________________
August, 2006
North Korea Builds an Orthodox Church
The first-ever
Russian Orthodox church
will open in Pyongyang, North Korea this weekend.
It's an odd project considering that freedom of religion exists almost exclusively on paper in the closed communist country.
North Korean dictator Kim Jong-Il is supposed to be a communist atheist.
So why has he made promoting the Russia Orthodox Church his latest pet project?
On August 13, the country's first Orthodox church is to be opened in the capital city of Pyongyang.
Russian Metropolitan Bishop Kyrill, second in command within the Church after the Patriarch, will travel to Pyongyang to christen the new house of worship. ..."
http://www.spiegel.de/international/kim-jong-il-and-religion-north-korea-builds-an-orthodox-church-a-431310.htm
_______________________________________________________
The Russian Orthodox Church is a member of the (communist) World Council of Churches
https://www.oikoumene.org/en/member-churches/russian-orthodox-church
____________________________________
From David Horowitz's FrontPageMag.com/DiscoverTheNetworks.org:
Profile: WORLD COUNCIL OF CHURCHES (WCC)
Long-time proponent of Liberation Theology
Infiltrated by the KGB during the Cold War
Funded Marxist insurgent groups throughout the world
Calls for capitalism's "reform" according to socialist principles

[lots more at link...]

http://www.discoverthenetworks.org/groupProfile.asp?grpid=7514

______________________________________________________________

From the Russian Orthodox Church website...

WCC [World Council of Churches] welcomes meeting of Pope Francis and Patriarch Kirill for unity and peace

[note Cuban president Raul Castro, Fidel's murderous brother, off to the right]

12 February 2016

Rev. Dr Olav Fykse Tveit, general secretary of the World Council of Churches (WCC), has issued a statement on behalf of the Council hailing the historic meeting of Pope Francis, pontiff of the Roman Catholic Church, and Patriarch Kirill, primate of the Russian Orthodox Church.

The two leaders met on 12 February in Havana, Cuba.

The Russian Orthodox Church is the largest member church in the WCC..."

https://www.oikoumene.org/en/press-centre/news/wcc-welcomes-meeting-of-pope-francis-and-patriarch-kirill

_______________________________________________________

Catch that? "The Russian Orthodox Church is [to this day!] the largest member of the World Council of Churches"! (WCC)

That is all you need to know to understand that it is a sham operation. Reverend Wright's fake church United Church of Christ (UCC) is also a member. In fact, his (communist) "Liberation Theology" was concocted by the KGB.

The Russians must laugh their butts off at how easily westerners can be tricked and deceived.

The Russian Orthodox Church is a member of the (communist) World Council of Churches:
https://www.oikoumene.org/en/member-churches/russian-orthodox-church
____________________________________

From David Horowitz's FrontPageMag.com/DiscoverTheNetworks.org:
Profile: WORLD COUNCIL OF CHURCHES (WCC)

Long-time proponent of Liberation Theology
Infiltrated by the KGB during the Cold War
Funded Marxist insurgent groups throughout the world
Calls for capitalism's "reform" according to socialist principles

[lots more at link...]

http://www.discoverthenetworks.org/groupProfile.asp?grpid=7514

______________________________________________________________________________________________________________________________

Michael Thomas Flynn, lifelong DEMOCRAT, Obama-appointee. Like Paul Manafort, I suspect, was a Russian PLANT ...




Michael Thomas Flynn

Michael Thomas Flynn (born December 24, 1958) is a retired United States Army Lieutenant General and convicted felon[1] and was, briefly [24 days!], National Security Advisor to President Donald Trump.

Flynn's military career included a key role in shaping U.S. counterterrorism strategy and dismantling insurgent networks in Afghanistan and Iraq, and he was given numerous combat arms, conventional, and special operations senior intelligence assignments.[2][3][4]

He served as the 18th Director of the Defense Intelligence Agency, serving from July 2012 until his forced retirement from the military in August 2014.[5][6][7]

After leaving the military, he established Flynn Intel Group, which provided intelligence services for businesses and governments, including ones in Turkey.[8][9]

He became a senior advisor to Trump during his presidential campaign and served as the National Security Advisor from January 23[10] to February 13, 2017 [24 days!].[11]

He resigned after information surfaced that he had misled the FBI and Vice President Mike Pence about the nature and content of his communications with Russian Ambassador to the U.S. Sergey Kislyak.[12][13]

Flynn's tenure of just 24 days is the shortest in the office's history.[14][15]

On April 27, 2017, the Pentagon inspector general announced an investigation into whether Flynn had accepted money from foreign governments without the required approval.[16]

The New York Times reported on May 18, 2018, that a longtime FBI/CIA informant had met Flynn at an intelligence seminar in Britain six months earlier and became alarmed by Flynn's closeness to a Russian woman there; this concern prompted another individual to alert American authorities that Flynn may have been compromised by Russian intelligence.[17]

Flynn initially refused to hand over subpoenaed documents to the Senate Intelligence Committee, pleading the Fifth Amendment against self-incrimination, but a compromise with the committee was worked out.[18][19]

On December 1, 2017, Flynn appeared in federal court to formalize a deal with Special Counsel Robert Mueller to plead guilty to a felony count of "willfully and knowingly" making "false, fictitious and fraudulent statements" to the FBI.[20]

He confirmed his intention to cooperate with the Special Counsel's investigation.

__________________________________________________________

On February 13, 2017, Flynn resigned as National Security Advisor, following news reports about his communications with the Russian ambassador, Sergey Kislyak and additional reports that he had misled the Vice President [Pence] about them.[119]

Flynn's 24-day tenure as National Security Advisor was the shortest in the 63-year history of the office.[15]

Those communications he had with the Russian ambassador were subsequently leaked to the press.[120]

Commenting on Flynn's resignation, on February 14 White House Press Secretary Sean Spicer stated, "We got to a point not based on a legal issue, but based on a trust issue, where a level of trust between the President and General Flynn had eroded to the point where he felt he had to make a change ...

The issue here was that the President [Trump] got to the point where General Flynn's relationship – misleading the Vice President and others, or the possibility that he had forgotten critical details of this important conversation had created a critical mass and an unsustainable situation.

That's why the President decided to ask for his resignation, and he got it."[121]

https://en.wikipedia.org/wiki/Michael_Flynn

_____________________________________

Here, via C-Span transcripts, is the Wikipedia piece...

February 14, 2017
White House Daily Briefing

"The issue here was that the President got to the point where General Flynn's relationship — misleading the Vice President and others, or the possibility that he had forgotten critical details of this important conversation had created a critical mass and an unsustainable situation.

That's why the President decided to ask for his resignation, and he got it.

The irony of this entire situation is that the President has been incredibly tough on Russia.

He continues to raise the issue of Crimea, which the previous [Obama-Biden-Hillary] administration had allowed to be seized by Russia."

https://www.c-span.org/video/?424005-1/sean-spicer-president-asked-michael-flynn-resign-eroded-trust

===============================================================================

"It was December 10 [2016], and Vladimir Putin was the guest of honor at RT's 10th anniversary dinner, at Moscow's Metropol Hotel in the shadow of the Kremlin. ..."

"Seated next to Simonyan at the dinner and just two seats away from Putin himself was perhaps the most intriguing example of how the Russians have gone about recruiting disaffected members of that establishment: a rugged-looking man in a tuxedo who less than 18 months earlier had been head of the Defense Intelligence Agency, the Pentagon's powerful in-house equivalent of the CIA.

Michael Flynn, now a private citizen after a reportedly disgruntled retirement, was not there to gather intelligence.

His attendance at the RT [Russia Today] gala, before which he also gave a talk on world affairs, appeared to inaugurate a relationship with the network—presumably a paid one, though neither Flynn nor RT answered queries on the subject.

Flynn now makes semi-regular appearances on RT as an analyst, in which he often argues that the U.S. and Russia should be working more closely together on issues like fighting ISIL and ending Syria's civil war.

"Russia has its own national security strategy, and we have to respect that," he said in one recent appearance. "

And we have to try to figure out: How do we combine the United States' national security strategy along with Russia's national security strategy, despite all the challenges that we face..."

http://www.politico.com/magazine/story/2016/04/donald-trump-2016-russia-today-rt-kremlin-media-vladimir-putin-213833

_______________________________________________


_______________________________________________________

"On December 10, 2015, Flynn attended a gala dinner in Moscow in honor of RT (formerly "Russia Today"), a Russian government-owned English-language media outlet, on which he made semi-regular appearances as an analyst after he retired from U.S. government service.[60]

Flynn sat next to Russian President Vladimir Putin at the dinner, leading Journalist Michael Crowley of Politico to report that "at a moment of semi-hostility between the U.S. and Russia, the presence of such an important figure at Putin's table startled" U.S. officials.[61][62][38]

As part of the festivities, Flynn gave a talk on world affairs for which he was paid at least $45,000.[60] Flynn defended the RT payment in an interview with Michael Isikoff.[62]

A 2017 report by the United States Intelligence Community characterized RT as "The Kremlin's principal international propaganda outlet" and said that RT America is set up as an autonomous nonprofit organization "to avoid the Foreign Agents Registration Act".[64][65]

As a retired military intelligence officer, Flynn was required to obtain prior permission from the Defense Department and the State Department before receiving any money from foreign governments. Flynn apparently did not seek that approval before the RT speech, and he did not report the payment when he applied for renewal of his security clearance two months later.[60] Glenn A. Fine, the acting Defense Department Inspector General, has confirmed he is investigating Flynn.[38]

https://en.wikipedia.org/wiki/Michael_Flynn#Attendance_at_RT_gala_dinner
_______________________________________________________

Michael Flynn, was a "semi-regular" guest on the state-controlled Russian propaganda media outlet, Russia Today (RT).

_______________________________________

______________________________________________________________

_____________________________________________________________________________

"RT [Russia Today] was conceived by former media minister Mikhail Lesin,[32] and Russian president Vladimir Putin's press spokesperson Aleksei Gromov.[33]"

https://en.wikipedia.org/wiki/RT_(TV_network)
___________________________________________


Russian President Vladimir Putin, left, with Mikhail Lesin
during a meeting in Moscow

________________________________

November 2015...

Nov 7, 2015

Mikhail Lesin, a prominent Russian political figure and mass media expert credited with inspiring the creation of Russia Today (now RT), has died in Washington, DC after a heart attack.

Lesin, a former press minister and ex-head of Gazprom-Media, Russia's largest media holding, died at the age of 57 on Wednesday, according to family members. "Mikhail Lesin died from a heart stroke," a family member told RIA Novosti.

Meanwhile, TASS has reported that Lesin was found dead in his hotel room in Washington, DC, citing the Russian Embassy in the US. Police found no signs of foul play, but a formal investigation has been launched. It has been reported that Lesin had been suffering from a prolonged unidentified illness. ..."

https://www.rt.com/news/321121-lesin-dies-heart-attack/
_______________________________________________________

Nov 2015...

Millionaire Mikhail Lesin, 57, found dead in $240-a-night in Washington DC last Friday [Nov 6, 2015] and police are

investigating

The pro-Putin 'propaganda channel' he set up, RT [Russia Today] , claimed he 'had been suffering from a prolonged unidentified illness'

But DC police have made no such finding

"Nicknamed the 'Bulldozer', Lesin was one of the key props of the Putin presidency, personally masterminding a wide-ranging media crackdown which has left the vast majority of Russian TV stations and newspapers obedient to the Kremlin."

http://www.dailymail.co.uk/news/article-3315994/Vladimir-Putin-s-media-mastermind-dead-DC-hotel-murdered-FBI-informant-alive-claim-Russians.html#ixzz3rOUopg7Q
______________________________________________________________

"On Friday, November 6 [2015], RIA Novosti reported that Lesin died of a heart attack citing a spokesman for the family as saying: "Today, Mikhail Lesin died ... His death came supposedly from a heart attack."[35][38]

RT [Russia Today] reported the next day that the cause of death was a heart attack.[31][39][40][41]

https://web.archive.org/web/20161026095000/https://en.wikipedia.org/wiki/Mikhail_Lesin
_______________________________________________________

"Vladimir Putin's former media czar "was murdered" in Washington, DC, on the eve of a planned meeting with the US Justice Department, according to two FBI agents whose assertions cast new doubts on the US government's official explanation of his death.

[Lesin] "was going to talk about the inner workings of RT — basically, how the propaganda machine works. DOJ was investigating RT. ..."

https://www.buzzfeed.com/jasonleopold/putins-media-czar-was-murdered-just-before-meeting-feds?utm_term=.koLV9zmDz#.cuo1YjnWj
_________________________________________________________________

UPDATE: MAR 2016...

Mikhail Lesin, Ex-Putin Aide, Died of Blunt Force Trauma in Washington: Autopsy

by Alastair Jamieson and Alexey Eremenko
Mar 11 2016

A former aide to Russian President Vladimir Putin found dead in a Washington hotel room was killed by a blunt force trauma to the head, U.S. authorities said Thursday.

Mikhail Lesin, 57, was found dead on the floor of his room in Dupont Circle on November 5.[2015]

Autopsy results show that he died from "blunt-force injuries of the head," according to a joint statement Thursday from the D.C. Metropolitan Police Department and Office of the Chief Medical Examiner reported by NBC Washington , but the exact manner of death was undetermined.

Also contributing to his death were "blunt-force injuries of the neck, torso, upper extremities and lower extremities," the statement said.

Russian media originally reported that Lesin, a former government minister, had suffered a heart attack. ..."

http://www.nbcnews.com/news/world/mikhail-lesin-ex-putin-aide-died-blunt-force-trauma-washington-n536456

______________________________________________________________

The mysterious and mounting deaths of Putin's allies turned critics

(excerpt)

"...the plot thickened late Thursday with one U.S. official apparently telling

The New York Times that [Mikhail] Lesin's wounds came from an altercation that happened before he staggered back to his hotel room that night.

On Friday, Radio Free Europe/Radio Liberty uncovered another wrinkle, reporting that Lesin had confirmed his attendance at an event in the U.S. capital 48 hours earlier, but he never showed. ..."

https://web.archive.org/save/http://mashable.com/2016/03/11/mysterious-deaths-of-putin-critics/#bxKNiIpdlsqw

______

Backup link to NY Times article:
https://web.archive.org/web/20171126103233/https://www.nytimes.com/2016/03/11/us/former-putin-aide-found-in-washington-died-from-blows-to-head.html?smid=nytcore-iphone-share&smprod=nytcore-iphone&_r=0

Backup link to Radio Free Europe/Radio Liberty article:
https://web.archive.org/web/20171126104000/https://www.rferl.org/a/russia-lesin-mysterious-death-key-facts/27604577.html

_________________________________________

The following article is from December (2014)

"Mikhail Lesin has stepped down as head of major state-controlled media holding Gazprom-Media, the company said late last week.

Gazprom-Media, whose holdings include independent radio station Ekho Moskvy, said Lesin's resignation was due to family reasons, Russian media reports said Friday.

The holding's board of directors will finalize his resignation at an upcoming meeting, Gazprom-Media was cited by Ekho Moskvy as saying. No replacement has been named.

Earlier, a flurry of reports of Lesin's imminent resignation appeared on Russian news wires, all based on undisclosed sources and giving divergent accounts of the motive.

Forbes Russia cited sources in the media and government as confirming the resignation, with one of the individuals claiming that the decision was made personally by President Vladimir Putin."

http://www.themoscowtimes.com/article/513690.html
_________________________________________________________________

"When he [Mikhail Lesin] quit Gazprom Media in December [2014], a move seen as a shock, he cited 'family reasons' although there were unconfirmed claims he had fallen out with other influential figures close to Putin. ..."

http://www.dailymail.co.uk/news/article-3315994/Vladimir-Putin-s-media-mastermind-dead-DC-hotel-murdered-FBI-informant-alive-claim-Russians.html
______________________________________________________

" [RT (Russia Today) founder, [Mikhail] Lesin was a central figure in the early Putin years, spearheading the Kremlin's effort to silence the country's independent television, the first step in the consolidation of authoritarian rule.

The first target was NTV, at that time Russia's largest and most popular independent TV channel, whose hard-hitting news broadcasts, talk shows, and satirical programs criticized the government over growing corruption and the war in Chechnya and gave airtime to the opposition.

In June 2000, a month after Putin's inauguration, NTV's founder and majority shareholder, Vladimir Gusinsky, was arrested and placed in Moscow's infamous Butyrka prison.

While he was there, the information minister made an offer: Gusinsky could have his freedom if he agreed to transfer his media holdings to Gazprom, the state-owned energy monopoly. ..."

http://www.worldaffairsjournal.org/blog/vladimir-kara-murza/ominous-return-putins-media-enforcer

_________________________________________________________________________________________

FBI uncovered Russian bribery plot before Obama administration approved controversial nuclear deal with Moscow

John Solomon and Alison Spann
Oct 17, 2017

Before the Obama administration approved a controversial deal in 2010 giving Moscow control of a large swath of American uranium, the FBI had gathered substantial evidence that Russian nuclear industry officials were engaged in bribery, kickbacks, extortion and money laundering designed to grow Vladimir Putin's atomic energy business inside the United States, according to government documents and interviews.

Federal agents used a confidential U.S. witness working inside the Russian nuclear industry to gather extensive financial records, make secret recordings and intercept emails as early as 2009 that showed Moscow had compromised an American uranium trucking firm with bribes and kickbacks in violation of the Foreign Corrupt Practices Act, FBI and court documents show.

They also obtained an eyewitness account — backed by documents — indicating Russian nuclear officials had routed millions of dollars to the U.S. designed to benefit former President Bill Clinton's charitable foundation during the time Secretary of State Hillary Clinton served on a government body that provided a favorable decision to Moscow, sources told The Hill.

The racketeering scheme was conducted "with the consent of higher level officials" in Russia who "shared the proceeds" from the kickbacks, one agent declared in an affidavit years later.

Rather than bring immediate charges in 2010, however, the Department of Justice (DOJ) continued investigating the matter for nearly four more years, essentially leaving the American public and Congress in the dark about Russian nuclear corruption on U.S. soil during a period when the Obama administration made two major decisions benefiting Putin's commercial nuclear ambitions. ..."

http://thehill.com/policy/national-security/355749-fbi-uncovered-russian-bribery-plot-before-obama-administration

---

Intermediary Who Facilitated Corrupt Payments to a Russian Nuclear Energy Official Sentenced for Money Laundering Conspiracy

A New Jersey businessman was sentenced to a year and one day in prison for Conspiracy to Commit Money Laundering in connection with his role in arranging corrupt payments to influence the awarding of contracts with the Russian state-owned nuclear energy corporation.

The sentence was announced by Acting Assistant Attorney General Kenneth A. Blanco, Acting U.S. Attorney Stephen M. Schenning for the District of Maryland; Special Agent in Charge Angela Sigler of the U.S. Department of Energy Office of Inspector General (DOE-OIG); and Assistant Director in Charge Andrew G. Vale of the FBI's Washington Field Office.

Boris Rubizhevsky, 67, of Closter, New Jersey was sentenced by U.S. District Judge Theodore D. Chuang to 12 months and one day in prison, followed by three years of supervised release. The defendant was also ordered to forfeit $26,500. Rubizhevsky pleaded guilty on June 15, 2015, to conspiracy to commit money laundering.

According to court documents, Rubizhevsky acted as an intermediary in connection with corrupt payments to co-conspirator Vadim Mikerin, the former director of the Pan American Department of JSC Techsnabexport (TENEX), a subsidiary of Russia's State Atomic Energy Corporation and the sole supplier and exporter of Russian Federation uranium and uranium enrichment services to nuclear power companies worldwide.

According to court documents, between October 2011 and February 2013, Rubizhevsky and Mikerin agreed to conceal corrupt payments being made from the United States to overseas bank accounts for the benefit of Mikerin, including a payment to a foreign bank account located in Latvia. Rubizhevsky admitted that the conspirators used sham consulting agreements to disguise the corrupt payments.

Mikerin previously admitted that he conspired with Rubizhevsky and others to transmit more than $2 million from Maryland, and elsewhere in the United States, to offshore shell company bank accounts located in Cyprus, Latvia and Switzerland with the intent to promote violations of the Foreign Corrupt Practices Act. Mikerin pleaded guilty to money laundering conspiracy in August 2015, and was sentenced in December 2015 to 48 months in prison for his role in the money laundering scheme.

The DOE-OIG and FBI investigated the case. Assistant Chiefs Christopher Cestaro and Ephraim Wernick and Trial Attorney Derek Ettinger of the Criminal Division's Fraud Section and Assistant U.S. Attorneys David I. Salem and Michael T. Packard of the District of Maryland prosecuted the case.

https://www.justice.gov/opa/pr/intermediary-who-facilitated-corrupt-payments-russian-nuclear-energy-official-sentenced-money

____________________________________________________________________________________________

Democrats intentionally used disinformation from Russia to attack Trump, campaign aides

By Rowan Scarborough

The Washington Times

July 11, 2017

While the mainstream news media hunts for evidence of Trump-Russia collusion, the public record shows that Democrats have willfully used Moscow disinformation to influence the presidential election against Donald Trump and attack his administration.

The disinformation came in the form of a Russian-fed dossier written by former British intelligence agent Christopher Steele. It contains a series of unverified criminal charges against Mr. Trump's campaign aides, such as coordinating Moscow's hacking of Democratic Party computers.

Some Democrats have widely circulated the discredited information. Mr. Steele was paid by the Democrat-funded opposition research firm Fusion GPS with money from a Hillary Clinton backer. Fusion GPS distributed the dossier among Democrats and journalists. The information fell into the hands of the FBI, which used it in part to investigate Mr. Trump's campaign aides.

Mr. Steele makes clear that his unproven charges came almost exclusively from sources linked to the Kremlin and Russian President Vladimir Putin. He identified his sources as "a senior Russian Foreign Ministry figure," a former "top level Russian intelligence officer active inside the Kremlin," a "senior Kremlin official" and a "senior Russian government official."

The same Democrats who have condemned Russia's election interference via plying fake news and hacking email servers have quoted freely from the Steele anti-Trump memos derived from creatures of the Kremlin.

In other words, there is public evidence of significant, indirect collusion between Democrats and Russian disinformation..."

Continued at source...

http://www.washingtontimes.com/news/2017/jul/11/democrats-spread-false-russian-information-on-trum/

Or,

https://web.archive.org/web/20170729142038/http://www.washingtontimes.com/news/2017/jul/11/democrats-spread-false-russian-information-on-trum/

____________________________________________________________________________________________

Sen. D'Amato Drops Bomb: Hillary Allowed Russia to Take Ownership of US Uranium to Sell to Iran

Jim Hoft

Jul 3rd, 2016

Former Senator Al D'Amato (R-NY) dropped a bomb on Sunday Morning Futures this AM. D'Amato told Maria Bartiromo that Hillary allowed Russia to take ownership of US uranium so they could sell it to Iran.

Hillary made it possible for the Russians to take control of one of our huge uranium producers and allow them to own the company, export the uranium and who do they sell the uranium to? Iran!

Now if people knew that and that the foundation as a result of that got $135 million. I think people would start saying, "What?"

It's true.
In January 2013, Pravda celebrated the Russian atomic energy agency's purchase of the company "Uranium One" in Canada.

That same company, Uranium One, owned uranium concessions in the United States. Because uranium is a strategically important commodity, the Russians would need approval from the Obama administration, including Hillary's State Department, before the purchase took place.

Nine shareholders in Uranium One just happened to provide more than $145 million in donations to the Clinton Foundation in the run-up to State Department approval.

The Clintons took the cash from Uranium One officials before the deal was approved by Hillary Clinton's State Department. The Clintons hid the donations which is a clear violation of the Memorandum of Understanding Hillary Clinton signed with the Obama administration wherein she promised and agreed to publicly disclose all donations during her tenure as Secreatary of State. (Via Breitbart)

The New York Times reported on the crooked deal in 2015.

As the Russians gradually assumed control of Uranium One in three separate transactions from 2009 to 2013, Canadian records show, a flow of cash made its way to the Clinton Foundation. Uranium One's chairman used his family foundation to make four donations totaling $2.35 million. Those contributions were not publicly disclosed by the Clintons, despite an agreement Mrs. Clinton had struck with the Obama White House to publicly identify all donors. Other people with ties to the company made donations as well.

And then there's this...

Senator John Barrasso (R-WY) told Greta Van Susteren the deal Hillary approved gave Putin ownership of 20 percent of US uranium and Russia sells uranium to unfriendly countries, including Iran.

https://www.thegatewaypundit.com/2016/07/senator-damato-drops-bomb-hillary-allowed-russia-take-ownership-us-uranium-sell-iran-video/

______________________________________________________________

Obama allowing Iran to purchase uranium from Russia

Daniel Horowitz | January 10, 2017

Remember those side deals Obama forged with Iran that were not part of the text of the official treaty? Now we are finding out some of the details.

Yesterday, the Washington Free Beacon reported that Iranian officials confirmed they have received at least $10 billion in cash, commodities, and assets from Washington since 2013. And that is likely a conservative estimate.

But cash is not the only thing the Islamic Republic of Iran is receiving for gracing us with their willingness to sign onto our own capitulation.

The AP is reporting that Russia, with the support of President Obama, is shipping Iran 116 metric tons of natural uranium.

While Iranian officials have obviously declined to disclose the use of such uranium, AP notes that this is enough to enrich weapons-grade uranium for nuclear bombs:

"Despite present restrictions on its enrichment program, however, the amount of natural uranium is significant should Iran decide to keep it in storage, considering its potential uses once some limits on Tehran's nuclear activities start to expire in less than a decade.

David Albright, whose Institute of Science and International Security often briefs U.S. lawmakers on Iran's nuclear program, says the shipment could be enriched to enough weapons-grade uranium for more than 10 simple nuclear bombs, "depending on the efficiency of the enrichment process and the design of the nuclear weapon." ..."

See more at:
https://www.conservativereview.com/commentary/2017/01/obama-allowing-iran-to-purchase-uranium-from-russia-will-tillerson-reverse-course#sthash.guYPvONI.dpuf

____________________________________________________________________

Aug 2015




____________________________________________________________________

Who's in Putin's Pocket — Clinton or Trump? (Clinton Uranium RussiaGate scandal)

The New American ^

| August 3, 2016 | William F. Jasper

"according to some calculations, the Uranium One deal, involving top Clinton donors Frank Guistra and Ian Telfer, has transferred as much as 50 percent of projected American uranium production to Kremlin control."

***********************************************

RUSSIAGATE

Who paid Bill Clinton's $2.5 million commission & $500,000 speaking fee (US uranium to Russia)

qura.com ^

| July 27, 2016 | Sierra Spaulding

Who paid Bill Clinton's $2.5 million commission and $500k speaking fee for brokering the sale of 20% of America's uranium deposits to Russia?

You are speaking about a really interesting deal that ended up giving Vladimir Putin and the Russians control of one-fifth of all uranium production capacity in the United States.

Since uranium is considered a strategic asset, with implications for national security, the deal had to be approved by a committee composed of representatives from a number of United States government agencies. ..."


_______________________________________________________________________

John Podesta's Payoff for Helping Hillary Give American Military Technology to Russia's Putin

TheNewAmerican.com ^

| October, 2016 | Bob Adelmann

As part of just-inaugurated President Obama's new foreign policy to improve relations between the United States and Russia, then-Secretary of State Hillary Clinton met with Russia's Foreign Minister Sergei Lavrov in March 2009. Meeting in her hotel's Salon Panorama in Geneva, she presented him with a small gift box containing a bright red button symbolizing the Obama administration's desire to "reset" the relationship between the two governments.

Thus began an effort to transfer American technology to Russian President Vladimir Putin's own "Silicon Valley," called Skolkovo.

In a report released in late July by the Government Accountability Institute (GAI) entitled From Russia With Money, authors Stephen Bannon and Peter Schweitzer reviewed the long sordid history of the technology transfer from companies such as Google, Intel, and Cisco of hi-tech technology with useful military applications.

The report quoted warnings from the FBI and the U.S. Army Foreign Military Studies Program at Fort Leavenworth that the transfer would work against American interests. Warned the U.S. Army:

[The "reset" would serve as] a vehicle for world-wide technology transfers to Russia in the areas of information technology, biomedicine, energy, satellite and space technology, and nuclear technology.

It was clearly a "quid pro quo" arrangement: 17 of the 28 companies involved in the technology transfer gave millions of dollars to the Clinton Foundation or to Bill Clinton for giving some speeches.

When those authors, both of whom are affiliated with Breitbart News, summed up their conclusions, one question remained: "The GAI investigative report says it's unclear how much, if any, money [John] Podesta made." Podesta, having served the Clintons for years, first as chief of staff to President Bill Clinton and then as counselor to President Obama and finally as Hillary's campaign chairman, deserved a payoff.

But it wasn't clear until the latest batch of e-mails provided by WikiLeaks went public last week that Americans now know. For his efforts Podesta received thousands of shares of common and preferred stock in one of the companies involved in the transfer. The fact came to light when WikiLeaks published e-mails Podesta sent to the company ordering it to transfer his shares to a shell corporation he had created a month earlier.

The e-mails included a letter Podesta wrote to the corporate secretary of that company instructing him to retitle 33,693 shares of preferred stock to Leonidio Holdings, LLC, a corporation that Podesta (or one of his staff) created using a Corporation Service Company to hide the shares from public view.

The company that gave Podesta the stock shares, Joule Unlimited, claims to be a producer of "alternative" energy technology that will eventually be able to produce energy that will be competitive with oil priced at $50 a barrel. It was a recipient of millions of Putin's rubles as one of the gang of companies working to transfer American technology to Russia, one of America's enemies.

As Schweizer told the New York Post in an interview in July:

The Clintons, they get their donations and speaking fees in the millions of dollars. The Russians get access to advanced US technology. The tech companies get special access to the Russian market and workforce….

All I ask is that people look at the money. Who made the deals, who benefited from the deals?

Thanks to WikiLeaks the "people" now know the name of at least one of those who participated in the deals and how he benefited from them: John Podesta, Hillary's campaign manager.


_______________________________________________________________________

Oct 2016

WikiLeaks Show How Clinton Campaign Chair John Podesta Became 'Business Partners with Vladimir Putin'

"...WikiLeaks emails provide proof that the "Clintons have a long and lucrative history of financial deals with the Russians, particularly with the Russian government."

Schweizer explained the "deep ties" the Clintons have to Russia, specifically how in 2010 then-Secretary of State Hillary Clinton approved the sale and transfer of 20% of U.S. uranium output to the Russian government ..."

http://www.breitbart.com/big-government/2016/10/22/schweizer-wikileaks-show-clinton-campaign-chair-john-podesta-became-business-partners-vladimir-putin/

===========================================================================================================================

May 2018...

"President Trump's announcement Tuesday that the U.S. will withdraw from the Iran nuclear deal and reimpose economic sanctions in 90 days delivers a death blow to a deeply flawed agreement approved in 2015 by President Obama and representatives of other nations..."

https://www.foxnews.com/opinion/trump-killing-deeply-flawed-iran-deal-is-the-right-move

==================================================================

Aug 2015

___________________________________________________________

Donald Trump: 'Putin has eaten Obama's lunch, therefore our lunch, for a long period of time'

Mar 13, 2014

Eun Kyung Kim: TODAY SHOW (NBC)

Donald Trump slammed President Obama Thursday on TODAY for failing to take a stronger line against President Vladimir Putin in dealing with Ukraine, saying he feared Obama would now make up for lost time with imprudent moves to "show his manhood."

The real estate mogul and reality-TV star, who has criticized Putin for sending military troops into Crimea, said Obama must now take fierce steps to prevent the situation from escalating further.

"We should definitely do sanctions and we have to show some strengths. I mean, Putin has eaten Obama's lunch, therefore our lunch, for a long period of time," Trump said. ..."

http://www.today.com/news/donald-trump-putin-has-eaten-obamas-lunch-ukraine-2D79372098
_______________________________________________

Here's the interview w/ Matt Lauer on YouTube...

Donald Trump (2014): 'Vladimir Putin Has Eaten Obama's Lunch':
https://www.youtube.com/watch?v=IzURUENf1ns
_______________________________________________

Mike Pence on Putin and Russia:

(from the VP debate on Oct 5, 2016)

"When Donald Trump and I observe that, as I've said, in Syria, in Iran, in Ukraine, that the small and bullying leader of Russia has been stronger on the world stage than this administration, that's stating painful facts. That's not an endorsement of Vladimir Putin — that's an indictment of the weak and feckless leadership of Hillary Clinton and Barack Obama." ..."

What we're dealing with is the — you know, there's an old proverb that says the Russian bear never dies, it just hibernates.

And the truth of the matter is, the weak and feckless foreign policy of Hillary Clinton and Barack Obama has awakened an aggression in Russia that first appeared a few years ago with their move in Georgia, now their move into Crimea, now their move into the wider Middle East.


____________________________________________________________________________________________

JULY 2017...

Trump, in Warsaw Speech, Criticizes Russia's 'Destabilizing' Role in Ukraine, Syria

The president also reaffirmed his commitment to NATO's mutual-defense pact

Jul 6, 2017

President Trump called Russia a "destabilizing" influence in Europe and the Middle East, and urged it to "join the community of responsible nations," in his strongest remarks yet against the regime of Vladimir Putin, whom he is scheduled to meet Friday in Hamburg for the first time.

His remarks in Warsaw's Krasinski Square, which marks the 1944 Warsaw uprising against the Nazis, came after the U.S. agreed to sell Patriot missiles to Poland. The president also used the opportunity to reiterate the NATO commitment to mutual defense, a declaration he did not make during the NATO summit in May, prompting consternation among U.S. allies wary of Russia's ambitions.

"To those who would criticize our tough stance, I would point out that the United States has demonstrated—not merely with its words but with its actions—that we stand firmly behind Article 5, the mutual-defense commitment," Trump said Thursday. "Words are easy, but actions are what matters. And for its own protection, Europe, and you know this, everybody knows this, everybody has to know this, Europe must do more."

Trump has repeatedly said NATO members must spend more on defense—a position in line with past U.S. administrations. But he has been criticized because he appeared to suggest U.S. commitment to mutual defense was predicated on its allies' defense spending. ..."

https://www.theatlantic.com/news/archive/2017/07/trump-russia/532761/

_______________________________________________________________________________

Feb 9, 2017:

Exclusive: In call with Putin, Trump denounced Obama-era nuclear arms treaty [New Start Treaty] - sources

By Jonathan Landay and David Rohde

February 9, 2017

WASHINGTON (Reuters) - In his first call as president with Russian leader Vladimir Putin, Donald Trump denounced a treaty that caps U.S. and Russian deployment of nuclear warheads as a bad deal for the United States, according to two U.S. officials and one former U.S. official with knowledge of the call.

When Putin raised the possibility of extending the 2010 treaty, known as New START, Trump paused to ask his aides in an aside what the treaty was, these sources said.

Trump then told Putin the treaty was one of several bad deals negotiated by the Obama administration, saying that New START favored Russia. ..."

https://www.yahoo.com/news/exclusive-call-putin-trump-denounced-obama-era-nuclear-171036908.html?ref=gs

or,

https://web.archive.org/web/20170209182918/https://www.yahoo.com/news/exclusive-call-putin-trump-denounced-obama-era-nuclear-171036908.html?ref=gs

____________________________________________________________________________________________

Trump says NATO is obsolete but still 'very important to me'

January 16, 2017

LONDON (Reuters) - U.S. President-elect Donald Trump said NATO was obsolete because it had not defended against terror attacks, but that the military alliance was still very important to him, The Times of London reported.

"I took such heat, when I said NATO was obsolete," Trump told the newspaper in an interview. "It's obsolete because it wasn't taking care of terror. I took a lot of heat for two days. And then they started saying Trump is right."

Trump added that many NATO members were not paying their fair share for U.S. protection.

"A lot of these countries aren't paying what they're supposed to be paying, which I think is very unfair to the United States," Trump said. "With that being said, NATO is very important to me. There's five countries that are paying what they're supposed to. Five. It's not much."

https://www.yahoo.com/news/trump-says-nato-obsolete-still-very-important-004548554—finance.html?ref=gs

____________________________________________________________________________________________

NATO head: Trump's tough talk has added $100B to alliance, helped deter Russia

FoxNews.com ^

| Jan 27, 2019 | Gregg Re | Fox News

"President Trump has been very clear," Stoltenberg told fill-in host John Roberts.

"He is committed to NATO. He stated that clearly just a few days ago and also at the NATO summit in July.

But at the same time, he has clearly stated that NATO allies need to invest more. And therefore at the summit in July last year, we agreed to do more to step up -- and now we see the results."

In all, Stolenberg continued, "by the end of next year, NATO allies will add hundred – 100 billion extra US dollars toward defense. So we see some real money and some real results. And we see that the clear message from President Donald Trump is having an impact."

In July 2018, NATO leaders pledged their "unwavering commitment" to boost defense spending, following stern words from the president. The U.S. and European allies signed a declaration stating they were "committed to improving the balance of sharing the costs and responsibilities of alliance membership."


(Excerpt) Read more at foxnews.com ...


____________________________________________________________________________________________

March, 2019

Pentagon Eyes Windfall as Trump Seeks $750 Billion Defense Budget

The White House's annual budget request would give the Defense Department even more than it hoped for

The Pentagon is getting everything it asked for in the White House's annual budget request—and then some.

U.S. President Donald Trump will submit a budget to Congress on Monday that includes a sizable $750 billion for fiscal year 2020 for national defense spending, of which $718 billion will go to the Pentagon, a U.S. defense official confirmed to Foreign Policy.

https://foreignpolicy.com/2019/03/10/pentagon-eyes-windfall-as-trump-seeks-750-billion-defense-budget-military/

____________________________________________________________________________________________

"As president, my first duty is the defense of our country. I will accept nothing less for our nation than the most effective, cutting-edge missile defense systems."

-- President Donald J. Trump

_________________________________________________________________

Strong Missile Shield Protects U.S., Allies

By David Vergun, Defense.gov, Jan. 17, 2019

WASHINGTON --

President Donald J. Trump, Vice President Michael R. Pence and Acting Defense Secretary Patrick M. Shanahan announced the release of the 2019 Missile Defense Review today at the Pentagon.

The MDR is the last of four strategic guidance documents that Trump directed the national security establishment to create to better guide decision-making on critical defense policy issues.

The MDR is essentially a policy framework that emphasizes the priority of protection for the nation against emerging and future rogue states' missile threats, and calls for robust regional missile defense for U.S. forces abroad and allies and partners against all potential adversaries.

For a number of years now, potential adversaries like Iran and North Korea, have been developing and testing new missiles, such as advanced cruise missiles, intercontinental ballistic missiles and hypersonic weapons, while the U.S. has lagged in enhancing its own missile defense systems.

The MDR addresses those threats. To counter a potential threat from North Korea, it will strengthen the defense of the nation against the ICBMs they've developed. Trump has directed a 50 percent increase in homeland defense interceptors — from 44 to 64 — and supporting radars. These interceptors can also defend the homeland against an Iranian ICBM threat should it materialize.

The MDR also seeks to counter the regional missile threat to U.S. and ally forces posed by Russia and China's increasing number and types of short, medium and intermediate- range missiles, to include hypersonic and advanced cruise missiles. The review calls for a layered approach that includes integrated air and missile defense, cooperation with allies, increased numbers of missile defense interceptors, and new technologies for intercepting advanced threats.

To ensure that the U.S. stays ahead of these threats, the MDR calls for pursuing advanced technologies and innovative concepts. Priority is given to space-based sensors to track missile threats and an emphasis is placed on intercepting missiles in the boost phase — just after launch — and utilizing directed energy weapons on unmanned aerial vehicles and modified air-to-air missiles carried by fighter aircraft.

Evolving Threat Environment

The current security environment is challenged by states such as North Korea and Iran, who are modernizing and expanding their offensive missile capabilities.

While a possible new avenue to peace with North Korea now exists, North Korea's capabilities continue to pose a significant threat to the United States and its allies. Over the past decade, North Korea, in addition to a vigorous nuclear testing program, worked aggressively to develop nuclear-armed ballistic missiles that can reach the continental U.S. as well as its allies and partners.

Additionally, Iran possesses the largest ballistic missile force in the Middle East and is modernizing and extending the range of its ballistic missile systems.

China and Russia are carrying out military modernization programs to increase the capabilities of their existing missile systems while adding new and sophisticated types of missiles to their arsenals, including hypersonic weapons and advanced cruise missiles.

Missile Defense Roles, Policy, Strategy

To address these evolving challenges to national security, the Defense Department is taking a comprehensive approach to prevent and defeat adversary missile attacks through a combination of deterrence, active and passive missile defense and offensive operations.

Within this framework a number of key policy principles will shape missile defense capability and posture:

— Develop and field missile defenses to stay ahead of the projected missile threats to the homeland from states such as North Korea and Iran.

— Rely on nuclear deterrence to address the large and sophisticated Russian and Chinese intercontinental missile capabilities.

— Missile defenses will continue to defend U.S. forces deployed abroad and support the security of allies and partners.

— Work with allies and partners to help them better defend themselves against the full range of regional missile threats from any potential missile armed adversary.

— Pursue new missile defense concepts and advanced technologies — including disruptive capabilities such as boost phase intercept — to address the pace and scope of evolving missile threats.

U.S. Missile Defense Programs and Capabilities

The MDR framework ensures that capabilities flow from policy to counter these threats, and the first priority remains to deploy a layered missile defense system to protect the U.S. and stay ahead of the rogue state ICBM threats.

Today, the U.S. is protected against the threat of a rogue state ICBM attack by the ground-based midcourse defense interceptors based in Alaska and California. The review calls for a number of improvements to the GMD system. These include:

— Expanding the GMD system with 20 additional GBI in Alaska, bringing the total to 64 fielded interceptors;

— Developing a new kill vehicle for the GBI;

— Improving the performance of existing sensors and deploying new missile tracking and discrimination sensors in Alaska and Hawaii; and

— Fielding a new space-based kill assessment capability.

To address the regional offensive missile threat the MDR focuses on:

— Strengthening regional missile defense posture through the deployment of additional Patriot, Terminal High Altitude Area Defense, and Aegis interceptor systems;

— Fielding mobile and relocatable missile defense capabilities to provide the flexibility to respond to evolving crises or conflicts;

— Improving the integration of regional ballistic missile and cruise missile defenses with offensive operations.

— Enhancing the interoperability of U.S. missile defenses with allies and partners to increase the overall effectiveness of collective capabilities.

In the future, DOD plans on improving missile defense capability on a number of fronts, including the development of space-based sensors and exploring options involving laser technology.

The Bottom Line

DOD looks to meet the growing risks and dangers from missile threats through a balanced and integrated approach that combines deterrence, active and passive missile defense, and offensive operations if, and only if, deterrence fails.

By doing so, DOD will meet the president's guidance to strengthen its ability to protect the nation, enhance deterrence, protect and assure allies and partners and hedge against future threats.

https://dod.defense.gov/News/Article/Article/1734259/strong-missile-shield-protects-us-allies/
___________________________________________________________________________________

"As president, my first duty is the defense of our country. I will accept nothing less for our nation than the most effective, cutting-edge missile defense systems."

-- President Donald J. Trump

___________________________________________________________________________________

Campaign trail, February 2008...

Obama Pledges Cuts in Missile Defense, Space, and Nuclear Weapons Programs

February 29, 2008 :: News
MissileThreat.com

A video has surfaced of Presidential candidate Senator Barack Obama talking on his plans for strategic issues such as nuclear weapons and missile defense.

The full text from the video, as released, reads as follows:

Thanks so much for the Caucus4Priorities, for the great work you've been doing. As president, I will end misguided defense policies and stand with Caucus4Priorities in fighting special interests in Washington.

First, I'll stop spending $9 billion a month in Iraq. I'm the only major candidate who opposed this war from the beginning. And as president I will end it.[not win it -etl]

Second, I will cut tens of billions of dollars in wasteful spending.

I will cut investments in unproven missile defense systems.

I will not weaponize space.

I will slow our development of future combat systems.

And I will institute an independent "Defense Priorities Board" to ensure that the Quadrennial Defense Review is not used to justify unnecessary spending.

Third, I will set a goal of a world without nuclear weapons. To seek that goal, I will not develop new nuclear weapons; I will seek a global ban on the production of fissile material; and I will negotiate with Russia to take our ICBMs off hair-trigger alert [they are NOT on "hair-trigger alert" now -etl], and to achieve deep cuts in our nuclear arsenals.

You know where I stand. I've fought for open, ethical and accountable government my entire public life. I don't switch positions or make promises that can't be kept. I don't posture on defense policy and I don't take money from federal lobbyists for powerful defense contractors. As president, my sole priority for defense spending will be protecting the American people. Thanks so much.

Article: Obama Pledges Cuts in Missile Defense, Space, and Nuclear Weapons Programs:
https://web.archive.org/web/20100526142854/http://missilethreat.com/archives/id.7086/detail.asp

"MissileThreat.com is a project of The Claremont Institute devoted to understanding and promoting the requirements for the strategic defense of the United States."


________________________________________________________________________________

"I will not weaponize space"

"I will cut investments in unproven missile defense systems"
_____________________________________________________________________________________

March 2012...

"Obama was talking with Russian President Dmitry Medvedev when neither of them realized that their conversation was being picked up by microphones.

Here is what they said:

Obama: "On all these issues, but particularly missile defense, this, this can be solved, but it's important for him to give me space."

Medvedev: "Yeah, I understand. I understand your message about space. Space for you ..."

Obama: "This is my last election. After my election, I have more flexibility."

Medvedev: "I understand. I will transmit this information to Vladimir."

"This is my last election. After my election I have more flexibility."

That statement tells us much about the president's mindset.

The specific mention of missile defense is worrisome enough.

Mr. Obama has retreated from the missile defense plan that was negotiated with European allies during the George W. Bush administration.

Apparently, he is signaling Moscow that he intends to retreat further. The clear implication from the president's comments is that he cannot tell the American people before the election what he plans to do after the election.

In addition, there is the phrase "on all these issues," implying more is at stake than just missile defense."

Article: Obama plans double cross on missile defense
When it comes to keeping America safe, we shouldn't be too flexible:
http://www.washingtontimes.com/news/2012/mar/29/obama-plans-double-cross-on-missile-defense/print/

____________________________________________________________________________________________

From Investor's Business Daily, Jan 2012:

Obama To Betray Missile Defense Secrets To Moscow

Investor's Business Daily ^

| January 9, 2012 | IBD staff

Appeasement: From ObamaCare to recess appointments, honoring the Constitution has not been an administration hallmark. But when it comes to betraying secrets to mollify the Russians, it becomes a document the president hides behind.

It was bad enough that the 2012 defense authorization bill signed by President Obama set America on a downward spiral of military mediocrity.

He also issued a signing statement, something he once opposed, saying that language in the bill aimed at protecting top-secret technical data on the U.S. Standard Missile-3 - linchpin of our missile defense - might impinge on his constitutional foreign-policy authority.

Section 1227 of the defense law prohibits spending any funds that would be used to give Russian officials access to sensitive missile-defense technology as part of a cooperation agreement without first sending Congress a report identifying the specific secrets, how they'd be used and steps to protect the data from compromise.

The president is required to certify that any technology shared will not be passed on to third parties such as China, North Korea or Iran, that the Russians will not use transferred secrets to develop countermeasures and that the Russians are reciprocating in sharing missile-defense technology. ..."

"In his signing statement, Obama said he would treat these legal restrictions as 'non-binding' and that 'my administration will also interpret and implement section 1244 (sic) in a manner that does not interfere with the president's constitutional authority to conduct foreign affairs and avoids the undue disclosure of sensitive diplomatic communications.'

Betraying our secrets is easy for a president who betrayed allies Poland and the Czech Republic to placate Moscow.

Poland was to host ground-based interceptors such as those we've deployed in California and Alaska, with missile-tracking radar deployed in the Czech Republic.

Obama pulled the plug when Moscow objected. Never mind, he said, we have a better approach: a four-phase plan that calls for using three versions of the Navy's Standard SM-3 interceptor missile that forms the backbone of its Aegis missile-defense system.

The fourth phase consists of a missile still on the drawing board scheduled for deployment by 2020, a version of the SM-3 called the Block IIB. It would intercept hostile missiles in the "early intercept" phase before an enemy missile could release its warheads and decoys. The Russians want the SM-3's secrets, and Obama appears to be willing to turn them over.

The president [Obama] wants to save the New Start Treaty, which the Russians have threatened to abandon if we try to fully implement President Reagan's dream of defeating a nuclear missile attack.

Russia has unilaterally asserted that any qualitative or quantitative improvement in U.S. missile defenses would be grounds for withdrawal from the treaty.

Read More At Investor's Business Daily:
http://news.investors.com/ibd-editorials/010912-597158-obama-gives-russia-missile-defense-secrets.htm#ixzz3jXmMbVwY

____________________________________________________________________________________________

Mike Pence on Putin and Russia:

(from the VP debate on Oct 5, 2016)

"When Donald Trump and I observe that, as I've said, in Syria, in Iran, in Ukraine, that the small and bullying leader of Russia has been stronger on the world stage than this administration, that's stating painful facts. That's not an endorsement of Vladimir Putin — that's an indictment of the weak and feckless leadership of Hillary Clinton and Barack Obama." ..."

What we're dealing with is the — you know, there's an old proverb that says the Russian bear never dies, it just hibernates.

And the truth of the matter is, the weak and feckless foreign policy of Hillary Clinton and Barack Obama has awakened an aggression in Russia that first appeared a few years ago with their move in Georgia, now their move into Crimea, now their move into the wider Middle East.


____________________________________________________________________________________________

______________________________________________________

______________________________________________________

From 2014-2015...

How Russia arms America's southern neighbors

Ioan Grillo

May 9, 2014

RIO DE JANEIRO, Brazil -- Russia's push into Ukraine has put many on edge. But less known is that Russia is also strengthening its military links south of the Rio Grande and re-establishing itself as a power in the region.

Vladimir Putin has been strengthening military links here, and Russia is now the largest arms dealer to governments in Latin America, surpassing the United States.

Russia has even floated the possibility of building new military bases in Cuba, Venezuela and Nicaragua, and putting its warships permanently in the Caribbean.

In the midst of the Ukraine crisis, Russia's top diplomat Sergei Lavrov recently visited Cuba, Peru, Chile, and Nicaragua, where he announced that Russia would also pour money into the new Central American canal project. ..."

http://www.globalpost.com/dispatch/news/regions/americas/140508/russian-arms-military-trade-latin-america
___________________________________________________

Russia Boosts Arms, Training for Leftist Latin Militaries

Moscow defense minister inks deals with Cuba, Venezuela, Nicaragua for joint exercises

BY: Bill Gertz
February 20, 2015

Russia agreed to provide military training for three leftist regimes in Latin America and increase military visits and exercises following a visit last week to the region by Moscow's Defense Minister Sergei Shoygu, Pentagon officials said.

Shoygu met with defense and military leaders in Cuba, Venezuela, and Nicaragua and signed several agreements on warship visits and military training during the visit, which ran from Feb. 11 to 14. It is not clear whether any new arms deals were completed during the visit.

Defense officials said the Russian leader is seeking bases in the region for strategic bomber flights that Shoygu recently promised would include flights over the Gulf of Mexico and Caribbean.

http://freebeacon.com/national-security/russia-boosts-arms-training-for-leftist-latin-militaries/

_____________________________________________________________________________________

KGB Putin very much wants a 'unified Korea'...under communist NK rule...

________________________________

Russia and North Korea declare 2015 a 'year of friendship'

"The biggest cause for concern is the growing military alliance between Russia and North Korea, with the two regimes recently announcing plans to conduct a

series of joint army, navy and air force exercises this year

."

http://www.telegraph.co.uk/news/worldnews/asia/northkorea/11463265/Russia-and-North-Korea-declare-2015-a-year-of-friendship.html

________________________________________________________________________________

Russia steps up North Korea support to constrain US

May 17, 2017

"Despite efforts by the United Nations to impose isolating sanctions on North Korea in response to the country's continued development of nuclear weapons and intercontinental ballistic missiles, trade between Russia and North Korea soared more than 85 percent in the first four months of the year."

http://www.dw.com/en/russia-steps-up-north-korea-support-to-constrain-us/a-38867861

__________________________________________________________

Sept 5, 2017

North Korea nuclear crisis: Putin calls sanctions useless

Russian President Vladimir Putin has said pursuing further sanctions against North Korea is "useless", saying "they'd rather eat grass than give up their nuclear programme".

The US said on Monday it would table a new UN resolution on tougher sanctions in the wake of the latest test of a nuclear bomb by the North on Sunday.

Mr Putin also said that the ramping up of "military hysteria" could lead to global catastrophe.

He said diplomacy was the only answer.

China, the North's main ally, has also called for a return to negotiations. ..."

http://www.bbc.com/news/world-asia-41158281

_____________________________________________________

From the Sino-Russian Joint Statement of April 23, 1997:
"The two sides [China and Russia] shall, in the spirit of partnership, strive to promote the multipolarization of the world and the establishment of a new international order."

http://www.atimes.com/atimes/Central_Asia/HI29Ag01.html
_____________________________________________________

"Joint war games are a logical outcome of the Sino-Russian Friendship and Cooperation Treaty signed in 2001, and reflect the shared worldview and growing economic ties between the two Eastern Hemisphere giants."

http://www.heritage.org/research/commentary/2005/09/war-games-russia-china-grow-alliance

================================================================================================

FLASHBACK: Campaign trail, February 2008...

Obama Pledges Cuts in Missile Defense, Space, and Nuclear Weapons Programs

February 29, 2008 :: News
MissileThreat.com

A video has surfaced of Presidential candidate Senator Barack Obama talking on his plans for strategic issues such as nuclear weapons and missile defense.

The full text from the video, as released, reads as follows:

Thanks so much for the Caucus4Priorities, for the great work you've been doing. As president, I will end misguided defense policies and stand with Caucus4Priorities in fighting special interests in Washington.

First, I'll stop spending $9 billion a month in Iraq. I'm the only major candidate who opposed this war from the beginning. And as president I will end it.[not win it -etl]

Second, I will cut tens of billions of dollars in wasteful spending.

I will cut investments in unproven missile defense systems.

I will not weaponize space.

I will slow our development of future combat systems.

And I will institute an independent "Defense Priorities Board" to ensure that the Quadrennial Defense Review is not used to justify unnecessary spending.

Third, I will set a goal of a world without nuclear weapons. To seek that goal, I will not develop new nuclear weapons; I will seek a global ban on the production of fissile material; and I will negotiate with Russia to take our ICBMs off hair-trigger alert [they are NOT on "hair-trigger alert" now -etl], and to achieve deep cuts in our nuclear arsenals.

You know where I stand. I've fought for open, ethical and accountable government my entire public life. I don't switch positions or make promises that can't be kept. I don't posture on defense policy and I don't take money from federal lobbyists for powerful defense contractors. As president, my sole priority for defense spending will be protecting the American people. Thanks so much.

Article: Obama Pledges Cuts in Missile Defense, Space, and Nuclear Weapons Programs:
https://web.archive.org/web/20100526142854/http://missilethreat.com/archives/id.7086/detail.asp

"MissileThreat.com is a project of The Claremont Institute devoted to understanding and promoting the requirements for the strategic defense of the United States."


________________________________________________________________________________

"I will not weaponize space"

"I will cut investments in unproven missile defense systems"
_____________________________________________________

Also from 2008...

2008 Pentagon Report (March 2008):
China's Growing Military Space Power
By Leonard David
Special Correspondent, SPACE.com
March 6, 2008

GOLDEN, Colorado — A just-released Pentagon report spotlights a growing U.S. military concern that China is developing a multi- dimensional program to limit or prevent the use of space-based assets by its potential adversaries during times of crisis or conflict.

Furthermore, last year's successful test by China of a direct-ascent, anti-satellite (ASAT) weapon to destroy its own defunct weather satellite, the report adds, underscores that country's expansion from the land, air, and sea dimensions of the traditional battlefield into the space and cyber-space domains.

Although China's commercial space program has utility for non- military research, that capability demonstrates space launch and control know-how that have direct military application. Even the Chang'e 1 — the Chinese lunar probe now circling the Moon — is flagged in the report as showcasing China's ability "to conduct complicated space maneuvers — a capability which has broad implications for military counterspace operations."

To read the entire publication [29.67MB/pdf], see U.S. Dept of Defense:
http://www.defenselink.mil/pubs/pdfs/China_Military_Report_08.pdf
_____________________________________________________

On the Russia-ChiCom front...

Obama: "We Welcome China's Rise"

CBS News ^

| January 19, 2011 | Stephanie Condon

______________________________________________________________

____________________________________________________________________

From the Sino-Russian Joint Statement of April 23, 1997:
"The two sides [China and Russia] shall, in the spirit of partnership, strive to promote the multipolarization of the world and the establishment of a new international order."

http://www.atimes.com/atimes/Central_Asia/HI29Ag01.html
_____________________________________________________

"Joint war games are a logical outcome of the Sino-Russian Friendship and Cooperation Treaty signed in 2001, and reflect the shared worldview and growing economic ties between the two Eastern Hemisphere giants."

http://www.heritage.org/research/commentary/2005/09/war-games-russia-china-grow-alliance
_____________________________________________________

Obama, from the 2008 campaign trail...

"I will not weaponize space"

"I will cut investments in unproven missile defense systems"

=========================================================

Pentagon says China, Russia developing satellite-killing lasers

FoxNews.com ^

| Feb 13, 2019 | PCmag

China and Russia are likely building high-powered lasers that can shoot down US satellites, according to a new Pentagon report.

Both countries are developing an arsenal of anti-satellite weaponry including missiles, cyber attacks, and "directed energy weapons," according to the US Defense Intelligence Agency.

On Monday, the agency released an unclassified report on the security threat to the US's dominance in space.

It calls out both China and Russia as two countries with the technological prowess to take down US communication and navigational satellites, which could cause mayhem for businesses and the military.

The threat may sound far-fetched. But not to the Pentagon; the agency's report lays out all the different ways Beijing and Moscow could attack US satellites in order to win future wars.

China, for instance, is attempting to become a "space power" that's focused on exploration and defense, according to the DIA.


(Excerpt) Read more at foxnews.com ...


__________________________________________________________________________________

China, Russia Building Super-EMP Bombs for 'Blackout Warfare'

Report reveals electromagnetic war scenarios

BY: Bill Gertz
January 24, 2019

Several nations, including China and Russia, are building powerful nuclear bombs designed to produce super-electromagnetic pulse (EMP) waves capable of devastating all electronics—from computers to electric grids—for hundreds of miles, according to a newly-released congressional study.

A report by the now-defunct Commission to Assess the Threat to the United States from EMP Attack, for the first time reveals details on how nuclear EMP weapons are integrated into the military doctrines of China, Russia, North Korea, and Iran.

The report discloses how those states could use EMP attacks in theaters of battle in the Middle East, Far East, Europe, and North America.

"Nuclear EMP attack is part of the military doctrines, plans, and exercises of Russia, China, North Korea, and Iran for a revolutionary new way of warfare against military forces and civilian critical infrastructures by cyber, sabotage, and EMP," the report states. ..."

https://freebeacon.com/national-security/china-russia-building-super-emp-bombs-for-blackout-warfare/

__________________________________________________________________________________

NEWLY ADDED!! (May 15, 2019)

From 2018

Senior Chinese General in Russia for SCO Peace Mission 2018 Counterterror Exercises

Li Zuocheng, the chief of the Chinese Central Military Commission's Joint Staff Department, is in Russia

By Ankit Panda
August 29, 2018

General Li Zuocheng of the Chinese People's Liberation Army (PLA) is in Russia this week on a visit to coincide with the Shanghai Cooperation Organization's (SCO) Peace Mission 2018 counterterrorism exercise.

The visit was confirmed by Senior Colonel Ren Guoqiang, a spokesperson for the Chinese Ministry of National Defense, last week. Li is a member of China's powerful Central Military Commission (CMC) and chief of the Joint Staff Department of the CMC.

Li's visit to China comes at the invitation of General Valery Gerasimov, the chief of the General Staff of the Armed Forces and the first Deputy Defense Minister of Russia.

The SCO's Peace Mission 2018 drills are taking place at the Chebarkul training grounds in Russia's Chelyabinsk region, according to TASS. The exercise will coincide with the fifth-ever meeting of the joint chiefs of staff of the militaries of SCO member states.

Formed in 2001 as a successor to the Shanghai Five group, the SCO has eight full member states: China, Kazakhstan, Kyrgyzstan, Russia, Tajikistan, Uzbekistan, India, and Pakistan. The SCO member states have a range of mechanisms to cooperate on counterterrorism in Eurasia. ..."

"The troops that take part in the exercises have completed redeployment and force concentration at the Chebarkul training ground, set up a camp site, serviced weaponry and military hardware and conducted several joint command-and-control trainings, including with live firing and the use of aviation and artillery," the press service of Russia's Central Military District said.

This year's exercise will be the first SCO counterterrorism drill to include troops from India and Pakistan, both of whom became full members of the SCO in June 2017.

Li's visit to Russia also comes ahead of Moscow's largest post-Cold War military exercise, which will also include troops from the PLA and the Mongolian military. 3,200 PLA troops will participate in the war games, known as Vostok. The Vostok exercise will begin on September 11 in eastern Russia. ..."

https://thediplomat.com/2018/08/senior-chinese-general-in-russia-for-sco-peace-mission-2018-counterterror-exercises/

______________________________________________________________________________

Also from 2018: "Vostok" (east) wargames (Russia/China)

Russia and China's Growing Military Interaction; Surprised?

Why does Russia place such emphasis and media attention on incredibly large military exercises with China?

by Peter Zwack
September 9, 2018

The drums are already rolling for the upcoming Russian "Vostok" (east) wargames commencing on September 11.

With its focal point in the Trans-Baikal region of eastern Siberia adjoining Chinese Manchuria and Mongolia, this is a nationwide Russian military and societal event.

Touted by Russian minister of defense Sergei Shoigu as "unprecedented in scale, both in terms of area of operations and numbers of military command structure, troops, and forces involved," Russian state press is declaring that up to three hundred thousand troops and one thousand aircraft will be involved, with the majority from the Eastern and Central Military Districts.

This would be even larger than the near-legendary Zapad-81 maneuvers held in the western USSR during the depths of the Cold War. ..."

One important wrinkle this year is that reportedly up to 3,200 Chinese personal with ninety vehicles, including tanks and thirty fixed-wing aircraft and helicopters, will participate.

Most are coming from China's Northern Command.

This will be the first time the People's Liberation Army (PLA) will take part in this formerly purely Russian quadrennial Asia-oriented exercise.

The bulk of participating Chinese personal have already transited from Manchuria into Russia, escorted by Russian military police to the Tsugol training range near Chita. The Mongolians have also sent a small contingent. ..."

Same 2018 article...

"The Russia-China military relationship continues to evolve and is a logical progression following deepening political and economic ties.

Pragmaticallym the Amur-Ussuri territorial disputes were diplomatically resolved in 2004–5, enabling enhanced military cooperation though long-term generational issues remain.

While Chinese-Russian military activities have in the past been mostly symbolic and representational, they appear increasingly interactive.

The PLA, not blooded since its brusque 1979 defeat by Vietnam, likely hopes to learn from Russia's newly gained fighting expertise derived since 2014 in eastern Ukraine and Syria.

What is key to determine is if their interaction evolves more ominously into interoperability exercises where substantial and varied forces can operate in tandem and jointly in coordinated operations.

Dating back to 2005, Russia and China have exercised modest forces together in a mostly "counterterrorist" role in Central Asia and in Russia as part of the Chinese-driven Shanghai Cooperation Organization (SCO).

Notably, SCO Exercise Peace Mission 2018, involving China, Russia and six other nations, including newly added India and Pakistan, is currently underway in Chelyabinsk (just east of the Ural Mountains).

Bilaterally, they have participated in several small scale naval exercises in the Baltics (2017), South China Sea (2016) and eastern Mediterranean (2015), where they have been mostly "show the flag" operations designed more to convey sharp signals abroad and show partner support. ..."

https://nationalinterest.org/feature/russia-and-china%E2%80%99s-growing-military-interaction-surprised-30822

==========================================================================================================================

My personal commentary on Trump...

Trump says nice things about bad people a lot. But that's just his style of speaking and of dealing with people. It doesn't really mean anything, as we can clearly see now with his tough stance on Russia.

He actually had me concerned during the campaign when he had repeatedly flattered Putin. In fact, it wasn't until the VP debate when Pence laid out the team's true sentiments about the Russian dictator that I realized that they would be solid on the matter.

I recall very well Trump saying at one point around that time, words to the effect, "Boy, did I learn a LOT in this past week".

Not entirely sure of the timing of the comment, but I strongly suspect he was referring to the following security briefing, his first.

I'd bet anything that VP Pence, and others, had really clued him in on Putin and Russia at that time.

I'm going to try and see if I can find precisely where and when he made that remark, so I can put it into context. Makes sense, I suppose, for him not to want say it directly and openly that it was in regards to Russia. See below...

"In March 2016, he [Paul Manafort] joined Trump's presidential campaign..."

In August 2016, Manafort's connections to former Ukrainian President Viktor Yanukovych and his pro-Russian Party of Regions drew national attention in the US, where it was reported that Manafort may have received $12.7 million in off-the-books funds from the Party of Regions.[56]

On August 17, 2016, Donald Trump received his first security briefing.[57]

The same day, August 17, Trump shook up his campaign organization in a way that appeared to minimize Manafort's role.

It was reported that members of Trump's family, particularly Jared Kushner who had originally been a strong backer of Manafort, had become uneasy about his Russian connections and suspected that he had not been forthright about them.[58]..."Trump announced his acceptance of Manafort's resignation from the campaign after Steve Bannon and Kellyanne Conway took on senior leadership roles within that campaign.[60][61]

https://en.wikipedia.org/wiki/Paul_Manafort#Chairman_of_Donald_Trump's_2016_campaign

==========================================================================================================================

A House panel grilled FBI Director James Comey two days after he recommended against prosecuting former Secretary of State Hillary Clinton for an email server scandal. In the hearing, South Carolina Rep. Trey Gowdy questioned Comey on the definition of intent and how Clinton could possibly evade punishment. ..."

Here's a full transcript of the exchange:
_____________________________________________

Gowdy: Good morning, Director Comey.
Secretary Clinton said she never sent or received any classified information over her private e-mail, was that true?

Comey: Our investigation found that there was classified information sent.

Gowdy: It was not true?

Comey: That's what I said.

Gowdy: OK. Well, I'm looking for a shorter answer so you and I are not here quite as long. Secretary Clinton said there was nothing marked classified on her e-mails sent or received. Was that true?

Comey: That's not true. There were a small number of portion markings on I think three of the documents.

Gowdy: Secretary Clinton said "I did not e-mail any classified information to anyone on my e-mail there was no classified material." That is true?

Comey: There was classified information emailed.

Gowdy: Secretary Clinton used one device, was that true?

Comey: She used multiple devices during the four years of her term as Secretary of State.

Gowdy: Secretary Clinton said all work related emails were returned to the State Department. Was that true?

Comey: No. We found work related email, thousands, that were not returned.

Gowdy: Secretary Clinton said neither she or anyone else deleted work related emails from her personal account.

Comey: That's a harder one to answer. We found traces of work related emails in — on devices or in space. Whether they were deleted or when a server was changed out something happened to them, there's no doubt that the work related emails that were removed electronically from the email system.

Gowdy: Secretary Clinton said her lawyers read every one of the emails and were overly inclusive. Did her lawyers read the email content individually?

Comey: No.

Gowdy: Well, in the interest of time and because I have a plane to catch tomorrow afternoon, I'm not going to go through any more of the false statements but I am going to ask you to put on your old hat. False exculpatory statements are used for what?

Comey: Well, either for a substantive prosecution or evidence of intent in a criminal prosecution.

Gowdy: Exactly. Intent and consciousness of guilt, right?

Comey: That is right[]

Gowdy: Consciousness of guilt and intent?

In your old job you would prove intent as you referenced by showing the jury evidence of a complex scheme that was designed for the very purpose of concealing the public record and you would be arguing in addition to concealment the destruction that you and i just talked about or certainly the failure to preserve.

You would argue all of that under the heading of content. You would also — intent. You would also be arguing the pervasiveness of the scheme when it started, when it ended and the number of emails whether

They were originally classified or of classified under the heading of intent. You would also, probably, under common scheme or plan, argue the burn bags of daily calendar entries or the missing daily calendar entries as a common scheme or plan to conceal.

Two days ago, Director, you said a reasonable person in her position should have known a private email was no place to send and receive classified information. You're right. An average person does know not to do that.

This is no average person. This is a former First Lady, a former United States senator, and a former Secretary of State that the president now contends is the most competent, qualified person to be president since Jefferson. He didn't say that in '08 but says it now.

She affirmatively rejected efforts to give her a state.gov account, kept the private emails for almost two years and only turned them over to Congress because we found out she had a private email account.

So you have a rogue email system set up before she took the oath of office, thousands of what we now know to be classified emails, some of which were classified at the time. One of her more frequent email comrades was hacked and you don't know whether or not she was.

And this scheme took place over a long period of time and resulted in the destruction of public records and yet you say there is insufficient evidence of intent. You say she was extremely careless, but not intentionally so.

You and I both know intent is really difficult to prove. Very rarely do defendants announce 'On this date I intend to break this criminal code section. Just to put everyone on notice, I am going to break the law on this date.'

It never happens that way. You have to do it with circumstantial evidence or if you're Congress and you realize how difficult it is prove, specific intent, you will form lathe a statute that allows for gross negligence.

My time is out but this is really important. You mentioned there's no precedent for criminal prosecution. My fear is there still isn't. There's nothing to keep a future Secretary of State or President from this exact same email scheme or their staff.

And my real fear is this, what the chairman touched upon, this double track justice system that is rightly or wrongly perceived in this country. That if you are a private in the Army and email yourself classified information you will be kicked out.

But if you are Hillary Clinton, and you seek a promotion to Commander in Chief, you will not be. So what I hope you can do today is help the average person, the reasonable person you made reference to, the reasonable person understand why she appears to be treated differently than the rest of us would be. With that I would yield back.

(the source of this transcript is closed captioning)

http://www.cnbc.com/2016/07/07/rep-trey-gowdy-rips-into-fbi-director-james-comey-on-hillary-clintons-intent.html

Backup link:


https://web.archive.org/save/https://www.cnbc.com/2016/07/07/rep-trey-gowdy-rips-into-fbi-director-james-comey-on-hillary-clintons-intent.html

===========================================================================

From CNN, July 2016...

This was not his first time investigating the Clintons [Comey]

Nor his second. The email server probe marked the third time Comey has investigated Bill or Hillary Clinton.

His first run-in came in the mid-1990s, when he joined the Senate Whitewater Committee as a deputy special counsel. There he dug into allegations that the Clintons took part in a fraud connected to a Arkansas real estate venture gone bust. No charges were ever brought against either Clinton..."

"In 2002, Comey, then a federal prosecutor, took over an investigation into President Bill Clinton's 2001 pardon of financier Marc Rich, who had been indicted on a laundry list of charges before fleeing the country . ..."

http://www.cnn.com/2016/07/07/politics/who-is-james-comey-fbi-director-things-to-know/index.html
__________________________________

"The Whitewater controversy (also known as the Whitewater scandal, or simply Whitewater) began with investigations into the real estate investments of Bill and Hillary Clinton and their associates, Jim and Susan McDougal, in the Whitewater Development Corporation, a failed business venture in the 1970s and 1980s."

Whitewater Convictions

Jim Guy Tucker: Governor of Arkansas at the time, removed from office (fraud, 3 counts)

John Haley: attorney for Jim Guy Tucker (tax evasion)

William J. Marks, Sr.: Jim Guy Tucker's business partner (conspiracy)

Stephen Smith: former Governor Clinton aide (conspiracy to misapply funds). Bill Clinton pardoned.

Webster Hubbell: Clinton political supporter; Rose Law Firm partner (embezzlement, fraud)

Jim McDougal: banker, Clinton political supporter: (18 felonies, varied)

Susan McDougal: Clinton political supporter (multiple fraud). Bill Clinton pardoned.

David Hale: banker, self-proclaimed Clinton political supporter: (conspiracy, fraud)

Neal Ainley: Perry County Bank president (embezzled bank funds for Clinton campaign)

Chris Wade: Whitewater real estate broker (multiple loan fraud). Bill Clinton pardoned.

Larry Kuca: Madison real estate agent (multiple loan fraud)

Robert W. Palmer: Madison appraiser (conspiracy). Bill Clinton pardoned.

John Latham: Madison Bank CEO (bank fraud)

Eugene Fitzhugh: Whitewater defendant (multiple bribery)

Charles Matthews: Whitewater defendant (bribery)

Ultimately the Clintons were never charged, but 15 other persons were convicted of more than 40 crimes, including Bill Clinton's successor as Governor, who was removed from office.[40]

http://en.wikipedia.org/wiki/Whitewater_%28controversy%29#Convictions

or,

https://web.archive.org/web/20090326122112/http://en.wikipedia.org/wiki/Whitewater_%28controversy%29

===========================================================================================
===========================================================================================

Here is something else to consider -- something that would beautifully tie all of this together (Democrat-Russia collusion), although it need not necessarily be the motive for what's behind it all. But rather really make powerful sense of it all. Could just simply be the Dems' deep hatred of the United States...

Did Communism Fake Its Own Death in 1991?
American Thinker ^ | January 16, 2010 | Jason McNew

In a [] 1984 book [New Lies for Old], ex-KGB Major Anatoliy Golitsyn predicted the liberalization of the Soviet Bloc and claimed that it would be a strategic deception. ..."

"Golitsyn's argument was that beginning in about 1960, the Soviet Union embarked on a strategy of massive long-range strategic deception which would span several decades and result in the destruction of Western capitalism and the erection of a communist world government."

"Golitsyn published his second book, The Perestroika Deception, after the Soviet Union was dissolved in 1991. This book contained further analysis of the liberalization, in addition to previously classified memoranda submitted by Golitsyn to the CIA. The two books must be read together to get a complete picture of Golitsyn's thesis."

http://www.americanthinker.com/2010/01/did_communism_fake_its_own_dea.html
_______________________________________________

Link to read "New Lies for Old" online:
https://archive.org/details/GolitsynAnatoleTheNewLiesForOldOnes
_______________________________________________

Link to read "The Perestroika Deception" online:
https://archive.org/details/pdfy-TVvzZzfXiMBkMdvD

________________________________________________________________________


_______________________________________________________________________________
_______________________________________________________________________________

"Gentlemen, Comrades, do not be concerned about all you hear about glasnost and perestroika and democracy in the coming years.

These are primarily for outward consumption.

There will be no significant internal change within the Soviet Union, other than for cosmetic purposes.

Our purpose is to disarm the Americans and let them fall asleep".

-- Mikhial Gorbachev, former President of the Soviet Union, to the Politburo in November of 1987.





America's Coming Crisis: Prophetic Warnings, Divine Destiny
By David N. Balmforth


==========================================================================================================================

Incredible article here, from, believe it or not, CNN!

However, they DO preface it with this:

IMO, their tolerance for such a piece probably has to do with the fact that, among their viewers, are many Jewish liberals, who, one would at least think, not be very happy about the Iran deal that Obama made. (Trump of course later reversed it).


Why did Obama praise Putin?

By Frida Ghitis

July 15, 2015

(CNN)One of the more intriguing comments we heard in the aftermath of the deal with Iran came when President Barack Obama offered praise and recognition for Russian President Vladimir Putin, the man who leads a country described only a few days ago by the next U.S. military chief as the "greatest global threat" to the United States.

-snip-

It's worth noting that Iran and Russia support Bashar al-Assad, the Syrian dictator who, with good reason, rejoiced at the news of the deal.

He called it a "great victory" — and it will fill the coffers of his main benefactor, the Iranian regime.

Beyond that, Putin may be expecting to see a new international order, hoping that Obama will agree to a throwback to the days of "spheres of influence," in which the United States gives latitude so certain countries can exercise influence in certain regions.

Under that geopolitical structure, Russia would be tacitly allowed by the United States to be the dominant power in its neighborhood including, say, Ukraine, and other former Soviet Republic states, while Iran would call the shots in its part of the world, much as it tries to do with some success now in Lebanon, Iraq, Syria, Yemen and elsewhere.

Obama has rejected suggestions that he has such a plan in mind. And I doubt that it is the cynical objective behind the nuclear deal. But the ultimate effect could take us some steps in that direction.

Incidentally, the Iran deal gives new influence to Russia in enforcing the nuclear agreement. ..."

https://www.cnn.com/2015/07/15/opinions/ghitis-obama-putin/index.html