---
Weekly Gardening Thread Vol. 17, April 27, 2012
Friday, April 27, 2012 | JustaDumbBlonde


Posted on 04/27/2012 8:13:43 AM PDT by JustaDumbBlonde

Good morning everyone! I'm looking forward to hearing your gardening challenges and successes today. Please check in and let us know how it's going.
This morning I've put together a little pictorial of how Mark and I cut a honey bee hive out of a wall or similar place. This is a medium-sized cutout that we did back in March. The hive was located in an old shed that the owner wanted to tear down, but they were trying to reclaim windows and the old boards and the bees weren't having any of that. So, the owner got her building back and Mark got a beautiful and productive hive of bees! Talk about win-win!
In this first photo, you see the old shed and Mark has begun vacuuming up the bees after
we removed a sheet of siding and a few lap boards.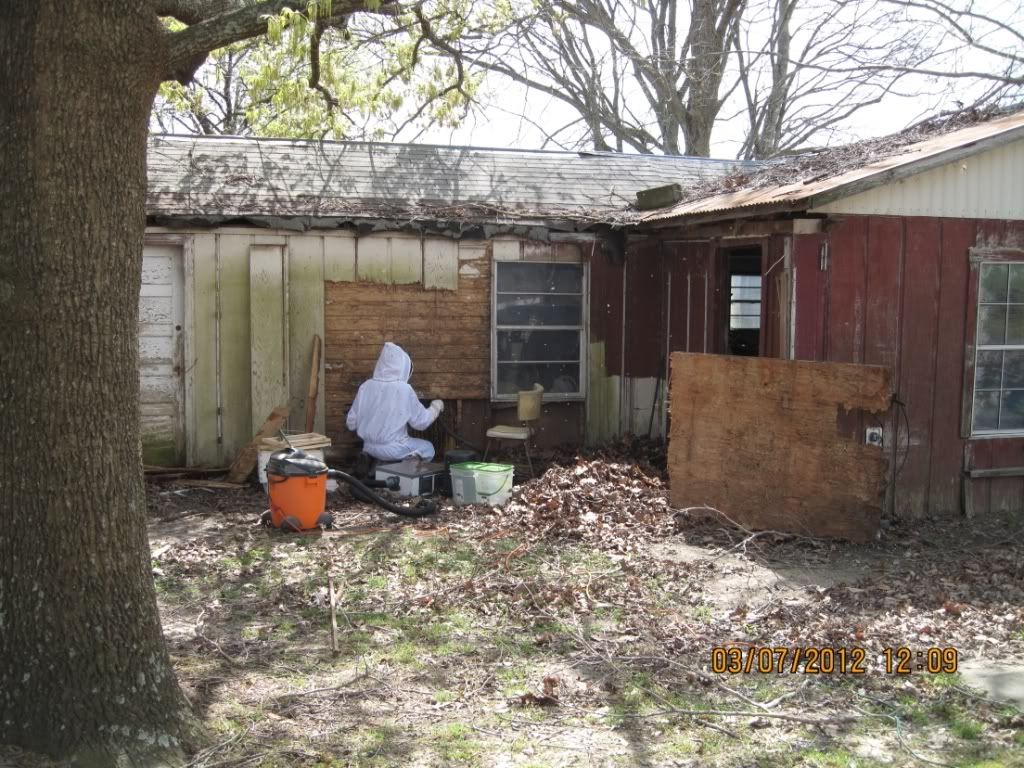 A closer look at our first few minutes of the cutout.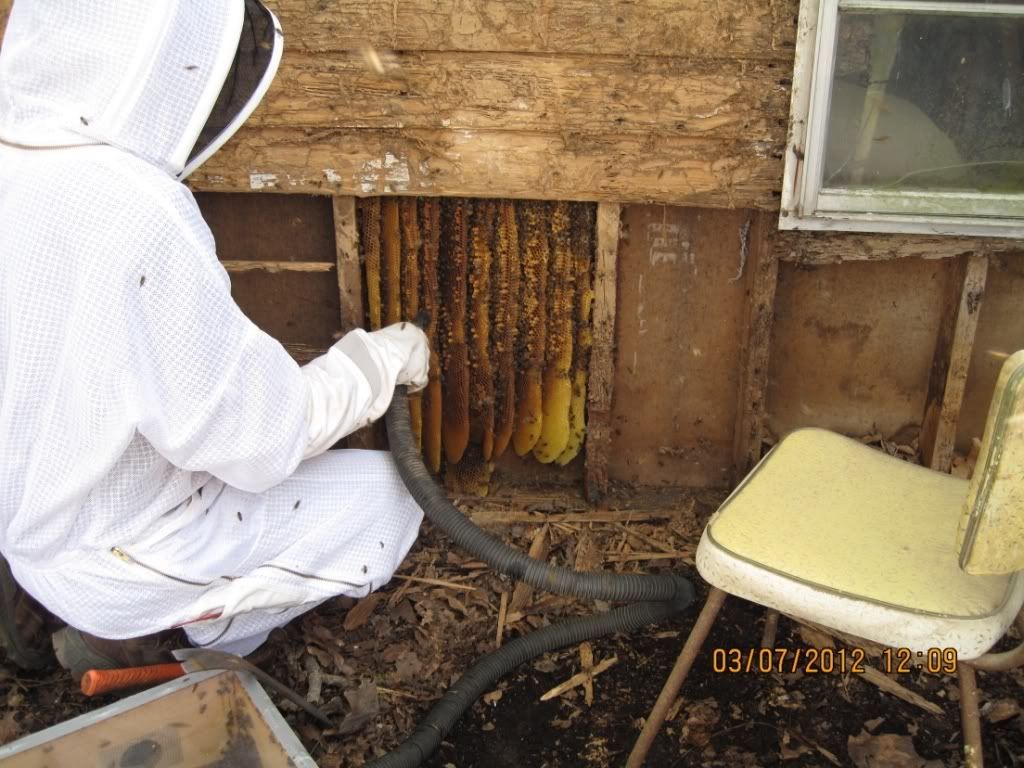 Here we begin to see the brood section of
the hive. These are cells where they are raising new bees.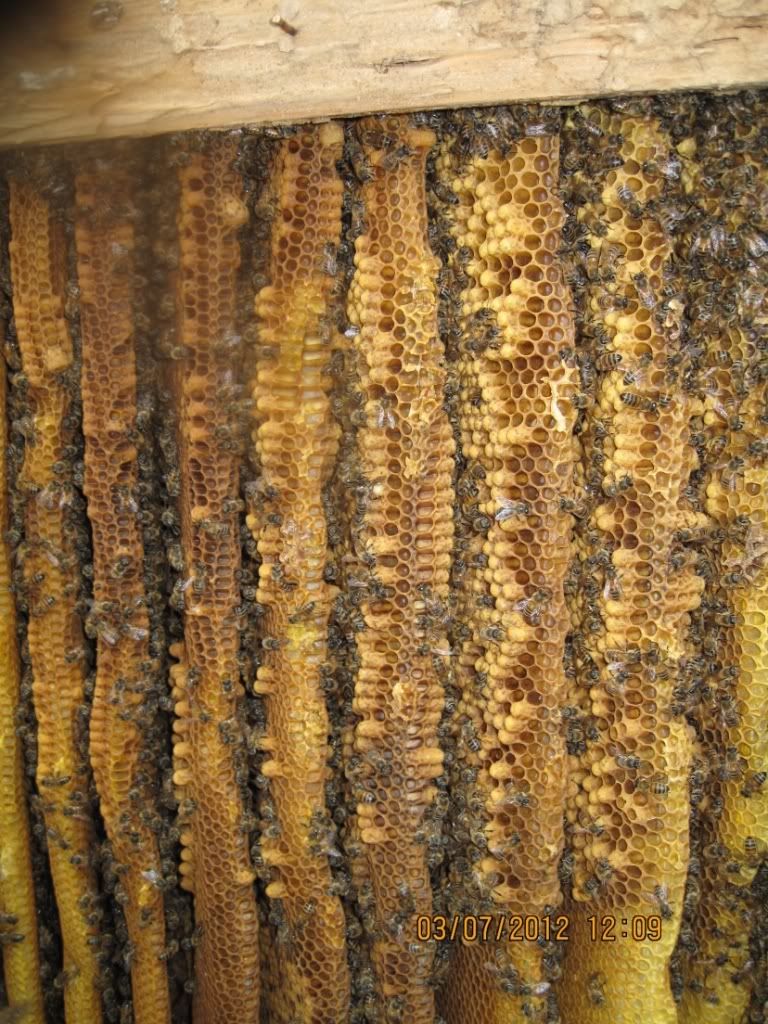 You can see how the bees try to
keep the brood covered to protect it and keep
it warm. The brood is continuously tended.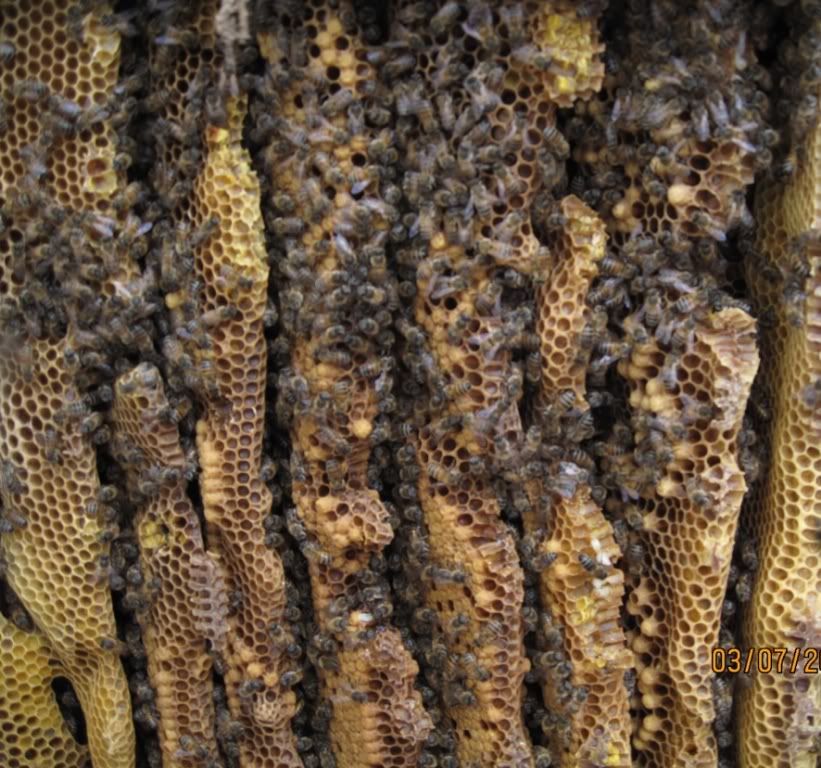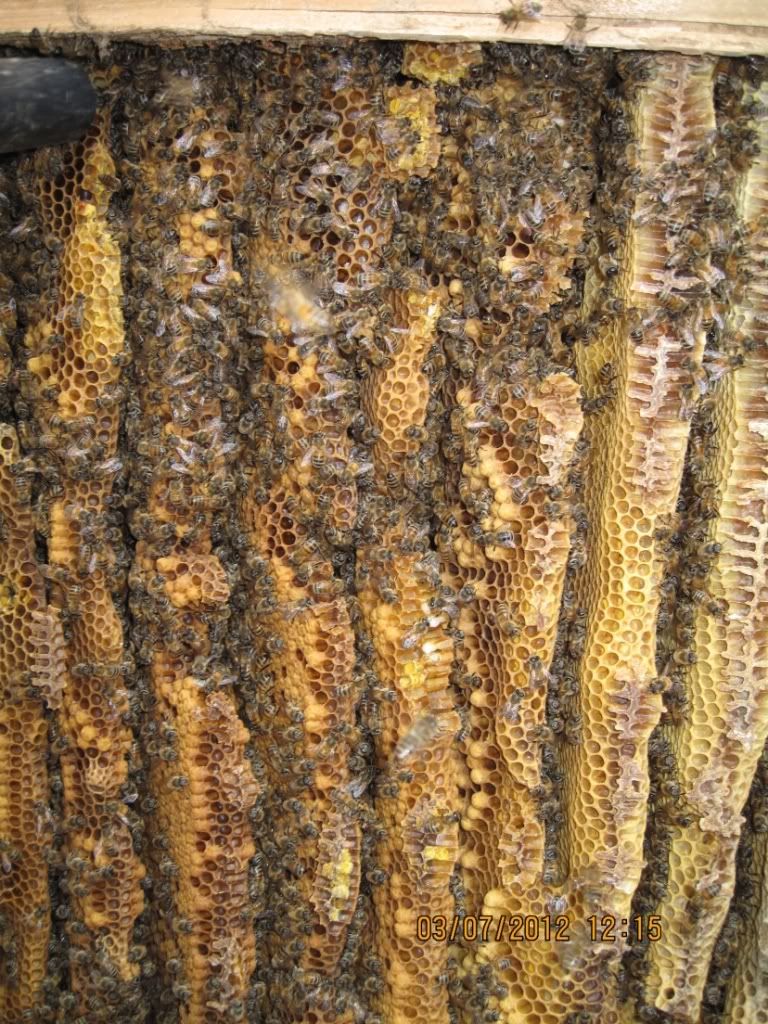 In the cells that were broken when
we removed the boards, you can see
stored pollen.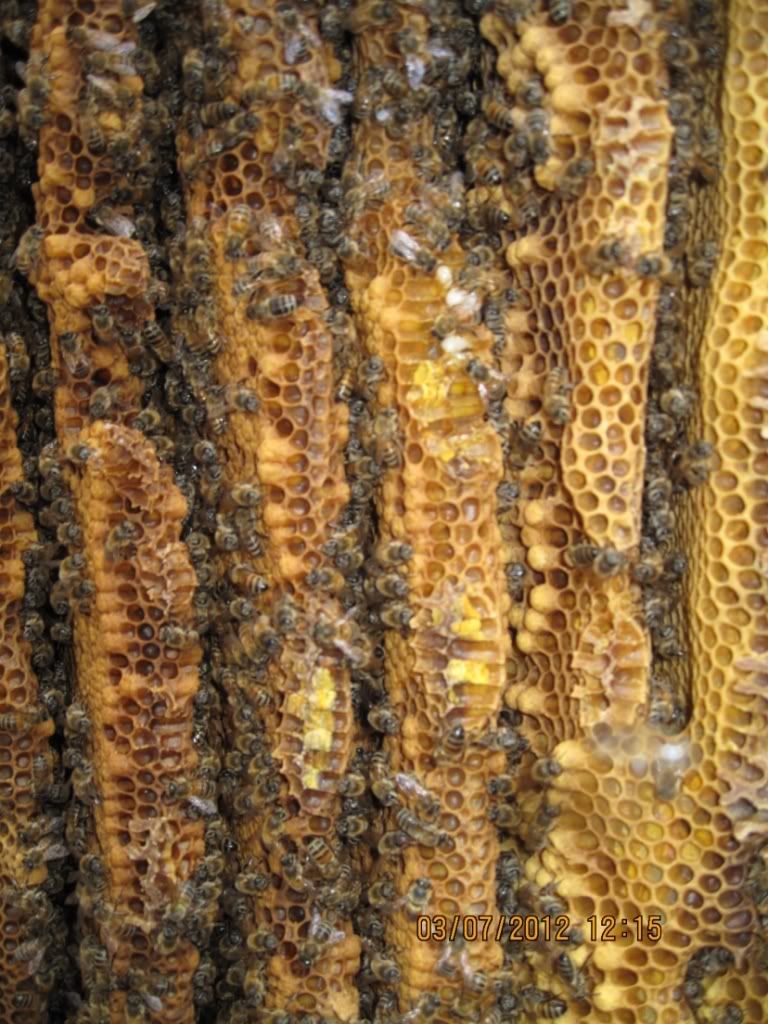 We are continuing to remove
boards, expose the hive and vacuum bees.
On the left side, you can see pollen
and bee bread being stored. On the right
you begin to see the honey stores.
Lots of honey stored. We probably
removed 150 lbs. of honey from this hive!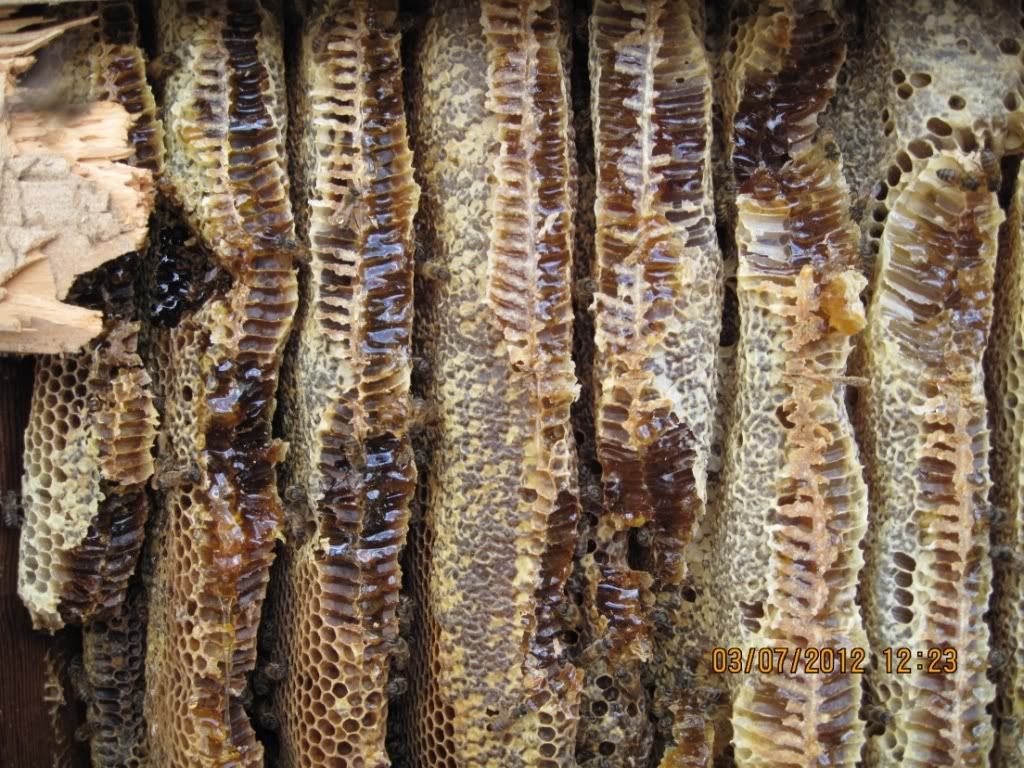 It was really cool as we exposed
the hive, we found the comb to be in
continuous 8 ft. sheets.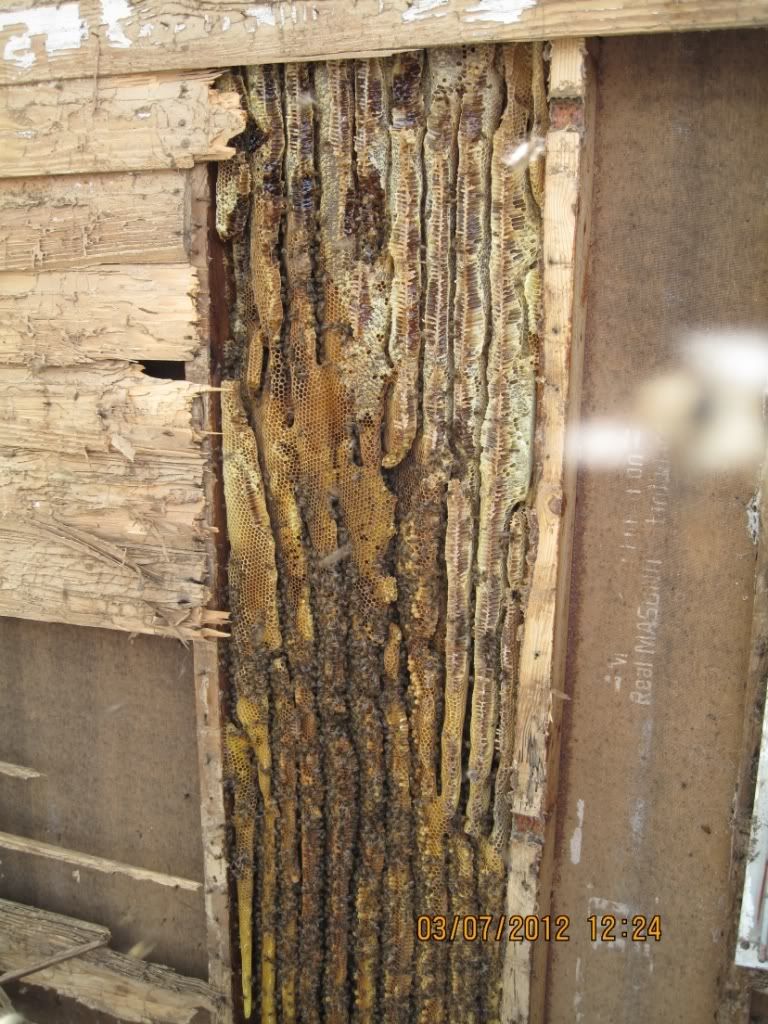 As Mark is cutting the comb out of the wall,
I am cutting select pieces to size and bracing it in wooden
frames with rubber bands. We are basically
moving the workings of the hive with the bees.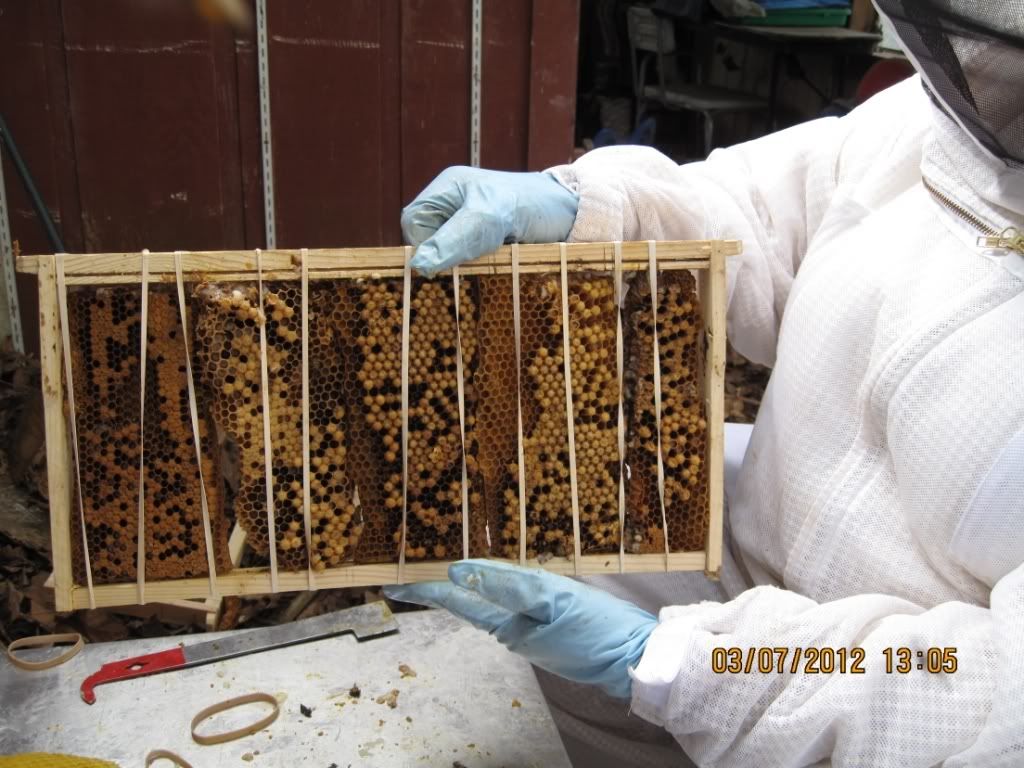 You can see the empty space where
the hive used to be.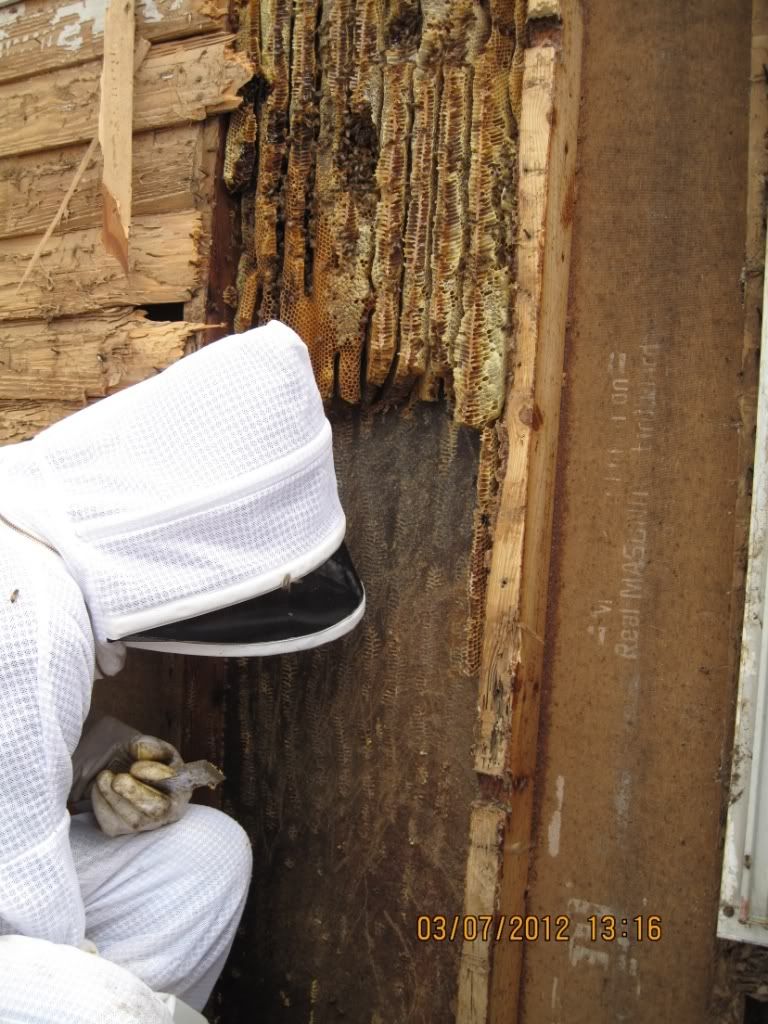 Three hours later, the bees are in
their new home in Mark's back yard apiary.
I hope that you found that interesting and informative. Inviting your questions and/or comments.
Have a great week!
The Weekly Gardening Thread is a weekly gathering of folks that love soil, seeds and plants of all kinds. From complete newbies that are looking to start that first potted plant, to gardeners with some acreage, to Master Gardener level and beyond, we would love to hear from you.
This thread is non-political, although you will find that most here are conservative folks. No matter what, you won't be flamed and the only dumb question is the one that isn't asked.
It is impossible to hijack the Weekly Gardening Thread ... there is no telling where it will go and that is part of the fun and interest. Jump in and join us!

---
TOPICS: Agriculture; Food; Gardening; Hobbies
KEYWORDS: garden; gardening
---
Navigation: use the links below to view more comments.
first 1-20, 21-40, 41-60, 61-80, 81-89 next last
---
---
---
---
---
---
---
---
---
---
---
---
---
---
---
---
---
---
---
---
---
Navigation: use the links below to view more comments.
first 1-20, 21-40, 41-60, 61-80, 81-89 next last
---
---