Christian, very conservative, happily married to the best possible wife, lover of God's word, and God's creation. God created ALL beautiful places and things, mans best efforts fall very short. Rapture ready, leaving soon.
I had been living in Lower Alabama all my life, now residing in Texas, just north of Houston. Texas is a really great place to live, but please don't tell any liberals.
I also like gardening and classic cars. The old stuff has priced itself out of my reach nowdays, but I still manage to enjoy it. My current and probably last old car is a 1979 Malibu. It was a one owner car that had always been garage kept and has never been rusty, which is rare in Lower Alabama where I bought it. I have put a few things on it, but dream of the day when I can really give it a going over with time, labor and money.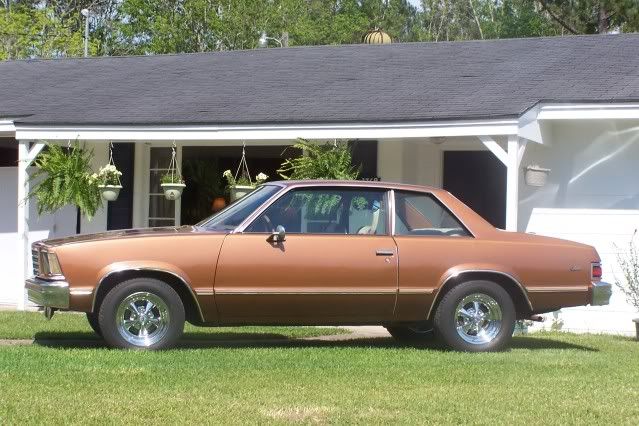 Gardening 101
When I say Gardening 101, I mean that I am the student, not the instructor. Any successes that I have been blessed with were the result of trial and error and with Devine Intervention. Nobody was/is as dumb as I was/am. I had to learn what little that I know by buying some plants and sticking them in the ground. It didn't take too long before I learned that there were full sun plants and shade plants and learning that by itself was a major help. As most beginners, most of my plants died by drowning. I learned a long time ago to at least learn to build in lots of drainage in container plants and they would survive the deluge of water. Three or four inches of good size rocks do just fine. Having a heavy base helps them stand up to wind pretty good, too. Finally after a number of years, I had container plants and some things growing in the yard. Thank you Lord for small favors. So many times now I wish that I had learned a few basics of gardening and cooking from my mother before she passed away.
Vegetable Gardening in Texas
The veg gardening has been a rough road to conquer over the last 8 years, or so. In Mobile, my property was low lying and had marshes behind my property and also nearby, as in swamps; real swamps with alligators and who knows what else. Because of all the moisture, I constantly fought fungus related problems. I never had any tomatos ripen, when they got to a certain size, they started to rot. What tomatos that grew to any size got made into fried green tomatos. I tried several spots in the yard, but nothing helped. After moving to Texas in August of 2010, I decided to try again in 2011. We have a tree shaded lot here, with only a couple of small sunny areas. I looked at the photos of the property that the real estate webpage had posted in March and April, along with pictures that I had taken in June and July as we went through the process of buying, and determined that we may have a small area that would possibly get enough sun for enough hours per day to grow a small veggie garden.
The first order of business during the winter months was to get seeds sprouted and growing into a size suitable to plant. Thanks to past efforts, I already had enough seeds left over from the last attempt, and a seed starting incubator with grow lights and bottom heat to trick the seeds into thinking that spring was here. I made it so as to be able to know down and store when not in use. It is built from 5 or 6, 2 x 2's and a sheet of 1/4in. OSB. It also contains 4 shop lights from Lowes with grow bulbs in them and an array of surface-mount porcelain light bases for the bottom heat. All this was thrown into a 2ft x 4ft x 4ft tall enclosure, with grow lights and heat from below controlled by two low cost timers, also from Lowes. Everything used comes from Lowes due to my participation in a boycott of Home Depot due to Home Depots' aggressive pro-homo agenda in contributions and promoting of the homo agenda to children. See link here: http://action.afa.net/item.aspx?id=2147496231 The seeds get 16 hours of light, and a timer cuts on the lights below the seeds for a period of about 15 hours. I have a thermometer in the seed chamber, also from Lowes for about $20 that, that records the lows and highs over the past 24 hours and transmits the data to a unit on my desk. It has worked well in two seasons starting seeds and growing them to the needed size to go into the ground. It has acquired the affectionate nickname of 'The Mater Bator'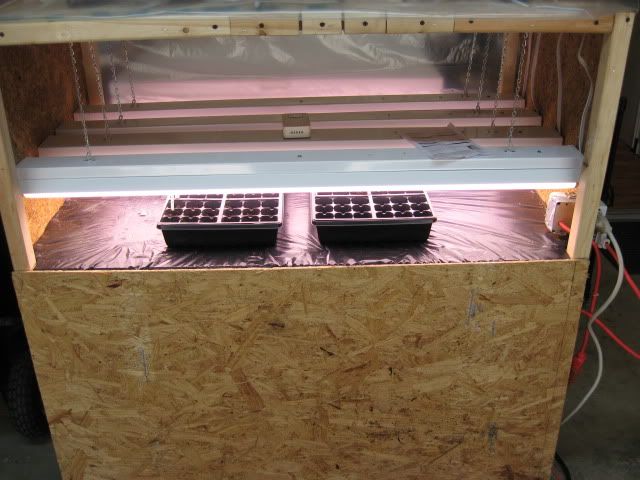 The lights may be raised as the seedling grow. The square thing on the lights is the sending unit for the thermometer.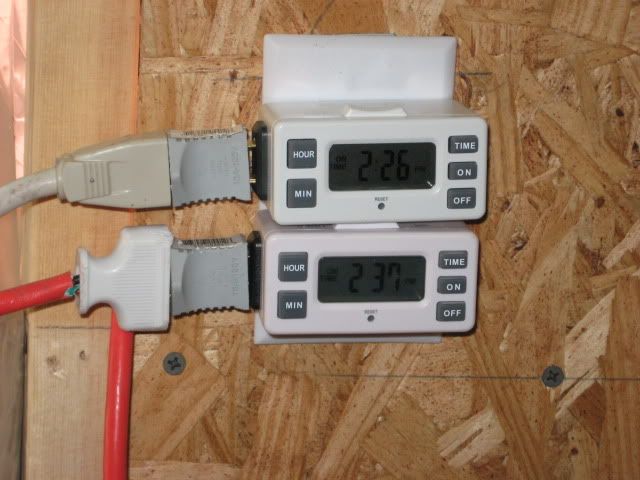 The timers, one for heat, the other for the lights.
The heating system; I over-estimated the amount of bulbs to heat it with, usually 2 are good on the coldest of nights.
Knocked down for storage, it looks like this.
I guesstimated our designated garden plot and staked it out. Then out comes the tiller and there begins they wrestling match. It's a medium size unit that I bought(stole) from a pawn shop in Mobile in the winter of 09-10. It was like new, no rust on the muffler and still had the paint on the tines when I bought it. I tilled a while and rested a while. It was not a pretty sight, I'm sure. I will not say that I was in control of it. It was more like a rodeo ride. The ground had never been tilled and was full of roots, some as big as three inches in diameter. It chewed it's way through all of them, though. After a number of wrestling matches and completely out of strength, I determined that we had a garden plot. Thank you Lord for small favors. I measured it and it was 11ft x 16ft At that point I called my lovely and wonderful wife to tell her of our good fortune. She then asked that I plow up a small bed for her to plant Zennias in. It was just a small area, about 4ft x 6ft. So I cranked up the tiller again and went to work, plowing a flower bed for my bride to grow flowers for our dining table and as gift bouquets for friends and co-workers of hers. Another rodeo ride. Being exhausted, I was not in control at all; it bucked to the left, and to the right; it was slinging me everywhere; I managed to hang on, for a little while. Then it won, the mechanical beast bucked me off and onto my back on the ground while it continued to plow it's way to a fence. It tried to crawl up the fence but couldn't. As it sat there trying to run over the fence, it ran out of gas in the carburetor and stopped. Gee, I hope that those young twenty-somethings across the road did not see that. I lay there for a little bit to get my breath and my witts about me before getting up, and besides, the truth being, it just felt good to lay there! That's it, my day is over. It's been a long hard day for the old fat guy. Time for the showers.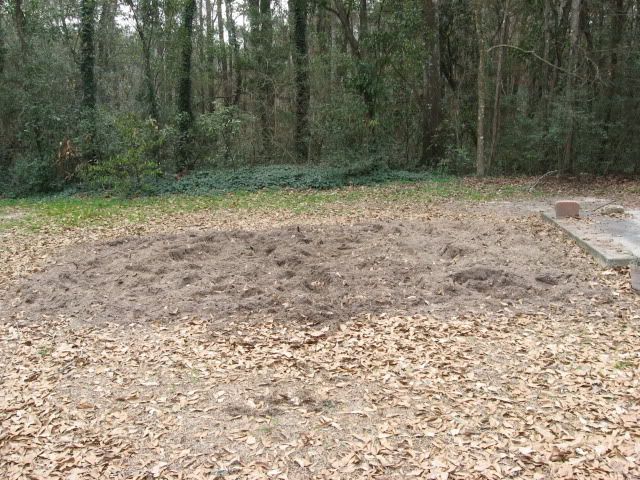 The next step in preparing the garden site was to clean it of the roots and break up the chunks of dirt and smooth it all out. Thankfully my lovely and wonderful wife raked and cleaned the site while I prepared the drip irrigation system for it. We determined that we could have 6 rows to plant, so I cut 6 lengths of inline drip tubing. This ¼ in. vinyl tubing has pressure compensating emitters every 6 inches, and is fed by a ½ in vinyl mainline tube that is run down one side of the site. I staked out each row and ran a string line from stake to stake. I ran the drip line directly beneath the string and pinned it down with landscape fabric staples, connecting one end of each line to the mainline. With the entire drip system in place , I turned on the water an looked for leaks and any other problems. I let it run for about 30 minutes to see just how it worked, knowing that I would not be able to troubleshoot after the landscape fabric was down.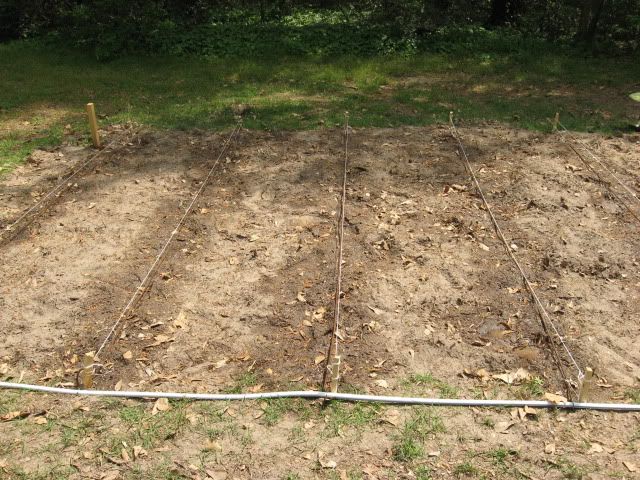 Everything worked as planned; how often does that happen? I had 6 wet rows where I would be putting my plants; No wasted water. From here the next step was to roll out the landscape cloth underneath the strings, cut and pin in place with the landscape staples.
Time for one last test of the system for serious problems. We ran the water for a while, looking for anything out of the ordinary.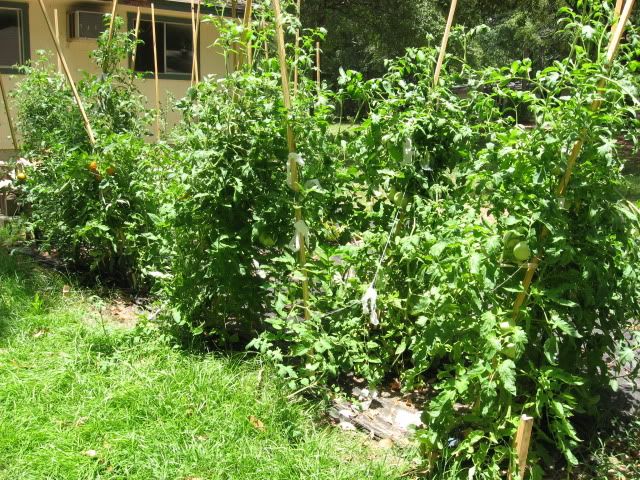 Tomatos went crazy. They grew so tall and heavy that the stakes would not hold them up straight. A windstorm blew several of them over and we stood them back up as best that we could, but using much stronger stakes. The ones in the foreground are Better Boys, and the farther ones are Big Boys.

visited 22 states (44%)
Create your own visited map of The United States