---
Trayvon Martin Shooting - A Timeline (Vanity)
Vanity | 31 March 2012 | Vanity


Posted on 03/31/2012 12:58:40 PM PDT by PhatHead

(This previously pulled thread re-posted with JimRob's permission.)

I assembled this timeline and map of relevant locations based on publicly available information. My estimates of walking time are based on Google Maps measurements of the distance, and I tried to estimate on the long side. Please feel free to check all of my sources.[1] [2] [3] [4] [5] [6]

I think my methodology should be pretty obvious, so I will not bore you with those details. I did not include my source for the house where he was staying, even though it is publicly available information.

For events where there was a window of time where it could have occurred, my timeline only reflects one end of that window, but includes a note of explanation at the end. I take the girl's account at face value, and I tried not to insert any opinion at all into the timeline and map below. I will express a few deductions, conclusions and opinions in the comments below. My intent is only to focus people away from all the emotional issues and just look at these bare facts. The police, of course, have much more exact information at their disposal in the investigation.
| | |
| --- | --- |
| 19:09:34 | Zimmerman calls Sanford Police non-emergency number |
| | * Near clubhouse, Martin is a 3 or 4 minute walk from home |
| 19:11:41 | Zimmerman: "He's running" |
| 19:12:00 | Martin calls GF: "This dude is following me"a |
| 19:12:02 | Operator: "We don't need you to do that" |
| | Martin: "Don't want to run. I'll walk fast." |
| | Martin decides to run. |
| | Martin: "I lost the guy" |
| 19:13:09 | Zimmerman: "I don't know where this kid is." |
| 19:13:27 | Officer Timothy Smith dispatched |
| 19:13:41 | Zimmerman's call with police ends |
| | Martin: "I see him again." |
| | Martin: "What are you following me for?" |
| | Zimmerman:"What are you doing here?" |
| 19:16:00 | Martin's call with girlfriend endsb |
| 19:16:25 | Zimmerman is already yelling for helpc |
| 19:17:10 | Shot firedd |
| 19:17:11 | Officer Smith arrives at complex; is told about shot reports |
| 19:18:10 | Smith is outside back of building |
| | Smith takes Zimmerman into custody |
| | Officers perform CPR, then are joined by paramedics |
| 19:30:00 | Paramedic Brady pronounces Martin dead |
| | * He is 200-250 feet from where Zimmerman parked truck during the call to police |
| | * He is in nearly the same spot where Zimmerman lost sight of him on the call |
| | * He is 300-350 feet from home |
a) The article states that the call began at 19:12, but this is almost certainly rounded off, and it could have begun in a 30-40 second window around this time. Maybe even a wider window.
b) As above. ABC News confirms call lasted 4 minutes, but this is likely rounded, as is the start time.
c) This is figured by subtracting the 45 seconds of screaming heard on Police Call #3 before the gunshot is heard. Zimmerman is already screaming before the call begins, so this does not represent the start of the fight or the start of his screaming - only the latest possible time that his screaming was heard.
d) Officer Smith was informed on arrival of reports that a shot had been fired. Assuming almost instantaneous relay of this information from the time the shot was heard, this is the absolute latest time it could have been fired, but it was likely earlier.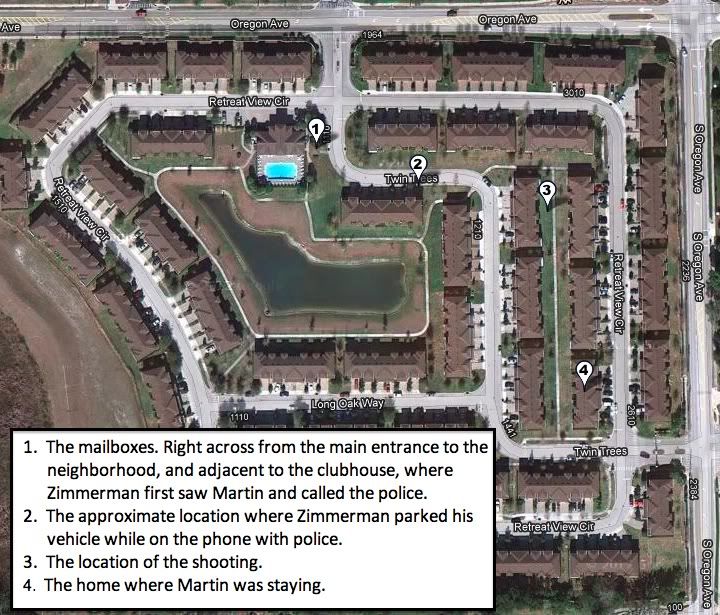 ---
TOPICS: Miscellaneous
KEYWORDS: blackkk; florida; georgezimmerman; sanfordshooting; trayvon; trayvonmartin; trayvontimeline; zimmerman; zimmermantimeline
---
Navigation: use the links below to view more comments.
first 1-20, 21-40 next last
---
---
---
---
---
---
---
---
---
---
---
---
---
---
---
---
---
---
---
---
---
Navigation: use the links below to view more comments.
first 1-20, 21-40 next last
---
---