---
Likely case of ESA/Mars image doctoring
Posted on 08/15/2010 5:19:21 PM PDT by wendy1946
This one requires a bit of a geek trick; nonetheless I was able to start with the ESA (European Space Agency) image which people are talking about and produce pretty much what they claim to be seeing using the Windows version of GIMP: darken substantially, raise contrast substantially, and then desaturate for hue...
A typical web description of the problem...
A totally simple-minded Youtube description of techniques required to undo and/or fix the problem.
The actual ESA image in question as the public sees it.
Relevant Section:
What I get from the lower left region of that image with GIMP: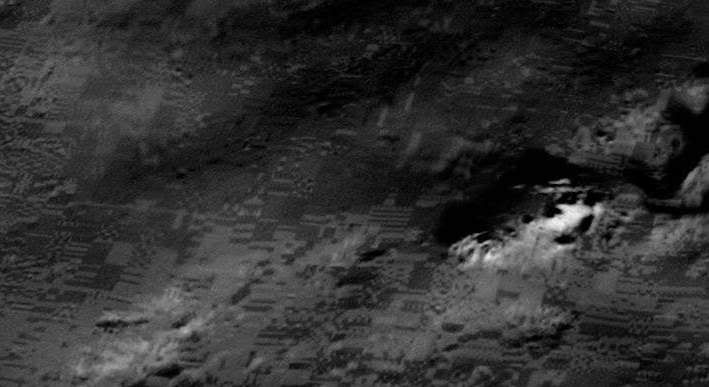 What IS all that stuff?? I've got absolutely no idea, except that it pretty obviously isn't natural or any sort of a trick of light or shadow.
Was ESA deliberately trying to hide this stuff or was the glare of the sun sufficient without any sort of an ESA conspiracy, again no real way to know. This was with ten minutes of work on my part, Joseph Skipper's website contains several shots of the same stuff with a bit more work than that put into them, e.g.

Basically, nobody in the science communities which follow this stuff out there trust these government space agencies any more and whenever an image appears more than a bit interesting people will check it out with photoshop, the GIMP or whatever, and it isn't rare that this sort of thing turns up.

---
TOPICS: Conspiracy; Science; UFO's; Weird Stuff
KEYWORDS: cydonia; monkeyface
---
Navigation: use the links below to view more comments.
first 1-20, 21-36 next last
---
---
---
---
---
---
---
---
---
---
---
---
---
---
---
---
---
---
---
---
---
Navigation: use the links below to view more comments.
first 1-20, 21-36 next last
---
---