---
ART Appreciation/Education "class" #3: van Gogh and Cezanne
6/9/05 | republicanprofessor


Posted on 06/09/2005 3:44:59 PM PDT by Republicanprofessor

There have been some great threads on art lately, and at the (great) risk of overdoing it….I want to continue with this little series on Art Appreciation (or, as some have termed it, Education). Many FReepers just love realism. (If you want to see some recent threads on this, do a search under vannrox as a poster, and you'll see some lovely images by late 19th century realists.)

But what I want to deal with is the beginning of abstraction. Even Monet and the other impressionists are somewhat abstract. Anything that moves away from a strict recreation of reality, to emphasize what the artist is more interested in, is abstract. Monet's work is early abstraction because it is full of loose brushwork that is not strictly realistic, although he is working from a visual reality and inspiration.
Cezanne once said of Monet "He is just an eye, but what an eye!" Can you tell the season and the weather from Monet's work? How detailed is his use of line, or does the creation of light seem more important?
Now, van Gogh and Cezanne were both inspired, to a degree, by what Monet had done, but like the other Post-Impressionists discussed about a week ago, van Gogh and Cezanne have firmer forms than Monet. They did also worked in different styles to emphasize their own interests. Thus we have the beginning of abstraction (which is pushed further in the beginning of the 20th century into the work of the Expressionists, like Matisse, who develop van Gogh's sense of shape and color; and in the work of the Cubists, who develop the planes of Cezanne.)
So, what differences do you see between these works by van Gogh and Cezanne?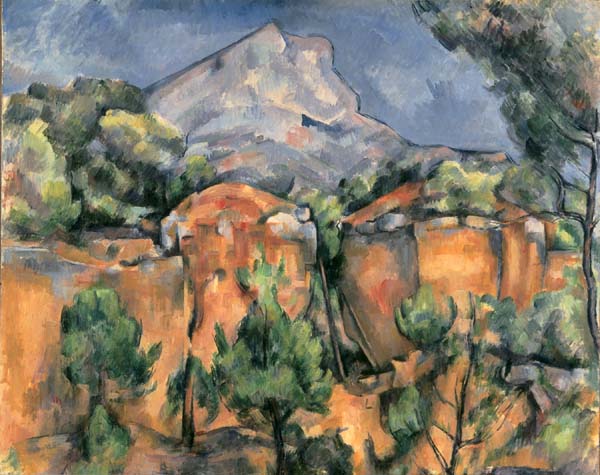 van Gogh Starry Night and Cezanne Mt. Ste. Victoire from Bibemus Quarry both from the 1880s
Is there a different use of color, brushwork, emotion? Does one seem more emotional? What do you feel as you look at these?
Van Gogh had a failed career as a minister, but I think his love of religion and nature is seen here, for the cypress tree (an evergreen in a cemetery, symbolic of life and death) and the church steeple are all that break the horizon between earth and heaven/sky. It is a scene of a small town, lying in a valley surrounded by mountains, with the first evening lights coming on (creating a cozy feeling) and the darkening deep blue sky of twilight and first stars and moon. Not how he paints the moon and the Milky Way with great emotional swirls. How small are stars when we see them at night? Like pinpricks. Note how large he makes them because he loves them. Van Gogh had a troubled life and it has been said that he was mad. But he is not crazy when he does these great works; but he is emotional and caught up with the beauty of the scene.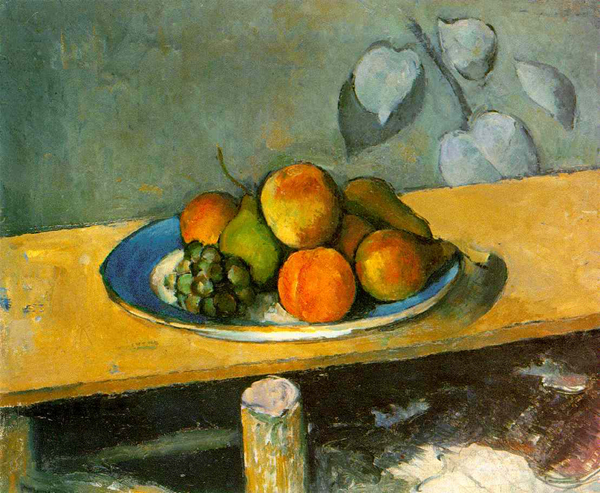 Still lifes by Cezanne (left) and Fantin-Latour on the right.
Now, let's look at what Cezanne has done to structure his still life. Does Cezanne's fruit seem round? How does he do this? Traditionally, as in Fantin-Latour's work, artists have used black and white added to the main color to make objects seem round. Cezanne makes objects seem round by using COLOR. The warm reds and yellows make the fruit pop out and seem round, while the greens make it seem to go back into space, furthering that rounding quality. There is also a stronger composition in Cezanne, despite the unfinished lower right. The plate seems to pop forward and is almost tangible; much more so than in Fantin- Latour.
Cezanne is all about structure. He is not as emotional as van Gogh. Look again at another painting of the same mountain. And compare this with an image by Nicholas Poussin, who established academic art in France at the time of Louis XIV, early 18th century.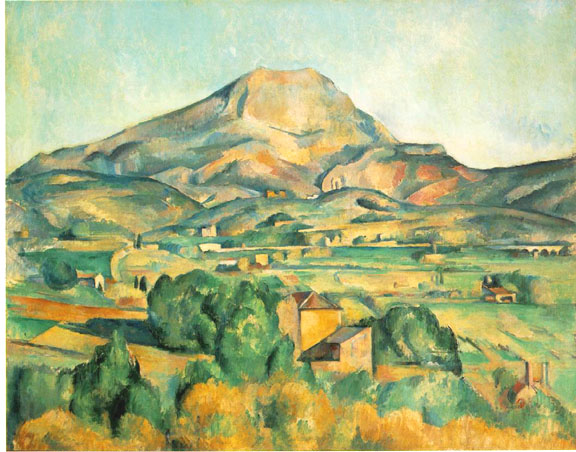 Cezanne vs. Poussin
Cezanne had said "I want to redo Poussin according to nature." How can you see that here? What colors is Cezanne using vs. the browns of Poussin? Cezanne also said "I want to make of Impressionism something enduring like that art in museums." Notice that his work is more solid than that of Monet and that he uses brighter greens than Poussin. (Why did the previous academic artists always have brown foliage? Well, they used a brown base in their paintings, and they did not paint outside, so they weren't really looking at nature the way artists did after Monet in the 1870s.)
Is Cezanne's space flat or deep? Note that in Poussin's work, artists of the past have used bluer colors in the distance to create a deep space. But Cezanne uses the same colors in the foreground and in the background. The mountain is small, so we know it is in the distance, but the similar colors make it seem flatter. This creates that tension between flat (2 dm.) and deep (3 dm) space that I talked about last week. That tension between flat abstraction and the depth the objects really take up is a prime concern of the best early Modernists.
Notice how much more controlled Cezanne's brushwork is in contrast to van Gogh. These measured strokes, or flat planes, will develop into Cubism (a "lecture" or two down the line).
Cezanne's work is very difficult to discuss and to understand. I could go on and on and on, but these are the most important points.
Sorry for the overdose of art lately, but I know some of you are very interested in learning about these ideas, and I don't have a great deal of time before I leave for a long trip this summer. Next week I want to discuss French and German Expressionism as seen in the work of Matisse and Kandinsky and others. The following week will be Cubism

---
TOPICS: Arts/Photography; Education
KEYWORDS: appreciation; art; cezanne; vangogh
---
Navigation: use the links below to view more comments.
first 1-20, 21-40, 41-45 next last
---
---
---
Comment #3 Removed by Moderator
---
---
---
---
---
---
---
---
---
---
---
---
---
---
---
---
---
---
Navigation: use the links below to view more comments.
first 1-20, 21-40, 41-45 next last
---
---