---
Rosary for the Bishop celebrates six months of prayer, global expansion
cna ^ | June 29, 2010


Posted on 06/29/2010 10:34:03 AM PDT by NYer
Madison, Wis., Jun 29, 2010 / 02:59 am (CNA).- Thursday, July 1, marks six months since the inauguration of the Rosary for the Bishop campaign, an online website that encourages the faithful to pray for bishops across the U.S. and around the world.
The prayer campaign began in 2005 in Madison, Wisconsin, where an online effort was made to collect prayers for Bishop Robert Morlino of the Diocese of Madison. On January 1, 2010, the project was expanded to include all U.S. bishops, and it has since grown to incorporate those from other countries as well.
"At the beginning of 2010, we launched Rosary for the Bishop for all U.S. bishops," said Tom Reitz, one of the website's administrators. Since then, the campaign has grown in response to visitor feedback.
"We kept getting emails from people saying 'can you please add the bishops of my country?' So we did," Reitz said. "Now the service is available for bishops in the U.S., U.K., Netherlands, Germany, Poland, Gibraltar, South Africa, Australia, New Zealand and Canada."
Since its inception, membership has risen to more than 800 participants from 45 U.S .states and 10 other countries. So far, the website has recorded 28,000 Rosaries prayed for more 250 Catholic bishops.
On the campaign website, www.RosaryForTheBishop.org, visitors can commit to a weekly or monthly Rosary for any bishop. The website features anonymous statistics on how many Rosaries have been prayed, as well as a Google map marking the locations of participating dioceses. Participants also have the option to receive reminder emails.
"Rosary for the Bishop is a growing, evolving program," explained Reitz. "We keep adding new features to the site, especially features that members have suggested." In recent months, the site has added a blog, Facebook "like" buttons and more detailed options for prayer reminders. More features are planned for the future.
Several bishops have expressed appreciation for the program.
"Rosary for the Bishop is a special blessing and source of encouragement for me," said Bishop R. Walker Nickless of Sioux City, Iowa.
"It gives me great serenity to know that so many men and women are turning to Mary, asking her special care and intercession for the bishops," added Bishop Robert Morlino of Madison.
Syte Reitz, one of the campaign's founders, explained that the program was originally inspired by "the Exodus passage (17:11) in which Aaron and Hur help Moses to keep his hands lifted up in prayer so that Israel would be victorious."
"Heaven knows that our good bishops are under fire for standing up for our Catholic Faith nowadays," he said. "What can we do about it? Support them with our prayers!"

---
TOPICS: Catholic; Current Events; Prayer
KEYWORDS:



---
To: netmilsmom; thefrankbaum; markomalley; Tax-chick; GregB; saradippity; Berlin_Freeper; Litany; ...
If ever there was a time when bishops needed prayers, this is it. This is an excellent program. I am a member .. join today!
2
posted on
06/29/2010 10:35:36 AM PDT
by
NYer
("God dwells in our midst, in the Blessed Sacrament of the altar." St. Maximilian Kolbe)
---
To: NYer
I wasn't aware of this. Excellent time to be praying for all Bishops, including the Bishop of Rome!
I'll add a link to my Rosary posts!
3
posted on
06/29/2010 2:01:09 PM PDT
by
Salvation
("With God all things are possible." Matthew 19:26)
---
To: Salvation
Pray a Rosary each day for our nation.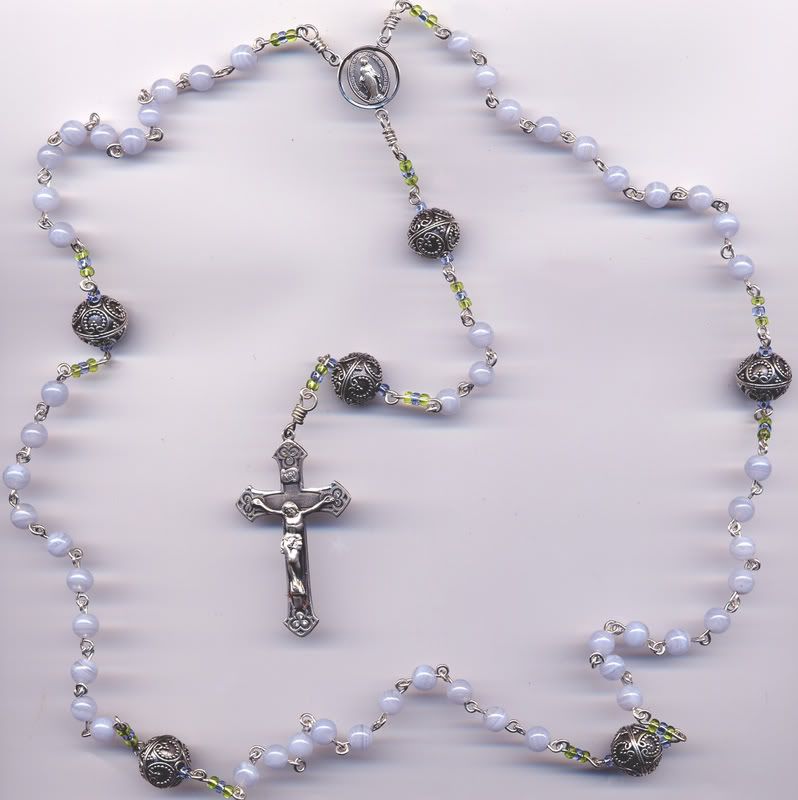 1. Sign of the Cross: In the name of the Father, and of the Son, and of the Holy Spirit. Amen.
2. The Apostles Creed: I BELIEVE in God, the Father almighty, Creator of heaven and earth. I believe in Jesus Christ, His only Son, our Lord. He was conceived by the power of the Holy Spirit and born of the Virgin Mary. He suffered under Pontius Pilate, was crucified, died, and was buried. He descended to the dead. On the third day He rose again. He ascended into heaven and sits at the right hand of God, the Father Almighty. From thence He shall come to judge the living and the dead. I believe in the Holy Spirit, the holy catholic Church, the communion of saints, the forgiveness of sins, the resurrection of the body, and the life everlasting. Amen.
3. The Lord's Prayer: OUR Father, who art in heaven, hallowed be Thy name. Thy kingdom come. Thy will be done on earth as it is in heaven. Give us this day our daily bread and forgive us our trespasses as we forgive those who trespass against us. And lead us not into temptation, but deliver us from evil. Amen.
4. (3) Hail Mary: HAIL Mary, full of grace, the Lord is with thee. Blessed art thou amongst women and blessed is the fruit of thy womb, Jesus. Holy Mary, Mother of God, pray for us sinners, now, and in the hour of our death. Amen. (Three times)
5. Glory Be: GLORY be to the Father, and to the Son, and to the Holy Spirit. As it was in the beginning, is now, and will be forever. Amen.
Fatima Prayer: Oh, my Jesus, forgive us our sins, save us from the fires of hell, lead all souls to heaven, especially those in most need of your mercy.
Announce each mystery, then say 1 Our Father, 10 Hail Marys, 1 Glory Be and 1 Fatima prayer. Repeat the process with each mystery.
End with the Hail Holy Queen:
Hail, Holy Queen, Mother of Mercy, our life, our sweetness and our hope! To thee do we cry, poor banished children of Eve! To thee do we send up our sighs, mourning and weeping in this vale of tears! Turn then, most gracious advocate, thine eyes of mercy towards us; and after this, our exile, show unto us the blessed fruit of thy womb, Jesus!
O clement, O loving, O sweet Virgin Mary! Pray for us, O holy Mother of God, that we may be made worthy of the promises of Christ.
Final step -- The Sign of the Cross
The Mysteries of the Rosary

By tradition, Catholics meditate on these Mysteries during prayers of the Rosary.
The biblical references follow each of the Mysteries below.
The Glorious Mysteries
(Wednesdays and Sundays)
1.The Resurrection (Matthew 28:1-8, Mark 16:1-18, Luke 24:1-12, John 20:1-29) [Spiritual fruit - Faith]
2. The Ascension (Mark 16:19-20, Luke 24:50-53, Acts 1:6-11) [Spiritual fruit - Christian Hope]
3. The Descent of the Holy Ghost (Acts 2:1-13) [Spiritual fruit - Gifts of the Holy Spirit]
4. The Assumption [Spiritual fruit - To Jesus through Mary]
5. The Coronation [Spiritual fruit - Grace of Final Perseverance]
4
posted on
06/29/2010 9:37:40 PM PDT
by
Salvation
("With God all things are possible." Matthew 19:26)
---
To: NYer
Sunday BTTT!
Pray for the Bishops!
5
posted on
07/18/2010 3:51:26 PM PDT
by
Salvation
("With God all things are possible." Matthew 19:26)
---
FreeRepublic.com is powered by software copyright 2000-2008 John Robinson