---
Mandela accuses US of racism, atrocities
Taipei Times | 02.01.03


Posted on 02/01/2003 3:14:24 PM PST by Enemy Of The State

Mandela accuses US of racism, atrocities


AP
Saturday, Feb 01, 2003,Page 1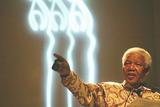 Former South African president Nelson Mandela addresses the International Women's Forum in Johannesburg on Thursday.
PHOTO: AP

Former President Nelson Mandela on Thursday called US President George W. Bush arrogant and shortsighted and implied he was racist for ignoring the UN in his zeal to disarm Iraq.
Mandela urged the people of the US to join massive protests against Bush and called on world leaders, especially those with vetoes in the UN Security Council, to unite to oppose him.
"One power with a president who has no foresight and cannot think properly is now wanting to plunge the world into a holocaust," Mandela said in a speech to the International Women's Forum.
White House spokesman Ari Fleischer responded to Mandela's criticism by pointing to a letter by eight European leaders reiterating their support for Bush.
"The president expresses his gratitude to the many leaders of Europe who obviously feel differently" than Mandela, Fleischer said. "He understands there are going to be people who are more comfortable doing nothing about a growing menace that could turn into a holocaust."
A Nobel Peace Prize winner, Mandela has repeatedly condemned US behavior toward Iraq in recent months and demanded Bush respect the authority of the UN. His comments Thursday, though, were far more critical and his attack on Bush far more personal than in the past.
"Why is the United States behaving so arrogantly?" he asked. "All that [Bush] wants is Iraqi oil," he said.
He accused Bush and British Prime Minister Tony Blair of undermining the UN and its head, Kofi Annan, who is from Ghana.
"Is it because the secretary-general of the United Nations is now a black man? They never did that when secretary-generals were white," he said.
Mandela said the UN was the main reason there has been no World War III and it should make the decisions on how to deal with Iraq.
The US, which dropped atomic bombs on the Japanese cities of Hiroshima and Nagasaki, had no moral authority to unilaterally police the world, he said.
"If there is a country that has committed unspeakable atrocities in the world, it is the United States of America. They don't care for human beings," he said.
"Who are they now to pretend that they are the policemen of the world, the ones that should decide for the people of Iraq what should be done with their government and their leadership?" he said.
He said Bush was "trying to bring about carnage" and appealed to the American people to vote him out of office and demonstrate against his policies.
Mandela also criticized Iraq for not cooperating fully with the weapons inspectors and said South Africa would support any action against Iraq that was supported by the UN.
He also condemned Blair for his strong support of the US.
"He is the foreign minister of the United States. He is no longer prime minister of Britain," he said.

---
TOPICS: Crime/Corruption; Culture/Society; Foreign Affairs; Front Page News; Government; News/Current Events; Politics/Elections
KEYWORDS:
---
Navigation: use the links below to view more comments.
first 1-20, 21-40, 41-51 next last
---
---
---
---
Comment #4 Removed by Moderator
---
---
---
---
---
---
---
---
---
---
---
---
---
---
---
---
---
Navigation: use the links below to view more comments.
first 1-20, 21-40, 41-51 next last
---
---