---
GOTTA SEE THIS-WarEndur.Freedom 7/19/04-ORNL,Fallujah, Ramallah,Yemen,Jakarta
NASA, DOD, Yahoo, AP, Reuters, and the usual suspects and many brave photographers | 7/19/04 | The Armies of Good against the Axis of Evil


Posted on 07/18/2004 5:13:30 PM PDT by Diogenesis

Edited on

07/19/2004 5:50:44 AM PDT

by Lead Moderator. [history]

GOTTA SEE THIS - War for Enduring Freedom 7/19/04 - Oak Ridge National Laboratory, Fallujah,
Ramallah, Saada, Sana'a, Yemen, Jakarta, Wellington, Sydney
BREAKING: Oak Ridge National Laboratory - Nuclear materials and equipment collected from Libya

BREAKING: Fallujah - Bombing of "safehouse"

BREAKING: Ramallah - Monolith effect?

BREAKING: Saada, Yemen- ~90 terrorists taken out

BREAKING: Sana'a, Yemen - Justice for the US destroyer Cole

BREAKING: Jakarta, Indonesia - Terrorist gets light sentence

BREAKING: Wellington- New antiSemitism

BREAKING: Sydney- New species AND a record-setting fish

---
QFN ==== QUAGMIRE-FREE NEWS
---
Exclusive to FReerepublic
PICTURES YOU MAY NEVER SEE IN THE MAINSTREAM MEDIA

---
========= Oak Ridge National Laboratory =========
POSITIVE RESULTS IN THE WAR FOR ENDURING FREEDOM
At the Oak Ridge National Laboratory, President Bush views
nuclear materials and equipment collected from Libya.
The mainstream media has been derelict in reporting this (again). Anyone surprised?
How many are from Iraq? Inquiring minds want to know.
Thank you, President Bush and Sec. Rumsfeld. Thank you.
---
========= Fallujah =========
TERRORISTS TAKEN OUT
In Fallujah, last night, heroes fire off tracer rounds in the direction of
Sunni terrorists. Thereafter, 11 terrorists and their supporters were taken out.
---
In Fallujah, after the bombing of the "safehouse",
Iraqi terrorists seek out and complain to the mainstream media.
---
LIBERATING IRAQ
USN F14B Tomcats over the Iraqi landscape after refueling from an Air Force KC-10.
---
Marine heroes train Iraqi Civil Defense Corps in weapons handling near Anah, Iraq.
---
Marine heroes who liberated Iraq now contribute and patrol the streets of Karabilah, Iraq.
---
In Fallujah, the terrorist Islamic Army in Iraq admitted murdering four U.S. contractors.
---
========= Najaf =========
In Najaf, Iraq, inside the shrine of Imam Ali.
Saddam persecuted Shiites and prevented Shiites from exercising any of their religious freedom,
but America liberated Iraq, and changed all that.
---
========= Halabja =========
In Halabja, ~238 miles northeast of Baghdad,
the memorial graveyard of 5,000 victims of the 1988 pogrom
committed by Saddam Hussein's army using chemical weapons.
America, under President Bush, stopped his murders and use of WMD.
---
========= Tehran, Iran =========
In Tehran, Iran, the Lavizan-Shiyan Technical Research Center.
In the May 10, 2004 image (TOP), the site was scraped clean.
But in August 2003 (CENTER) and March 2004 (BOTTOM),
Iran had been demolishing buildings and carting away topsoil from Lavizan.
Like Iraq, they make fools of those who trust the UN and the IAEA.
---
Group of buildings in August 2003 (TOP) next to a military facility in Tehran,
seven months before the complex was completely destroyed (BOTTOM).
---
========= Hebron =========
In Hebron, Israeli soldiers arrested a Hamas terrorist
and took out two other terrorists.
---
========= Ramallah =========
PROOF OF THE LAW OF UNINTENDED CONSEQUENCES
Have you EVER seen a Palestinian farming?
Incredibly, like the black monolith in "2001" (the movie)
Palestinians have been transformed into farmers
by the Wall.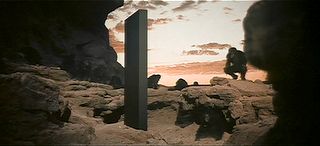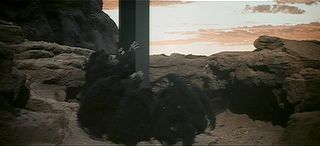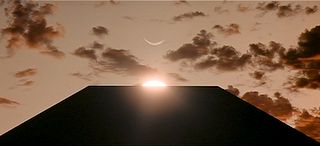 ---
In Ramallah, in the terrorists' keep, they meet and plot.

---
========= Gaza =========
In Gaza, at the bomb-making factory, Palestinian terrorists and firefighters
inspect the rubble after it was hit by Israeli helicopters.
---
In Gaza, SOP : terrorist frenzy.
---
TERRORISTS TAKEN OUT BY DARWIN
In Gaza, Palestinian terrorists and Hamas terrorists
gather around the wreckage of a car after it prematurely exploded
on the way to its murder spree, killing a four-year-old boy.
---
In Gaza, in the first (file) photo, Palestinian police chief Ghazi Jabali
looks much more serious than when he returned after his "kidnapping".
After the latest 3 hour scam on the West, now ubiquitously dominating mainstream news,
everyone was all laughs.
---
========= Saada =========
In Saada, Yemen, Yemeni soldiers stand alert on the battle front
fighting terrorist supporters of terrorist Hussein Badr Eddin al-Huthi (shown).
The Yemeni army killed ~90 of his terrorists.
---
========= Sana'a =========
In Sana'a, Yemen, at the state security court.
Terrorist Jamal Al-Badwi, who carried out the October 2000 bombing of the
US destroyer Cole, faces justice with five others.
---
========= Hadramout =========
In Hadramout, Yemen, at Albedayea airport.
---
========= Jakarta, Indonesia =========
In Jakarta, Indonesia, on the trail of Jemaah Islamiyah,
Syamsul Bahri, a Malaysian citizen, was a terrorist in the 2002 Bali bombings
AND an attack last year on Jakarta's J.W. Marriott Hotel.
The proterrorist court only sentenced Bahri to three years in jail
for attending and helping the attacks with al Qaida and Jemaah Islamiyah.
Indonesia declared itself a friend of terrorists with the light sentence on July 15, 2004.
---
========= Wellington =========
In Wellington, at the Bolton St. cemetery,
antiSemitism continues helped by the government.
Broken headstones lie on the ground in the Jewish section
of the historic Bolton St. cemetery one day after New Zealand
imposed diplomatic sanctions on Israel. Sixteen graves were attacked.
---
========= Sydney =========
NEW SPECIES ALERT
In Sydney, at the Australian Museum,
a preserved 'stout infantfish' which is about seven millimeters.
It is a new species AND a record-setting fish, as the world's smallest vertebrate.
The milligram creature is paedomorphic meaning that adults retain larval characteristics,
and has a lifespan of ~60 days.
---
========= NGC 7635, the Bubble Nebula =========
NGC 7635, the Bubble Nebula
10 light-year diameter bubble offers evidence of past violent processes.
A fierce stellar wind and intense radiation from the star, which likely
has a mass 10 to 20 times that of the Sun, has blasted out the structure of
glowing gas against denser material in a surrounding molecular cloud. The Bubble
Nebula is 11,000 light-years away toward the constellation Cassiopeia.

---
Not for commercial use. Solely to be used for the educational purposes of research and open discussion.

-----------------------
Are not those Libyan materials seized great? Three cheers for the right policy.
As usual, please spend a few hours today helping for success in the War for Enduring Freedom,
and post your thanks to President Bush and US military (and Coalition) which secured those materials. Wah hoo.

---
END OF TRANSMISSION 7/19/04
.......... K

---
TOPICS: Breaking News; Business/Economy; Canada; Culture/Society; Foreign Affairs; Front Page News; Germany; Government; Israel; Japan; News/Current Events; Philosophy; Russia; United Kingdom
KEYWORDS: australia; fallujah; jakarta; ornl; ramallah; saada; sanaa; sydney; wellington; yemen
---
Navigation: use the links below to view more comments.
first 1-20, 21-40 next last
---
---
---
---
---
---
---
---
---
---
---
---
---
---
---
---
---
---
---
---
---
Navigation: use the links below to view more comments.
first 1-20, 21-40 next last
---
---