---
Vatican Publicizes Clarification of PRIESTS FOR LIFE Status, Good Name, and Excellent Work
Priests for Life ^ | 11/3/2015 | Priests for Life


Posted on 11/03/2015 8:06:57 PM PST by Mrs. Don-o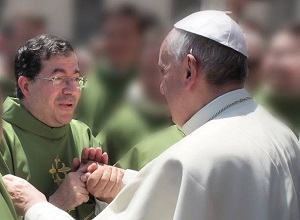 Fr. Frank Pavone announced today that the Vatican has made public its conclusions about the ministry of Priests for Life. Two years ago, the Congregation for Clergy concluded an "Apostolic Visitation" of Priests for Life, which means that they looked at the ministry, its operations, and its finances, in a positive spirit of helping it to grow and operate more effectively.
"We are proud of the results of the Visitation," Fr. Frank said. The report says in part,
"PFL is present in more than 50 nations, and its work benefits the Church both in the United States and beyond…Without doubt, PFL has offered to the Church a great service in the Pro-Life movement. By all indications, Father Pavone is a truly charismatic leader who has led PFL to significant heights….[T]he work and finances of PFL are in order… The Association has been well administered financially…[T]he administrative costs of PFL are in keeping with other groups receiving similar funding in the United States." (Visitation Report, Sacred Congregation for the Clergy, November 2013).
Earlier this year, Cardinal Renato Martino, one of our key advisors and the former President of the Pontifical Council for Justice and Peace at the Vatican, issued a letter conveying his own assessment of the Visitation. He explains,
"At the inception of Priests for Life in 1991, when it was given recognition as a Catholic Association of the Faithful, it was a relatively small apostolate focused within the United States on assisting priests to proclaim the Gospel of Life.
"Since then it has grown and diversified into an entire family of ministries, and an international apostolate. While continuing to be faithful to your original vision of assisting and training the clergy, you have sought to follow the Spirit's lead and respond to the needs of the pro-life movement, and therefore have integrated into your ministry the work of Rachel's Vineyard, Silent No More, the Youth Outreach of Stand True, outreach to Hispanic and African-American communities, and much more."
Fr. Frank explains, "As a result, Priests for Life has outgrown the statutes of the private association that was recognized in 1991. Now, instead, it has the same status as Catholic apostolates like EWTN and the Knights of Columbus, which are obviously committed to Catholic teaching but are not in the canonical category of associations of the faithful."
"We are grateful to the Congregation for Clergy for giving to us its various recommendations for our growth, and for helping us discern and freely choose the option we have taken of functioning as a Catholic apostolate and not as a clerical private association of the faithful. In this way, we can better serve the needs of the pro-life movement and the Church," Fr. Frank explained.
Fr. Frank concluded, "The release of this news of the Visitation should encourage all those who associate themselves with us, as we continue to be a leading voice in America for the unborn children. Moreover, this news should put to an end the unspecified 'concerns' that have been raised in some quarters about our organization, its operations, and our finances. The Vatican's Visitation has shown all of this to be in order, and has praised the excellence of our work. Moreover, we have recently received another clean financial audit for the year 2014. Now it's time to let our work reach its goal, the end of abortion."

---
TOPICS: Catholic; Current Events; Ministry/Outreach; Moral Issues
KEYWORDS: pavone; prolife

Good news.

Issuing positive results of a Visitation looking into PFL's operations and finances, Vatican (Martino of Congregation for Clergy) supports the sometimes-embattled Priests for Life.

---
To: Mrs. Don-o
Excellent. It sounds as if they're well-positioned to continue their work in a clearly organized way.
2
posted on
11/04/2015 2:57:19 AM PST
by
Tax-chick
(You have 25 days to get ready for the Advent Kitteh!)
---
To: Mrs. Don-o
10 yrs ago Bishop Burbidge when in Philly wouldn't let PFL do a mailing even though it was exact piece done by PFL before he became Bishop. The Visceral dislike of Fr Pavone byPhilly Diocesan Parish priest was obvious in NYC then again in Amarillo with the new Bishop who wanted a cut of PFL income. Later Fr Pavone was Blocked from Travelling by his Local Amarillo Bishop until his Bishops ego was placated. The US Bishops tried to decimate this Ministry because they didn't understand his Model of Direct Response Marketing and the normal expense ratio.
Welcome back Fr Pavone
3
posted on
11/04/2015 5:01:37 AM PST
by
philly-d-kidder
(AB-Sheen"The truth is the truth if nobody believes it,a lie is still a lie, everybody believes it")
---
To: philly-d-kidder
Thank you for that clarification. It's a sweet relief to know he's been vetted and the Vatican has his back.
4
posted on
11/04/2015 7:50:50 AM PST
by
Mrs. Don-o
(Just the facts, ma'am, just the facts.)
---
FreeRepublic.com is powered by software copyright 2000-2008 John Robinson