---
The Real Presence: Christ in the Eucharist, The Last Supper, [Catholic/Orthodox Caucus]
TheRealPresence.org ^ | 2000-2014 | http://therealpresence.org/


Posted on 03/07/2014 8:02:36 AM PST by Salvation

The Last Supper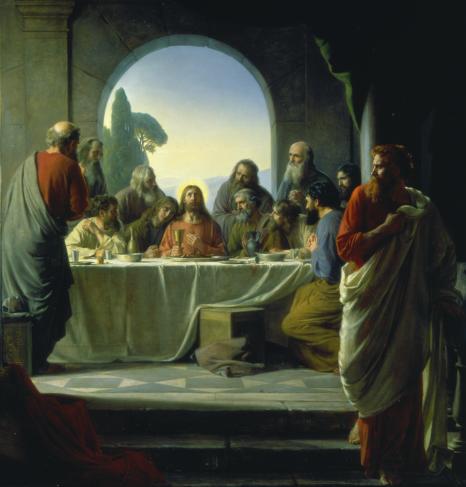 "Now as they were eating, Jesus took bread, and blessed, and broke it, and gave it to the disciples and said, 'Take, eat; this is my body.' And he took a cup, and when he had given thanks he gave it to them, saying, 'Drink of it, all of you; for this is my blood of the covenant, which is poured out for many for the forgiveness of sins.'" (Matthew 26:26-28)
God's love for us is poured out in the sacrament of the Eucharist, where Christ is truly present for us, giving us life and healing.
The Roman Catholic Church has consistently held fast to the belief in the Real Presence. The Catechism of the Catholic Church states:
The mode of Christ's presence under the Eucharistic species is unique. It raises the Eucharist above all the sacraments as "the perfection of the spiritual life and the end to which all sacraments tend." In the most blessed sacrament of the Eucharist "the body and blood, together with the soul and divinity, of our Lord Jesus Christ and, therefore, the whole Christ is truly, really, and substantially contained." "This presence is called 'real' - by which is not intended to exclude the other types of presence as if they could not be 'real' too, but because it is presence in the fullest sense: that is to say, it is a substantial presence by which Christ, God and man, makes himself wholly and entirely present."

- The Catechism of the Catholic Church: paragraph 1374
In many ways, Our Lord, is calling us to worship and receive Him in the Eucharist. He speaks this desire in many ways: through the Pope and the Magisterium of the Church, in the Bible (Jn. 6), through his Blessed Mother in approved Marian apparitions, through the testimonies of Saints and Martyrs, through Eucharistic miracles, through Church approved messages given by Jesus by Divine Revelation, through our souls who long for Jesus in Communion, and through our suffering world which is in much need of prayer before the Blessed Sacrament. Unfortunately many of us disbelieve or have grown indifferent towards Jesus in the Blessed Sacrament.


---
TOPICS: Apologetics; Catholic; History; Theology
KEYWORDS: catholic; eucharist; scripture

This is a Catholic/Orthodox thread.

---
To: nickcarraway; NYer; ELS; Pyro7480; livius; ArrogantBustard; Catholicguy; RobbyS; marshmallow; ...
2
posted on
03/07/2014 8:03:20 AM PST
by
Salvation
("With God all things are possible." Matthew 19:26)
---
To: Religion Moderator
3
posted on
03/07/2014 8:04:15 AM PST
by
Salvation
("With God all things are possible." Matthew 19:26)
---
To: Salvation
Lord Jesus, you come into my body and nourish my soul.
Thank you
---
FreeRepublic.com is powered by software copyright 2000-2008 John Robinson