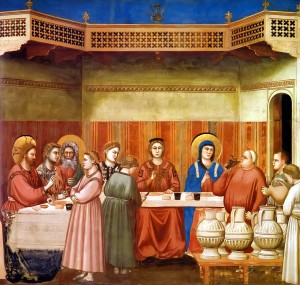 As we conclude this series on Mary's words in Scripture, her advice to the servants at Cana summarizes her faith and how she lived her life. After informing Jesus that "they have no wine", Mary turned to the servants and uttered her last recorded words in the Bible:
"Do whatever he tells you." (John 2:5)
Throughout this study, we have listened to the Blessed Mother's words as she teaches us how to better live our Christian faith:
"How can this be, since I have no relations with a man?" (Luke 1:34)
Mary desired to learn more about God's will for her life. When she didn't understand what God wished of her, she asked questions. She wanted to please Him in all that she did.
"Behold, I am the handmaid of the Lord. May it be done to me according to your word." (Luke 1:38)
The Blessed Mother willingly proclaimed herself to be the Lord's servant. It didn't matter what He wanted her to do. That was up to Him. Her only desire was to obey His will.
"My soul proclaims the greatness of the Lord;
my spirit rejoices in God my savior.
For he has looked upon his handmaid's lowliness;
behold, from now on will all ages call me blessed.
The Mighty One has done great things for me,
and holy is his name.
His mercy is from age to age to those who fear him.
He has shown might with his arm, dispersed the arrogant of mind and heart.
He has thrown down the rulers from their thrones but lifted up the lowly.
The hungry he has filled with good things;
the rich he has sent away empty.
He has helped Israel his servant,remembering his mercy,
according to his promise to our fathers,
to Abraham and to his descendants forever." (Luke 1:46-55)
Although Mary was aware of her sinlessness, she knew that her goodness was due to God's grace. Far from having a low self esteem, Our Lady gave glory to God for working through her.
"Son, why have you done this to us? Your father and I have been looking for you with great anxiety." (Luke 2:48)
Since Mary never sinned, only Divine intervention could allow her to experience what it was like to be separated from Jesus. As soon as that separation occurred, however, she began seeking Him with great anxiety. She understands the importance of urgently pursuing the Lord once we separate ourselves from His presence.
"They have no wine." (John 2:3)
With great charity, Mary always looks out for the well being of others. As soon as she observes a problem, she immediately turns to her Son and allows Him to handle the situation in the best way possible.
"Do whatever he tells you." (John 2:5)
With total confidence that her Son will handle the shortage of wine at Cana, Mary leaves us with a powerful message. Jesus continues to speak through the teachings of His Church and in the pages of the Bible. Often times, we desire to follow our own will and to serve ourselves. That course of action directly contradicts Mary's final recorded words in Scripture. If we want to achieve our eternal salvation, we must follow her advice to the letter. Whether we find it easy or difficult, we must always…
Do whatever He tells us!