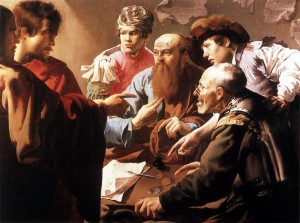 As Jesus passed on from there,He saw a man named Matthew sitting at the customs post. He said to him, "Follow me." And he got up and followed him. (Matthew 9:9)
As we head into the final 2 weeks our Spiritual Exercises retreat, I just wanted to reach out and share a few thoughts. Today, with the celebration of Palm Sunday, we enter into the holiest week of the year. Over the next five days, on my nightly radio show, we'll meditate on Our Lord's Passion and death. As we do this, we'll recognize the fact that He gave EVERYTHING out of love for us. NOTHING was held back. This is a good time to reflect on the invitation to the apostle Matthew (above) and to each one of us. When Jesus issued the invitation to "Follow me", Matthew got up, left everything and followed Him. Jesus gave everything, Matthew left everything…How about us? Are we following Him completely or are we holding something back?
When we started this retreat, I mentioned that its main purpose was to identify and remove our inordinate attachments and learn what God's will is for our lives. Once we figure out what it is, we can then put it into practice. As we prepare to make a "retreat election" (how we'll better live out God's will), Saint Ignatius asks us to reflect upon the 3 Degrees of Humility:
First Humility. The first manner of Humility is necessary for eternal salvation; namely, that I so lower and so humble myself, as much as is possible to me, that in everything I obey the law of God, so that, even if they made me lord of all the created things in this world, nor for my own temporal life, I would not be in deliberation about breaking a Commandment, whether Divine or human, which binds me under mortal sin.
Second Humility. The second is more perfect Humility than the first; namely, if I find myself at such a stage that I do not want, and feel no inclination to have, riches rather than poverty, to want honor rather than dishonor, to desire a long rather than a short life — the service of God our Lord and the salvation of my soul being equal; and so not for all creation, nor because they would take away my life, would I be in deliberation about committing a venial sin.
Third Humility. The third is most perfect Humility; namely, when — including the first and second, and the praise and glory of the Divine Majesty being equal — in order to imitate and be more actually like Christ our Lord, I want and choose poverty with Christ poor rather than riches, opprobrium with Christ replete with it rather than honors; and to desire to be rated as worthless and a fool for Christ, Who first was held as such, rather than wise or prudent in this world.
Can we achieve these levels of humility on our own? NO! All we can do is ask the Lord to CHOOSE US for one of the levels. Which level should we ask to be chosen for? In order to answer that question, we have to ask ourselves a question…

"How much do I want to love and follow Jesus?"
Do I want to, like Matthew, leave everything and follow Him all the way or do I want to hold something back? Do I want to imitate the Lord's love for us and love Him with all my "soul, heart, strength and mind" (Mt 11:27) or do I want to keep something for myself?
The purpose of asking for one of the degrees of humility is so that we can make a better and more honest retreat election. If the Lord wants us to consider a career change (that will bring Him greater glory) and we are too attached to our money, then we'll probably ignore His request. If He wants us to have another child, but we are too attached to our freedom, we'll probably pass on that one also. And so it goes for any number of other things that would bring great glory to God. If we are too attached to our own personal comfort and desires, we're not going to pay attention to the Lord's call.
As we enter into Holy Week, I invite you to tune into Following The Truth each night and let's follow the Lord's path together. Even if you've given up on the Spiritual Exercises retreat, please try to listen to tomorrow's (Monday's) show, as I'll have some important words to share at the beginning. Jesus is calling us to follow Him and to help spread the "Good News" of the Kingdom of Heaven. How will you respond?

"Whoever is not with me is against me, and whoever does not gather with me scatters." (Luke 11:23)